INSIGHTS: Transportation Industry Outlook 2019
By Mike Birge and Steve Bojan
The driver shortage will once again shape the trucking industry in the coming year. For ocean shipping, that's a real problem. Any transport mode is only as good as the one that immediately follows or precedes it in the intermodal supply chain.
For trucking, the outlook hasn't changed much in the last two years: Too much freight and not enough drivers to haul it. It's both the best and worst of times all at once. True, this means the U.S. economy is still very healthy. But, it also means that carriers struggle to recruit and retain quality drivers – and that can be frustrating. More of the same can be expected in 2019. Here are a few predictions:
The driver shortage continues at full speed: As the critical truck driver shortage persists through 2019, new consequences will surface. For one, good drivers will see salary increases of as much as 20 to 50 percent over what they were paid just five years ago. The shortage will drive significant growth for last mile carriers to the point that Amazon will begin hiring their own dedicated fleet. Driver recruiting efforts will ramp up to include a push for ex-military personnel as well as government lobbying to lower the commercial driving age to 18. Fleet carriers will put pressure on insurance companies to take a risk on these non-traditional, younger recruits.
Fatalities decrease, severe crash litigation increases: While fatalities per mile driven have decreased in the last decade, there's been an increase in the amount of severe crashes at the same time. This contradictory data can be attributed to increased speed limits and use of safety equipment in vehicles. This has led to more litigation, which has caused severe bodily injury settlements to rise from an average of $1.2M to approximately $2.8M per claim. Having taken the insurance industry somewhat by surprise, these increased costs will be passed onto the fleet operator in higher premiums and deductibles in 2019.
Long wait times and chassis condition at shipping terminals: Drivers are still frustrated by long wait times and chassis that could have problems passing a roadside inspection. This will continue to be compounded in 2019, and beyond, as drivers are not compensated on an activity basis and therefore, they feel some container movements are barely worthwhile. As the number of ports able to take on mega ships expands, the need for more chassis is warranted to pick up and deliver more containers. Port operators are attempting to address the congestion by increased gate hours, automated gates and appointment systems. Chassis owners can help by installing GPS to better monitor its equipment location at the ports and on the road. Other initiatives include telemetry systems for the chassis that monitors lights, brakes and tire conditions that can help drivers address possible equipment issues before a breakdown happens on the road. With ELD's closely tracking time and movements, any significant loss of time can have an impact on pay and push drivers to look for fleets with their own chassis or an improved client base.
Championing compliance reduces risk: Rising insurance and litigation costs will put increased pressure on fleet carriers to reduce crash frequency, avoid litigation and improve DOT compliance. The result? ISS scores, drivers, maintenance and ELD equipment will be a major focus for insurance carriers in 2019. Best-in-class fleet carriers that champion compliance will turn to alternatives like member-owned insurance captives and risk retention groups, which can put the brakes on premium costs.
Independent Contractor Status: The use of independent contractors as truck drivers across the US has come under increasing public scrutiny and legal threats. The California State Supreme Court ruled that any independent contractor must be able to pass an "ABC Test," that sets an incredibly high bar to avoid an employee-employer relationship. Other states and the federal government are also looking closely at employee misclassification with several claims resulting in multi-million dollar settlements. Additionally, the January, 2019, Prime vs. Oliveira decision in which the Supreme Court unanimously upheld the right of owner/operators to have employment conflicts heard in a court of law, as opposed to forcing it into arbitration, will not only increase the number of employment issues brought to the courts, but will significantly increase industry litigation costs as a result.

2019 Growth and Beyond
Eventually the current freight capacity crunch will resolve itself. Whether it will be in 2019 or beyond is the question that remains unknown. What is certain is that when supply and demand converge, the profitability of the trucking industry will slow, and there will be a real conflict between insurance underwriting and the ability of fleet operators to pay increased premiums. At that time, trucking lines that have failed to control their CSA scores and manage drivers appropriately will face significant insurance cost increases without the additional revenue from increased rates. Until then, the industry will enjoy continued growth.
Michael Birge is president of Hub International Transportation and Steve Bojan is Vice President of Fleet Risk Services for Hub International.
This article first appeared in the MAR/APR 2019 edition of Maritime Logistics Professional magazine.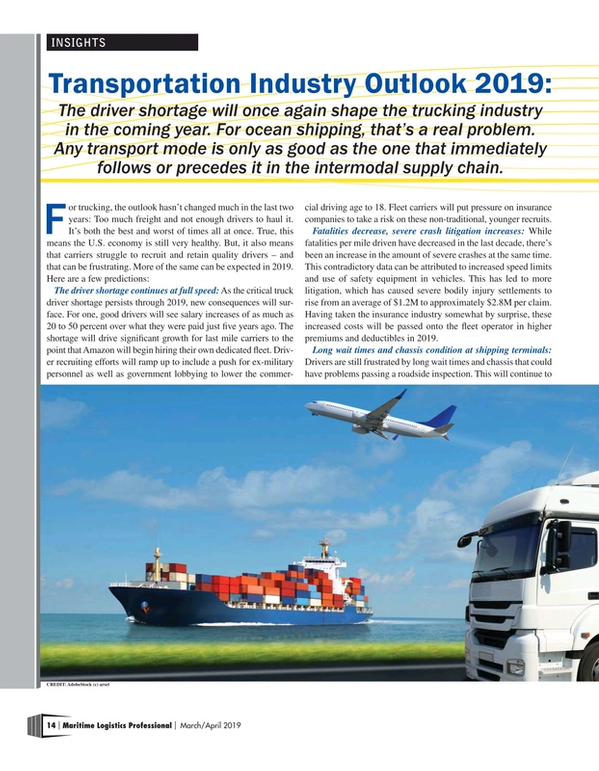 Read INSIGHTS: Transportation Industry Outlook 2019 in Pdf, Flash or Html5 edition of Mar/Apr 2019 Maritime Logistics Professional
Other stories from Mar/Apr 2019 issue
Content