Sixth VLCC Delivered By Kockums To Salen Features Roller Bearing Design For Shaft
Kockums Shipyard, Malmo, Sweden, has just announced delivery of the 256,050-dwt tanker Sea Swift to the iSalen Shipping Companies of Sweden.
The turbine-powered VLCC is the last of six tankers ordered by Salen and the 16th in the Kockums present series of twenty 255,000- tonners.
Built under special survey of Lloyd's Register of Shipping, the Sea Swift is a highly automated ship, with complete electronic control and monitor systems to enable periods of unmanned engine room operation at sea. The ship is equipped with a sophisticated dataprocessing system, including autopilot, bridge control system and fouling calculator, which regulates navigation and the supply of steam to the main turbines.
The innovations on board the Sea Swift feature the introduction of a new roller bearing design for the propeller shaft, which was developed by Kockums in cooperation with Svenska Kullagerfabriken and the Salen Shipping Companies.
The new self-adjusting roller bearing- construction is designed to stand the pressure of the heavy supertanker propeller. It is composed of a spherical roller bearing with an external diameter of 50.4 inches, weighing 1.5 tons, and of a shaft 34.0 inches in diameter.
Propeller shaft, bearings and seals have been designed in such a manner that their inspection and seal replacement can be accomplished without drydocking.
This new design permits propeller and shaft to be installed in one unit from outside of the ship through the stern eye. Bearings are then fitted after the shaft is in position.
During the ship's sea trials in the North Sea, observations of cavitation and measurement of propeller-induced impulses on the hull were recorded for the Swedish Institute for Technical Development. Measurements of wake distribution on the propulsion system will 'be continued in the forthcoming Kockums 255,000-dwt ship ordered by A/S Athene of Norway.
Kockums specialists seek to determine more precise measurement for wake impact on propeller design, so as to weigh cavitation and vibration properties of the propeller. Estimates are that the new bearing design will prove superior and less sensitive to seawater penetration.
The observations of cavitation for the Swedish Institute were made with both still and TV cameras, equipped with special lighting placed on both sides of the hull, just in front of the propeller. TV images were monitored during the trials and simultaneously recorded on video-tape for shoreside analysis.
Pressure impulses were measured at six points on the hull above the propeller with pressure transducers. Variations in pressure were then recorded on a 14-channel tape for later digital conversion and evaluation on land.
The results of these tests will 'be compared with corresponding data obtained from model experiments, so as to facilitate more accurate approximation of model experiment reliability.
Other vital Sea Swift data are as follows: gross registered tonnage, 125,389; overall length, 1,117.1 feet; length between perimeters, 1,080.0 feet; molded breadth, 170.0 feet; depth to main deck, 84.0 feet; draft, 65.9 feet, and pump capacity, 70,445.9 gallons per minute.
Propelling machinery used in the ship is of the Kockums/Stal-Laval type steam turbine, 32,000 shp at 85 rpm with speed of 15.9 knots.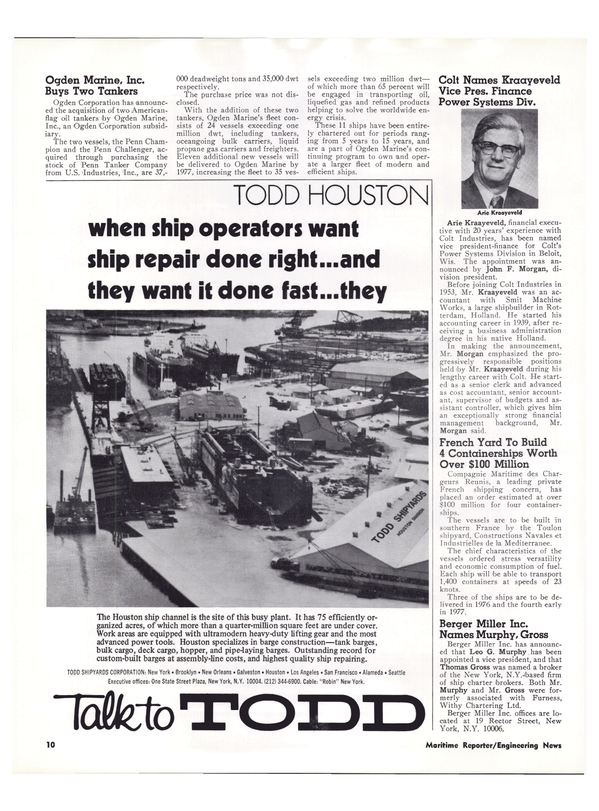 Read Sixth VLCC Delivered By Kockums To Salen Features Roller Bearing Design For Shaft in Pdf, Flash or Html5 edition of February 1974 Maritime Reporter
Other stories from February 1974 issue
Content