Bethlehem Begins Construction On 265,000-Dwt Tanker —Largest Vessel Built In The United States
Construction of the largest ship ever built in the United States started on January 23 as Bethlehem Steel's Sparrows Point Shipyard laid the first keel plate for a 265,000-dwt supertanker.
The vessel, the first of five under contract at the yard, is scheduled for delivery to Boston- VLCC Tankers, Inc., II, in 1975. All five ships are being constructed under the U.S. Maritime Administration's tanker construction subsidy program arising out of the 1970 Merchant Marine Act.
Boston-VLOC Tankers, Inc., II, IV and VI, subsidiaries of First National Boston Corporation, have contracted for the first three of the huge vessels and, upon completion of their construction, they will be placed on long-term charter. First National Boston Corporation is a registered multi-bank holding company whose principal subsidiary is the First National Bank of Boston.
This class of ships, the 10th standard design offered by Bethlehem since World War II, will be 1,100 feet overall, with a breadth of 178 feet, and a summer' freeboard draft of 67 feet 1 inch.
The keel was laid in the yard's new 1,200- foot graving dock, in which a 120,000-dwt tanker is already under construction.
The huge new tanker, capable of carrying 2,035,000 (barrels of oil, is designed to exceed the largest safety and antipollution requirements.
The arrangement of the vessel has been specifically designed to meet the 1973 international Convention for the Prevention of Pollution from Ships, concerning cargo tank size and maximum outflow. This results in 21 tanks (two of which are for clean ballast), as compared with the smaller number of tanks in the usual VLCC of today.
The vessel will be fitted with an inert gas system, which maintains a nonexplosive atmosphere within the cargo tanks at all times.
A modern improved load-on-top (LOT) system for handling tank cleaning slops, including fixed tank cleaning in all center cargo tanks, is also provided.
The single-screw vessel will have a single deck with forecastle, a cylindrical bow and a transom stern. The hull will be about 80 percent mild steel and 20 percent higher strength steel.
The aft superstructure incorporates all living and messing spaces, appropriate utility spaces and the navigation and control spaces. The layout of accommodations is based on a complement of 28. All staterooms are single occupancy with semiprivate toilets and showers for the crew, private toilets and showers for officers.
All living spaces are air-conditioned.
Lifeboats have been located for embarkation from a platform one deck height above the upper deck.
Deck machinery will include 12 mooring winches of a unique type that have been developed to Bethlehem's specifications for tanker service. When the hydraulic system is in operation, they are automatic pull-in/payout type with selective dual ratings of line pull of 30.000 pounds or 60,000 pounds. When the hydraulic system is not in operation, they will automatically pay out at a prescribed predetermined maximum line pull.
Propulsion is provided by a cross compound, single flow steam turbine, driving the propeller shaft through a double reduction gear. An astern element is incorporated in the low pressure turbine casing. The maximum continuous ahead rating is 35,000 shaft horsepower at 85 rpm.
Cargo is handled by means of four large 20,000-gpm turbine-driven horizontal singlestage centrifugal pumps with added selfpriming features. Steam requirement for the cargo pumps is virtually the same as for propelling the ship at maximum power. Each pump normally handles its own group of tanks but may be cross-connected to other groups. A steam reciprocating pump is provided for stripping purposes, together with a deck stripping main. Nominal pump-out time is about 18 hours.
A clean ballast pump of 10,000-gpm capacity is provided to handle the No. 4 wing tanks and the after deep tanks through a segregated system.
The J.J. Henry Co., Inc. was designated by the owners to act in their behalf in dealing with Bethlehem in all matters concerning design, approvals, changes and inspections.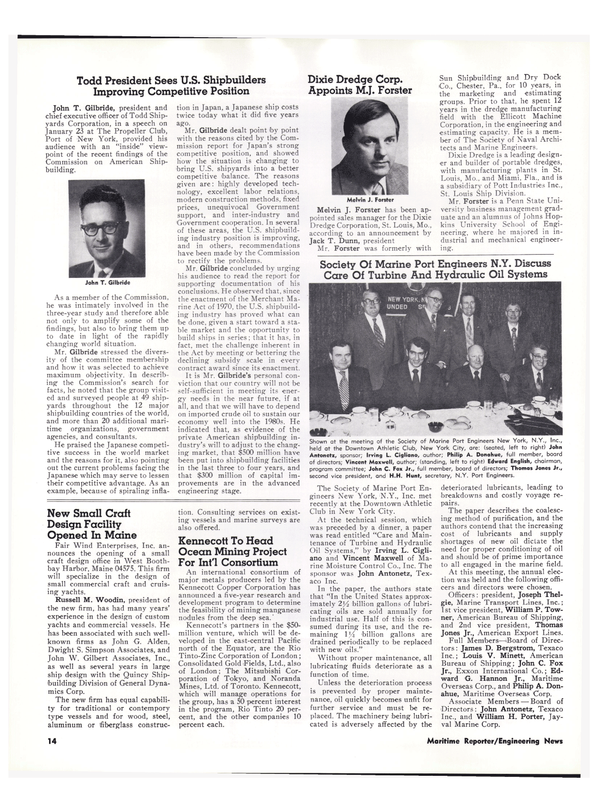 Read Bethlehem Begins Construction On 265,000-Dwt Tanker —Largest Vessel Built In The United States in Pdf, Flash or Html5 edition of February 15, 1974 Maritime Reporter
Other stories from February 15, 1974 issue
Content