Marine Fuel of the Future: The Case for Methanol
By Greg Dolan
The global shipping industry is facing increasingly stringent emissions requirements. As of January 1st , 2016, newbuild ships sailing in certain Emission Control Areas (ECAs) known as NOx Emission Control Areas (NCEAs), which currently comprise the North American and Caribbean Sea ECAs, are required to meet stringent 'Tier III' NOx emission standards. These Tier III standards require around 70% lower NOx emissions than the current Tier II standards and can't be met simply by taking the sulfur out of fuel oil.
2016's implementation of Tier III NOx emission standards join 2015's requirement that ships entering within 200 miles of US, Canadian, Caribbean and northern European waters began to face a 0.1% fuel-sulfur limit. National and regional environmental agencies in these areas had established Sulfur Emission Control Areas (SECAs) under pollution rules adopted by the International Maritime Organization (IMO). While shifting to low-sulfur marine gasoil (MGO) provided a viable, albeit expensive, compliance strategy with 2015's sulfur regulations, it will not help to meet the new Tier III NOx reduction regulations.
Potential solutions for the Tier III limits include Selective Catalytic Reduction (SCR) systems and Exhaust Gas Recirculation Systems (EGR), but these technologies are complicated, costly, and largely unproven.
For the existing fleet of some 100,000 commercial vessels plying the world's oceans, and the 2,000 new keels laid each year, the option of adding dual-fuel capability for diesel-LNG (liquefied natural gas) or diesel-methanol is increasingly seen as the smart course. While there are already some 50-60 ships using LNG as a bunker fuel, interest in the use of methanol fuel, as a considerably less expensive alternative to LNG, is quickly gaining speed.
First, let's look at the global efforts to demonstrate methanol as a marine engine fuel:
● From 2010 to 2014, two European programs – EffShip ("Efficient Shipping with Low Emissions") and SPIRETH ("Alcohol (Spirits) and Ethers as Marine Fuel) – identified methanol as an alternative fuel that could reduce emissions and improve the environmental performance of marine transport. The technology development work from these programs contributed to the IMO's draft IGF code (International Code of Safety for Ships using Gases or Low-Flashpoint Fuels) which governs the safe handling of LNG and methanol fuels on-board ships.
● In December 2013, Methanex Corporation, the world's largest methanol producer and distributor, announced an agreement with Mitsui OSK Lines (MOL) to build seven new 50,000 dead weight ton ships with MAN Diesel & Turbo's ME-LGI flex fuel engines running on methanol, fuel oil, marine diesel oil, or gas oil. The ships are being built for delivery next year by Japan's Minaminippon Shipbuilding Co., and South Korea's Hyundai Mipo Dockyards Ltd. The ships have been chartered by Canada's Waterfront Shipping Company, a subsidiary of Methanex.
● In January 2015, Lloyd's Register announced plans to design a whole new generation of cruise ships and ro-pax ferries powered by methanol ushering in a low-emission, fuel-efficient revolution in today's marine fleet. Partnering in the project are German shipyard Meyer Werft, German shipbuilder Flensburger-Schiffbau-Gesellschaft, and German methanol distributor HELM AG. Funded by the German government, designs for the new methanol ships will be developed over the next three years.
● In March 2015, the Swedish ferry operator Stena Line, relaunched the Stena Germanica featuring the world's first dual-fuel methanol propulsion system. The 240-meter long, 1,500 passenger ro-pax ferry features four Wärtsilä engines, with one of the engines converted to methanol operation while in dry dock in Poland's Remontowa shipyard in January 2015. Having been satisfied with initial tests, the other three engines will now be converted one by one while the vessel is in service. Running on methanol, SOx emissions are expected to be cut by 99%, NOx by 60%, particulates by 95%, and CO2 by 25%. Funding of €11.2 million for the work was provided under the European Union's Trans-European Transport Networks (TEN-T) program.
A new report released by FCBI Energy in December 2015, and commissioned by the Methanol Institute (MI), details the many advantages of methanol. The report, Methanol as a Marine Fuel, contains a number of key findings and can be downloaded HERE.
•
Methanol is plentiful, available globally and could be 100% renewable - There are over 70 million tons of methanol being produced annually, and depending on the feedstock used in its production, it can be 100% renewable as well.
•
Current bunkering infrastructure needs only minor modifications to handle methanol – Methanol is very similar to current marine fuels such as heavy fuel oil (HFO) as it is also a liquid. Existing storage, distribution and bunkering infrastructure can handle methanol with only minor modifications necessary due to methanol being a low-flashpoint fuel.
•
Infrastructure costs are modest compared to alternative solutions – Installation costs of a small methanol bunkering unit have been estimated at around € 400,000, and a bunker vessel can be converted for approximately € 1.5 million. In contrast, an LNG terminal costs approximately € 50 million, and an LNG bunker barge € 30 million.
•
Conversion costs will drop dramatically as experience mounts – The main reference point on conversion costs comes from conversion of the Stena Germanica. Being the first of its kind, the Stena Germanica retrofit entailed much design work on new technical solutions, safety assessments and adaptation of rules and regulations. It has been estimated that a second retrofit will cost only 30% to 40% of the Stena Germanica conversion.
•
Current engines have performed well on methanol and upcoming technologies will further improve this performance – Thus far, methanol ships have been powered by diesel concept engines modified to run on both methanol and marine diesel. Converted methanol engines have performed as well as, or better than, diesel engines in both field and lab tests. Methanol-optimized engines currently in development are expected to perform even better than the current converted engines.
•
Shipping and chemical industries have a long history and ample experience in handling methanol safely – Methanol has been shipped globally, and handled and used in a variety of applications for more than 100 years. From a health and safety perspective, the chemical and shipping industries have developed tested procedures to handle methanol safely. These have been codified in the Methanol Safe Handling and Safe Berthing Bulletin and Checklists available on MI's website HERE.
•
Methanol is biodegradable – From an environmental point of view, methanol performs well. Methanol dissolves rapidly in water and is biodegraded rapidly. In practice, this means that the environmental effects of a large spill would be much lower than from an equivalent oil spill.
As the lifecycle economics, and other benefits of using methanol compared with other emission compliance options becomes more evident, we expect to see the tide rising on the use of methanol as a marine engine fuel.
About the Author
Greg Dolan serves as CEO of the Methanol Institute (MI), the global methanol industry trade association.
As published in the March 2016 edition of Maritime Reporter & Enginering News (http://digitalmagazines.marinelink.com/nwm/MaritimeReporter/201603/)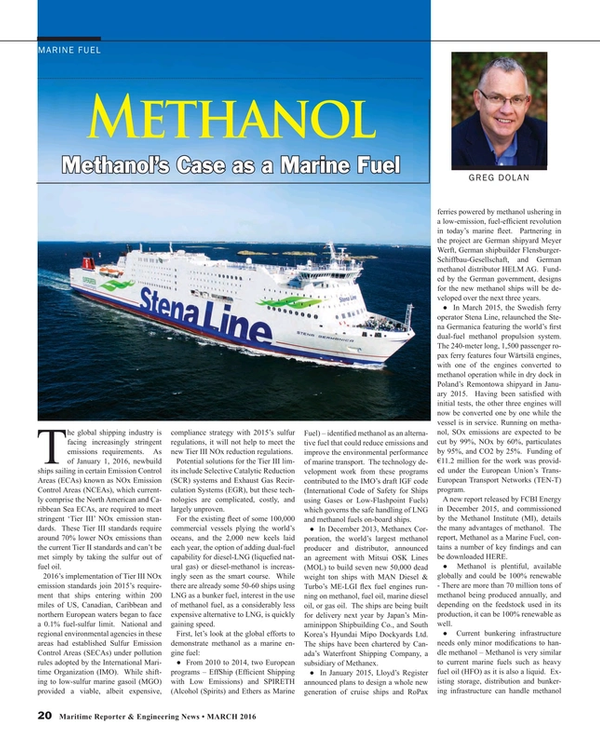 Read Marine Fuel of the Future: The Case for Methanol in Pdf, Flash or Html5 edition of March 2016 Maritime Reporter
Other stories from March 2016 issue
Content