Japan Coast Guard: Maritime Security Tops Agenda
By Greg Trauthwein
Maritime Reporter & Engineering News interviews VADM Satoshi NAKAJIMA, Vice Commandant for Operations, Japan Coast Guard, in its March 2016 edition.
Please discuss the history of the Japan Coast Guard.
Immediately after the end of World War II, maritime security and the safety of ship operations were both deteriorated significantly in waters around Japan. Crime became widespread, while marine navigational aids and other establishments were destroyed. Many sea mines, which threatened ship operations, were planted. To deal with these situations, there was an urgent need for Japan to enhance its coast guard capabilities.
To address these challenges, the government of Japan was considering establishing a consolidated coast guard system. Not by reinforcing existing organizations, Tokyo rather insisted that it set up a single organization authorized to have centralized control over the management and operation of vessels and other facilities, and to comprehensively and wholly supervise all administrative affairs having to do with ensuring the safety of ship navigations and maintaining public order at sea.
In February 1946, United States Coast Guard (USCG) Capt. Frank Meals came to Japan, providing advice and recommendations similar to what the government of Japan was claiming in those days. As a consequence, the JCG, which was called the Maritime Safety Agency at that time, was established on May 1, 1948.
On May 12, 1948, Mr. Takeo Okubo, first Commandant of the Maritime Safety Agency, flew the agency's official flag on the rooftop floor of the official building. Today, the JCG commemorates its foundation on May 12 every year.
What are the primary missions of the Japan Coast Guard?
It is the JCG's mission to ensure maritime safety and security. To fulfill this mission, the JCG is performing a wide variety of duties on the stage of vast oceans. While enhancing our partnerships and cooperation with relevant domestic authorities and overseas organizations, we strive to ensure security; organize rescue operations; conserve the natural environment; deal with natural disasters; conduct marine surveys; gather, manage and provide information and ensure safety for ship traffic; among others.
What are important tasks for the JCG in 2016?
First, the JCG will develop a strategic maritime security system.
We will soundly promote the development of a strategic maritime security system to be able to make every possible effort to guard waters around the Senkaku Islands and crack down on fishing boats from other countries and regions in those waters, and to deal seamlessly with various suspicious activities, behaviors and other occurrences in Japan's territorial waters, including that surrounding our remote islands and the waters of the farthest reaches of Japan.
Second, the JCG will help maintain public order at sea as stipulated under the rule of law.
To share the importance of maintaining public order at sea with other Asian economies, help them enhance their coast guard capabilities and reinforce our cooperative relations with them, we will enrich our newly launched Maritime Safety and Security Policy Program (a master's course) and improve other aspects of our education and research infrastructure. We will also organize workshops on maritime security, hoping that we will become an international base from which human resources will be cultivated for the field of Asia's maritime security.
Our third important task is to defend Japan's maritime interests and ensure safety at sea.
To secure Japan's maritime interests and ensure safety at sea, we will continue to promote our extensive and detailed maritime surveys. We will also enrich a system and take other actions to be able to analyze and process necessary information and take other necessary steps under centralized management of information obtained from the maritime surveys.
Our fourth important task is to build a consolidated maritime traffic control mechanism and undertake disaster-prevention measures to protect Aids to Navigation.
We will consolidate the Tokyo Wan Vessel Traffic Service Center and the traffic control offices of each port and build a mechanism to take over and perform their tasks altogether in order to give warnings and other notifications and provide information such as evacuated areas to vessels immediately and accurately in case tsunamis and other major disasters occur in Tokyo Bay, which is congested with vessel traffic.
We will also undertake measures to protect Aids to Navigation from disasters, which is necessary for safety navigation of vessels, in order to ensure the safety of seaborne transport routes in the event of disasters.
In 2016, Japan will host the annual G7 Summit Meeting. The waters near the venue of the Ise-Shima Summit are complicated, having many small and large islands, bays and shallows, where fishery and other businesses, such as pearl cultivation, are active. We believe that it is necessary to take all possible actions to perform maritime security duties, while obtaining understanding and consent from local residents and cooperating tightly with relevant organizations.
Please discuss the size and scale of the JCG shipbuilding plan today?
Under construction, as of February 1, 2016, are 20 vessels, including nine large, six medium and three small patrol vessels as well as two patrol boats.
The vessels are being built at the Shimonoseki Shipyard and Machinery Works of Mitsubishi Heavy Industries, Ltd.; the Tamano Works of Mitsui Engineering and Shipbuilding Co., Ltd.; the Yokohama Shipyard (the Isogo Works) of Japan Marine United Corporation and other shipyards.
What is the key to being more proficient with the human assets under your command?
I feel that officers and other employees at the JCG are all highly capable. However, there is a limit to what individuals can do. As such, it is important to deal with things in an organized way and cooperate organically.
I think that it is important to this end for them to have awareness of various issues, think for themselves and express opinions.
Looking at your responsibilities, do you have one that stands out?
The JCG is much like a jack-of-all-trade at sea, as we are in charge of sea-related administration in general. It is necessary to deal precisely with the needs of the general public. To this end, we need to fulfill our potential synergistically. I believe that it is important to make the Guard & Rescue, Maritime Traffic and Hydrographic & Oceanographic departments work hand in hand organically with support from the Administration and Equipment & Technology departments.
What are the greatest challenges faced today by the JCG?
Organizing a maritime security system seamlessly across the nation, which will also cover the waters around the Senkaku Islands, is one.
Around the Senkaku Islands, official vessels from China have repeatedly intruded into Japanese territorial waters. They also continue to hold demonstrations by sailing around in contiguous zones. In addition, it is intensifying oceanographic research activities with dedicated vessels without obtaining consent from Japan. As these examples show, the East China Sea is still in a difficult situation. Determined to defend Japan's territory and territorial waters by all means, however, all JCG officers continue to keep their missions in accordance with the law calmly and firmly to keep the situation from becoming worse.
We are scheduled to complete a fleet dedicated for guarding the sea around the Senkaku Islands by the end of fiscal 2015 (April 2015-March 2016), consisting of 10 large (1,000-ton) patrol vessels and two patrol vessels with helicopters, which will be equivalent to a fleet of 14 large patrol vessels. (Note: By adopting a multiple-crew system, the JCG will secure operation rates for 12 vessels with the 10.)
We will enlarge the fleet of patrol vessels with enhanced crackdown capabilities to handle overseas fishing boats. We will also launch the Tanegashima coast guard station and the Miyakojima Coast Guard Office, which will be upgraded from a coast guard station, and enlarge the Ogawasawa stations.
Twenty years from now, what is the JCG fleet going to look like?
The JCG will improve the formation of the coast guard duties that will be able to deal with problems faster and more accurately by replacing existing patrol vessels systematically with those with greater specifications.
Historically whare are the greatest successes of the JCG?
As I said earlier, the JCG was influenced by the USCG when it was set up. While the USCG maintains military capabilities, however, we have none. It may have been attributed to situations in those days, but I feel today that there is significant value in that the JCG is just a law-enforcement agency.
Today in Asia, the effectiveness of maritime law enforcement is acknowledged as the third most powerful instrument to resolve disputes, following diplomacy and military actions. Prime Minister Shinzo Abe insists on maintaining and developing "open and stable seas" not by exercising power, but by keeping order in accordance with fundamental rules, such as securing the freedom of aviation and navigation, ensuring safety for them and respecting the rule of law, including peaceful dispute settlements based on international law. It is very meaningful for the JCG, a law-enforcement body, to contribute to his idea.
The JCG, which was established as a law-enforcement agency in Japan ahead of other countries and regions in Asia, has since 1969 been providing technical cooperation to help them strengthen their maritime-law enforcement capabilities and for other purposes. In 2015, we launched the Maritime Safety and Security Policy Program, which is a Master's program in the field of maritime security and the first such course in the world. With the program, we have also been offering academic support so that coast guard officers in other Asian nations can study international law and other subjects. As a law-enforcement entity, we contribute to maintaining and fostering public order at sea in Asia. I feel that we are valuable in this sense as well.
Looking at your career, is there a most influential or defining moment?
It is difficult to pick up one because I have experienced a wide variety of assignments since I joined the JCG. However, the most impressive duty performed recently was when I was allowed to give support to Emperor Akihito's and Empress Michiko's visit to Palau and the Philippines to console the souls of those who had died in World War II and pray for peace.
Looking at the JCG of 1996 and the JCG of today, how is it most the same? How is it most different?
Ensuring safety and security at sea, which is the JCG's mission, has always been the backbone of our activities. At the same time, our stance of fulfilling duties side by side with local citizens has also remained unchanged. In contrast, circumstances surrounding the JCG have changed drastically over the last 20 years. As such, we need to deal firmly with such changes.
At a Glance
Japan Coast Guard
The JCG has its Headquarters in Tokyo and performs coast guard operations, dividing Japan into 11 regions. Each of the 11 regions is governed by a Regional Coast Guard Headquarters. Under the Regional Coast Guard Headquarters, there are Coast Guard Offices, Coast Guard Air Stations, Coast Guard Stations, Traffic Advisory Service Centers, Air Stations, Hydrographic Observatories and other units.
Number of ships in the JCG:
455
•
Special guard and rescue boats: 63
•
Hydrographic survey vessels: 13
•
Lighthouse service boats: 10
Number of JCG personnel:
13,422
----------------------------------------------------
VADM Satoshi NAKAJIMA
Vice Commandant for Operations
Japan Coast Guard
Education:
Graduated from Japan Coast Guard
Academy in March 1979
Assignment History:
April 2015:
Vice Commandant for Operations
April 2014:
Director General of Guard and Rescue Department, Japan Coast Guard Headquarters
April 2013:
Commander of 11th Regional Coast Guard Headquarters
April 2012:
Commander of 4th Regional Coast Guard Headquarters
April 2011:
Director of Administration Division, Guard and Rescue Department, Japan Coast Guard Headquarters
April 2008:
Director of Security Intelligence Division, Guard and Rescue Department, Japan Coast Guard Headquarters
April 2007:
Director of Info-Communications Planning Division, Administration Department, Japan Coast Guard Headquarters
April 2006:
Director of Guard and Rescue Department, 8th Regional Coast Guard Headquarters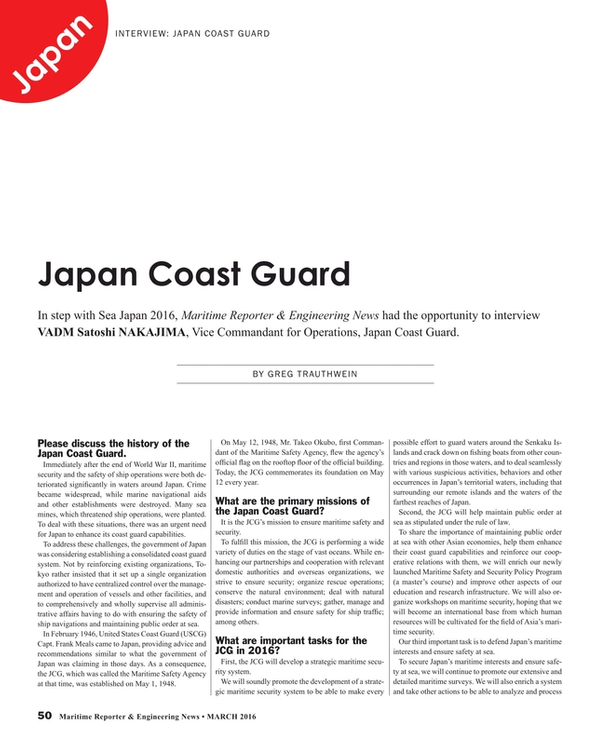 Read Japan Coast Guard: Maritime Security Tops Agenda in Pdf, Flash or Html5 edition of March 2016 Maritime Reporter
Other stories from March 2016 issue
Content