US Workboat Market: Domestic Drivers
By Joseph Keefe
Sectors of the U.S. market are hot, but for how long? Five key variables drive the domestic brown water market.
The challenging operating climate currently facing blue water, international trades can and sometimes does overshadow what happens on the American side of the big pond. But, as they often say in London, "When America sneezes; the rest of the world catches a cold." Hence, what happens in the U.S. brown water, workboat markets – encompassing more than 39,500 hulls and 98 percent of our collective domestic merchant fleet – is especially important. Looking ahead, at least five variables will drive those markets in the months to come.
Subchapter M
Regulatory changes are already having a marked impact on the industry, but much of that is still yet to come. The Coast Guard's long-awaited, much anticipated so-called subchapter M towboat rules are finally (almost) here. In the inland sector, more than 1,000 operators and as many as 5,200 vessels will experience at least some changes. For those who haven't yet started to get ready for the soon to be implemented regime, it may actually be too late. And, it won't be cheap. Already, surveyors, consultants and software solution providers are clamoring to help those who don't have the internal wherewithal to do it themselves. Separately, an effort by stakeholders that include the American Waterways Operators (AWO) has pushed forward the Vessel Incidental Discharge Act (VIDA) in an effort to bring the oversight of all vessel discharges under one umbrella. It just might pass muster in Congress, but if not, the confusion over who is in charge of any and all vessel discharges, what those laws stipulate and the geographic boundaries of all of it will continue.
Energy
Energy remains a dominant story in the workboat industry; offshore in the Gulf of Mexico, as well as in the heartland. That's not likely to change very soon. And, although the price of crude oil has rebounded somewhat, the OSV market remains soft with scores of vessels laid up and rig counts lagging. Even when the oil market does come back, the recovery will be slow and will most likely include further consolidation in this sector.
Inland, the war on coal has taken its toll. This, coupled with the reduction in shale production, has reduced the demand for barges in all sectors. Beyond this, a robust barge recapitalization leaves the fleet near record numbers. Aside from a small number of older units, this is a young fleet. Flat and falling freight rates will continue to plague the inland rivers.
Look South
The advent of the enlarged Panama Canal – two years late – potentially helps inland operators as deep(er) blue water ports attract still larger tonnage that can load more grain and bulk products into each and every load. The real impact from that is still yet to be determined. More important to U.S. inland operators is the growing threat from an updated South American inland workboat fleet that is finding ways to move more cheap and plentiful agricultural products to global markets. Without a doubt, South America poses the greatest risk to the health of U.S. inland rivers. How domestic operators respond to this real competition will make all the difference. But, that's only one part of the equation.
Infrastructure
If competition from South American agricultural interests and a shiny new fleet of built-for-purpose pushboats doesn't frighten the U.S. domestic waterfront, then the age of its inland infrastructure probably should. And, even the favorable markup of the Water Resources Development Act (WRDA) 2016 by the House Transportation & Infrastructure Committee, if eventually passed, won't bring the aging inland waterways, locks and dams up to snuff quickly enough. Although inland stakeholders do a very good job of taking the federal government to task for its failure to disburse funds it has collected over time, the wheels turn slowly inside the beltway. The state of infrastructure and the ability of the nation to maintain rivers ports and waterways to their authorized depths may well be the most important matter facing all stakeholders today.
Shipbuilding
Domestic builders are only now exiting a period of sustained prosperity, marked by robust federal and municipal spending, the successful recapitalization of inland vessels and offshore OSV fleets, and blue water Jones Act building program the likes of which hasn't been seen in four decades. Looking beyond this, those gleaming OSVs rolling off the drydocks all over the Gulf Coast are, more often than not, headed for cold layup. The federal government's spending spree in the workboat market is also arguably just about done, and those municipal operators who are still buying, are doing so in a savvy manner, demanding that each hull be capable of multiple missions.
Youngish inland barge fleet numbers are within reach of their historical highs; in a market that today calls for less demand in many sectors. There is good news for builders. The advent of subchapter M, looming ballast water rules and the increasingly stringent air quality mandates for marine vessels, could come together to create additional opportunities.
Arguably, if all three came into play at once, capacity would once again be at a premium for many areas and competing yards. That hasn't yet happened and there's no guarantee that it will. Still, estimates for average costs for the typical boat to come into subchapter M compliance run as high as $100,000 or more. For brown water hulls big enough to merit ballast water treatment systems, the price tag for those systems could hit $1 million.
The Bottom Line
There is plenty to be concerned about for the domestic workboat and brown water sectors as we head into the dog days of summer. For the boat building and repair sectors, the current ebb in business could very well turn around in the short term.
That turnaround, should it materialize, will come at the expense of operators who can ill afford the additional expense, most of which will be a function of regulatory requirements.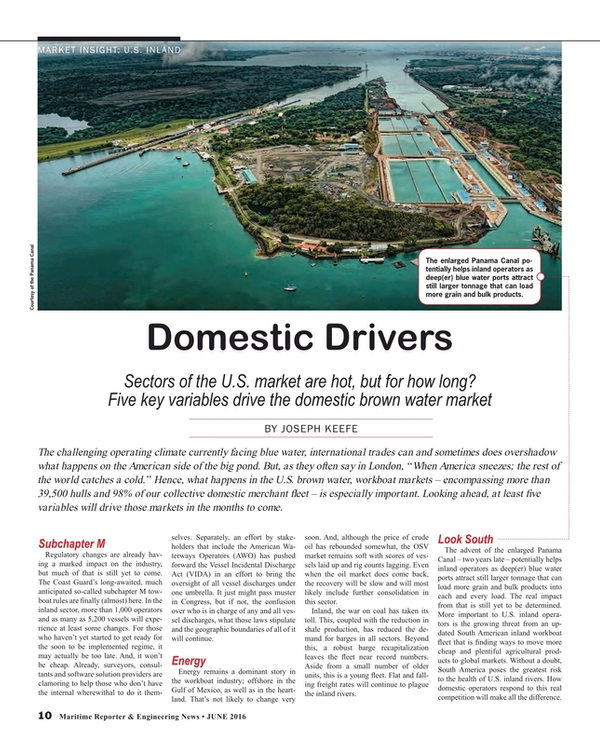 Read US Workboat Market: Domestic Drivers in Pdf, Flash or Html5 edition of June 2016 Maritime Reporter
Other stories from June 2016 issue
Content