Firefighting on Workboats
By Tom Guldner
Marine fires have been some of the toughest fires for anyone to fight. Whether it's a fire on your own boat, or a vessel you are escorting or working with you will need to know what you are doing if you wish to operate safely. Marine Firefighting Inc. has been training mariners as well as land-based firefighters to deal with all types of marine fires for more than 17-years. Much of our mariner training dealt with work boats built with powerful firefighting pumps and fire monitors used to deal with liquefied natural gas (LNG) ships and offshore facility fires. That equipment can be dangerous if the crew is not trained in its proper and safe use. Many work boat companies consider this powerful firefighting equipment ancillary to the work the boat is to perform and therefore devote little time and effort in training to use that equipment. This is a mistake, as those powerful fire monitor streams can throw tons of water per minute, with the ability to injure or kill personnel and/or damage property. Moran Towing has been a good client of Marine Firefighting Inc. The company has devoted much time and effort to see that uits crews are not only provided with current training and safety materials but that they are receiving and understanding them in on-going realistic training and drills.

I recently had the opportunity to train the Moran crews in Baltimore, crews set to man the tug James R. Moran. This vessel is a Fi Fi 1 category tug which has been used to escort LNG ships into and out of the LNG facility in Cove Point, Md.

In addition to its powerful towing capacity and maneuvering ability, this boat is equipped with a fire pump capable of pumping over 10,000 gallons per minute and two fire monitors each capable of throwing over 5,000 gallons per minute, with the fire stream from these monitors able to reach 400 feet. The weight of the water from each monitor is over 20 tons per minute. The power of the equipment demands proper training.

LNG is, of course, not the only product which might require the use of these firefighting work boats. I have recently been training boat crews in Canada that are engaged in the transport of crude oil from and FPSO via shuttle tankers to a land facility. If the oil is not to be processed at that facility, then "second leg-tankers" periodically load the oil from there to deliver it to a refinery elsewhere for final processing. The docks and escort work boats at these facilities are kept very busy with the constant flow of shuttle tankers and second leg-tankers. In addition to the work of docking and un-docking they are also tasked with fighting fires aboard these crude oil tankers. This operation involved firefighting foam in massive quantities.
Fire Onboard Your Boat
I have written many times about the dangers of the equipment provided on many of these vessels and the need for continual training on this equipment for external firefighting. But my training is also conducted for situations involving fires on your own vessel. Often companies rely on video and CD based training left aboard their vessels, considering this 'training' adequate. In truth, without actual "guided" training sessions, backed up with realistic and varied drill scenarios, management will have no idea if their crews can protect themselves and the vessel from fire.
In particular, the fixed extinguishing systems protecting the machinery spaces on the vessels allow an engine room fire to be attacked with a minimal risk to the vessels crew. Many newer vessels have replaced CO2 systems with newer firefighting media which is less harmful to the environment. However, many existing boats still use CO2. The CO2 system has been able to save equipment and personnel at fires aboard work boats for many years. But the systems must be operated correctly and in a timely manner. If the system is operated too quickly, or after too much of a delay, the CO2 may be ineffective.
In the past, I have been asked to review the firefighting procedures used aboard vessels in a post fire reviews. Many times, the initial crew report states that the CO2 system had been discharged but did not control the fire and subsequently caused extensive damage. In reviewing the procedures followed as well as the photos of the vessel after the fire I have determined that, in some cases, one or more openings to the fire area had not been secured prior to the CO2 discharge. The CO2 will leak out of any openings to the fire area and, during a fire, the thermal currents from the heat of the fire will cause the amount of CO2 leaked to be greatly increased. This has occurred not only on workboats but also on large ocean going vessels. While operating the CO2 system too quickly can cause problems, so to can taking too much time to deploy the systems. I have studied many reports of fires where the CO2 activation was delayed. We all know that one of the main reasons to delay the activation is to ensure that all crewmembers are out of the fire area and accounted for. That is not something I intend to change. Life will always be a first concern. However, at many fires the dumping of the CO2 is delayed for other reasons. On a few occasions, it was because the vessels master was concerned about any corporate ramifications regarding his use of an expensive extinguishing system. The master tried many times to make many unsuccessful hose line attacks on the fire and delaying the CO2 activation for an extended period. By the time the CO2 was released the fire was too far advanced for the CO2 to handle it.
Here is a quote from a
"GARD" publication
which discusses both the delayed discharge and discharging too early:
"Emergency response to engine room fires can be better organized and carried out more efficiently if the crew is properly trained in the safe use of the ship's fire-extinguishing systems. The time it takes to make a decision to release the fixed fire-extinguishing system is considered to be one of the most critical factors during emergency response and main concerns related to use of CO2 as the extinguishing agent in ships' engine rooms can be summarized as follows:
Delayed release: For the typical engine room fire involving flammable liquids, it is important to introduce the required quantities of CO2 quickly to limit the escalation of the fire. Investigations reveal that evacuation, muster and head counts during engine room fires often take longer than expected because "the crew was running around and was difficult to count".
Engine room not properly sealed prior to release: The extinguishing capabilities of gas can be compromised if the integrity and tightness of the boundaries of the protected space are not sound. On more than one occasion, the effectiveness of a CO2 system has been limited by excessive leakage of gas through open or improperly closed doors, vents or ventilation ducts. Limited availability of fire-extinguishing agent: The quantity of CO2 gas available on board ships is normally limited to that required for a single discharge into a protected space."

It has also been found that CO2 may be ineffective or at least less effective if the area protected becomes super-heated. So, timing at a CO2 operation can be crucial.
In my training, I go over all the procedures to be followed during a fire aboard your vessel. The first is for the crewmember finding a fire to sound the alarm. Quite often a crewmember discovers a fire and immediately attempts extinguishment without sounding an alarm. If he or she is successful there may be no problem. But if the attempt is unsuccessful, then the fire may have extended from its area of origin, making it impossible to manually attack. Worse yet, if the crewmember is overcome by the smoke and toxic gases, then no one aboard is aware of the fire or of the unconscious crew member's location, and the fire increases in intensity.
In a previous article of mine entitled "Is Your Crew Ready for a Fire" I create a scenario of a very well trained work boat crew who receives a replacement crewmember just as the vessel is getting underway. When an engine room fire is later discovered the master sounds the alarm and orders that everyone follow pre-arraigned, and well drilled tasks, to activate the CO2 system. After the CO2 activation, the Master discovers that one of the engine room vents had not been secured and the CO2 is leaking out. It turns out that this vent would have been assigned to the crewmember who was replaced, and the new crew member had no idea of his/her position during a CO2 operation. The moral was that ongoing training is required and that any new crewmember should be trained on emergency duties required by him or her before they are assigned to the crew.
Most mariners remember that "boundary cooling" should be conducted while the CO2 is controlling and extinguishing the fire. However, in my training I have found crews on some vessels may be unaware that once CO2 has flooded the engine room the fire pumps may no longer be able to operate. During a fire scenario, I informed the crewmembers who were stretching a hose from the vessels hose station that the fire pump was not operating and asked what they would now do. Many were unaware that they had another source of firefighting water. While most work boats have portable pumps, the crews are not aware that they can provide an effective boundary cooling fire stream. Details such as this are very often overlooked in the training tapes and general training. When was the last time your boat crews operated these portable pumps to supply a firefighting stream? (Don't forget to flush them with fresh water after use!)
Whether it's operating powerful firefighting monitors on a tug boat or OSV or handling a fire aboard your own vessel you and your crews must be prepared by proper training. And proper training cannot be assured by merely providing training materials. Vessel owners and Masters must insure that the training material is viewed and understood. This can only be assured by running realistic fire and emergency drill scenarios. Merely squirting water over the side is not a realistic fire drill. Set up drills with scenarios for fires which might actually occur on your vessel. Don't have a galley fire for each drill!
At these drills find out what is working and what needs further training. Making the drill realistic will also test the emergency equipment. If you don't stretch and charge a hose line you will not know if it or the fire pumps will operate as they should.
Marine Firefighting Inc. has been providing firefighting and LNG training for mariners in the U.S., Canada, Mexico and Australia for over 17-years.
Taking your training seriously will help protect you, your crewmates and your vessel.
Stay safe.
About the Author
Tom Guldner is a retired Lieutenant of the New York City Fire Department's Marine Division. His company, Marine Firefighting Inc., is involved in consulting and training mariners and land-based firefighters in all aspects of marine firefighting and liquefied natural gas (LNG).
w: www.marinefirefighting.com
e: MarineFires@aol.com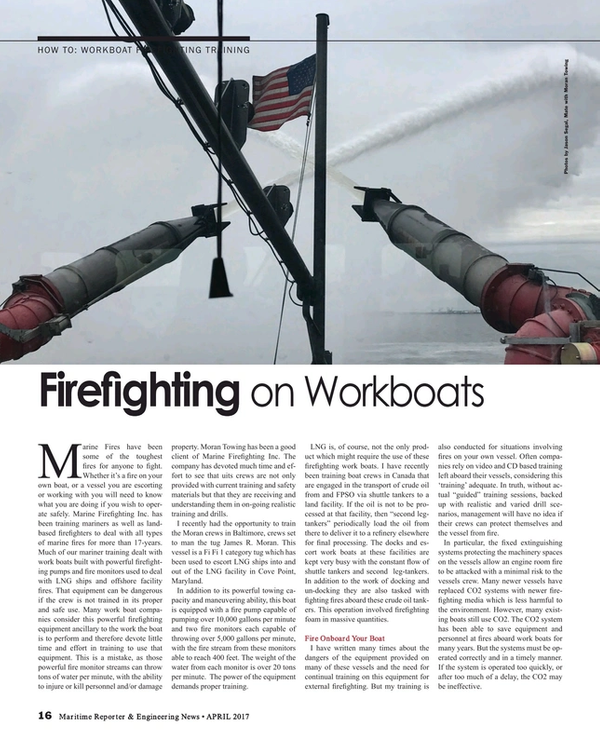 Read Firefighting on Workboats in Pdf, Flash or Html5 edition of April 2017 Maritime Reporter
Other stories from April 2017 issue
Content