Interview: John Canada, President, Ocean5 Naval Architects
By Greg Trauthwein
John Canada founded Ocean 5 Naval Architects in 2007, arguably the worst time in history to start a maritime company as the industry was just entering the worst downturn in a generation. But more than 10 years later, and with the industry still in recover mode, Canada and his company are still standing. Ocean5 has become synonymous with sportfish, luxury, performance and composite high speed small craft naval architecture, and the company's international presence is founded on patrol craft, mega yachts and performance boats including a 30-m custom yacht designed in Holland and built in Turkey.


You started this company in 2007, the start of a tumultuous time in maritime history. What did you see in the market at that time?
Number one, there was a need, because not every company can employ a degreed and qualified naval architect. When you are building custom yachts it is important that after you spend the the time and money designing and building your masterpiece, that when you splash it in the water it floats and performs as intended. It takes a certain expertise to pull that off, and while the builders need it, sometimes they can't afford to hire someone full time. This was an opportunity to support a number of builders and a number of yards, doing what I do best.

As we discussed, 2007 was an 'interesting' time to start this business.
Yes, it was the wrong time to start the business. We had a strong showing of recreational clients on the recreation and yacht side, and it fell off a cliff. About 25% of the builders, at least, went out of business. First the projects dropped off, and then the companies dropped off. So we diversified, partnering with Tampa Manufacturing, helping them with their patrol boats.

To me it's impressive that you started the company then and that you're still here. What's the key to survival?
It is diversification, and also choosing your clients wisely. If you're not the "best fit" for a client, refer them to somebody else. We each have our role in how we support the industry, and just like doctors, you go to the right doctor for whatever ails you.

For those unfamiliar with Ocean 5, give us a brief overview on your size and scope.
Right now we are seven people in a small office overlooking the St. Lucie River. Simply put, we love boats, we live and breathe boats, boats of all kinds and of all sizes. Today we are pretty tied up in the recreational market, kind of where we started with the company in 2007. We're involved with wake boats and with appendages to drive large wakes so that people can surf behind the boat. We've got a new 64-ft. custom sport fish design that will be built here locally, a cold-molded/composite hybrid, high speed craft.
We are also involved in some interesting smaller projects, such as one where we were working on airplane floats with innovative lift features so that the aircraft can take off faster.

With the broad portfolio of business, what do you count as your core competency?
Most people hire us for hull design, structures design and refit structural design. They want a hull that's going to perform, so it's up to us to do the math, to get the weights and the LCGs right, and to get the hydrostatics right.

When you look at the markets you serve, where do you see opportunity today?
Certainly the (increased use of outboard engines) are continuing to grow. We seem to get involved with a lot of projects where "alternative propulsion" is involved whether it was (three outboards powering the new SeaRay), or it was IPS when it came out. We are integration specialists for new hardware, from engines and drives to stabilizer fins and gyro stabilizers. We implement these systems on these tiny boats where people said, 'you can't do that, it's too heavy or the power draw is too large.' But we do it.

So can you point to one project that you think best speaks to your organization's capabilities?
In the pipeline is a 64-foot sport fish that we're developing. These are custom yachts, and they go far and above and beyond (existing boats). There's a lot of specialized, integrated systems that people really don't recognize, but it's their passion to have this fishing boat that has the most advanced features you can get.

We understand that you have a new technology demonstrator boat that premiered at the Miami International Boat show this year.
The Ocean5 Stuart Boatworks 27-ft. Technology Demonstrator is a first of its kind in innovative use of hull space, technology integration and green energy. It debuted at the Miami show, and it did a few things. Number one was the dynamic positioning and station keeping, so you can have this virtual anchor with the Sea Star Optimus 360 system, and that gives you the joystick, as well. In addition, that one coupled with the Garmin also gives you autopilot without an auto helm. But really, it was the idea of the virtual anchor with the gyro stabilizer. Those two coupled together will allow you to run offshore, hold your position over a reef, have the stabilizer on so that you can actually fish in the ocean in a small boat.

That does sound incredible. I've been bounced around many times on the ocean.
Also, it's all DC powered. So that was really a first – coupling the two together with no generator in a boat of that size. But it meant that we had to have a dedicated battery bank for the Sea Keepers – also just the weight of the Sea Keeper itself, which is underneath the cockpit. In order to compensate for the weight of the Sea Keeper, the boat is infused, so it's got a lighter-weight hull, stringers, and deck. In addition to the weight of the Sea Keeper, we had to design a foundation to take the loads. So there were new stringers that were put in the boat, aluminum tapping plates, extra fiberglass reinforcement. We had the battery bank with twin 480 AGM batteries that are about 120 pounds apiece. So at the end of the day, you're looking at adding about 800 pounds to a 27 foot boat.

So as the business of designing boats and ships continues to evolve rapidly, what technology do you see as the most transformational and helping you do your job more efficiently?
I'm still waiting for it. I'm still waiting to have CFD on my desktop computer and my laptop. You know, the ability to make it affordable, to make this your virtual tank test. It's gone (from tow tanks) into CFD, but it's still ridiculously expensive. So not every naval architect can have this sitting on their desktop. But you look at it, and that is our most powerful tool. So we have FEA, we have really advanced surfacing and modeling tools, and hydrostatic tools. And the one thing that I'm really looking to have is CFD running on my laptop.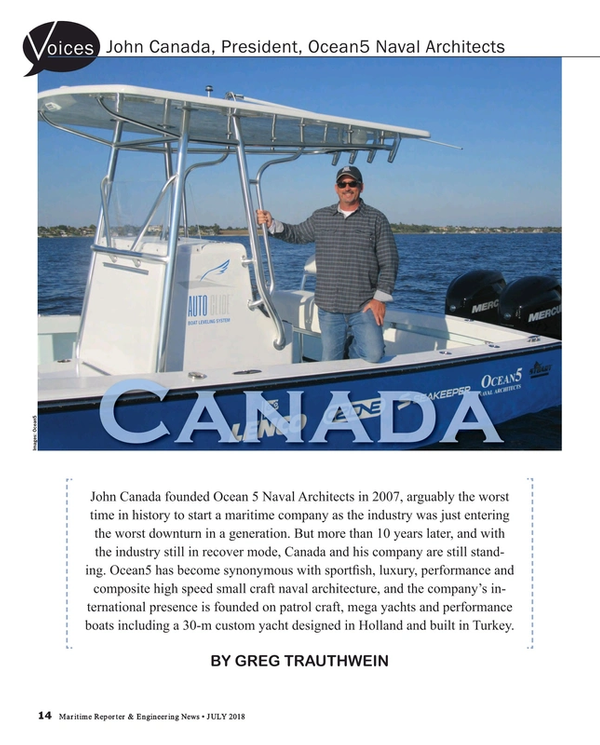 Read Interview: John Canada, President, Ocean5 Naval Architects in Pdf, Flash or Html5 edition of July 2018 Maritime Reporter
Other stories from July 2018 issue
Content