Maritime Operators Embrace Digital Transformation
By Mark Rasmussen
As maritime operators deal with challenging operating conditions, many are embracing digitalization as the most reliable way to lower operational costs and improve vessel efficiency.

According to research conducted by Lloyds List Intelligence and Ovum, two-thirds of vessels use digitalization systems onboard. According to the executives surveyed, this is being driven by a desire to improve operating efficiency, with 88 percent already working toward that goal. As part of the process, vessel operators are:
• Integrating onboard equipment and systems;
• Improving ship-to-shore connectivity;
• Integrating onboard IT systems for predictive maintenance;
• Optimizing voyage fuel consumption and navigation;
• Improving end-to-end management of logistics.

A Shift in Thinking
With ship operators increasingly investing in big data analytics to enable route optimization, fuel management and new services, the demand for bandwidth has increased exponentially. And this growth in maritime demand for connectivity comes at a time when satellite broadband connectivity available for mobile VSAT platforms is being dramatically improved. Leading the improvement is the introduction of transformational technology in the form of high-throughput satellites (HTS) and the development of next-generation ground antennas and modems.

For nearly two years, the promise of HTS has been experienced widely throughout the maritime sector. Maritime operators have stopped thinking of satellite connectivity as a necessary expense for crew welfare. Instead, they see it as a means of fully integrating their global fleets with onshore operations. The mindset created by years of having only minimal satellite bandwidth via L-band has completely changed. Today, maritime operators fully embrace the practice of using satellites to gather valuable data for the analysis that can make ship operations more efficient.

Today, maritime operators continue to push the boundaries of what can be accomplished by users of all shapes and sizes, from cruise lines and leisure vessels to commercial shipping, fishing fleets and research vessels. For example, in May, Intelsat enabled Speedcast to set a new world record for satellite bandwidth to a cruise ship, delivering 3.174 Gbps to Carnival Horizon, Carnival's newest mega cruise ship. This unparalleled data rate sets a new standard for the guest experience at sea.

Each of the maritime sectors mentioned has its own unique requirements and customer demands. To help meet the sophisticated maritime requirements that are inherent in digitalization, satellite service providers are demanding specialized tools to help them integrate higher-capacity satellite solutions into their operations. These include tools for seasonal fluctuations in capacity needs, reactive purchasing, the ability to forecast future bandwidth demand for each region, and applications to ensure the highest possible return on any investment in new technology.

The award-winning IntelsatOne Flex for Maritime platform provides those tools. It lets service providers integrate capacity from across the Intelsat fleet – including the next-generation EpicNG HTS, the IntelsatOne global ground infrastructure, and the HTS-optimized iDirect Velocity™ platform – into a simplified, unified ecosystem.

KVH is Intelsat's inaugural partner for the IntelsatOne Flex for Maritime platform. KVH's maritime broadband network incorporates Intelsat EpicNG satellite services and the IntelsatOne Flex. In the third quarter of this year, Navarino will introduce customer services based on IntelsatOne Flex for Maritime, enabling them to address the widest possible variety of maritime communications requirements.

Also, with our commercial agreement with OneWeb for exclusivity in the mobility sector, we will deliver a fully integrated GEO-LEO service. That integrated service will give ship operators and maritime service providers the flexibility and scalability they need, along with the assurance of always-on connectivity wherever it is needed.

With OneWeb, Intelsat will be the only HTS network to have pole-to-pole coverage. This is especially important as the search for new sources of energy takes oil & gas operations to more remote locations on land and at sea, and commercial shipping routes shift due to changes in demand.

Migration to Autonomous Vessels

The desire to reduce operating costs and improve vessel efficiency is leading many maritime operators to examine the benefits of autonomous vessels. Fully autonomous vessels offer many advantages. The most obvious advantage is that crew can work onshore operating the ships remotely, rather than far out at sea in sometimes hazardous conditions. Another advantage is that experts say the ships can be built less expensively because crew spaces can be significantly reduced. More efficient remote operations can also lower fuel use by better route planning. This is an advantage already being seen with connected ships that have navigation and engine-management systems onboard.

The scalability, power and flexibility of Intelsat EpicNG make it uniquely suited to support the growing use of smart ships and autonomous ships – by providing unprecedented seamless, contiguous broadband coverage over the world's most widely trafficked routes.

As more vessel operators transition to the always-on connected ship, concerns about cybersecurity become paramount. Cybersecurity also remains a barrier for the industry when implementing digitalization projects. According to the Lloyd's List report, about one-third of all vessels are operating without any cybersecurity solutions in place. That leaves a large proportion of the maritime vessels in operation at risk of attack by cybercriminals. At Intelsat, we understand that business-critical applications require the highest levels of reliability, availability, and cybersecurity safeguards. Our systematic approach ensures optimal protection, making our end-to-end network infrastructure more secure for any use.

While the development of autonomous ships will lead to fewer crew on board, it is important to understand that crew communications still carry weight and go a long way toward improving productivity.

According to a 2018 report by Futurenautics, there has been a change in mindset among seafarers regarding many aspects of connectivity. Among the report's key findings:
• 92 percent of seafarers said Internet access strongly influences their decision on where to work, up from 78 percent in prior years.
• 95 percent of seafarers' view connectivity as having a positive effect on onboard safety, an increase of 72 percent since 2015.
• 69 percent of respondents view the increasing use of big data and analytics as a positive opportunity for their jobs in the next five years, versus 17 percent who see it as a threat.

It is gratifying to see how maritime operators have widely adopted digitalization solutions to help improve customer experience and increase operating efficiency. As a result of strategic alignment, the right tools from the digitalization toolkit are being chosen, appropriate connectivity services are being sourced, and employees are being trained to the correct standards. This groundwork will help shipping companies generate a better return on digitalization investments.

The Author: Mark Rasmussen leads Intelsat's Mobility business unit, providing global satellite-based solutions for the maritime, aero and connected-transportation markets. He has more than 20 years of experience in the telecom industry.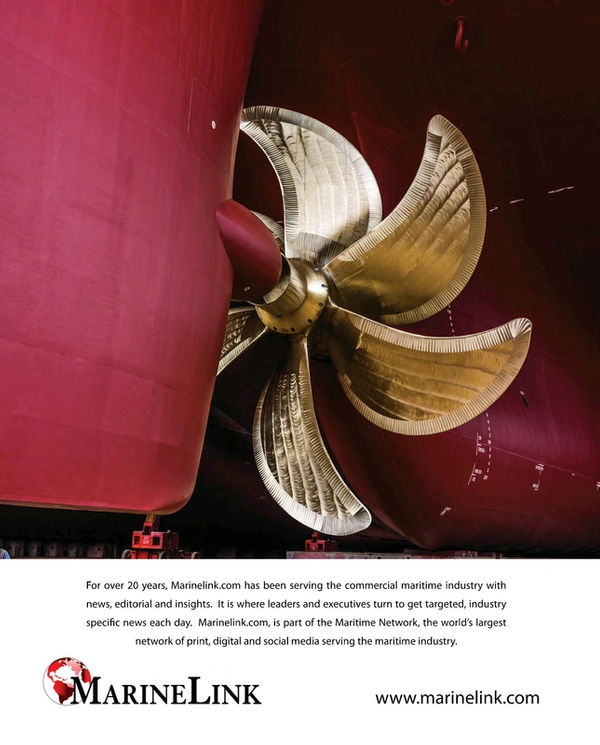 Read Maritime Operators Embrace Digital Transformation in Pdf, Flash or Html5 edition of July 2018 Maritime Reporter
Other stories from July 2018 issue
Content