Small Scale FSRU: Think Smarter Not Bigger
Tor-Ivar Guttulsrod ABS Director, Global Gas Solutions
The global search for lower carbon forms of energy and demand for cost-effective ways to serve power demand in emerging markets and remote locations is driving interest in floating storage and regasification units (FSRU).
FSRUs are a faster and more flexible way to import natural gas to power-constrained places, so demand for the units is increasing and the business case for owning them is growing stronger.
Their model for supplying energy and transport fuel is historically well proven: they offer faster development timelines and lower initial capital costs compared to onshore regasification, opening new markets the possibility of importing liquefied natural gas (LNG).
According to the International Gas Union's annual report, as of February there were 12 FSRUs on order (including conversions) at world shipyards. The existing fleet is largely supporting development projects across the world and prospects for them are growing stronger, particularly in Asia, the Middle East, Africa and South America.
As demand for LNG rises (Clarksons forecasts an 8% jump in LNG trade this year), the improving business case for supplying it on a 'small scale' is moving more projects to the stage of final investment decisions (FID).
Any FSRU project – small to full scale – requires a proven business case. However, small-scale endeavors also need to balance the risks associated with national legislation, baseload cargo volumes and whether the economics of supply can provide adequate returns on investment.
While individual owners and operators will make decisions on a case-by-case basis, in the full scale FSRU market, the trend is towards ownership of the assets rather than chartering; economics and politics are the main influencers.
Among notable small-scale projects, the Bali LNG terminal was an early mover, comprised of a floating regasification barge and a 26,000 cubic-meter floating storage unit. It has been operational since 2016.
Exmar ordered a 26 000 cu. m. regasification barge speculatively, rather than against specific projects. This unit has since been chartered by Gunvor towards a targeted project but is not yet operating. Other vessels are under construction in China for planned use in Africa.
Elsewhere, a tender for small-scale energy supply in Indonesia, including regas units and storage barges, has been offered on more than one occasion, but has not yet materialized.
Indonesia has approximately 7,000 islands that need electricity. For those locations, LNG is the logical answer, being cheaper and cleaner than the coal-fired alternatives, and offering the added potential to be used as a fuel for local transport.
These types of projects illustrate the economic challenges of small-scale LNG supply: there needs to be a commitment to provide minimum volumes, but the asset owner also needs to operate at the economically attractive rates that are more easily achievable at larger scale projects.
Also, the unit costs at which suppliers can deliver LNG are not always straightforward. Whether the gas is being sold as a measure of energy content (MMBtu) or weighted volume (tonnes), the infrastructure and transport costs are not linear and can be a challenge to attain a delivery price that suits the market.
Operators must also navigate local conditions. Since power markets are subject to regulation, price fluctuations and national laws may make it more difficult to operate some types of vessels in price-sensitive markets.
Markets such as Asia, the southern hemisphere or the Caribbean may be demographically suitable for small scale LNG, but the relationship has to be based on long-term government commitment and access to finance.
The challenge for designers and builders is to develop small-scale LNG projects that meet all these requirements simultaneously. Without the ability to benefit from economies of scale, they must find ways to build these complex units in ways that are simple enough to lower the overall cost of delivery.
In technical terms, there is not a huge difference between providing classification for a full scale FSRU and a small-scale unit, but smaller units can be more complex in execution.
For these, designers need to think more closely about hazards, since there is much less space for escape routes or blast walls; comprehensive safety studies are even more essential.
Only a handful of shipyards can build at the level of complexity that is required for FSRU units. These yards tend to be in South Korea or China, where ABS has decades of experience classing some of the world's most advanced LNG carriers.
Of current full-scale FSRU projects, ABS is classing a 170,000 cu. m. unit under construction for Turkish operator Botas at South Korea's Hyundai Heavy Industries, and another Dynagas order under construction at Hudong Zhonghua Shipyard in China.
In general terms, it appears that the speculative ordering of FSRUs is slowing, although there is likely to always be room for taking a longer-term view of the market. It is likely that a good portion of new orders may be underpinned by specific project needs.
With the era of the very big floating exploration and production-related gas projects slowing, there are questions about LNG's role in the world's decarbonization efforts.
Many governments have identified LNG as part of the solution. Sentiments like these have forecasters such as Clarksons' estimating that the LNG fleet will outnumber very large crude carriers by 2026. But others see it more as a transition fuel, with demand gradually strengthening until the production of renewable fuels can be established at affordable prices.
In this market uncertainty, short-term spikes in demand can be expected, though perhaps the first generational model of take or pay over 20 years is behind us. But, clearly, designers, builders and operators of small-scale FSRUs need to think smarter, not bigger.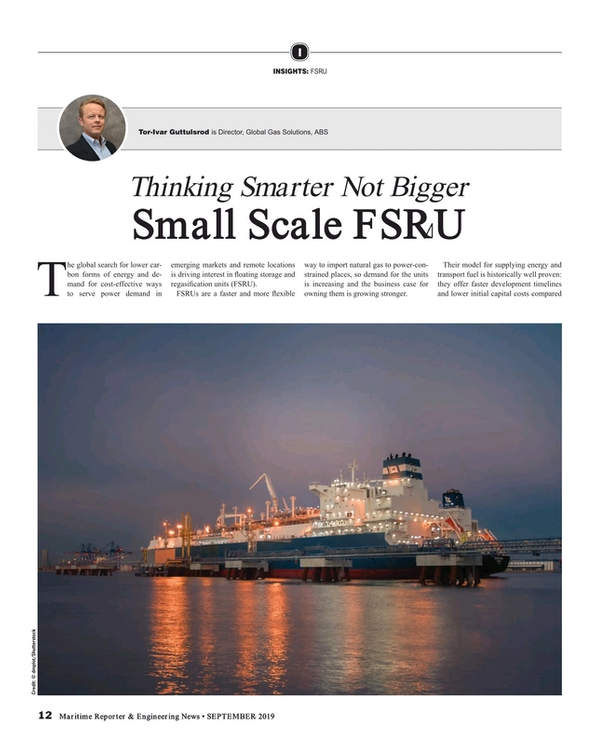 Read Small Scale FSRU: Think Smarter Not Bigger in Pdf, Flash or Html5 edition of September 2019 Maritime Reporter
Other stories from September 2019 issue
Content