Tech in Focus: Elastomeric Repair and Protective Coatings
by Peter Senger
No other means of transport are as exposed to the forces of nature as a ship. The word safety takes on a special sense: safety for people, goods, the environment and the image of the operator. In this context, the question arises as to how the operational safety of the parts of the huge mechanism can be long-term secured. Elastomeric protective coatings show a way.
In terms of protection against wear caused by the destructive energy of cavitation, erosion and abrasion, there are still two physical schemes available: energy reflection through very hard surfaces, such as those achievable through plasma treatment, manganese steel, Hardox, tungsten carbide and similar alloys. And energy absorption by elastic substrates that absorb, store and release the energy when the energetic impact ends, as it is the case with natural rubber and synthetic MetaLine elastomers.
Since 1960 on the market as a manufacturer of epoxy ceramic repair materials, MetaLine Surface Protection GmbH introduced in the 1990 a range of elastomeric repair and protective coatings and opted for energy absorption.
"30 years ago we began developing a material incorporates the primary technical characteristics of completely different materials," said Peter Schramm, Managing Director, MetaLine. "The application process is as straight-forward as with an epoxy-ceramic composite, but the compound itself functions like rubber, and finally possesses erosion qualities equal or greater than Duplex Steel (AISI316). The result is a hydrodynamic resistant castable and sprayable protective coating that provides unparalleled erosion/cavitation resistance."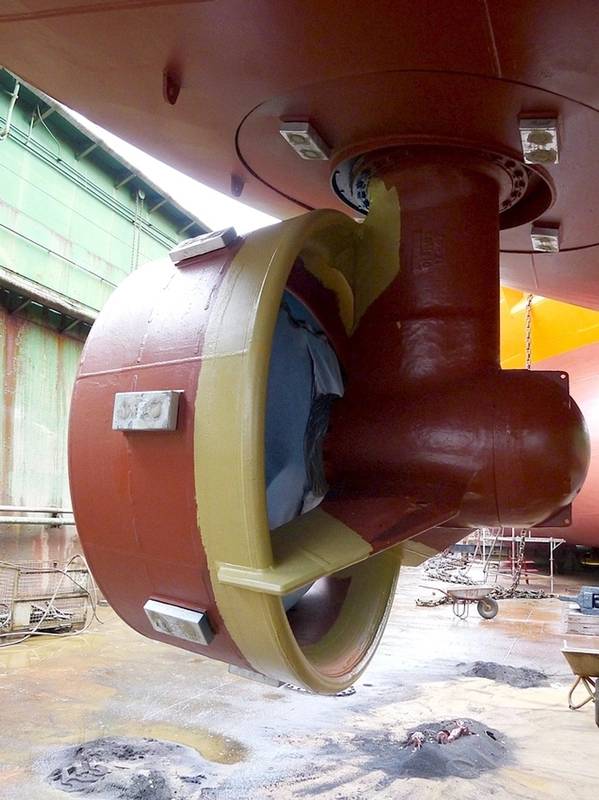 Tugs work hard. The high-revving propeller carries a huge flow of water, which leaves cavitation and erosion marks, especially on the suction-side edge and on the supports of the nozzle. Photo courtesy MetaLine Surface Protection GmbH
This fundamental step was based on experience and knowledge from the epoxy ceramics business. While MetaLine covers the market with only three products, epoxy ceramic suppliers exchange their fillers creating numerous of similar compounds with identical limitations. They do not offer variations of their binder as this would negatively influence the easy do-it-yourself character of their products.
Epoxy ceramic materials try to fight wear with a low hardness of about 90 to 95 Shore D - which is far less than ordinary mild steel. The epoxy binder is by far not hard enough to become wear resistant by energy deflection and not soft enough for energy absorption. The ceramic content in these products cannot overtake that role, as composites always fail with their weakest element: the epoxy binder.
The most important maritime applications of epoxy ceramics are the rebuilding of worn surfaces, which are then coated with a protective layer, and quick repairs as an emergency solution until a spare part can be used.
The market demands more wear-resistant materials for professional applications with long service lives. The ongoing development of ultra-wear-resistant elastomeric protective coatings (cannot be removed by sandblasting) has led to today's MetaLine Series 700 supplied in three different degrees of hardness:
MetaLine 760 (60 Shore A) serves to repair soft rubber linings and worn fenders as well as optimizing the performance of hatchcover seals.
MetaLine 785 (85 Shore A) is the first choice for the protection of components subjected to erosion, cavitation, corrosion and wear: rudder blades and horns, kort nozzles, seawater/scrubber pipes, strainers, BWT reactors and installations, heat exchangers, pump impellers and casings, thrusters, jet propulsion drives, ropes, fenders, floating hoses etc.
MetaLine 795 (95 Shore A) develops non-stick properties. It offers an ultra low coefficient of static friction improving material and fouling release. Applications: cargo gates, off-loading chutes, hopper and bunker installations.

For surface prep, metal substrates are coated with MetaLine 924. This electro-chemically active corrosion protection prevents borderline penetration on coating edges and protects damaged areas from rusting. After drying, a double coat of MetaLine 900 Universal Primer on solid surfaces or MetaLine 910 on rubber surfaces is applied. Finally, MetaLine Series 700 protective coating with required film thickness and color is sprayed on. For the purpose of visual wear control indication, the coating can be executed with color changes during application. MetaLine Series 700 can be recoated and repaired at anytime.
MetaLine Series 700 adheres to various substrates including steel, alloys, aluminium, rubber, concrete, wood and different plastics. The coating thickness ranges between 1 mm (40 mils) and 20 mm (3/4 inch) and can be achieved on vertical surfaces without material sagging. It can be used in many climatic conditions (as in zones with extremely high humidity).
The solvent-free, two-component elastomer can be applied by spraying, injecting or casting by a low-pressure cartridge applicator (about 5 bar). After 5 minutes the coating is dry to touch and most parts can go back in service after 24 hours (at 20 °C / 68 °F). The temperature resistance is between -50 °C / -58 °F and +120 °C / +248 °F, depending on the relevant application.
The coating cures without any shrinkage or swelling. In addition to its chemical bonding process, a mechanical memory effect is developed. This permanently ties the coating to the substrate, thus counteracting any separation tendency that is normally associated with conventional rubber sheets. With strict adherence to all processing steps an adhesion/bond strength of at least 15 N/mm2 (2,175 psi) is achieved.
The low pressure spray mode creates an extraordinary smooth surface improving any fluid-flow dynamic. Efficiency increases of up to 3.5 % have been proven.
A coating of this surface quality cannot be achieved by common composite trowel applications.
The MetaLine technology allows seamless coating of the most complicated surface shapes.
With a density of just 1.05 g/cm3, it is a lightweight duroplastic wear protection tool. The material has practically no influence on the dynamic behavior of moving parts, with a dynamic abrasion of 55 mm3 according to DIN ISO 4649.
The material is non-toxic, safe to use and have been assessed by US & EU authorities as drug and food-safe according to FDA standards and relevant EEC regulations.
MetaLine Series 700 has been used in civil and military shipping since 2012. In the meantime, a wide variety of marine equipment has been repaired or protected using MetaLine´s elastomer materials on more than 500 ships.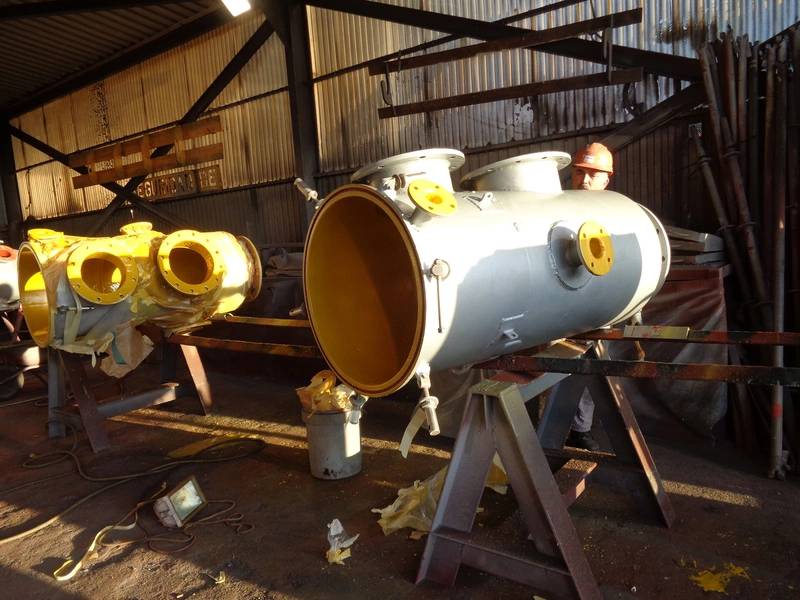 Coated on site. Due to its liquid spray application, MetaLine 785 can be installed into every possible shape – impossible with vulcanized rubber. Photo courtesy MetaLine Surface Protection GmbH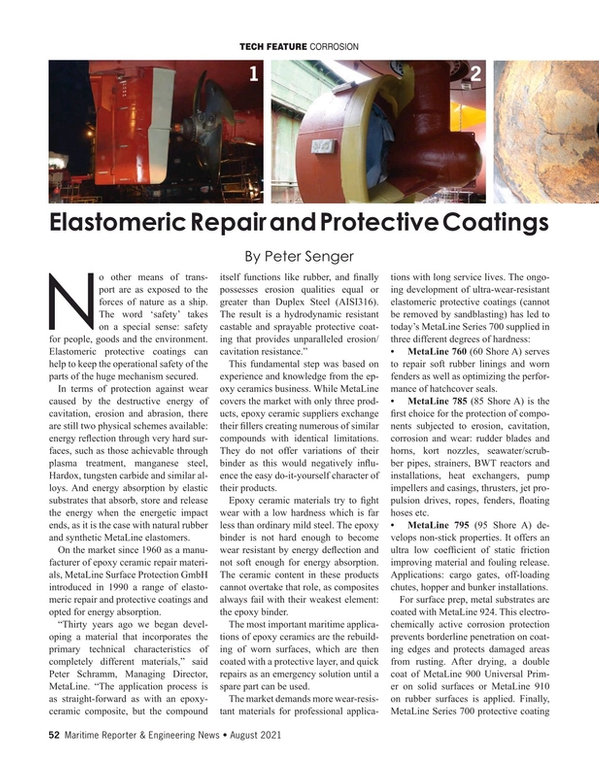 Read Tech in Focus: Elastomeric Repair and Protective Coatings in Pdf, Flash or Html5 edition of August 2021 Maritime Reporter
Other stories from August 2021 issue
Content