USS Ticonderoga, First Of New Class Of Cruisers, Joins The Fleet
USS Ticonderoga (CG-47), lead ship in the most powerful class of guided missile cruisers ever built for the U.S. Navy, was commissioned recently at Ingalls Shipbuilding Division of Litton Industries, Pascagoula, Miss. Secretary of Defense Caspar W.
Weinberger was the principal speaker.
The first Navy combat ship to carry the advanced Aegis weapons system, the USS Ticonderoga officially joined the Atlantic Fleet during the ceremony, and Capt.
Roland G. Guilbault of West Warwick, R.I., assumed command of the 563-foot ship.
Others participating in the commissioning ceremony included : Assistant Secretary of the Navy for Shipbuilding and Logistics, George A. Sawyer; Chief of Naval Operations, Adm. J.D.
Watkins, USN; Commander in Chief, U.S. Atlantic Fleet, Adm.
W.L. McDonald, USN; Commander Surface Force, U.S. Atlantic Fleet, Vice Adm. E.W.
Briggs, USN; Deputy Chief of Naval Operations (Surface Warfare), Vice Adm. R.L. Walters, USN; AEGIS Shipbuilding Project Manager, Rear Adm. W.E.
Meyer,USN;Commander Cruiser- Destroyer Group Eight, Rear Admiral R.C. Berry, USN; president of Ingalls Shipbuilding Leonard Erb; and supervisor of shipbuilding, Pascagoula, Capt.
S.P. Passantino, USN.
Designed to provide the primary surface ship anti-air warfare protection for the Navy's aircraft carrier battle group, the Ticonderoga as well as her sisterships which will follow, is a potent multiwarfare combatant capable of providing anti-air, anti-surface, and antisubmarine protection. The centerpiece of Ticonderoga's Combat System is the Aegis Weapon System, the most advanced air defense system in the world today which is specifically designed to defeat the current and projected missile threat.
Aegis is a computer-controlled weapon system which can detect, track, and engage hundreds of aircraft and missiles while continuously watching the sky for new targets.
The USS Ticonderoga is the lead ship developed and designed by the AEGIS Shipbuilding Project of the Naval Sea Systems Command. Rear Adm. Wayne E.
Meyer is the Aegis project manager under whose direction the integration of both the ship and weapon system has been closely coordinated.
The 9,600-ton Ticonderoga is an advanced adaptation of the 31 Spruance (DD-963) class and four Kidd (DDG-993) class destroyers built for the Navy by Ingalls Shipbuilding, which with CG-47 has developed and delivered four classes of ship's for the Navy's Fleets since 1975. Building Ticonderoga cruisers on the same proven ship platform designed for the Spruance and Kidd class is saving the Navy millions of dollars in design costs, Navy officials report, and is providing the opportunity to get larger numbers of proven combatants to sea more quickly than otherwise possible. Particular areas of commonality are the gas turbine engines, main propulsion gear, propellers and shafting as well as the hull, and most auxiliary systems.
The advanced Aegis weapons system aboard Ticonderoga, designed and built by RCA's Missile and Surface Radar Division in Moorestown, N.J., was tested during the cruiser's second sea trial in August 1982.
Ticonderoga-class cruisers are large ships, 563 feet long with a beam of 55 feet, and are capable of carrying their formidable array of weapons and electronic equipment at high speeds over long ranges. Powered by four General Electric gas turbine jet engines, which together can produce more than 80,000 shp, Ticonderoga is capable of speeds in excess of 30 knots. Two controllable, reversible-pitch propellers and twin rudders add flexibility and maneuverability.
The size of the crew has been substantially reduced from earlier ships of comparable size and war-fighting missions. Automation and advanced technology in the propulsion, armament, and electronics systems, combined with support systems which require minimum maintenance, permit a crew numbering 350 — 23 officers and 327 enlisted personnel.
The usual complement for other cruisers range from 434 to 500 personnel.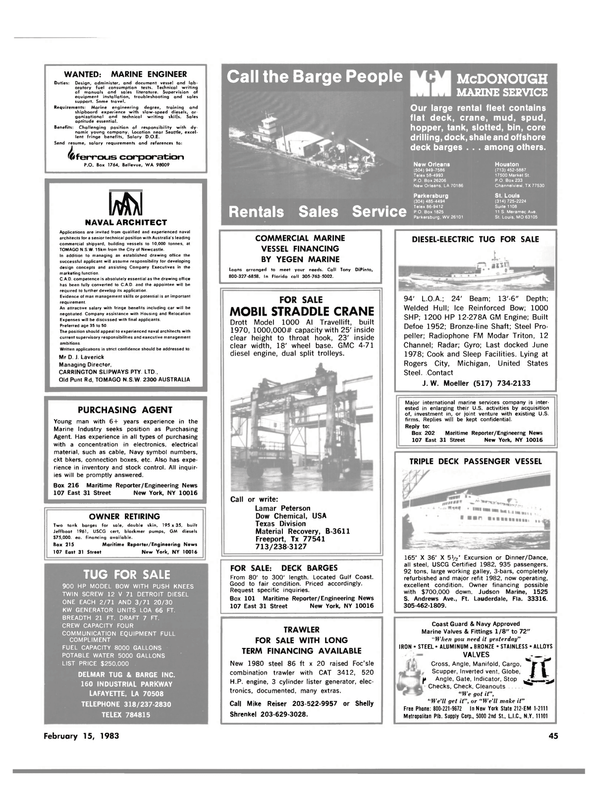 Read USS Ticonderoga, First Of New Class Of Cruisers, Joins The Fleet in Pdf, Flash or Html5 edition of February 15, 1983 Maritime Reporter
Other stories from February 15, 1983 issue
Content