Caterpillar's Marine Center of Excellence
By Joseph Keefe
Highly automated, fully variable assembly process allows Cat to provide uniform service to a myriad of marine customers. But, MCOE is only one part of Cat's new business strategy.
In August of 2007, the first Cat marine engine left Caterpillar's new Marine Center of Excellence (MCOE) in Greenville, South Carolina. In the ensuing years, countless engines have gone through the same process. And, according to Caterpillar's Manufacturing Engineering Manager, Brad Fischer, "By creating a unified process for marine engines, Caterpillar has benefited by being able to deliver unique processes to marine customers where necessary while leveraging common processes across all engine manufacturing."
Caterpillar Marine Power Systems brings together all the sales and service activities for Cat and MaK branded marine products within Caterpillar Inc. The organization provides marine power solutions (high and medium speed with outputs from 11 kW to 16,000 kW) and customer service from a single source for the global ocean-going, commercial and pleasure craft markets. With a sales and service network of more than 2,100 worldwide dealers, Cat says it is well positioned to support customers wherever they are. Arguably, the epicenter of that effort depends on the Greenville, SC-based Caterpillar MCOE. An early January site visit by MarineNews brought the impressive capability of this ultra-modern facility into full focus.
Over time, the Cat vision of delivering products to marine customers that meet and exceed expectations has not changed. As the MCOE facility matured, it has added new capabilities to meet these needs as well as robustness and efficiency to its processes. Starting from an original headcount of 65 MCOE factory, engineering and marketing employees, the Greenville site has now grown to more than 150 support staff, with another 250 working on other Cat tasks. The DNV and ISO:9001-2008 certified center has been in this location for 17 years and now is home to high volume engine production that sees annual audits by all the major classification societies. And, while bigger and medium speed engines are processed in Cat's Lafayette, Indiana location, nowhere is the concept of engine "marinization" more important than it is here in Greenville.

Engine Marinization
Although Cat utilizes the same engine block for land and sea applications, that's where the similarities end when it comes to making sure that an engine is ready for a demanding life on the water. Indeed, the power requirements of marine engines, operating conditions and multiple vessel design configurations for cooling drive the unique requirements for marine engines.
Corrosion protection is also a critical part of the marinization equation. For this reason, Cat applies paint prior to assembly; they uses a thicker paint application benchmarked to ensure optimal coverage and endurance. And applications do vary – pleasure versus commercial. For this reason, a conscious effort to upgrade and change the regulations of land-based paints to marine engine applications is underway. The coating process at MCOE, as MarineNews discovered in January, is highly technical, computerized and versatile. Only after this aspect of preparation with each component is complete will an engine part then leave the paint shop for the assembly line.
Brad Fischer explained, "The design of our paint process is intended to deliver corrosion protection and cosmetically meet customer fit and finish requirements. Some elements of the finishing process we've selected could be varied by another manufacturer's choice while achieving similar effect, but varying others would degrade customer performance."
MCOE provides the ideal manufacturing environment, blending both high-speed and highly controlled processes with the ability to produce an order-specific build product. Beginning with the engine block itself, an innovative monorail transport system, comprising 20 engine carriers and ultra-modern PC tooling equip¬ment, provides flexibility in engine assembly. All six different C series engine models, each with numerous different ratings and customized configurations, can be assembled in random order. Regarding MCOE production capacity, Cat officials would say only, "The facility meets current customer output demands, with room for growth."
Work instructions are computer driven with color coded parts. Assembly line workers "badge in and badge out" for quality control. Even torque control is automated – the same exact amount of torque is applied to each bolt and clamp, every time. Electronic tooling with RFID chipped socket wrenches complete the picture of the fully modern assembly process. Nevertheless, the assembly line is versatile, changeable and audited throughout to allow close monitoring of the process.
Every completed engine undergoes application-specific testing to ensure that the final configuration meets the desired performance and quality levels. Three test cells, designed especially for marine engines, enable comprehensive dyno testing of any conceivable operating situation. To ensure maximum compliance with engine specifications, the average testing time has been increased to about 45 minutes per engine. The data collected during the hot test process is available to the Cat Dealer for use in understanding that particular engine's performance on board compared to in the factory. An additional benefit stems from the fact that the data from all tests is available internally for analyzing product and process performance.
After successfully completing the performance test, the engine undergoes final painting and another detailed inspection prior to being released for shipment.

One Size Does Not Fit All
At MCOE, Cat has made dramatic changes from past market experiences and now sees what industry wants – understanding each individual industry segment. Since 2007, Cat has talked to more than 300 customers in focused, 1.5 hour interviews. What they discovered was that one size does not fit all anymore, and it also became clear that customers wanted one integrator. A new business strategy then emerged, focusing on 10 different industry segments. Fischer continues, "We are committed to remaining a market leader in the marine industry and strive to build long-term partnerships with our customers. Understanding our customers' key value propositions has guided Caterpillar Marine Power Systems to engage in a strategically-segmented approach to the marine industry and adjust to our customers' short-term needs. Our segments include offshore, tug and salvage, pleasure craft, cruise, ferry, fishing, dredge, cargo, governmental and inland waterways. We are currently experiencing significant growth in our offshore segment and are uniquely suited to leverage the synergies between marine and oil and gas divisions in this particular segment."
Along the way, the differences in the requirements and concerns for each of the sectors also became clear. Fischer told MarineNews that OSV's, for example, might be more concerned with reliability than they might be with fuel efficiency because no one wants downtime in this high-dollar day rate game. Others want to know about owning, operating lifecycle costs, while for some marine operators, the solid relationship with their engine supplier comes first and foremost. Lowering their environmental footprint and measurable emissions is still a big concern of course, especially from the cruise industry.
Spending twice as much in research and development now, as it was just three years ago, Cat continually strives to be the industry's one stop shop that melds business and technology into one service.
Beyond MCOE: Innovation, Integration and Technology, too
During our visit site visit, Fischer also took us beyond MCOE with a closer look at other developments at Cat. Referring to Cat's new and aptly named gplink, the new satellite/cellular based tracking, monitoring, and notification system is specifically designed for Cat engines, he said, "Caterpillar's use of satellite and cellular remote monitoring is just one component of our value proposition to our customers; we want customers to have one source for all of their power needs, from main propulsion engines to generators to auxiliary power units. These engines, along with their controls and switchgear, can all be serviced by our 191 Cat Dealers worldwide. Remote monitoring adds an additional dimension of safety and enables our dealers to swiftly serve customers, minimizing downtime and increasing bottom lines."
CAT began marketing the optional add-on gplink service in June 2012. One day, they envision that the service will be a standard feature for all CAT engines. Monitoring "Advanced Condition Based" maintenance and data, the system is also designed to predict failures – before they happen. Non-Engine metrics can also be monitored, including bilge alarms, air conditioning systems, smoke detectors low batteries, power interruption and other similar warning systems. Especially applicable for yachting community, the use of the gplink can also trigger a break in insurance costs much in the same way that homeowners with home security systems can gain similar leverage with their casualty insurance brokers.
Fischer adds, "All over the world, numerous Caterpillar customers are realizing the incredible utility that remote monitoring offers in a relatively inexpensive package. For some, avoiding even a few days downtime is a matter of tens of thousands of dollars and detecting potential problems early on will minimize time for maintenance. Indeed, there is the possibility in the foreseeable future that many Cat engines will include remote monitoring as a standard feature."
Also recently introduced to Cat's ever-expanding line of marine solutions is the Cat C1175-16 Engine. The diesel, dual fuel and gas engine is targeted for the marine and offshore markets – ideal for offshore support vessels, tugs and workboats. Designed to improve total vessel profitability by providing durability with unmatched power output, Cat billed the engine as "the new industry standard in terms of hard-working, revenue-producing power." Bob Hallengren, Caterpillar Marine Power Systems product director said recently, "Naval architects can design vessels around the Cat C175 engines with the confidence these engines will deliver in terms of power and load carrying capability."
Available today in the 2001 to 2168 bkW power range, starting in early 2013 it will be offered in the 2239 to 2550 bkW range. With unrestricted continuous and heavy-duty ratings, the engine provides (13%) more power, room for growth, and maximizes productivity, while minimizing cost of ownership.
The C175-16 is simply one plank in the Cat platform to broadly expand its strategic focus on maritime assets and their power needs, according to Nigel Parkinson, Managing Director, Caterpillar Marine Power Systems. Offering maximum performance along with EPA Marine Tier 3 and IMO Tier II emissions compliance with no after treatment, it is positioned to comply with EPA Tier 4 and IMO Tier III rules.
Tucked away in a quiet corner of South Carolina, the Cat Marine Center of Excellence might be easy to miss if you didn't know what you were looking for. Clearly, however, Cat knew exactly what it was looking for when it assembled the state-of-the-art assembly plant back in 2007. The dividends of that effort are only now beginning to become apparent as Cat not only augments its product and service lines, but also alters how it does business in a rapidly changing marine landscape. But, you don't need to travel all the way to the Palmetto state to understand that.
(As published in the April 2013 edition of Marine News - www.marinelink.com)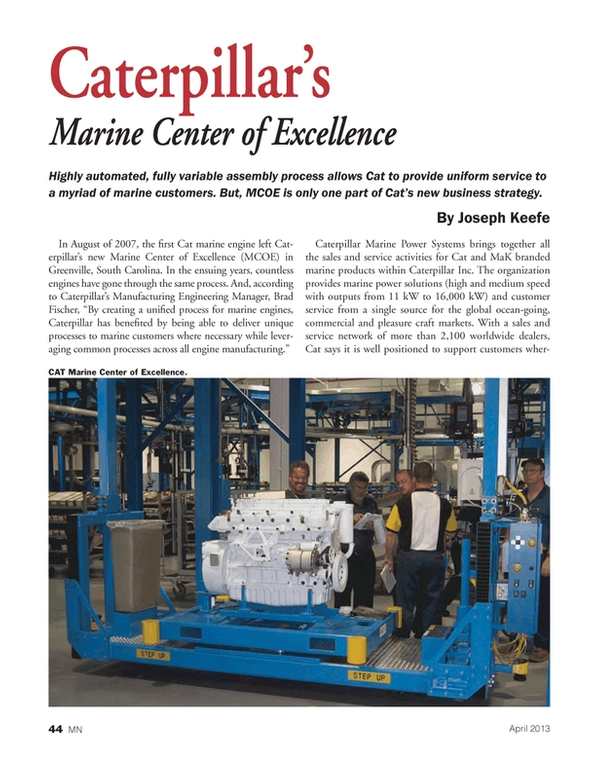 Read Caterpillar's Marine Center of Excellence in Pdf, Flash or Html5 edition of April 2013 Marine News
Other stories from April 2013 issue
Content