JK Fabrication's Emergency Towing Reel
By Joseph Keefe
You've got an emergency towing wire. Of course you do. It's rusted beyond belief, probably retired from primary service two years ago when it developed that kink and those nasty fishhooks. And, it's deployed where it should be; out on deck, in the open and exposed to the elements. Will it perform when you need it most? Probably not. It doesn't have to be that way. According to JK Fabrication, the current system of storing wire on a front splash plate insures that the wire will fail as it has very tight radius bends and is rusted in a very short time. When pulled hard in an emergency, the wire will break from tight radius fatigue in rusted areas.
Moving forward with a proven design of a non-required, but nevertheless key safety item, JK Fabrication has already installed several of their patented Emergency Towing Reels. Already being purchased by industry despite the lack of classification society or Coast Guard mandate, the JKF emergency towing reel is a simple and proven means of storing an emergency tow line and facilitates fast and safe deployment when that becomes necessary. Already in service on a number of major operator's barges, the units have been successfully deployed to avert disaster in the face of parted towing lines and other casualties.
The unit is capable of carrying a number of different diameters and lengths of wire cables in a compact, easy to access and quickly deployable fashion. JK Fabrication continues to look for Coast Guard approvals or other regulatory mandates for this type of equipment, but in general, emergency towing arrangements are required only on tankships 20,000 deadweight tons and above, while tank barge towing and anchor arrangements are based primarily on route and service. That doesn't mean it isn't a good idea.
The unit can include a hot-dipped galvanized finish or a two-part marine epoxy coating. The storage reel is designed and engineered to survive in harsh salt water conditions and to provide years of reliable service with its large wire capacity, stainless steel tension brake, bolt-down mount and protective cover. With the bolt-down mounting design this system can be simply switched from barge to barge or stored in the warehouse for the next voyage. Simple to deploy, when the pick-up line is pulled, the emergency tow line runs completely off of the reel and engages with the auxiliary tow chain, allowing you to continue the tow and complete your voyage. To date, JK Fabrication has sold about 10 units to industry for service on fuel barges and container barges. It goes without saying that they hope that their device will become the new standard in design for retrieving a loose barge, ship, ferry, or any other marine vessel.

(As published in the April 2013 edition of Marine News - www.marinelink.com)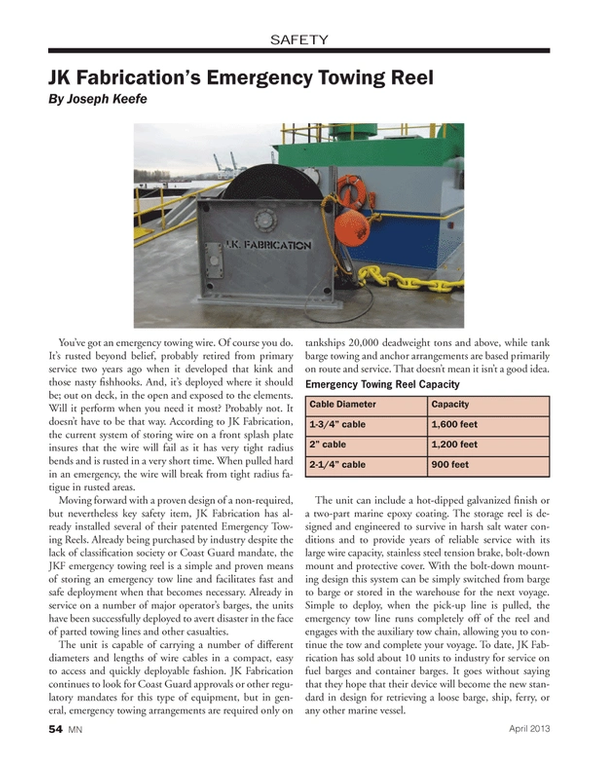 Read JK Fabrication's Emergency Towing Reel in Pdf, Flash or Html5 edition of April 2013 Marine News
Other stories from April 2013 issue
Content