Pumps and Piping: A Curious Turn to the Right
By Joseph Keefe
Owners and shipyards come to the realization that alternative composition piping and pumps represent the way forward.
You cannot put a vessel to work without pumps, valves and piping. Too often, product selection is left to the discretion of those who view these items as inconsequential decisions, driven primarily by not much more than initial cost. That mindset, in an atmosphere of cost-cutting, the quest for fuel economy and reduction in total lifecycle costs, is changing – albeit ever so slowly. Led in part by success in the military and naval sector, workboat operators are now taking a hard look at both plastic and glass reinforced epoxy (GRE) piping, as well as pumps and valves built with alternative composite materials. The reasons to change from the traditional metallic approach are compelling, the downstream advantages countless. As you follow along, it is easy to see why.

Glass Reinforced Piping (GRE)
Glass Reinforced Epoxy (GRE) materials have been found to be a viable alternative to carbon steel pipes, especially for use in corrosive, aggressive and normal duty areas. Increasingly, boat operators are insisting on GRE piping to achieve the same or better performance as CuNi piping (shock, fire, repair), reduce manpower (installation and service) and to control and/or reduce ship acquisition costs. Beyond this, and just as importantly, weight savings during construction and the elimination of corrosion worries make the use of GRE a smart move for most operators, in the right application.
JA Moody Company, a firm that originated in the 1950's as a fluid power distributor, represents and distributes Bondstrand brand GRE piping in addition to a wide variety of fluid control products to the Marine Industry. In April, JA Moody Technical Sales representative Scott Beardsley led MarineNews through the merits of this product. As it turns out – depending on what you are looking to use it for – the advantages are many.
The ideal application for GRE piping can involve long, straight runs of ballast systems, typically installed in double bottoms on ATB vessels. The immediate, low hanging fruit in terms of tangible benefit is in weight savings. Initially more expensive, the piping is also easier to install; hence the manpower required more than eclipses the small price differential. With filament wound into the pipe runs to prevent conductivity, GRE is durable, noncorrosive and represents a clear advantage in lifecycle costs. Approvals for this product include DNV, Lloyds, API, ABS, BV and GRE piping also passes most Milspec tests, including shock, mechanical and fire performance criteria. Specific advantages of the GRE system from Bondstrand include:
Lower system lifecycle cost (LCC): a combination of all metrics;
Weight savings: Up to 75% reduction for >10" over CuNi pipe.
Installation: Bondstrand can be installed much faster than steel or alloy systems. Pipes are easy to install, maintenance personnel can be quickly trained to cut and complete a joint. No hot work is required. Installation cost savings: as much as $900 per linear foot.
Corrosion resistance: No galvanic component and good service history. Cathodic protection is not required. Bondstrand GRE does not rust or scale.
Fouling resistance: Similar in performance to CuNi pipe and smooth inner surface lessens fouling under high flow conditions. Smooth internal surface reduces friction losses, allowing for downsizing the piping system, reduced pumping cost.
Cost: Royal Navy LPD acquisition cost of was actually roughly one-half that projected for CuNi pipe

Bondstrand Glassfiber Reinforced Epoxy (GRE) and phenolic piping is available in diameters up to 1,000 mm (40 inches), pressure classes up to 398 bar (5,750 psi) and standard lengths up to 12 meters. (40 feet).

Structural Composite Material Constructed Pumps
Sims Pump Valve Company, Inc. manufactures Simsite products to the marine industries. Simply described, Simsite is a patented, graphite combination-fiber reinforced composite with phenolic resin. Offered exclusively by Sims, it features a unique design that is reinforced for higher strength and flexibility. As a heavy-duty structural composite, its characteristics can be changed to accommodate the required structural strength of the parts being manufactured. Among the products produced using this material include pumps, impellers and rings, pump casings and diffusers, backplates, guide bearings, sleeves, bushings, mechanical seals, ball valves and hush heaters.
Sims sells only to owners and end users. According to John Kozel, President of Sims Pump Valve Company, Inc., that's because his pumps aren't the cheapest on the market. Some yards are reluctant to use something in a bid that might tip the total price in favor of someone else. The vast majority of the work and products produced by Sims is custom designed work, fit for purpose.
Owners and operators come to Sims for the same reason someone might purchase GRE piping: economy, weight savings, lifecycle improvements and the elimination of corrosion from the equation – just to name a few advantages.
Sims Pumps never corrode in salt, waste or chlorinated water, John Kozel said, and they are an excellent fit for many acid or alkaline solutions. All Sims Products are manufactured (machined) from Simsite, 100 percent machined solid blocks into their form, which gives them superior mechanical and hydraulic properties. They are 100 percent manufactured in the United States and last many times the life of their metallic counterparts.
Custom engineered for the customer's applications, Sims does not, like other pump companies, offer only standard lines of pumps. And since Sims machines their pumps instead of casting or molding them, Sims can design their pumps specifically for the desired operating performance, which results in much higher efficiencies and a much longer life for the pump. In a marine world where wasted energy, space, weight and corrosion can no longer be tolerated, the premium price of a Sims pump will likely pay for itself many times over during the life of the unit. Beyond this, Sims replaces individual impellers and casing rings (mouth rings) for any centrifugal pump, improving longevity, efficiency and performance. The advantages of a composite Sims pump are many:

Lightweight / energy-efficient:
The pumps are well balanced and remain that way for their lifetime. This means less vibration and shaft deflection, resulting in a much longer life for the entire rotating element. Each pump is custom built for the best efficiency point.

Less start-up load / self-lubricating:
The pumps have the ability to take dry starts due to the self-lubricating qualities of the Simsite material. Simsite can be lubricated with water, saltwater, river water, oil, grease and even some chemicals.

Cavitation resistance:
Utilizing Simsite, through the redesign of impellers and pumps, produces a substantially more cavitation resistant pump.

Lightweight:
Simsite is significantly lighter than metallic materials; one-sixth the weight of bronze and stainless steel; and one-third the weight of titanium. The lighter mass means a substantial reduction in start-up load and increased energy savings, shaft movement and shaft deflection, resulting in a much longer life for the bearings, mechanical seals, casing, wear rings and sleeves.

Corrosion resistance:
The graphite used in Simsite is nonconductive, which means that Simsite will not support electrolysis or galvanic corrosion. It also means that the more Simsite used in the pump, the longer the pump will last. The U.S. Navy itself has described Sims pumps as, "The only pump that is impervious to saltwater corrosion."

Approvals: Simsite rings, wear rings, bearings, sleeves and bushings approved by the United States Navy for surface Ships since 1994, the German Navy since 1998. Additionally, Sims enjoys approvals from ABS, Lloyds, DNV and Germanischer Lloyd.


Today, Simsite pumps and pump products have been provided aboard most U.S. Navy vessels, with good penetration into the blue water commercial sector, including more than 30 cruise lines. Energy accounts include Amoco, Exxon and Getty and in the brown water workboat category, Sims counts among its clients the Staten Island Ferry.
Sims' president Kozel is passionate about his product, and with good reason. He explained, "Our primary business entry points include upgrades, replacements and 'Cadillac' systems – where people want and expect the very best. Sure, we can do production work, but longer lifecycles, lightweight composition and efficiency demand 'design for purpose construction,' even when it involves only a few pumps at one time." Beyond this, he added, "Users don't need to carry as many spares because the equipment rarely fails, never corrodes and runs smoother and more efficiently."

W&O Enters the Fray: SeaCor Plastic Piping is Coast Guard Approved
W&O Supply – not to be outdone in the discussion and already known for being a global supplier of marine pipe, valves and fittings, as well as valve actuation and engineered solutions – has been selected by Georg Fischer Piping Systems as its Preferred Distributor in North America for its SeaCor Engineered Plastic Piping System. SeaCor is a USCG approved plastic piping system that meets IMO A753 (18) part five, low flame spread and IMO A753 (18) part two, low smoke and toxicity. Like other owners who choose GRE piping or a SIMS composite valve to achieve some of the same efficiencies, operators can now lighten their piping systems by using plastic in places where they wanted to in the past, but couldn't because it wasn't allowed.
The newly approved plastic piping system can be installed in concealed spaces and eliminates the need to meet the additional requirements of 46 CFR 56.60-25 (a) (2), which requires smoke detectors for plastic pipes in these spaces. SeaCor piping is lightweight, easy to install and maintain, has ABS approval, and like SIMS composite valves, is manufactured entirely in the United States.
For W&O, the piping deal is a logical move. As a company that in part made its reputation by being a reliable valve provider and solutions firm, the piping that joins those valves is a natural place to go.
SeaCor Piping System is available in sizes from .5-12 inches with a complete selection of approved fittings. The SeaDrain Plus Piping System is available in sizes from 1.5-6 inches with a wide range of Drain, Waste and VENT (DWV) approved fittings. Primary applications for this unique piping include gray and black water systems and sewage transfer; encompassing all hot and cold running water systems throughout the vessel. Like GRE – used for other applications – a 40-70 percent weight savings can be achieved by replacing traditional metal piping with SeaCor.
Other advantages include the increased efficiency due to a lower coefficient of friction in plastic pipe than in metallic pipe. This allows the possibility to achieve desired flow rate using a smaller diameter pipe, resulting in less initial cost for pipe, valves, fitting and pumps, while still maintaining the same or lower friction losses. In terms of material costs, SeaCor is competitive with copper and stainless steel systems. Steel and galvanized pipe have a lower initial material cost, but the advantage is lost on installation and welding time.

Boatbuilding's Potentially Powerful Triple Play
Imagine the possibilities: Your next workboat incorporates the latest in propulsion technology, redundant DP equipment and yes, the weight savings and lifecycle reduction in costs associated with GRE piping, SIMS composite pumps (that run smoother and require far energy) and impellers and SeaCor (smaller diameter) plastic piping. Your boat now carries more payload, stocks less in the way of equipment spares, corrosion issues have been halved and your bottom line benefits significantly from lower acquisition and installation costs. What's not to like? These aren't mere possibilities for the future. They are here now. Owners and operators looking to have the most efficient workboat possible and the advantage of running green can have both. In the end, some parts of that equation might cost less than you might think.
(As published in the May 2013 edition of Marine News - www.marinelink.com)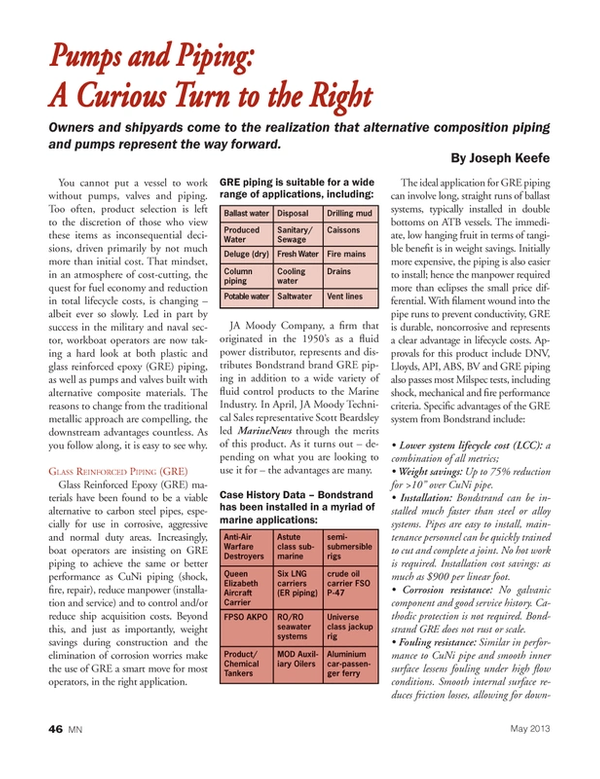 Read Pumps and Piping: A Curious Turn to the Right in Pdf, Flash or Html5 edition of May 2013 Marine News
Other stories from May 2013 issue
Content