The Ballast Water Treatment Solution
By Joseph Keefe
Early planning, engagement with competent partners will be the key to timely compliance.
The May announcement that W&O Supply had been named as the exclusive distributor of Hyde Marine's GUARDIAN Ballast Water Treatment Systems (BWT) in the U.S. and Canada may seem like routine news. After all, W&O Supply is one of the world's largest marine suppliers and has many such agreements in place, covering a wide range of equipment. This agreement, however, comes in advance of Ballast Water Treatment deadlines looming large in the porthole. It also lays out the blueprint for owners and operators to move forward on the complicated process of achieving regulatory compliance with both Coast Guard and IMO mandates. Florida-based W&O will begin selling Hyde GUARDIAN BWTS effective immediately.
The W&O/Hyde partnership is a logical one, leveraging W&O's experience in turnkey maritime equipment solutions and Hyde Marine's proven, type-approved and Coast Guard compliant equipment. Leading up to the agreement, W&O had already invested considerable time meeting with owner/operators and shipyards to help them better understand the regulations, vessels' needs and how the Hyde GUARDIAN system can meet those needs. None of that will be easy for those operators who late too long. Early engagement, prior planning and partnerships will the key for those who hope to smoothly comply with the looming regulatory requirements. Here's why:

Hyde, W&O, PG Marine – and you
Since its initial launch in 1998, the Hyde has sold more than 235 GUARDIAN® BWTS units for installation in various ship types and sizes around the world. Founded in 1975, W&O is one of the world's largest suppliers of valve automation, engineered solutions and marine pipe, valves and fittings for the marine and upstream oil and gas industries. Their inventory will now include BWT solutions, something W&O can distribute through a global network of 19 branches.
For vessel operators, there are now expanded options on the table which will help them get to the Promised Land. Norway-based PG Marine is Hyde's Distributor for the worldwide Offshore Service Vessel market and also is Hyde's Distributor for Norway. In terms of the most recent announcement, the PG Marine Agreement predates and is comprehended in all other Distributor and Agent Agreements. Hyde Marine's key account manager Jim Mackay explains, "We encourage PG Marine to cooperate with Hyde's Representatives around the world and in this case, W&O has also been named as PG Marine's Representative for their full range of equipment in this territory."

Proven, Approved Equipment
With 24 retrofit installations of BWT systems on Offshore Supply Vessels already under its belt, Hyde Marine is one of the more familiar names in the domestic BWT game. And, for good reason. In the ballast water treatment business since the very beginning, the chemical free Hyde GUARDIAN BWTS uses efficient filtration and ultraviolet disinfection to prevent the spread of invasive species from port to port. In April 2013, the Hyde GUARDIAN BWTS earned the Alternate Management System (AMS) approval from the United States Coast Guard (USCG). It also received International Maritime Organization (IMO) Type Approval in April 2009 and has Type Approvals from several Class Societies. It was also an early player in the Coast Guard's Shipboard Technology Evaluation Program (STEP) program.

Looming Deadlines: No Time to Waste
A December 2013 BWT installation deadline for newbuild tonnage is just around the corner and in January 2014, vessels entering the shipyard for a major drydocking will have to comply by the time of departure. And, although some exemptions apply, it clear that the time for hesitation is over. Jim Mackay told MarineNews in May, "In a few months, this will be triage." Mackay expects Hyde Marine to be quite busy in the immediate future and then, steady in terms of business in the newbuild markets. And, while that may sound good for Hyde Marine and its distribution partners, it spells trouble for those operators who are not already making preparations for installation and compliance. Mackay cautions potential customers: "Do not make an uninformed decision at the last moment."
He adds that the key to success includes getting framed agreements early on. This allows the BWT manufacturer – no matter who you choose – to plan production. Mackay adds, "Committing as early as possible benefits both parties."
Todd Nestel, W&O's Integrated Solutions Manager echoed those sentiments, saying, "Fleets with 15-20 vessels of one class would do well to get a couple of boats commissioned early, and then proceed with the fleet in succession, using lessons learned. You want a consistent approach; the same, standardized equipment for each class of boat." But that's only possible if the manufacturers, shipyards and design firms have early notice of the plan.
For newbuilding, keeping up with demands of a series-build client will be important. Nobody wants to put three different types of systems into one class of vessel. Beyond this, a better rate will probably be negotiated for a series BWT deal than one-off deals. But, unless the systems are readily available for shipbuilders when they need them, planned for in advance, the one-off purchase may become the practice of the day. And, with everyone trying to achieve compliance at once, that will inevitably mean delays.

Shipyards – the third leg of the BWT stool
Bill Young with International Ship Repair & Marine Service (ISR) also weighed in. ISR operates shipyards in Galveston and in Tampa. Young says, "We've been looking at this for more than two years. Most operators will want to do it in drydock, but that will require an upfront approach – you must prepare in advance for that visit." But, he adds, "The recent down economy affected the impetus to get prepared early, because that costs money up front." On the other hand, for those operators who continue to sit on their hands, trying to get it done at the last minute may even be more expensive. And, he says, shipyards today are still not fielding a lot of BWT inquiries.
For his part, Young and ISR have a good relationship with W&O and Hyde, but he'll work with owners to put in the right equipment for the specific vessel; no matter which BWT solution they choose. Owners can figure on at least 9 months advance notice to allow for planning and design work and about 4 to 5 months to deliver equipment. Aiming to speed up that process, Hyde itself employs 3D design technology which allows pre-made piping which can be assembled on board, instead of having the vessel endure a lengthy and sometimes messy manufacturing process.
No Silver Bullet
In terms of BWT solutions, there is no silver bullet: different routes, different ships, different sized vessels and different trades will demand different systems, for a variety of reasons. And yet, Hyde's solution probably fits into the U.S. domestic scene of shipbuilding very well. Already active in the survey fleets, OSV's and other smaller hulls, it is an appropriate, proven solution for these application(s). Its smaller space footprint, modularity, and scalability within class will be especially attractive to those tricky retrofit jobs that must be shoehorned into a limited amount of crowded machinery space.

Expanded Options: Easier Decisions, Real Solutions
A huge number of retrofits will eventually need to be delivered and processed in a very short period of time. After that, a lower volume of newbuild opportunities will still exist, but that business will be steady, nevertheless. For manufacturers of BWT equipment, the key to profitability and superior service for their clients will be to balance demand against the ebb and flow of business. Distributers – such as W&O – will need to start stocking equipment. Jim Mackay sums it up by saying, "We want to make this as easy as is possible. Partnering on projects – for example through Hyde, the shipyard, and W&O distribution – is one way to get down the learning curve faster."

(As published in the June 2013 edition of Marine News - www.marinelink.com)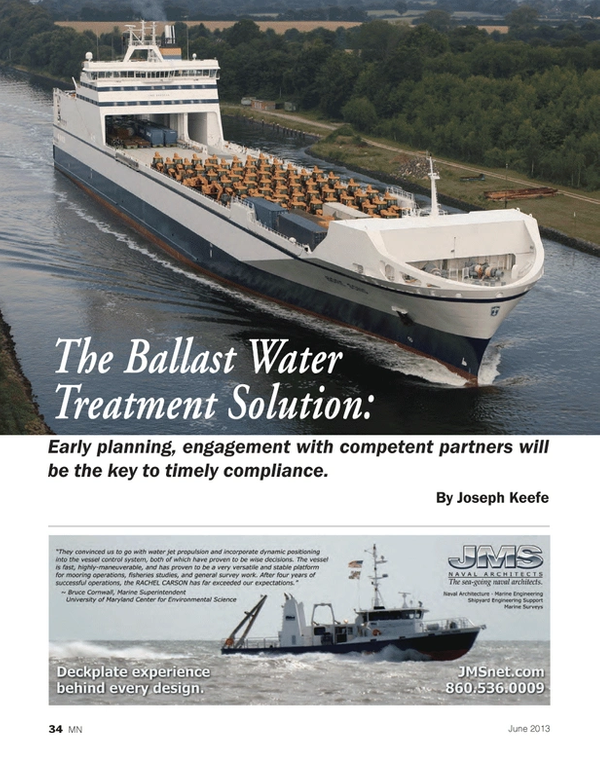 Read The Ballast Water Treatment Solution in Pdf, Flash or Html5 edition of June 2013 Marine News
Other stories from June 2013 issue
Content