Cracking the Boat Buying Nutshell
By Joe Hudspeth, Vice President of Business Development at All American Marine, Inc.
New work boats are never purchased out of want, but rather need – imminent need. Such a need prompts buyers to scour the web and perhaps their favorite maritime magazines for information on potential designs that appear to be a good fit. The next step is simply to make contact with a boatbuilder and request a price based upon the similar vessel shown via the website or marketing materials. Go ahead – ask for the price, but will it truly be meaningful? Perhaps it may offer a benchmark, but in the realm of custom boatbuilding no two boats are rarely ever alike. The design conversations tend to start off as 'I want one just like it;' then there is a brief pause followed by a lengthy list of exceptions.
What may seem like minor differences can actually bear major pricing consequences. Preparing a bid estimate is not an easy proposition. Custom boat builders do not have a catalogue where they can simply look up the desired model and fire back a price quote. Before you pick up the phone or push send on the email inquiry, make sure you have enough information that will help the builder provide you with a realistic estimate. The process first has to start with a clear understanding of what kind of boat you are looking for, the nature of the defined mission, and what operating conditions will the vessel be subject to. Good prices come to those who are willing to play the game of 20 Questions.

Let's Get Physical
The size of boat, propulsion system, and onboard equipment influence approximately one half the cost of the boat. The labor component of course makes up the remainder. These variables have a direct relationship; so, the change of one will impact the others. The end of the design spiral will only come into sight once priorities have been set.
Prospective buyers are typically mindful about telling their builder and designer about draft considerations, but do not forget about specifying length, beam, deck height and the all too forgotten air draft. Take an extra moment to think this one through. With a "bigger is better" mentality, most newbuild inquiries are for larger vessels than the ones in the operator's existing fleet. If it's been a while since your last new build, then do your homework with regard to the delivery journey, potential obstructions from bridges, silted channels, and/or restricted waterways. Will your local maintenance yard be able to accommodate a larger boat on their ways or travel lift? What shoreside modifications will you need to make to your pier to accommodate another boat or a larger one? Gangway limitations, bollard locations, and access to facilities are easy to overlook, but they can have a huge impact on the success of your new vessel before it ever touches the dock.

Help me Help You
Tell your builder about your area of operation. Knowing where the boat will float offers many key insights for the design. The locale tells the designer what construction regulations apply and if the boat will need mitigating systems for extreme climates, structural reinforcement for ice protection and heavy seas, and whether or not the forces of salinity will be present. A proper analysis of the prevalent sea states will impact how the design is adapted for stability and seakeeping comfort. Additionally, the length of run and access to fuel and shore power will impact the size of the fuel tanks. Designers will want to calculate just the right amount of fuel storage so that extra fuel isn't burned just to carry more fuel.
Many of the design questions pertain to the propulsion system, the heart of the vessel and where most of the money typically gets spent. Engine sizing can be tricky. The days of digitally dialing-in enough horsepower through software programming manipulations are gone. Builders can only buy what the EPA has rated. Furthermore, engines will only be sold and warranteed within their applicable ratings. As we advance through the EPA tier structures, there are fewer choices and customers may now have to forego their favorite brand in lieu of one that is sized with appropriate horsepower and complies with MCR ratings for warranty and time before overhaul.

Scale Tippers and Hidden Costs
If money is of no concern, feel free to specify some absolutes such as minimum speed, noise and vibration criteria, or a more stringent level of certification. Such absolutes are often imposed with the looming threat of liquidated damages. The more restrictive the box you put the builder in, the more risk the builder will bear, and the more money you will spend. Is that money well spent? There should be a certain level of expectation when it comes to buying a new workboat, but the best solution is an equitable one whereby the builder and buyer work together to achieve results.
It may be possible to go overboard when drafting your new boat specifications. Exaggerating the capabilities of your new boat may not necessarily maximize the bottom line. Is it justifiable to purchase a heavier and more expensive 7 ton crane when 95% of your work load will utilize a 4 ton crane? Excessive equipment tends to lurk like a parasitic stowaway that will drink up extra fuel and pad the maintenance costs until the few times it is actually called upon to work.

Show Me the Money
In order to design and build the best boat for your buck, there needs to be a clear understanding of the how the boat will be used. Any workboat that doesn't help you make money is a bad boat; hence, buying decisions should never be based on price alone. In general, the OEM pricing for boatbuilding components is similar, wherever you choose to build. Any pricing gaps that appear from builder to builder are often closed by a closer examination of the quality of workmanship or the technology of the design. It not always about what goes into the boat, but rather how it's put together. Considering these boats are the lifeblood of our livelihood – make an appropriate investment.

(As published in the June 2013 edition of Marine News - www.marinelink.com)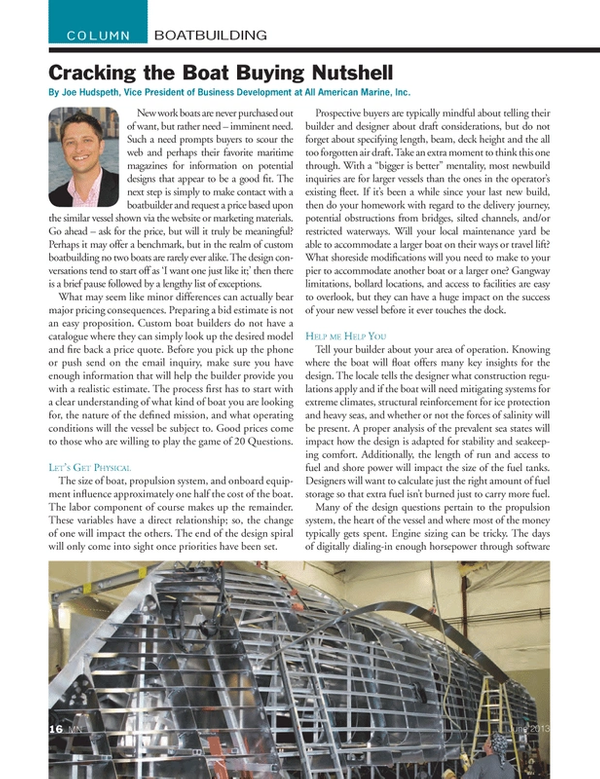 Read Cracking the Boat Buying Nutshell in Pdf, Flash or Html5 edition of June 2013 Marine News
Other stories from June 2013 issue
Content