SubM & EPA's VGP Drive Green Trend on Workboats
By Joe Keefe
Thordon Oil Free Propeller Shaft Bearings and Grease Free Rudder Bearings for Workboats produce two kinds of green.
The final 2013 EPA VGP language is out. If you've got a Controllable Pitch Propeller and Thruster Hydraulic Fluid and other Oil-to-Sea Interfaces, including Lubrication Discharges from Paddle Wheel Propulsion, Stern Tubes, Thruster Bearings, Stabilizers, Rudder Bearings, Azimuth Thrusters, Propulsion Pod Lubrication, Wire Rope and other Mechanical Equipment Subject to Immersion, then you are at risk for reportable, potentially expensive costs associated with inadvertent discharges. Unless, of course, you've already started to change out your traditional seals, bushings and other oil-to-sea interfaces with seawater lubricated materials.
It goes without saying that the protective seals on any oil-to-sea interfaces must be maintained in good operating order to minimize the leaking of hydraulic oil or other oils. But, what if you didn't have to worry about that – at all? And, even if you are utilizing an EAL in all oil to sea interfaces, did you know that the discharge of biodegradable lubricants that makes a sheen is still a reportable regulatory event?
Actually, EPA recommends that all new build vessel operators endeavor to use seawater-based systems for their stern tube lubrication to eliminate the discharge of oil from these interfaces to the aquatic environment. For blue water operators, Thordon Bearings has long been a familiar name that has helped scores of vessel operators sleep better at night, save money and virtually eliminate the discharge of lubricants from a myriad of potential vessel sources. The advent of the new EPA VGP and the Coast Guard's dreaded subchapterM rules now promises to be the prime mover for Thordon on inland and coastal waters.

Three for the Money
In two readily identifiable areas and one that is rapidly evolving, the use of Thordon's patented Thorplas materials allows operators to eliminate the need for lubricants in traditional applications. Most commonly known for seawater shaft bearing solutions, Thordon also provides grease free rudder bearings and now, materials that work on deck, too. Thordon isn't new to inland applications. With over 20 years experience on the Mississippi River system, the long wearing Thordon RiverTough water lubricated propeller shaft bearings, grease-free SXL rudder bearings and Thorplas steering linkage bearings are rapidly becoming the choice of operators looking to run a regulatory compliant, clean and efficient fleet. Workboat operators like ACL, Blessey Marine, Ingram Barge and Seacor have already discovered how, with Thordon, all three metrics can and do go hand-in-hand.

Thordon RiverTough Water Lubricated Propeller Shaft Bearings
Thordon provides a choice of water lubricated propeller shaft bearings for all types of workboats. Each option offers specific advantages in different water environments and operating conditions. Installing Thordon water lubricated propeller shaft bearings eliminates risk of pollution, provides proven long wear life and high natural wear resistance.

SXL Rudder Bearings & ThorPlas Steering Linkage Bearings
Steering gear can be a highly neglected piece of equipment. Difficult to access to properly lubricate, it is also one of the most dangerous spots on the boat, fraught with pinchpoints and typically situated in a cramped and poorly lit area. The ThorPlas Self Aligning Bearing (SAB), developed for the live end of a hydraulic steering system, solves the problem of less than desirable alignment tolerances in the typical hydraulic steering system design. As most bearings in the steering system are greased sleeve type bushings, there is no allowance for vertical movement of the tiller pins. Misaligned steering gear causes bearings to wear out quickly, which in turn causes drag and burns fuel. The ThorPlas SAB allows the bearing to tolerate small angular misalignment resulting from deflection or improper mounting. However, misalignment is not the only stress input on this type of product: vibration, corrosion, and pollution are also very damaging factors to the steering system. With the Thordon bearing, the owner can lubricate, but doesn't have to. Thordon SXL is used in lower and upper bearing positions and pintles, as well as the thrust washer position. ThorPlas engineered, thermoplastic polymer, is recommended for the more highly loaded bushings in the tiller arm and "jockeybar" linkages. Both products operate grease free, saving you time, money and the risk of pollution.

Deck Equipment
More familiar at or under the waterline, Thordon is moving into the deck equipment area in a much bigger way. The patented materials can be fitted to many deck fittings and davits – anywhere lubricant is required. In most cases you can fit and remove the need for lubricants. The use of Thordon effectively eliminates grease on deck and oily run off into waterways.

The Bottom Line: Yours
With more than 500 brown water and inland installations in recent years alone, and 40,000 vessel years of experience over the past 35 years, Thordon knows bearings – of all kinds. While at one time measurably more expensive, the cost of materials versus traditional methods is reaching equilibrium. Clearly benefiting from a good price point between traditional lubricated solutions, Thordon is nevertheless not selling on initial price; instead, on superior materials and ultimately, "Total Ownership Costs." In some cases, a 10 to 12 year lifespan for bearings is not unusual.
Finally, and in a world where every dollar counts, every barrel of fuel burned means a thinner bottom line and every inch of loadline lost to equipment weight amounts to permanent loss of deadweight capacity, the weight of Thordon materials is appreciably lighter than traditional bearing materials. As owners and operators now turn to composite valves, pumps and piping, they can do the same thing with their stern tubes, steering gear and a host of other applications. It turns out that getting greener could also produce more green for your bottom line, too. Who knew?

(As published in the June 2013 edition of Marine News - www.marinelink.com)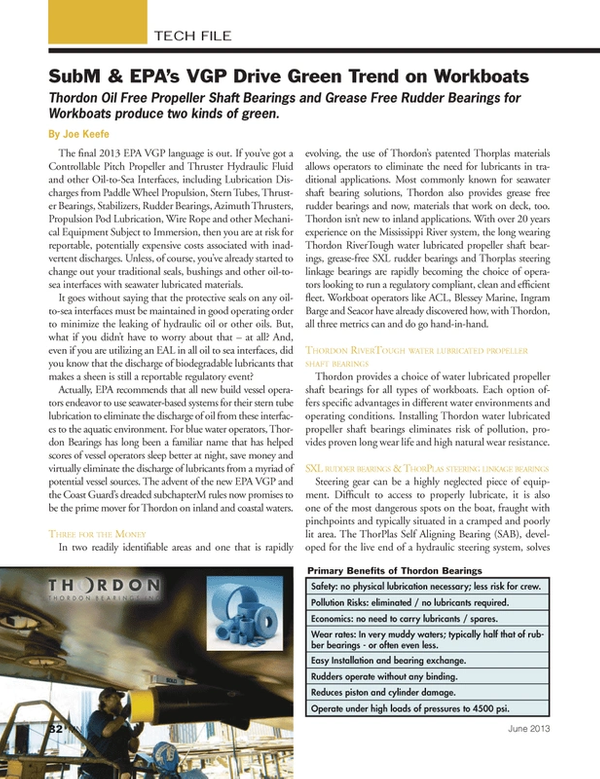 Read SubM & EPA's VGP Drive Green Trend on Workboats in Pdf, Flash or Html5 edition of June 2013 Marine News
Other stories from June 2013 issue
Content