Laying the Keel; Carefully
By Susan Buchanan
Vigor Industrial Opens Maritime Training Center on Seattle's Harbor Island
Looking toward the future and with a weather eye on what could come next, Oregon-based Vigor Industrial launched a six-month training program this July in welding, fabricating and fitting with South Seattle Community College at a new center on Harbor Island. Vigor acquired the site overlooking downtown Seattle when it bought Todd Pacific Shipyards in 2011. And, as an active bidder for the U.S. Coast Guard's coveted Offshore Patrol Cutter (OPC) program, Vigor also knows that they'll need to perform when the time comes. A skilled workforce will be an important part of that equation. Training will be the key.
As one of Seattle's oldest industries, shipbuilding is holding its own against foreign competition. This spring, South Seattle Community College promoted its new Harbor Island welding program, saying "Maritime industry booming! Help wanted!" Located at one of Vigor's shipyards, the Harbor Island Training Center will serve companies in the Puget Sound region. The center's initial class of 24 students is enrolled in a program that will end in mid-December, when grads will earn their welding certificates.

West Coast Weigh-In
Vigor Industrial, with 2,000 employees, is the top provider of shipbuilding and repair services in the Pacific Northwest and Alaska. The company produces cargo ships, work boats, barges, ferries and fishing vessels. Workers maintain icebreakers for the U.S. Coast Guard and renovate aircraft carriers for the U.S. Navy. "Our new Seattle training program will give students skills they need for family-wage jobs at industries in the area," said Sue Haley, Vigor's senior vice president of human resources, last month. "We don't necessarily have enough people coming out of high schools in Seattle to build a skilled workforce. This program will increase the number of skilled individuals that can apply for jobs."
Seattle's job market is strong at this juncture. Unemployment was 5.8 percent in April, below the national average of 7.5 percent, according to the latest numbers from the U.S. Dept. of Labor's Bureau of Labor Statistics.

Welding Pays Well In Seattle
"An entry-level welder makes $14 to $20 an hour, pre-apprenticeship, in the Seattle area," Vigor spokesman Brian Mannion said last month. "Seattle has hundreds of openings for welding jobs and not enough workers with the skills to fill them," he said. "Lots of people want to learn these skills." In addition to their standard hours, welders often earn overtime that can be double or triple an hourly wage.
For the current Harbor Island program, which will be repeated in January, applicants must be 18 years of age or older; have a high school diploma or GED, math skills at a pre-algebra level, and some mechanical abilities. They must read and write English at an intermediate level and be able to pass a drug test. Some previous welding experience is preferred. Haley didn't have data on characteristics of the Harbor Island center's first class by age, sex or ethnic background. Nevertheless, she insisted, "We look for a diverse population."
Harbor Island is similar to the Swan Island Training Center for welding, opened by Vigor and Portland Community College in 2008. "The Portland Community typically has more than a hundred people on its waiting list for that program," Mannion said.
Separately, the new Seattle course teaches students how to diagnose and address welding defects; demonstrate safe-equipment operations; complete welds in a vertical position for marine work; learn about joint fit-ups, pre-weld preparations, back gouging, shear points, weld stress and warpage; execute other shipyard skills and weld outdoors in any weather. Seattle, of course, tends to be rainy.
Vigor has invested over $500,000 in seed money to build and outfit the Harbor Island facility and to get it up and running, Mannion said. "South Seattle Community College is leasing space from us, administering the program and paying instructors' salaries." The United Association of Plumbers and Pipefitters and Local 32 supplied the center's new welding machines.
"We're exploring funding options and workforce development resources for the center with the federal government, the state, the county and nonprofits," Mannion said. "Nothing's written in stone at this time." Tuition, workforce development grants and other funding could be enough to make the Harbor Island program self-sustaining eventually, Haley said. "The center is holding day classes now but we might add evening classes at some point," she also said.

Looking Ahead
Mannion said Vigor wants the center to expand instruction to machining, blue-print reading and related skills down the road. The Harbor Island center relies on experience. Ken Johnson, lead instructor at the program, has spent more than thirty years in welding trades. He works on U.S. Navy projects at Vigor and joined the company from Todd Pacific Shipyards. Johnson has taught community college classes for almost twenty years.
In addition to acquiring Todd Pacific in Seattle two years ago, Vigor bought Alaska Ship and Drydock in Ketchikan last year. Vigor has managed to grow despite competition from Asian yards that build more cheaply and from European yards that are known for their quality workmanship. Nevertheless, healthy U.S. government and private industry work is looming large on the horizon. Vigor aims to compete and be ready, when and if that work does come.

Prospects Are Good For Welders with Up-To-Date Training
Nationally, employment of welders, cutters and other similar trades should increase by 15 percent this decade, similar to the average rate for all U.S. jobs, according to the BLS last year. Demand for welders in Washington state is strong, however. Washington, like most economies that rely partly on manufacturing, has a number of welding programs. Over a dozen of its community and technical colleges offer pipe welding and most of them provide certification.
That said; training is needed in Seattle. The Harbor Island program will expand the pool of skilled individuals within the immediate Seattle area and will help Vigor and other companies identify welding candidates," Haley said. When asked about the advantages of hiring grads from the Harbor Island center, versus training entry-level workers on the job, she said, "We're not educators at Vigor."
Some U.S. manufacturers do hire and prepare entry workers for welding jobs but many companies prefer welding-program grads, according to the BLS last year. Employers tend to view extra coursework, including blueprint reading, shop mathematics, mechanical drawing, physics, chemistry and metallurgy, as particularly useful, the BLS said.
U.S. welding schools report that their graduates have little trouble finding work. However, welders who don't have up-to-date training may face competition. The Harbor Island Training Center expects to produce marketable students for the area's flourishing maritime industry, according to South Seattle Community College.
Vigor Industrial says that while it's privately owned, the company is publicly minded. Mannion said Vigor has hired a number of graduates from Portland's Swan Island training program. An open-minded, innovative, and aggressive approach to developing and retaining a skilled workforce will likely serve Vigor well as it eyes bigger prizes – both in the public and private domains. Those firms hoping to compete in the same markets might want to keep their collective eye on the ball, as well.

(As published in the July 2013 edition of Marine News - www.marinelink.com)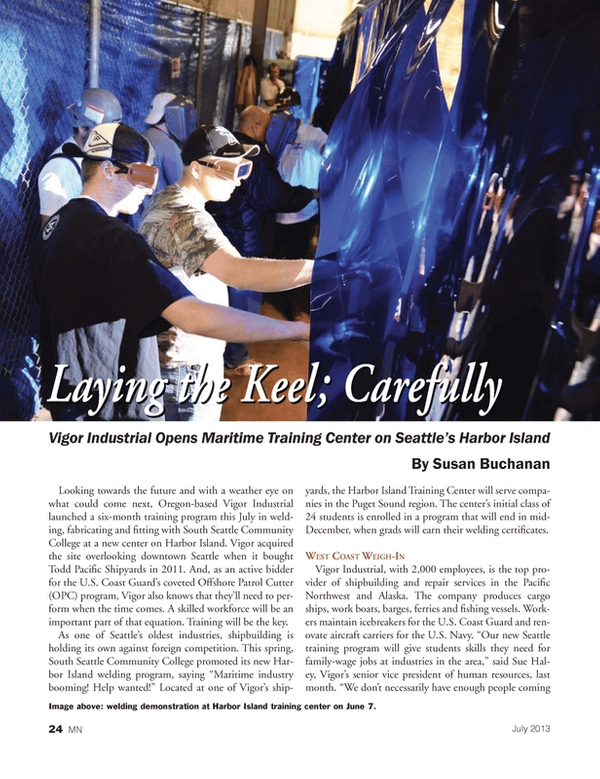 Read Laying the Keel; Carefully in Pdf, Flash or Html5 edition of July 2013 Marine News
Other stories from July 2013 issue
Content