Insights: John Lotshaw, Gulf Coast Director of Training and Workforce Development Ingalls Shipbuilding
Marine News
When it comes to training, recruitment and retention issues – serious matters facing all maritime employers today – John Lotshaw probably knows better than most; what's best for you. And, no matter what end of the maritime business model that you hail from, the challenge of hiring good people, training them and keeping them on payroll is an ongoing problem. Lotshaw joined Ingalls Shipbuilding in August of 2002 as the Director of Trades at the Avondale Site, responsible for workforce development and training and Operations support. He was subsequently assigned as the Program Director of LPD 21(USS New York) a $1 billion ship construction program. He has since served in many senior roles, but currently serves as the Gulf Coast Director of Training and Workforce Development, responsible for training all craft personnel at Ingalls Shipbuilding Facilities. Beyond this, he also serves as the inaugural chair of the National Maritime Education Council (NMEC), a group seeking to standardize and improve craft training within the maritime industry. As the spearhead for efforts to standardize and provide credentials for shipyard workers, backed by a coalition of 20+ industry trade groups and companies, what he and the NMEC do next could well be the template for industry human resources development that we have been thirsting for. Listen in as he gives us a glimpse of what is to come next.

The new shipyard workforce development effort on the Gulf Coast is an exciting concept. What does the National Maritime Educational Council (NMEC) do, when it was started and what are its mission(s)?
The initial efforts at standardized curriculum development were started with a post-Katrina Department of Commerce grant in 2006. The Alabama, Mississippi and Louisiana Manufacturing Extension Partnerships (MEPs) joined together with gulf coast shipyards to form the Gulf States Shipbuilders Consortium (GSSC). After considerable effort and three years of development GSSC rolled out the Shipfitting Boot Camp. The program has been very successful with a 100% rate of employment for graduates. Based on the success of the program, GSSC wanted to expand the curriculum and credentialing effort from a regional to a national effort. GSSC launched what was termed The Lighthouse Campaign to raise funds to move development and distribution to a national platform. NMEC was established in March of 2012 with 12 founding members representing the shipbuilding and ship repair industries. NMEC's mission is to lead the industry in the development of a standardized and credentialed set of craft training that will change the landscape of maritime labor. To work from a common set of definitions, we are defining exactly what each craft does, documenting each craft's required skill sets, and based on those skill sets, developing curriculum and assessments that ensures craftsmen who are certified through the system can perform to industry standards.

A key part of your program is your partnership with the National Center for Construction Education & Research (NCCER). Tell us about NCCER and your relationships there. Why is this important?
When we were searching for best practices to implement our vision, we looked at what NCCER is doing in industrial construction, pipeline and power line curriculum and credentialing. We found that when NCCER was formed as a non-profit education foundation in the early 1990's, those industries were facing the same challenges that the shipbuilding and repair industry is facing now. Their model is effective, efficient, and has made measurable impacts related to safety, profitability and workforce development in those industries. We were offered the opportunity to partner with them and build on their success. They already have in place professional curriculum and assessment developers, scheduled reviews and updates for each craft title, a publishing partnership, accredited training sites, a secure National Registry where craft training and assessment records are available for review by potential employers (with applicant approval), and a proven track record. Partnering with NCCER gives our industry the best bang for the buck and the quickest, surest pathway to meeting our goals.
Tell us more about the "Introduction to Maritime Industry" module recently released through NCCER for NMEC.
The Introduction to Maritime Industry module supplements NCCER's Core curriculum which provides a broad base of basic skill sets for the craftsman. What the maritime module does is include additional information for personnel entering maritime career fields. Taken with NCCER's traditional core, it provides basic training in safety, math, blueprint reading, and hand tools in addition to introducing specific knowledge factors unique to the maritime industry such as terminology, confined spaces, construction drawings, and other topics that are fundamental to all crafts. The module was published by NCCER this past spring.

How will the curriculum that NCCER is developing on behalf of NMEC be delivered? Where will training take place and how will it be delivered?
NCCER's model offers flexibility in that each task-oriented module can be used for specific task training on site, for remediation, or as part of a larger course of study like those offered through formal apprenticeship programs, high schools, and community colleges. There are currently 4,000 points of delivery for NCCER training and assessments under 912 individual programs. The NCCER model also supports delivery of training in a blended learning environment.

One of your goals is to not only standardize shipyard education but also to create a credentialing system that would assure employers of what they are getting. For employees, it provides a verifiable standard of skills that they could shop throughout industry. Explain how that's going to work.
Every NCCER craft training level consists of both knowledge and performance- based assessments. After a person has been trained and assessed, they are issued a portable credential. With the applicant's approval, the credential can be verified online through NCCER's National Registry. Regardless of where the individual receives training, employers have assurance that persons with this credential are well trained and have the skill sets they need.

You've identified "shipfitting" as one of the most in-demand skills and one of the first to be standardized within your curriculum. But, what is "ship fitting" defined?
Think of shipfitting as carpentry with steel or aluminum. A skilled shipfitter knows how to read a blueprint, measure accurately, and how to cut and join metal to form different structures. He or she understands basic metal working and is familiar with maritime terminology.

You've been around since 2012 – a little over one year. How far have you gotten with your efforts?
What we've accomplished in the past year is remarkable. Our initial focus was to raise the funds to begin development of Pipefitting, Shipfitting, and the Core supplement; all of those will be released this year. During this process, NCCER facilitated a number of meetings with subject matter experts from across the country to identify common skills sets and to validate curricula and assessments. Since the NCCER curriculum is not fully published, we do not have measureable metrics/benchmarks. However, I mentioned GSSC's successful shipfitting boot camp program earlier. It and the shipfitting curriculum were the precursors to and the main reasons behind the establishment of NMEC. During the program's pilot period, the boot camp was offered three times and graduated 31 entry-level shipfitters. Instructors used and vetted the shipfitting curriculum during the pilot. The outcomes were impressive. In addition to 100% placement of its graduates, after employment, employers reported savings on initial training costs and declines in probationary releases, disciplinary actions, and absenteeism. Perhaps a better indicator of employer satisfaction, though, is the fact that employers wanted more workers trained under the model using the curriculum. As a result, it has been adopted by at least three community colleges and one for-profit training provider, and the interest in the program continues to grow.

There are many similar efforts for the waterfront ongoing – west, east and gulf coasts. Are there any efforts to connect with these and provide some economy of scale in terms what you are already doing?
In fact, this was one of the reasons we formed NMEC and partnered with NCCER. A national approach to training, assessment, and credentialing makes sense. The common skills sets required of craft workers in the maritime industry do not vary based on the region of the country. The curriculum used to train workers should not either. We are trying to get the word out about this effort. Our membership currently includes several trade associations, including GSSC and the Virginia Ship Repair Association. We have presented at a number of conferences and association meetings across the country. NMEC is a membership-based organization and dues are used to fund this initiative. NCCER's model is that sales of the training materials support keeping the curricula current. So, if we do it right, we have industry created and certified curriculum and assessments, we have a professional organization that maintains the training and certification process, and, with portable credentialing, we enable the workforce more easily stay in the industry. In the end, industry wins, our workers win, and we use training dollars a lot more efficiently.

As shipyards try to bridge the gap of skilled workers today, they increasingly look to training boot camps as a way to recruit. Recruitment and retention are key ingredients to any shipyard. Tell us how that works.
The beauty of using the boot camp model as a recruitment tool is that it gives employers valuable insight into the likelihood of a candidate's success on the job before investing recruiting, training, and development dollars. GSSC's boot camp model utilized a prequalification process that included drug testing, WorkKeys testing, shipyard tours, and personal interviews with shipyard representatives. Applicants who did not pass the drug test were not eligible to participate in the program. During each boot camp, punctuality and attendance were stressed. In fact, students were assessed points each time they were late or absent. If they exceeded the maximum number of points allowed, they were dismissed from the program. Throughout the boot camp, employers observed students in a performance-based learning environment. These measures combined with pre-employment testing, gave employers insights not typically afforded through traditional recruiting models.

With 19 members now, you've got some momentum with the program. What's next on your horizon?
Near term, we're starting to roll out curriculum—the maritime supplement to the Core is now available. We will get two levels of Pipefitting completed this fall and two levels of shipfitting by the end of the year. That's exciting. In the long term, we have to focus hard on explaining to industry why it's important and what they stand to gain. Hopefully, that will drive membership so that we can continue to fund our development efforts. To date, we have raised about 25% of the total we need to fund our initial target set of maritime craft curricula and assessments. We haven't started marine electrical, or coatings, or other crafts that also need to be addressed. Our ability to do that is dependent on the industry's coming together and supporting the initiative.

(As published in the July 2013 edition of Marine News - www.marinelink.com)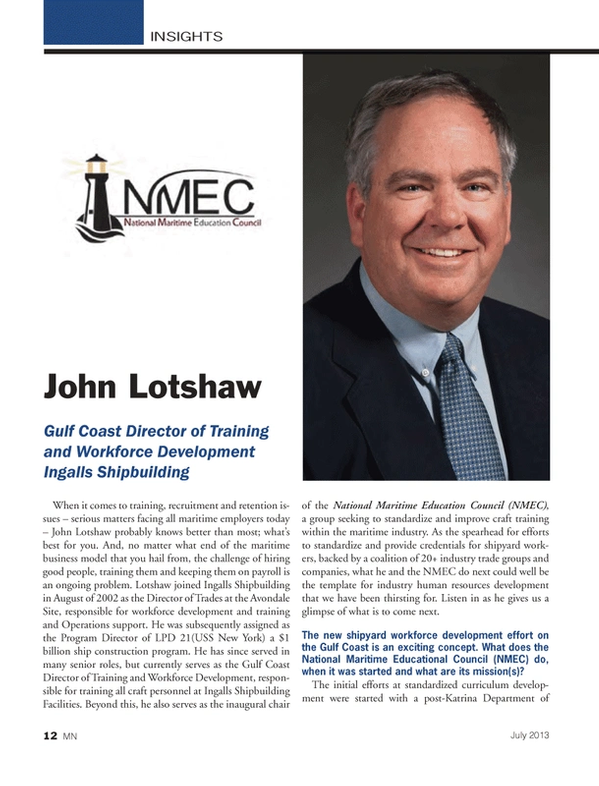 Read Insights: John Lotshaw, Gulf Coast Director of Training and Workforce Development Ingalls Shipbuilding in Pdf, Flash or Html5 edition of July 2013 Marine News
Other stories from July 2013 issue
Content