Adjusting To Post-Macondo Safety Rules
By Susan Buchanan
Fleet Operators Weigh in on the New Normal
Even as the frenetic pace of activity shows no sign of letting up, offshore vessel owners in the Gulf of Mexico have expanded safety and environmental training, kept detailed records on those activities, and conducted self audits as they adjust to regulations adopted by the Bureau of Safety and Environmental Enforcement (BSEE) in 2011. The new rules followed – and come as a direct result of – the 2010 Deepwater Horizon explosion and spill. In October, David Barousse, general manager of Fleet Operators, Inc., explained to MarineNews just how the agency's Safety and Environmental Management System or SEMS has affected operations at his company in Morgan City, La. Fleet Operators owns and runs utility and supply vessels used in oil-and-gas exploration and production in the Gulf. It turns out that the 'new normal' is far different from the situation which existed in a pre-Macondo world.

BSEE: the new kid on the block
The Bureau of Safety and Environmental Enforcement (BSEE) was formally established on October 1, 2011 as part of a major reorganization of the Department of the Interior's offshore regulatory structure. According to BSEE, the department uses the full range of authorities, policies and tools to compel safety, emergency preparedness, environmental responsibility and appropriate development and conservation of offshore oil and natural gas resources. The bureau has offices in Anchorage, AK, Camarillo, CA, and New Orleans, as well as other, smaller offices scattered along the U.S. Gulf Coast. Key functions of this agency include:
an offshore regulatory program that develops standards and regulations and emphasizes a culture of safety in all offshore activities;
oil spill response preparation including review of industry Oil Spill Response Plans to ensure compliance with regulatory requirements;
environmental enforcement with a focus on compliance by operators with all applicable environmental regulations, as well as ensuring that operators adhere to the stipulations of their approved leases, plans and permits;
and funding scientific research to enhance the information and technology needed to build and sustain the organizational, technical and intellectual capacity within and across BSEE's key functions that keeps pace with industry technological improvements, innovates regulation and enforcement and reduces risk through systematic assessment and regulatory and enforcement actions in order to better carry out the BSEE mission.

SEMS: what it means & why
BSEE implemented offshore oil-and-gas SEMS requirements in 2011, and SEMS II went into effect in mid-June of this year. SEMS II clarified that offshore personnel, including contractors, must be trained in safety and emergency response. Operators have to make sure that contract employees understand safe-work practices before they set foot on a vessel. Contractors and operators have to document a safety and environmental plan before the contractor begins work.
"As a vessel operator focused mainly in the shallow waters of the GOM, the SEMS approved by BSEE doesn't apply to us directly in the way that it does to our clients, the lease holders," Barousse said last month. "But we do have to comply with it indirectly because we need to meet the requirements of our customers."
"We're a shallow water or Shelf operator; not a deepwater operator," Barousse explained further. "Deepwater tends to attract more formally trained and educated personnel because the vessels are larger and more technical and require greater skills. But the regulations for vessel operators are pretty much the same across the board, deep or shallow water." Today, Fleet Operators has 80 employees, including its contractors.
Under today's regulations, Fleet Operators and its oil-and-gas customers coordinate before Fleet's offshore work begins. "We have to cooperate with the leaseholder's obligation to meet BSEE's SEMS through a Bridging Agreement," Barousse said. "That requires that the client review and sign off on our health, safety and environmental programs and practices," he said, adding, "I feel that the deepwater sector, because of the nature of its business, had a head start in becoming compliant with SEMS when it became effective in 2011," Barouse said.
Hurdles to Compliance
Vessel operators on the Shelf have faced hurdles because of SEMS. In the past, many of Fleet's applicants for work had a bare minimum of safety training, he said. "Applicants trying to cross over from commercial fishing, for example, have a ton of vessel experience but have never been formally trained."
"Our class of vessels is sort of at the entry level," Barousse said. "We have to make investments in people before we even know if they're capable of doing the job because training is required before they can go offshore. We've seen cases where a new employee is fully trained and ready to start work, looked great on paper, but out on a vessel they can't perform the job. They might get seasick, not be able to handle the environment or simply not like it. When that happens, we usually lose out."
Meeting federal training requirements doesn't automatically make the person a good seaman the way experience does, Barousse said. "It's a chicken before the egg problem." The situation is starting to change for the better, however. "Now that SEMS rules have been in place for a couple of years, applicants are coming to us with most or all of the required training, often from previous employers," he said.
As part of its rules, BSEE requires oil-and-gas operators to do periodic audits of their contractors' SEMS programs. "Documentation to provide an audit trail is required now for things that were just part of doing business before," Barousse said. "We've had staff in place to track the documentation and enter it into monitoring systems via the internet. But many companies had to hire people to do that." And, that costs money. Beyond this, said Barousse, "We often hire consultants to make sure that we are on the right track, and we continuously perform self audits".

SEMS: Impact & Perceptions
Fleet Operators views SEMS as mostly positive because its employees are getting more training and their safety awareness has increased. "A couple of years ago, it meant a big increase in training," Baroussse said. "SEMS compliance is a cost of doing business. But we haven't calculated how much it has cost us overall. Now that the rules have been in place for awhile, our direct expense of getting a person ready to work is starting to level out because people are applying with most or all of the required documentation."
Fleet Operators uses internal and outside assets to satisfy its training requirements. "All of our employees go through required core training, and then quite a bit of it's on the job and refreshers," Barousse said. "People at all levels, even those with 30 years of experience, need refreshers. Supervisors and crews are monitoring skill retention, constantly making sure everyone is up to date on safety in areas such as handling cargo, abandoning ship and fire drills. We refresh on those subjects on a weekly basis. We also capture safety compliance and skills-retention information through peer reviews."
The company has on staff a registered nurse who trains employees in first aid, CPR and blood borne pathogens, Barousse said. "We send our guys to training facilities for the SafeGulf program, water survival, rigging and other things can't be done in house and might require a pool, crane or helicopter simulation."
To be fair, industry has not been sitting on its hands; now and in the past. In a program known as SafeGulf – one that also pre-dates the Macondo spill – BP, Chevron, Shell and ExxonMobil developed minimum health, safety and environmental training requirements for contractors. Personnel needs have increased with greater attention to safety, Barousse said. "Vessels have more staff than in the past," he noted. "On our small utility vessels, having two captains and two deckhands is relatively new. Less than two decades ago, we ran the same, exact vessels with a two-man crew, doing the same work they're doing today. More recently, four men are required. That gives you an idea of where we've come from." That increase in manpower also comes at a premium.
"Often times we send a new employee out as an extra crew member, say as a third deckhand, to observe and get trained without actually having to be relied on to perform the job," Barousse said.
"When we subcontract or 'broker' outside vessels, we have to be sure the contract workers we're hiring meet SEMS standards." He adds, "In that case, we might even train people from the other vessel operator's company to get them up to speed."

BSEE Can Fine Contractors Now
A chance of being fined looms in the new environment. "One big change regarding SEMS regulations is that BSEE is now authorized to fine anyone working on a lease, not just the leaseholder," Barousse said. "It's kind of scary in that they used to only have jurisdiction over the lessee. So far, the only fines issued to non-lease holders that I'm aware of were assessed to contractors directly involved in the integrity of a well. But they can extend compliance now to anyone working on the lease."
"Most of BSEE's inspections are scheduled directly with leaseholders over facility inspections, drilling operations, etc., and don't affect boat operators much," he said. "But again, BSEE has authority to fine anyone working on the lease." That means that vessel operators will need to tighten up and remember that, in this environment, they have to answer to more than one master.

U.S. Coast Guard: yet another set of rules
While BSEE's rules hold lease operators accountable for operational safety on Outer Continental Shelf leases, the U.S. Coast Guard wants its own policy for vessels. On September 10, the USCG published a Federal Register notice proposing regulations that would require boats involved in exploration, development or production on the OCS to maintain a vessel-specific Safety and Environmental Management System. The Coast Guard estimates that as many as 2,200 foreign and domestic vessels engaged in OCS activities could be affected, including offshore supply vessels, liftboats, accommodation vessels, mobile offshore drilling units, well stimulation vessels, floating production and storage offload units, shuttle tankers and other vessels under its jurisdiction. The comment period on the Guard's Federal Register notice ends on December 9.
The USCG's proposal would align its regulations with BSEE's and would incorporate the management program and principles of API RP 75 – the American Petroleum Institute's Recommended Practice for Development of a Safety and Environmental Management Program for Outer Continental Shelf Operations and Facilities. API's standard was published in July 1998.
In its September Federal Register notice, the Coast Guard included Table 1 (page 34), describing the current safety regime for vessels operating in the Outer Continental Shelf. But Barousse feels the table is a bit misleading. He said: "For offshore supply vessels, it says 'No SEMS directly required, but may or may not be subject to a designated lease operator's SEMS.' The real-world situation is stricter than that for us, however."

Outlook: BSEE, USCG to Collaborate on Safety
U.S. Coast Guard Rear Admiral Joseph Servidio said in June that his agency and BSEE are committed to working across boundaries toward a shared goal of keeping offshore workers safe. In June, the USCG and BSEE signed a joint memorandum regulating mobile offshore drilling units and said they'll collaborate on similar projects in the future.
At Fleet Operators, worker safety will remain the top priority, Barousse said. Throughout the Gulf, however, vessel operators have scrambled to adjust to BSEE's new rules, while also acknowledging that the deadly Macondo explosion and other accidents in the Gulf of Mexico have justified tighter regulations. Regulatory oversight will only increase, going forward. To its credit, the commercial marine industry got on board early in the game. Those that did should have no trouble meeting new, tighter regulatory requirements. Conversely, those that did not are not necessarily going to like "the new normal."

(As published in the November 2013 edition of Marine News - www.marinelink.comwww.marinelink.com)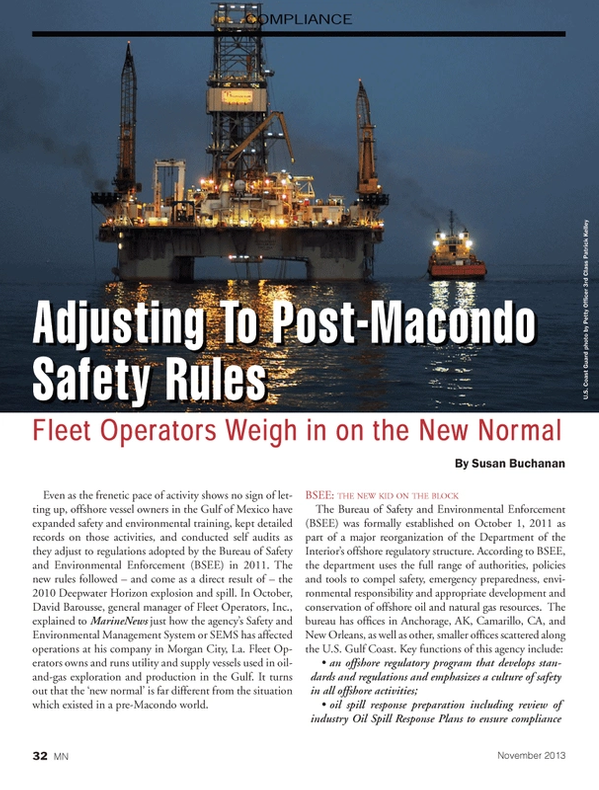 Read Adjusting To Post-Macondo Safety Rules in Pdf, Flash or Html5 edition of November 2013 Marine News
Other stories from November 2013 issue
Content