Climax: the ACME of Economics for Shipyards
By Joseph Keefe
Portable, cutting edge technology for critical shipyard applications.
Discussions that involve global shipbuilding in today's complicated economic environment are anything but a cut and dried proposition. For example, international shipbuilding, slowed by the overbuilt containership and tanker sector and a lingering recession, finds itself retrenching for the next boom and hoping to capitalize on retrofit and repair markets that will very soon be the beneficiary of mandatory ballast water treatment installations. Closer to home, a robust recapitalization of the domestic inland, offshore and even the bluewater sectors promises one of the longest cyclical upswings in history. Optimism for U.S. builders is, at the same time, tempered by sequestration fears and the knowledge that certain federal projects will probably never come to fruition.
As U.S. firms, for the most part, ride the good times and look to diversify portfolios heavy on government or federal backlogs, foreign builders look for new ways to create economy in a somewhat tougher market. One firm that hasn't skipped a beat through all of the drama is Climax Portable Machining and Welding Systems. That's because providing sales, rentals and expertise for critical shipyard tasks is just one part of their business. Helping customers save money is another. Gary Corso, North American Director of Sales for Climax, told MarineNews in October that for most yards, it's all about working smarter.
"A year ago, the whole issue of sequestration had the industry worried about a slowdown. Everyone – including us – was concerned about projects being cancelled or delayed. But what came out of it was that shipyards have to work more efficiently – use their money smartly. And that's exactly where our products have come into play – in North American shipyards and globally as well. You have to look at ways where these tools can be used more than once. Get the job done right the first time and keep all the projects on line."
Corso insists that Climax has the right tool for the right time, in the right business. "Where some companies might've slowed down in a mixed shipbuilding economy (here and abroad) we're actually going full force with our shipbuilding customers. And they've required us to go out to the yards to see what they are doing and so we do. There's a lot going on – at Newport News, Vigor, General Dynamics, Electric Boat, Portsmouth, Puget Sound, and much more than that. So, if you have a tool that can accomplish what they need, well, there aren't a lot of companies that can do that."
Most of what Climax does revolves around boring, welding, machining, milling and grinding. Corso says that stern tubes are a perfect application for all of that. "Someone has to go in and make it round again and then, get the metal off by cutting it back out – all to very specific tolerances. And now that we have welding solutions, we can now go in and integrate the welding into our cutting solutions."
Within the last two years, two significant acquisitions have made all the difference for privately held, Oregon-based Climax Portable Machining & Welding Systems. Relatively small in size, the purchases have now allowed Climax to integrate welding, valve repair and testing technologies into their already well-known machine tool applications. For example, the integration of New Hampshire-based Bortech Corporation's welding technologies into the Climax boring solution dramatically reduces time to complete any job while producing a high quality product.
Separately, Climax brought valve testing, repair and technology together in September 2013 when it closed on a deal to purchase Houston-based Calder Testers. Calder provides advanced equipment for testing industrial valves, hosing systems and specialty pressure containers. Founded in 1984, Calder serves oil & gas, power generation, valve manufacturers and diesel engine industries. Corso explained, "This means you now have access to valve repair and testing technologies along with expanded technical support and rental capabilities from the Houston Location."
The Calder acquisition in particular greatly expands the Climax service suite. The key advantages of an integrated solution include speed, control and the capability to perform boring in the exact same spot (without moving work item and providing precision) as the welding, simply by interchanging the two pieces of equipment. Integrated valve repair and testing solutions also compliment what Climax already does and everything, according to Corso, is built here in the United States.
The number one tool in the Climax arsenal today has to be its new generation of linear mills. Particularly helpful for jobs involving offshore rigs, the new style of linear mills provide cutting from a gantry style over a broader workspace and producing finishes that otherwise might involve one or two moves with a machine tool. Gary Corso adds, "Portability is the key. Transport the units to offshore rigs and tap into the local power source to do the work offshore on site, eliminating the need for the rig to come in for repairs. After the work is done, they can be taken apart and transported back ashore." Indeed, and as the lifting of the offshore drilling moratorium came about, Climax got a rush of service business as operators and offshore exploration companies retooled for operations. This involved milling machines, boring bars, gantry mills, linear mills, welding solutions.
Another assignment – this time in Viet Nam – involved a challenging re-machining of four flanges that were each 9 feet in diameter at the top of a ship's tower. Not only were the workers constrained by the narrow work area, but the vessel was anchored alongside the docks and the waves made the job of achieving the tight tolerances quite challenging. Even while working in restricted space and at such a height, the workers were able to achieve 0.2mm flatness on all four 3.002 meter-wide flanges. For this project, the portable flange facer was hoisted by crane more than 100 feet above sea level and the technicians were able to resurface all four flanges within required tolerances and within a 2 week time frame.
Here at home, Vigor Shipyards used an automated welding system that involved a stationary and portable machine in combination to repair long and narrow rudder and pintle bores that were severely corroded on a local Ferry. Because of the scope of the project and precision required, the ferry was in danger of being decommissioned, but the Climax solution got the ferry repaired ahead of schedule.

Key Climax Metrics: Portability and Flexibility
The new Houston location, naturally, has been very good for Climax, simple because of all that is going on in that region at this time. And, from that location, the ability to both rent out and sell equipment has been a valuable asset. The new Climax LM5200 and LM6200 portable milling and gantry machines are available for sale or rent worldwide, as are the company's other portable flange facers boring machines and valve repair machines. Corso added, "We provide equipment rentals through 32 distributors throughout the world. This has increased our footprint, not just here, but overseas as well." For customers, says Corso, the advantage of rental over ownership involves cost versus capital acquisition. "It depends on if the work tied to more than one project or is it a one-off deal. Really, it depends on the funding source." Climax offers financing, as well.
With these machines, precision milling, drilling and boring can be done more efficiently to meet tight tolerances in both linear and gantry milling configurations. Climax will modify equipment for a particular customer, working to sizing, type of power needed, etc. And, they offer training and engineering to help improve performance, productivity and profitability. Additional applications for these new portable milling machines include pump and motor mounts, compressor and heat equipment bases, exchanger faces, sole plates, sections of large surfaces, drilling and boring as well as other features on flat and rounded surfaces. Climax today holds 37 issued patents with four pending, and serves domestic and international markets through its own international offices and licensed representatives in 32 countries. Even for shipyards that are making money today, there's no reason why they can't improve that bottom line even further. For those less fortunate or working on tighter margins, the ability to improve processes now is even more critical. In good times or bad, economics will always play an important role in the shipyard. Similarly, portable, precision tools that perform a wide array of tasks will always play a key role in that equation.

(As published in the November 2013 edition of Marine News - www.marinelink.com)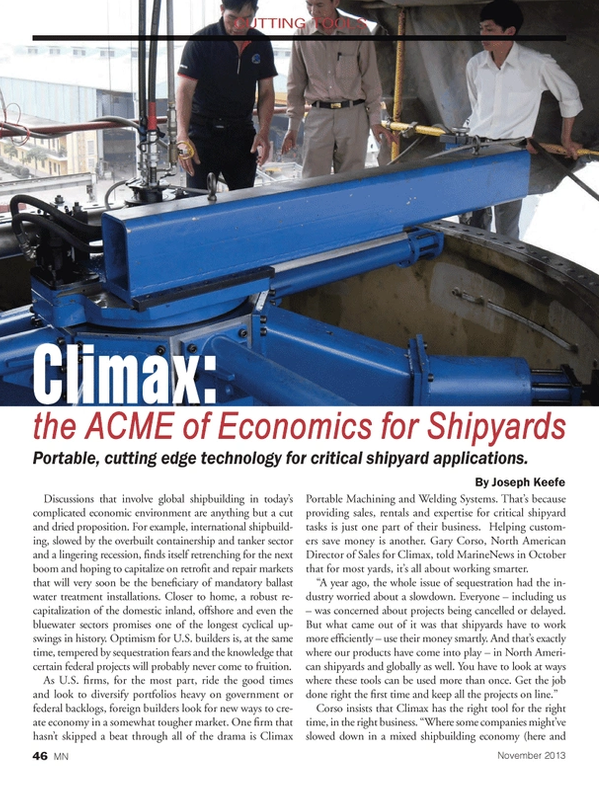 Read Climax: the ACME of Economics for Shipyards in Pdf, Flash or Html5 edition of November 2013 Marine News
Other stories from November 2013 issue
Content