Inland Marine Transportation Investment: It Comes Down to Priorities.
By Dennis Wilmsmeyer, President of Inland Rivers, Ports and Terminals, Inc
Can you imagine the public outcry if our country's major interstates were not repaved or patched for 50, 60 or 70 years, and at the same time, regulations were introduced that encouraged wildlife to nest and repopulate on the road surface, because the animals once roamed there? Surface transportation by trucks and automobiles would come to a standstill. Travel, as we know it, would cease. There would be an immediate push to find another way of moving goods, and an entire system, a true asset to our country, would be wasted. And yet, that is exactly what is happening today to our inland river transportation system.

There are 12,000 miles of navigable rivers in the United States, and each day we are hearing stories that some of these rivers, or river miles, are becoming extinct to river navigation. Locks and dams that were built in the 1940s and '50s are not being maintained because federal priorities are elsewhere. Dredging, necessary to keep shipping channels and terminals open, has met with the federal budget axe. Since the system is not maintained, it has become less reliable. Since it is less reliable, it becomes less used. And since it is used less, the U.S. Corps of Engineers (USCAE) decides that it no longer makes sense to fully operate the lock system on a 24-hour basis, thereby bringing about the demise of transportation on the rivers; our nation's greatest asset. At the same time, millions of dollars are being spent to re-stock the river system with fish species or birds, in an effort to convert the rivers to a "pre-navigation" era, as if to say that the river navigation destroyed the very fabric of river life. It is the law of self-fulfilling prophecy. If you believe something long enough, eventually it will come true through your actions.

While I believe that it is important to ensure that the river eco-system is intact and maintained for our grandchildren's grandchildren, I believe it is also important to find balance with river navigation. Barge transportation is the most cost-effective and environmentally-friendly form of transportation. The movement of goods by barge produces less carbon monoxide and other pollutants, is safer, and uses less fuel than either rail or truck movements. Yet, barge transportation, and maybe more appropriately, inland river navigation, seems to be taking it on the chin by EPA and Natural Resource departments.

If we suppose just for a moment that our country needs to continue to move goods; that exports and imports of commodities are important to us, and that American consumers still want to buy goods, then why is it so difficult to imagine that many of those goods can and should be moved by barges? Shouldn't it be those who are most concerned about the environment yelling the loudest that barges should be used instead of trucks or trains? Shouldn't we as a country realize that our priorities have gotten so out of whack that we have pushed the most cost-effective form of transportation to the bottom of the heap?

We only need to look at other countries, such as China, to see their massive investments in their waterway system and their unprecedented shift to container traffic on their rivers, to wonder whether we are still the teacher, or if we have become the student. And if we are the student, we have been the one not listening or paying attention in class.

Without a doubt, it is time for all river-focused groups (ecology and navigation) to lock arms and work together to set priorities for our country's rivers. Without this approach, the pendulum of the clock swings too far in one direction, to the detriment of the other.

(As published in the November 2013 edition of Marine News - www.marinelink.com)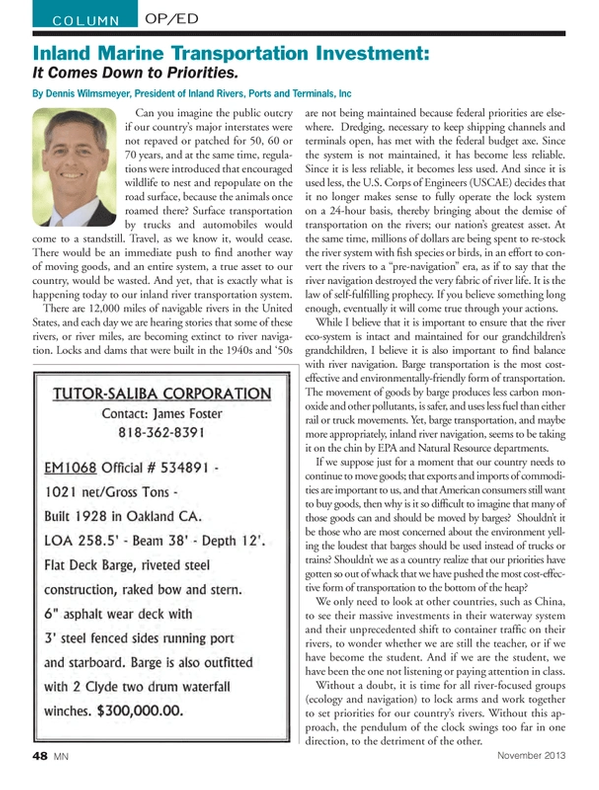 Read Inland Marine Transportation Investment: It Comes Down to Priorities. in Pdf, Flash or Html5 edition of November 2013 Marine News
Other stories from November 2013 issue
Content