Remote Monitoring: The Bottom Line for Fleet Optimization
By Joseph Keefe
By any yardstick, remote monitoring is fleet optimization in the new millennium.
You're all over it: optimizing your fleet. But, what does that mean? For some operators, it means making sure their mix of vessels meets the needs of their customers and the prevailing winds of the economy. For others, it entails reading the tea leaves just right when it comes to deciding on time charters or dipping one's toes into the spot markets. Still others focus on the closely linked Holy Grail of reduced bunker consumption and minimal stack emissions. For all of these cool customers, however, "remote monitoring" will also be part of that equation. That said; defining what remote monitoring means is another thing altogether.
Remote monitoring of on board metrics or data points is here. The process is accomplished in different ways by different providers. And, that effort is driven, of course, by the specific needs of the customer. The need to know what is happening on board the vessel – by those ashore, as well as those at sea – touches literally a thousand different parts of the vessel, its operations and the equipment that makes it all happen. Ten different monitoring providers will do it ten different ways and for ten different reasons. The four companies described in this article illustrate that point quite well.

Floscan Instrument Company, Inc.
When FloScan Instrument Company recently announced that it had obtained ABS Product Design Assessment Certification for a new line of Series K Stainless Steel Diesel Fuel Flowmeters, it wasn't because they hadn't already been in the game for a long time. They have. Since FloScan flowmeters were first introduced 40 years ago, more than 750,000 FloScan sensors and systems have found their way onto almost every make of gasoline and diesel engine in the world rated from 25hp to 6000hp. The newest certification permits the installation of FloScan Fuel Monitoring Systems on ABS-classed vessels requiring steel piping components.
Floscan's Engine Monitoring solution is permanently installed. Floscan Sales Manager Joe Dydasco says his product allows operators to "Run your boat at sweet spot. Every day. No matter what." And, he says, his system can and does save customers from 25 to 40 percent on their engine consumption. "Backing off just a few RPM's can reduce fuel consumption by over forty percent with only a half knot loss of speed." Beyond this, the product provides enough time stamped metrics to satisfy EPA requirements for NOx emission reporting.
Floscan got started in the aircraft industry and worked its way into the recreational marine markets. The bulk of Floscan business involves workboats, fishing and industrial generator applications. And, Dydasco adds, "The product is well proven in land-based applications, in particular the very strict California (CA – CARB) regime. FAA approved for general aircraft aviation, where fuel consumption is a critical measurement, the product installs and runs at half the cost of some competitors.
"We record all fuel usage from every engine that's installed on the vessel. We also record vessel data – mainly the vessel coordinates (Lat/Lon), course over ground and speed over ground, at as little as one minute increments. It all depends on what data the end-user wants to see," said Dydasco.
A cleaner burn is a more efficient and environmentally correct burn. No one would disagree with that. For example, Floscan's DataLog was developed to record fuel usage data for NOx emissions reporting, simplify fuel inventory control and to monitor vessel location and movement. DataLog also provides the captain with valuable real-time fuel flow data to pinpoint the vessel's most efficient running speed which can improve fuel economy up to 20% or more. Dydasco adds, "And that's why we monitor – it's up to the operator to decide which provides best fuel economy."
The fuel flow and vessel information displayed on the dashboard can be viewed remotely in real-time using remote internet access software such as TeamViewer or LogMeIn. The information is also recorded as daily log files and can be e-mailed automatically from the vessel's PC using the DataNET option.
A FloScan system installed on the Research Vessel Point Sur produced a 6% improvement in fuel economy and with accurate fuel-use forecasting, the Chief Engineer has the data which allows him to purchase the precise amount of fuel at the best possible price to make their next port-of-call.
Want more? An upgrade to FloNET networking capabilities with GPS link and DataLog software will provide even more accurate monitoring of real–time fuel consumption to fine–tune engine RPM and propeller pitch settings to match prevailing sea states, achieving even greater reductions in fuel usage.

KRAL
According to Christoph Tschegg, CEO of KRAL-USA, Inc., operators want remote monitoring for different reasons. Since KRAL's core competencies involve measurement – extremely accurate measurement – their output satisfies a myriad of requirements. This could involve any number of variables. "Someone else is paying for fuel – a charter, for example. They want an accurate record of consumption. Someone else might be focused solely on optimum fuel economy. Still others might want to know exactly when it is time to clean the hull or get an accurate picture of how much fuel is being saved by that shiny new hull coating. Did the paint job provide the savings the coating manufacturer promised? Or, in the immediate wake of an engine overhaul, before and after measurements can determine if the problem really has been fixed."
KRAL fuel meters provide real time operational feedback to Masters who need to know what speed will produce the best fuel economy. For the bigger picture, shoreside personnel get data necessary to round out reporting for Ship Energy Efficiency Management Plan (SEEMP) requirements. KRAL monitoring systems can be tied into other systems, provided as a display for the Master or Chief Engineer, made a part of a larger data acquisition scheme or connected to offices. KRAL's Tschegg adds, "To get confirmation of savings, you must substantiate those claims and to do that, you need to measure to a very accurate extent. That involves fuel in, and out of an engine, using a positive displacement meter."
KRAL only measures fuel consumption. Data is temperature compensated and provided in real time.
Their equipment is technology, communications and engine agnostic. And, it can be used to combine data with other information such as power, GPS, etc. And, although most KRAL fuel meters are installed as permanent equipment, some operators use them for specific purposes, as well. For example, each Sentinel class (FRC) Coast Guard vessel being delivered is fitted with KRAL equipment during sea trials to demonstrate performance. KRAL equipment is also used to provide data for engine testing by Fairbanks Morse and MaK engines.
Customer driven as always, KRAL remains flexible in how and what it provides to customers. Tchegg adds, "What you do with the data is your business – and KRAL can integrate that data, as needed."

Imtech Marine USA
Imtech Marine USA Managing Director Captain Eric Clarke told MarineNews in October, "We need to understand the complete situation on board. Constant communications are available and should be exploited. This can be as simple or as complicated as you want." He explains further, "Today, everything can be connected and networked and is fitted for remote diagnostics."
The overarching goal of remote monitoring should be to save money. Remote support, remote maintenance, remote reconfiguration of systems is possible in many cases. Integrated bridge systems are an excellent example. In one situation, says Clarke, Imtech's solution was able to detect overheating equipment on board the vessel and called the Captain. Investigations showed that the A/C in that space had failed. Because it was repaired immediately, the call prevented a much bigger problem later. Beyond this, technicians can sometimes diagnose, trouble-shoot and eliminate problems remotely, obviating the need to fly technical personnel thousands of miles at great expense. Clarke adds, "Like cable providers ashore, some companies are reluctant to send someone out if the problem can be fixed remotely via telephone. The same goes for ships equipped with SATCOM."
Better known as a system integrator of equipment and technology for ships and workboats, Imtech leverages that expertise in the remote monitoring game. "Not only can we can integrate all of that – we can 'talk' to the whole ship, as well. Our advantage stems from the fact that we see many ships, many systems, and have more experience with more manufacturers. We can apply that experience to your vessel."
Not every customer that uses Imtech to integrate shipboard systems also employs remote monitoring. But, says Clarke, the percentage is growing. "Do ships really need to have remote monitoring? Absolutely," says Clarke, "It is coming faster than we thought it would."
Selling the service means having to demonstrate the benefits by amortizing the cost over time. That part is usually easy, but for those not quite sold on the concept, Imtech has leasing options for those who want to take service out for a spin before diving all the way in.
The "next big thing" in terms of remote monitoring, according to Clarke, will probably be the real time transmittal of Vessel Data Recorder (VDR) information. Already on board most vessels, now some operators are looking to get course, speed, rudder angle, engines, GPS positioning – as many as 20 data points – in the hands of shore-based personnel, in real time.
OEM agnostic and working with global manufacturers, Imtech is actually active in the inland markets overseas and now, is trying to more fully penetrate a domestic market that includes almost 40,000 hulls. The possibilities for those vessels are endless. But, remote monitoring from Imtech's three help centers – Houston, Rotterdam and Singapore – is anything but local. Following the sun, it provides 24/7 coverage for all customers.

Advanced Mechanical Enterprises / Windrock
Teaming up for a different twist on remote monitoring are Advanced Mechanical Enterprises (AME) and Windrock. Providing a unique service that both provides surveys and engine monitoring across an entire fleet from just one system, AME is the authorized the distributor for Windrock in the marine markets. Described simply as "an EKG of engine conditions" providing "a digital picture of performance," Windrock's technology does so much more than that.
Windrock specializes in the design, manufacture and distribution of portable and online monitoring and diagnostic instruments, software, sensors, and systems for reciprocating machinery. Windrock products are used by engineers to monitor, trend, alarm, and diagnose the mechanical condition and performance of reciprocating engines, compressors, and pumps.
Drilling down further, Windrock technology checks the mechanical condition of cylinders, injectors, liners, bearings and crankshafts. The ultrasonic monitoring system takes its roots from its U.S. Navy, U.S. Coast Guard and Canadian Navy customers. Some use portable Windrock analyzers while others utilize fixed, permanent systems.
Windrock's core market has historically been rooted in the gas markets, which leaves it arguably well-positioned for what comes next. So far, its application on board the commercial workboat sector has been limited, but that's probably about to change. Engineered to help gas engine operators defer maintenance schedules to 40,000 hours from 20,000 hours, Windrock and the advent of LNG and/or dual fuel engines in the workboat sector is set to change the dynamics of performance and maintenance of diesel fuel engines.
Used as part of a condition-based monitoring (CBM) program, Windrock helps clients pinpoint where less intrusive or frequent maintenance based on schedules alone can be avoided. More than purchasing a product, customers are buying a bridge to CBM and measurable savings in maintenance costs.
Designed to provide usable on board data for frontline, engineers, the Windrock system also serves as an online monitor, delivering a real time, 24/7 stream of metrics for office-based technicians. Analysts using online data from permanent, fixed Windrock systems can then bring portable units to troubleshoot the engine.
Windrock customers can choose from a wide variety of customizable systems. All Windrock analyzers utilize Windrock MD software for trending, reporting and analysis. The software serves as a single data repository for all information, allowing data to be easily shared between analysts for collaboration and consultation with industry experts. Both Windrock and AME stress that this is analysis – not just data collection. Where others collect and provide data, Windrock provides definitive analysis.
As with many other remote monitoring solutions, Windrock is OEM agnostic, can be used in conjunction with other systems, send data to other systems and can receive data points. Not overly complex and once the set-up is complete, the data is easy to use by mechanics. And, of course, AME is fully involved with the set-up.

Remote Monitoring – Your Bottom Line for Fleet Optimization
It really doesn't matter what you use remote monitoring for. Chances are; it will save you big dollars. If an ounce of prevention is worth a pound of cure, then sophisticated monitoring systems will provide metric tonnes of relief. But, that's up to you. What do you wish you could see, real time and in sharp detail? There must be something.


(As published in the November 2013 edition of Marine News - www.marinelink.com)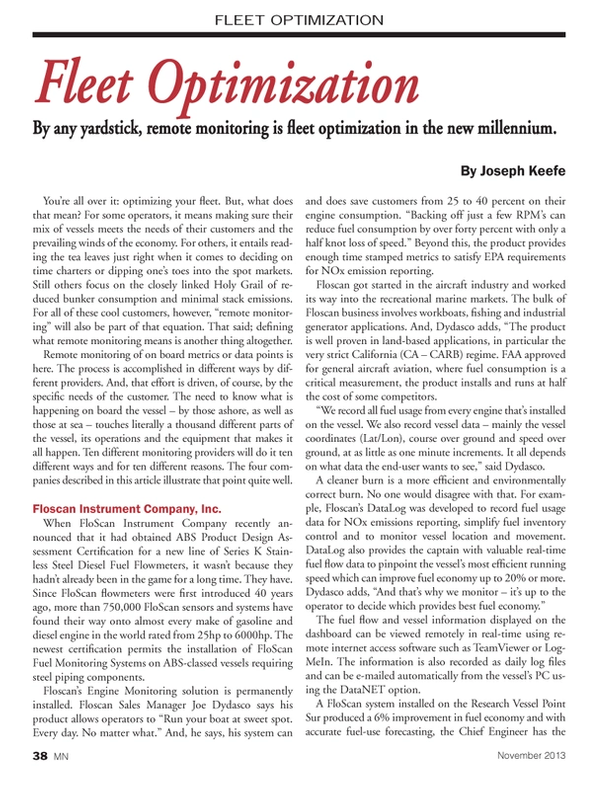 Read Remote Monitoring: The Bottom Line for Fleet Optimization in Pdf, Flash or Html5 edition of November 2013 Marine News
Other stories from November 2013 issue
Content