Monitored Confined-Space Entry
By Keith Lincoln
Protecting Workers, and Ensuring Safe Sailing for the Maritime Industry.
The cable-laying vessel GS Global Sentinel was undergoing repair work. Shipyard workers and members of the ship's crew found a mysteriously high hydrogen sulfide reading in a confined space on board that created a toxic environment. They could not understand why. What caused this potentially lethal scenario?
After investigation and safe entry into the tank, crewmembers of the vessel and shipyard workers discovered where the gas was coming from: a worker's sandwich that had long since decayed had been left in the toxic space and was giving off hydrogen sulfide. Had this been left as is, it could have could have killed workers or personnel in the space.
Marine environments are dangerous unless a very cautious and compliant approach is taken to safely access them. Improper entry practices may violate laws and regulations established by authorities. Proper safety training, combined with proper tools, technology and safe practices, are all key to a safe work culture in a marine environment known as a most dangerous environment.

A Most Dangerous Environment
According to OSHA, the rate of injury in a shipyard environment is twice that of the general construction industry. Extra care must be taken by workers, safety managers, operation personnel and emergency responders to ensure that a confined space is free from substances that can be deadly. The risk of confined-space entry injury or death on marine vessels is very real.
"When you look at incident statistics, they indicate that confined space incidents are causing lives to be lost and workers to be threatened any time they're working in and around confined spaces. Over the course of the last five years, an average of about 92 workers annually are losing their lives in confined spaces," said Guy Colonna, Manager of the NFPA's Industrial and Chemical Engineering Division.
Incidents Do Happen
A few years ago, in the Pacific Northwest, an integrated tug and barge had a close call when an ordinarily safe space within the barge, was found to be anything but. Initial indications of a lower explosive limit did not indicate a hazard. But workers were picking up signals on their photo ionization detectors (PIDs) indicating dangerous substances. As it turned out, diesel fuel from the tug had somehow migrated to a confined space in the barge. They were about to do hot work in the barge and the PID picked it up. Fortunately, they used advanced gas detection technology to identify a potential problem that otherwise would not easily have been suspected. The PID operator's recognition and alert to the crew prevented a potential major casualty.
Marine chemists are usually required by OSHA and the U.S. Coast Guard to certify a space for access and entry in a shipyard or repair facility. However, that alone does not alleviate the prevalent risks. Once the chemist or other competent person certifies the space as safe and leaves, there's no telling what can be uncovered later. Additionally, crewmembers may be doing minor work in a tank or confined space during routine operations. Without gas detection technology or proper safety training they could fall victim to a deadly accident.
That's what happened at a Texas marine repair facility, when employees working an overnight shift moved spray-painting equipment and portable lighting equipment inside a barge to continue a painting operation. An earlier shift had already worked in the space for ten hours. As it turned out, the previous shift had not adequately set up ventilation equipment and the confined space was not monitored for dangerous gas levels. In addition, the portable lighting equipment they were using was not explosion-proof. Tragically, a spark from an unknown source ignited the flammable paint vapors and both employees were killed.
In this case – and all like it – a designated shipyard competent person should have visually inspected the space and its equipment. He also should have measured its oxygen content and lower explosive limit with a calibrated and reliable gas detector. If he had, he could have discovered the dangerous atmosphere, evacuated the space, and stopped work immediately.
Many accidents follow a similar pattern: a worker goes into a tank, and that worker collapses and perishes from gases in that tank or space. This happened in 1986 when a worker entered a septic tank and collapsed. Two of his colleagues went in to save him and all three ended up dead.

Hot Air
In another incident at a Louisiana shipyard, two workers were cleaning marine vessel tanks with solvents. Workers were directed to ventilate the space and dilute it with an air hose. One worker used an oxygen hose that ran into the space for three hours. The other worker entered the space, while smoking a cigarette, which he rubbed out with his foot on the deck. This caused a ball flash of fire to be ignited; his pant leg caught fire, and burned the employee badly. As a result of the burns, the employee perished.
The workers should never have used an air hose, nor should they have used oxygen to ventilate a space. No competent person tested the space for air quality and flammability with a calibrated gas detector. And the employee should not have been smoking. Incidents such as these show the inherent value of safety training, as well as the need to have the right gas detection tools, technology, and trained personnel on hand to monitor conditions and protect against deadly incidents.

Tools and Technology
Shipyard workers want to use the same equipment and devices that marine chemists use when they certify the tank or space. Gas monitors can detect four gases: carbon monoxide, hydrogen sulfide, combustible mixtures, and oxygen levels. A PID can also be used to detect volatile organic compounds (VOCs) that could represent a myriad of potential substances.
A PID detects measurements of VOCs that can be dangerous if ingested or pose a danger as a combustible gas. The device uses a standard of 10.6 electron volts (eV) as the cut line for VOCs. Below this level, the device will indicate only the presence of VOCs and a sample may be sent to a lab for more precise identification.
In the past, shipyards, chemists, and marine operators have commonly used portable gas detectors and analyzers. However, gas detection technology that is wireless and portable is available. Such technology is more effective and provides 24/7 monitoring and intelligent data collection to better protect workers, assets and the community.
For example, remote monitoring equipment, such as the MultiRAE wireless multi-gas monitors, allows someone to remotely monitor dangerous levels for a worker carrying the device. In addition, the device has a "man down" alarm, which alerts the remote monitoring personnel or maintenance command station in case someone goes down.

Confined-Space Entry Regulations and Requirements
Confined-space entry by marine safety personnel is covered under OSHA's 29 CFR 1915, subpart B regulations governing shipyard employment: Confined and Enclosed Spaces and Other Dangerous Atmospheres in Shipyard Employment. This regulation applies to all shipyard employment, involving vessels, vessel sections, and shoreside operations, regardless of location.
OSHA regulations require all employers to designate one or more competent persons in accordance with 29 CFR 1915.7. The regulation specifies the parameters for designating a competent person. The only exception is if all duties of the competent person, under 29 CFR part 1915, are carried out by a marine chemist.
A certified marine chemist holds a valid certificate issued by the National Fire Protection Association (NFPA), establishing the holder as a person qualified to determine whether construction, alteration, repair, or layup of vessels can be undertaken with safety. Such operations may involve hazards covered by the Standard for the Control of Gas Hazards on Vessels, NFPA 306.
According to the NFPA, "the United States Coast Guard and the Occupational Safety and Health Administration (OSHA) require that a gas-free Certificate issued by a Marine Chemist be obtained before hot work or fire-producing operations can be carried out in certain spaces aboard a marine vessel. In complying with both the U.S. Coast Guard and OSHA regulations, the Marine Chemist applies the requirements contained in NFPA 306. This standard describes the conditions that must exist aboard a marine vessel. A survey by the Marine Chemist ensures that these conditions are satisfied."

A Safe Environment
The marine confined space environment can be dangerous. Ships carry dangerous cargoes. Substances in confined spaces and tanks are left over or carry over from previous hauls and were never meant to be there. Workers and personnel may never realize the hazards that confined spaces pose. The paramount goal when it comes to confined-space entry is to ensure the safety of personnel. Marine operators as well as repair facilities and shipyards that do not put confined-space-entry safe practices as a paramount goal risk heavy fines from regulatory bodies, as well as injury or death of personnel.
The use of advanced technology and gas detection tools that are maintained and calibrated, combined with safety training and implementation of safety practices, is a smart strategy to avert the risks inherent in confined-space entry and keeps workers safe. Wireless gas detection systems, including some using mesh radio networking, are now available with a broad range of options, including standard 110V/220V AC power, battery power, and solar operation/charging. These options marine safety and risk reduction managers a new set of tools to deploy in a wide range of safety management situations. Other applications for wireless gas detection include HazMat response for a wide array of critical service application including sewage, cargo, fuel and bilge and ballast gas and leak detection, worker protection and hydrogen sulfide (H2S) safety.


(As published in the October 2014 edition of Marine News - http://magazines.marinelink.com/Magazines/MaritimeNews)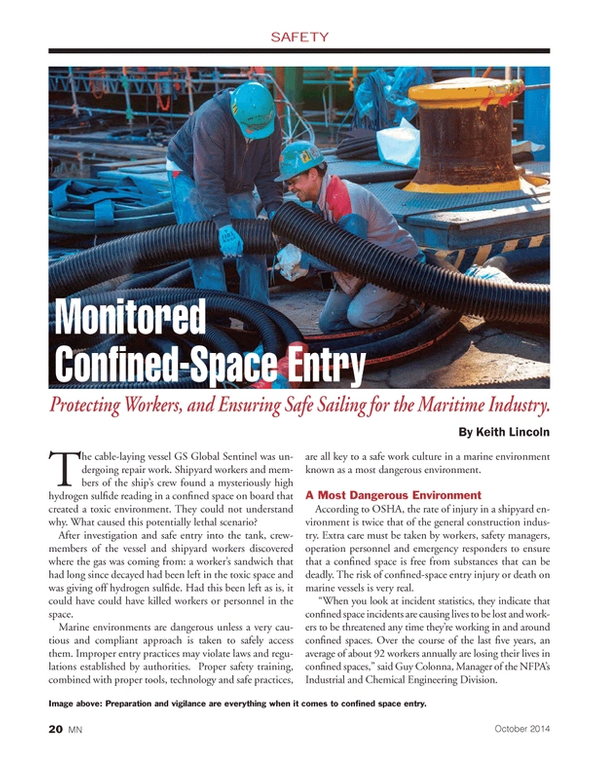 Read Monitored Confined-Space Entry in Pdf, Flash or Html5 edition of October 2014 Marine News
Other stories from October 2014 issue
Content