Incentivizing Spill Response Innovation
By Joseph Keefe
Researchers tackle the tough problems despite a lack of funding and official incentives to move forward. Progress, in particular for Arctic spill response equipment and techniques, is being made.
Even in the messy but now seemingly distant wake of such environmental disasters such as the Exxon Valdez grounding and the Deepwater Horizon accident, domestic oil spill response requirements still provide little or no incentive for responders in the U.S. to develop and deploy new equipment. Elsewhere, other countries (especially Norway) have better options for testing and approving systems using an intentional spill. Here at home, this approach has been recommended especially for the Arctic by many stakeholders, to no apparent avail.
Similarly, the BSEE issued a Request For Proposal (RFP) a few years ago but received none to investigate a 'research spill' and then perform one. That possibility, according to Kurt A. Hansen, a professional engineer at the U.S. Coast Guard Acquisition Directorate Research & Development Center in New London, CT, has nevertheless been a frequent topic of discussion for several years at the Interagency Coordinating Committee for Oil Pollution Research (ICCOPR).
That's not to say that industry stakeholders haven't tried to pitch in. They have. A very large project also directly addressing the Arctic response issue, funded to the tune of $25 million – money that Hansen says the federal government simply doesn't have) – has been launched by the Arctic Oil Spill Response Technology Joint Industry Program (JIP). In a nutshell, the project hopes to further build on existing research and improve the technologies and methodologies for Arctic oil spill response. With nine oil and gas companies participating, the stated goal of the JIP is to advance Arctic oil spill response strategies and equipment as well as to increase understanding of potential impacts of oil on the Arctic marine environment.
Last but certainly not least, Hansen says that the Research and Development Center (RDC), located in New London, CT, is the U.S. Coast Guard's sole facility performing research, development, and test and evaluation in support of the service's major missions. It has been in existence since 1972 having moved into its current home in New London in 2009. There are 18 military and 76 civilians at this location plus a staff of 7 (2 military) at Coast Guard Headquarters in Washington, DC. The RDC is responsible for evaluating the feasibility and affordability of mission execution solutions and providing operational and risk-management analysis at all stages of the acquisition process. Those evaluations sometimes involve spill response equipment.
One particular issue that troubles spill responders is that in 30% concentration, ice is not a significant impediment for most skimmers. Conversely, however, in 70% concentration, ice is a significant impediment, with most skimmers experiencing dramatically poorer efficiencies in the dense ice. In real practice, recovery rates for 70% ice conditions were found to be about half of the 30% runs and in some cases, that recovery rate dipped to less than 10 percent of 70% ice condition runs. Accordingly, RDC and its partners recently looked into the matter.
RDC & Partners in Action
Proving that there are people actively at work to improve domestic spill response capabilities and technology, the Coast Guard recently demonstrated some advances in cold weather oil response technology. Specifically, the RDC demonstrated conceptual systems that could improve recovery of oil in cold climates including New England, the Great Lakes and Alaska.
RDC, in cooperation with the Bureau of Safety and Environmental Enforcement (BSEE), evaluated an ice cage designed to keep ice pieces from impacting skimmer performance. The design was based on the results of BSEE's "Ice Month" testing at the National Oil Spill Response Research & Renewable Energy Test Facility (Ohmsett) in 2013. According to a report on the matter, "The results showed that most skimmers could not pick up oil in pack ice of over 70 percent coverage because pieces of ice interfered at the weir, brush or belt interface with the water that kept the oil from reaching the collection point. A system was tested at Ohmsett in March 2014 and for the Coast Guard's Helix skimmer it appears to improve the collection capability."
In this case, RDC collaborated with Marine Pollution Control (MPC) of Detroit to develop an ice cage system which permits oil to flow into the skimmer and keeps ice away from that critical area near the skimmer opening. The system was tested in ice in 2015 and the data showed an increase in recovery rates (from about 4 gallons per minute (GPM) to about 18 pgm at ice coverages of 50-63 %) for the Coast Guard's existing Helix skimmer.
Kurt Hansen explains further, "RDC had a contract with Science Applications International Corporation (SAIC), one of our delivery order contractors, to assess the current decontamination procedures and provide recommendations that RDC could evaluate during the Newport test. Contracts were awarded to Marine Pollution Control (MPC) for the ice cage and Elastec American Marine (Winner of the Wendy Schmidt Oil Spill X-Prize) for the temporary storage device. Both of these contractors set up and operated the equipment during the evaluation. The Coast Guard provided the ship, CGC JUNIPER, and lifting capability using the CGC JUNIPER's crane."
Crewmembers from Coast Guard Cutter Juniper conducted a test of a prototype ice cage, which is designed to keep ice away from the skimmer but permit oil to still be recovered. The system is designed for use in broken ice when oil pools between pieces of ice. The ship would maneuver and dip the ice cage/skimmer into each pool successively, picking up and moving carefully, trying not to push the ice so that the oil does not go over or under it.
Tested with two existing devices – a brush skimmer and a drum skimmer – the device could possibly be made available for commercial response cooperatives to purchase, but, says Hansen, "This is still being determined." Indeed, the prototype system that still needs refinement. Also according to Hansen, RDC is gathering recommendations from the evaluation to make setup and use easier and better; which will be written into a report available later this year.
The Coast Guard owns the equipment; which will be temporarily stored in a warehouse in Newport News, VA where Coast Guard personnel are available to handle storage and maintenance issues. Policy and decision makers at the CG Headquarters level will be provided the report and make decisions about future use. Separately, William E. (Bill) Hazel III, Director of Marine Services at Michigan-based Marine Pollution Control (MPC), told MarineNews last month that "Ice Management System designed by MPC is in patent pending status. The company is considering the potential to offer a version for commercial users based on its evaluation of market opportunities." MPC, according to Hazel, is a spill response provider, but also has robust manufacturing capabilities.
Attention was given to determining how and what the minimum size of workboat or 'vessel of opportunity' could handle the equipment, if deployed. Together, the ice cage, skimmer, and hoses weigh about 2,000 pounds, so a crane would be needed with a reasonable lift distance of 30-40 feet at that weight. The amount of deck space needed would depend upon what is being used for temporary storage. The largest temporary storage tank for this demonstration was 6 feet wide by 30 feet long with straps reaching 3-5 feet out for supports.
As a general statement, the ice cage has been found to improve recovery efficiency for skimmers as long as the operator has the time, patience and the skill to both move the cage around and effectively manage the ice.
Encouraging Innovation
Fueled by the kind of success achieved at RDC, both industry and the federal government continue to promote avenues for innovation. BSEE, for example, has also developed software that could possibly be used to foster a more systems-based approach, which would in theory result in a better selection of equipment and encourage innovation. At the same time, BSEE has also sponsored multiple projects to address simulants and how to get innovation into the field.
And, not to be left out of the process, the Oil Spill Recovery Institute (OSRI) of Alaska, funded by the Oil Spill Liability Trust fund (OSLTF) set up after the Exxon Valdez spill, recently sponsored a workshop about how to introduce innovation. Issues range from funding to the lack of incentives for commercial stakeholders to move forward.
As the Arctic becomes more and more accessible to commercial traffic – in more places and in volumes that grow – the need for viable spill response capabilities, equipment and techniques is only going to become more critical. Despite impediments to that effort, both government and commercial stakeholders are making progress. Clearly, we need more.
(As published in the October 2016 edition of
Marine News
)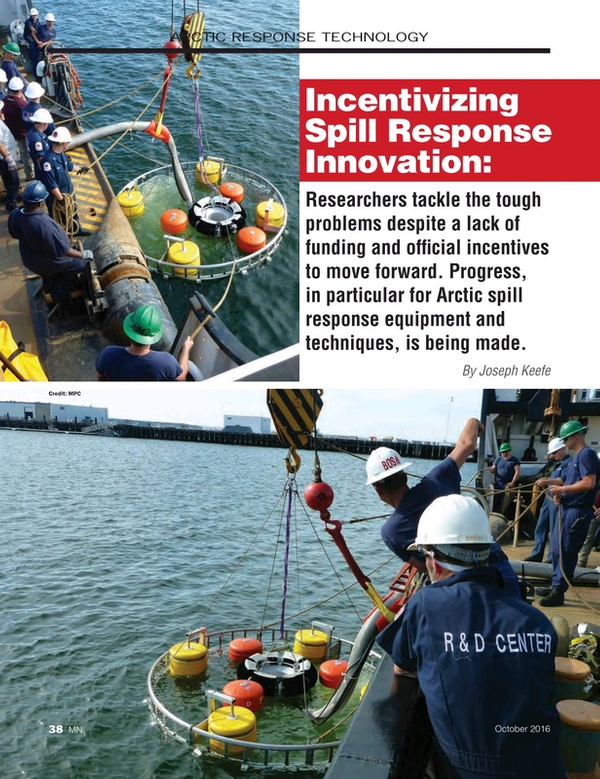 Read Incentivizing Spill Response Innovation in Pdf, Flash or Html5 edition of October 2016 Marine News
Other stories from October 2016 issue
Content