North American Ferries: Faster, Greener & Safer
By Barry Parker
Domestic ferries adjust their business models to met regulatory pressures and exceed environmental standards with an eye towards improved service. And, not a minute too soon.
In North America, stalwarts in the ferry business continue to shorten journey times compared to surface alternatives, while at the same time, bring accessibility to barrier and coastal islands that would otherwise be impossible to reach. Established stakeholders continually fine-tune their operations in a market where missions to provide service (and maintain fares at affordable levels) must be balanced against spiraling costs, intrusive regulatory pressures and the need to 'go green.' In particular, public ferry operators have struggled to gain funding necessary for capital expenditures.
Nevertheless, with societal concerns about sustainability and the omnipresent cudgel of environmental regulation aimed at maritime businesses, ferry operators in the North American Emissions Control Area (ECA) have begun their transition away from traditional diesel fuel, notably to cleaner burning liquefied natural gas (LNG) with its substantial reductions in sulfur and nitrogen emissions compared to diesel fuel. The continent's two largest ferry operators, both in the Pacific Northwest, have noted the favorable cost comparisons and compelling business cases for gas fueling when compared with conventional diesel fuel. The ripple impact on the domestic waterfront's bottom line has not gone unnoticed.
Canada's Cup is Full
Privately owned BC Ferries serves 24 routes along the coast of British Columbia under an exclusive contract with the Province, leveraging a fleet of 34 boats. The operator, which carried more than 20 million passengers and 8 million vehicles in 2016, will be fitting two existing vessels to run on LNG (supplemented by diesel propulsion), and has ordered three gas powered newbuilds. In the conversion project, two of its 2,100 passenger/ 410 car vessels – Spirit of British Columbia and Spirit of Vancouver Island – will each see the installation of four Wärtsilä 34DF engines, in sequence, starting in late 2017. The list of upgrade items in the C$140 million contract will also include the controllable pitch propeller and tunnel thrusters, as well as refurbishment of the engine rooms' automation and electrical systems. Under a C$165 million contract, the same Polish yard delivered the first of three dual fuelled newbuilds, Salish Orca, in late November; the vessel is scheduled to start service on the Powell River (on the mainland) / Comox (Vancouver Island) route in the spring of 2017, followed closely by deliveries of two sisters. The delivery of the 600 passenger/145 car vessel (fitted with Wärtsilä 20DF engines, as well as Wärtsilä's LNGPac fuel systems) came a few weeks after BC Ferries announced a company-wide "SeaForward" effort aimed at sustainability.
The gas for BC Ferries LNG fueled vessels will be supplied by the utility Fortis BC, which also contributed C$10 million and C$6 million towards the two BC Ferries projects. With support in the form of incentives from the Province, Fortis BC will also supply the gas (and is contributing towards construction costs) for two new dual fueled newbuilds that will haul cargo between Vancouver Island and the mainland for another BC operator, Seaspan Ferries. The first vessel, with a capacity of 60 large truck trailers, has already delivered to its new owner, from the Sedef shipyard in Turkey, with the second coming in early 2017.
Seaspan Ferries' corporate parent, Seaspan, owns a shipyard in Vancouver, which prompted its CEO, Jonathan Whitworth, to ask rhetorically (at a briefing attended by Marine News), "Why would a company that owns a shipyard not build them here?" He quickly answered his own question, saying, "Our plate is full," referring to the yard's commitment to deliver a series of non-combat vessels for the Canadian government. Mr. Whitworth described a multi-year process, with a design team from Vard (part of the Fincantieri Group) in creating the exact specifications, by saying, "Unlike our present fleet, with a capacity for 30 to 40 trailers, these new ferries will have a capacity for 60 trailers, at a speed in excess of 16 knots."
The vessels will be powered by Wartsila 9L34DF dual fuel engines fed though the Wartsila LNGPac storage and containment system. The two Seaspan newbuilds are also notable for another innovation: they will utilize lithium battery power, provided by Corvus Energy, a Canadian company (backed by BW Shipping and Statoil), which will be used for in-port maneuvers. Whitworth adds, "This will be the first hybrid ship running in North America."
Washington State Ferries
The largest ferry operator in the United States is Washington State Ferries (WSF), which serves the Seattle-Tacoma area, the Olympic Peninsula and islands around Puget Sound. It is a part of the state's Department of Transportation. At one time, planners envisioned a network of bridges all over the Puget Sound region. Instead, the ferry network is the de-facto highway. WSF, which operates 24 ferries transporting more than 23 million passengers annually, has an older fleet, one which is gradually being renewed. Its oldest vessels, for example, built in the 1950's, are being replaced by four "Olympic class" newbuilds from Vigor's Washington State Shipyard, each capable of transporting 1,500 passengers and 144 automobiles. Two, the Tokitae (2014) and Samish (2015) are already in service, with the other two, Chimacumand and Squamish, set to enter service in 2017 and 2018. Since substantial budget cuts were enacted in the late 1990's, WSF has struggled to find stable long term funding sources, carefully balancing fare policies with requisite capital and operating expenditures. That said; the overall budget for the four new vessels is $515 million.
WSF has spent several years looking at a 're-powering' project, one involving six late 1970's vintage boats (1,200 passenger capacity), operating with 12V-228 GE Diesel engines, which would be retrofitted with pure LNG or dual fuel capability, keeping in step with regulations for eventual Tier 4 compliance. As of mid December, WSDOT was in the process of evaluating responses to proposals that had been received prior to the end June deadline.
Other Stakeholders; anything but 'also-rans'
Separately, myriad smaller operators also ply the waters of the Pacific Rim. The easternmost terminus of State run Alaska Marine Highway System (AMHS), operator of an 11 vessel fleet, is actually in the Lower 48, at Bellingham, WA. Its routes extend some 3,500 miles, linking communities north through the Kenai Peninsula and Prince William Sound and then west along the Aleutians to Dutch Harbor. In 2015, its passenger count touched 300,000. Currently, two new vessels (300 PAX/53 automobiles, each) are under construction at Vigor's yard in Ketchikan, with delivery expected in 2018.
The new boats are designed with ro-ro style bow and stern doors, which will speed up loading and discharging of cars (which, in turn, assists in control of labor costs) as compared to the AMHS existing side-doored fleet. Plans are also in the works for replacing the 1964 built M/V Tustumena. While a diesel propulsion design (from Glosten) has been developed, the timing and magnitude of available funding is still unclear.
The San Francisco Bay Ferry (part of the Water Emergency Transportation Authority, or WETA, a regional organization), is heavily skewed toward providing high speed commuter transportation with its fleet of 12 vessels, and is on a rapid expansion curve. Since its formation ten years ago, its view of ferries has shifted from "Plan B" for disruptions in surface modes, along with emergency response and evacuations, to a different focus which points to "… a system that seamlessly connects cities in the greater Bay Area with San Francisco, using fast, environmentally responsible vessels … and new docking facilities and terminals…"
The 20 year target is for 40,000 boardings per day and 10 million passengers annually, or roughly four times the level achieved in 2015. It's an ambitious plan. Most recently, in 2015, WETA ordered two 400-passenger, 27-knot, passenger-only catamarans from Kvichak Marine Industries (now merged into Vigor), with $32 million slated for design and construction. Delivery is set for 2017 for the Incat Crowther all-aluminum design. The propulsion package utilizes MTU 12V4000 M64+ engines (EPA Tier 3 compliant, with Tier 4 achieved with after-treatment of exhaust) rated 1950 BHP @ 1830 RPM- tied to ZF7600 reduction gears.
In September, 2016, Dakota Creek Industries (Anacortes, Washington) received a $62 million award to build three high speed vessels with 445 passenger capacity. A creative approach to financing buttresses these order. In describing its 2015 order, WETA said in a prepared statement, "The Vessel Replacement project is funded through a combination of Federal Transit Administration grant funds, Regional Measure 2 bridge tolls, State Proposition 1B grant funds, and Alameda County Measure B Transportation Sales Tax."
All the way across the country on the East Coast, New York City's Staten Island Ferry, serving 22 million passengers each year, continues to replace older vessels. The city's Department of Transportation received bids in September to construct three new doubled ended "Ollis" class ferries, with 4,500 passenger capacity. Plans developed by Elliot Bay Design Group call for Tier 4 engines and Voith Schneider (cycloidal) propulsion. A NYC posting indicates that responses ranged from Eastern Shipbuilding's $250.9 million, up to Dakota Creek's offer at $333.1 million, with responses from Fincantieri, VT Halter and Gulf Island Shipyard in between. The vessels (to be financed with a mix of City and Federal funding) will be delivered in 2019 and 2020, replacing a trio of boats of 1980's vintage and earlier.
Also in New York, the city's Department of Transportation (which oversees ferry activities) also has plans to retrofit one of its "Austin class" boats (1,280 passengers) for LNG operation. In 2014,separate RFPs for LNG propulsion and fuel storage were issued. Elsewhere, more conventional re-powering efforts are underway at the Delaware River and Bay Authority's fleet of passenger/vehicle boats running across Delaware Bay between Cape May (New Jersey) and Lewes (Delaware). Work on one vessel has been completed, with additional Federal funding (aimed at fuel efficiency and reduced emissions) slated to fund similar engine replacements of 1970's vintage engines with new EMD 8-710G7C-Tier 3 engines (with the potential for conversion to LNG fueling in the future) on two additional boats.
Not to be outdone, fleet replacement has also occurred in New England; during 2016, the Woods Hole, Martha's Vineyard and Nantucket Steamship Authority took delivery of a 400 passenger (and various combinations of cars and trucks) newbuild , powered by two MTU 4000 diesel engines. The new boat will serve the Woods Hole to Vineyard Haven run.
New Trends & Visions for Old Problems
In many cases, old established transportation patterns cannot be shifted quickly, but that hasn't stopped ferry operators from trying. While established ferries continue to provide an alternative to inefficient or congested surface transport, start-ups and trials abound. In New York, for example, a city-backed ferry service will begin linking far flung outer boroughs with downtown; the first runs are set to begin in 2017 (see
Marine News December 2016 edition
, page 38, "
Innovative boats, Unusual Cooperation
"). Still further down the coast, along the Outer Banks, the North Carolina Department of Transportation has been looking to implement a new service that would provide a seasonal link between Hatteras Island and Ocracoke Island (with an aim of reducing automobile traffic on this small barrier isle).
In Tampa Bay, a six month pilot project linking Tampa and St. Petersburg, began in early November. The Cross Bay Ferry, a six month experiment, employs the 2013-built Provincetown IV, a twin-hull aluminum catamaran with a capacity of 149 passengers, able to make 29 knots. The boat is chartered from Bay State Cruises (based in Boston and running to Cape Cod during the summer months) to the operator of the Tampa Bay service – HMS Ferries. Supported by four municipalities that will each kick in $350,000, local officials are hopeful that the pilot project will yield a permanent commuter solution there.
Finally, in Glen Cove, an eastern suburb of New York City, a new ferry terminal, part of a waterfront redevelopment effort, sits idle while the city seeks an operator. Previous efforts to link this community with Wall Street, or midtown, have failed. When not subsidized, the ferries are often too expensive and runs are too infrequent, compared to existing alternatives such as driving or commuter trains. When parking and accessibility to commercial districts are issues, potential customers balk at changing their habits. Other efforts around New York, notably a New York Waterway link from Yonkers, on the Hudson River, into Manhattan, have also failed.
Bottom Line: Potentially Fat
The hottest newbuilding market for ferries that the North American markets have seen in decades has come at a decidedly good time for local shipyards. Augmenting that boom is a raft of new initiatives designed to widen and improve the 'marine highway' even further. Add in the need to 'go green' in an increasingly intolerant regulatory climate, and the recipe for a sustained robust business climate is almost complete.
If even just a few of these visions become reality, certainly it will bode well for OEM's, engine manufacturers, shipbuilders and mariners alike. Get ready to roll up your sleeves. Your ship is about to come in; and there is plenty of room on board for those who want to make journey. All aboard!
The Author
Barry Parker, bdp1 Consulting Ltd provides strategic and tactical support, including analytics and communications, to businesses across the maritime spectrum. The company can be found online at www.conconnect.com
(As published in the January 2017 edition of
Marine News
)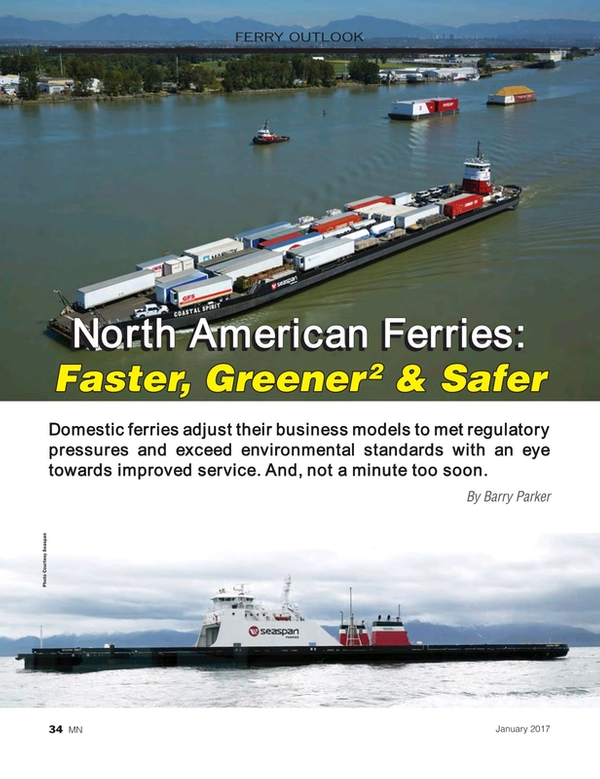 Read North American Ferries: Faster, Greener & Safer in Pdf, Flash or Html5 edition of January 2017 Marine News
Other stories from January 2017 issue
Content