Ferry Tales: Having a Ferry Good Time
By Joe Hudspeth
Despite of some of the lowest fuel prices experienced in the last eight years, demand for ferry construction is at a seemingly all time high. The focus on building new ferries kicked off in early 2013 and the sustained interest is the continued result of an unleashing of pent up demand. Fleets have been aging and infrastructure needs to be built up in order to accommodate the future demand for commuter ferry travel once fuel prices return to and surpass their once familiar norms.
The desire for more and better waterborne transit becomes even more appealing as stakeholders realize that little can be done to help ease roadway congestion. Hope and solace can be found on the water – the real key to a successful intermodal equation – and a close examination of many shipyards' order books prove that the manifestation of such hope is well underway.
Looking Back, and Ahead
The last bull market for ferry construction occurred in the late 1990's and early 2000's. With many of those vessels now approaching 20 years and others older yet, it is clearly time for renewal. The country's three largest ferry operations; Washington State Ferries, Staten Island Ferries, and Alaska Marine Highway Systems all have seats at the new ferry feast and have new vessel construction contracts in the works to help modernize their respective fleets. And, while it is healthy and reassuring for our industry to see such investments being made in maintaining our legacy ferry operations, there is also a surprising, but nevertheless substantial development of new ferry routes with corresponding vessel construction.
New York City's ambitious push for the brand new routes and vessels of the Citywide Ferry, set to kick off in the first half of 2017, has captured a fair amount of attention. Vendors, developers, operators, shipyards, and consultants all have a watchful eye on the city and its operator, Hornblower Cruises, to see what it takes to put 19 new vessels into service on such a short timeframe. Similarly, the nation's capital will also very soon be home to a couple new water taxi ferries on a new route servicing the District Wharf development which is set to open this October. Local operator, Potomac Riverboat Company of Alexandria, Virginia will construct several new vessels to complement their existing fleet for the new service.
Separately, and with the passing a recent funding measure on the November ballot, Kitsap Transit of Bremerton, Washington will also be looking to fabricate a small ferry fleet of 5 new vessels over the next few years. Kitsap Transit, together with their operating partner, King County Ferry Division, intends to add passenger-only ferry service from Kingston, Southworth, and Bremerton to downtown Seattle. These routes will round out existing routes currently operated by King County Water Taxi to Vashon Island and West Seattle.
Elsewhere, and while all of these projects are in the works, several ferries have recently been delivered, and even more are being contemplated for the future. The cities of Tampa and St. Petersburg, Florida are conducting a 6 month pilot project in hopes of getting traction for eventual permanent service. Earlier in 2016, North Carolina Department of Transportation also conducted a feasibility study and ran a pilot demonstration for a new passenger-only high speed ferry service between Hatteras and Ocracoke Island. Hence, a brief snapshot of how 2017 is already shaping up gives shipyards and vendors everywhere that another great year for ferries is in the making.
Ferry Fabric
Replacing ferries in-kind is one thing, but another opportunity that should not be overlooked is the benefit of contemplating a completely new design. At the most basic level, all new construction projects should offer an improved customer experience. While there are many challenges for designers and builders, complying with the latest ADA accessibility guidelines is a given. Likewise, customers have an elevated level of expectation for improved technology to augment their ride. WiFi, power ports, automated ticketing or counting systems, and onboard information displays are all fast becoming necessities, rather than amenities. But, these enhancements are really just cake icing in the entire scheme. Instead, what has become more important is designing hulls for efficiency, considering alternative fuels, hybrid propulsion systems, and improving stability and ride quality.
Not so long ago, builders and naval architects were renting super-computer space from tech capitals such as the University of Iowa to run very complex hull design calculations. Now, boat builders have in-house capability to utilize the principles of Computational Fluid Dynamics (CFD) modeling to optimize hull shapes. With a few keyboard strokes and mouse clicks, designers can digitally tweak the shape of a hull, run the model through a virtual tow tank, and semi-instantaneously realize any resulting benefits. CFD analysis can be used to enhance hulls for speed, seakeeping, and wake wash; all top concerns for new generation ferries. Wake wash mitigation has started to become a trend in new ferry designs and it has become more and more common for operators to task ferry designers to meet a specific set of wake wash energy criteria and provide the testing for adequate confirmation.
Ferry Complicated
For passenger vessels in the private sector, the implications associated with the transition from EPA Tier III regulations to those of Tier IV has certainly sparked some of the motivation to move forward on laying new keels, but that is not completely the case. Some public agencies such as San Francisco Bay Ferry (also known as Water Emergency Transportation Authority, WETA) have seen value in operating greener vessels and have pushed the requirement for Tier IV technology even before the EPA has approved and released certification for compliant engines. Complying with Tier IV comes at cost premium both for initial implementation and operation.
The larger, heavier, more complex system of a propulsion engine with an exhaust after-treatment system generates some new challenges that ferry operators have yet to face. When it comes to high speed or high horsepower ferry procurement, decisions will have to be made with regard to deciding whether pursuing a Tier IV solution is even a viable option.
At the lower end of the Tier IV horsepower spectrum, a fast ferry may not prove to be so fast with all the additional weight. For some operations to prove viable, schedule is paramount and every knot counts. Worse yet, one paying passenger may lose their seat for every 185 pounds of exhaust after-treatment equipment brought on board based upon weight sensitivity and stability calculations. Even if the these issues are resolved, the operator will still need to source urea-based Diesel Emission Fluid (DEF) to keep the ferry running and the supply chain for this product is not yet readily available at some local fuel docks.
Ferry Fantasy
For now, the ferry market is robust, and it is growing. The strength of this sector has provided a safe harbor for some builders who have been heavily impacted by the downturn of the offshore oil market. Such injections of favorable market conditions for building passenger ferries don't necessarily translate into an open invitation for all boat builders. Constructing passenger ferries is a complex process and the know-how involved with complying with U.S. Coast Guard inspections isn't easily achieved; certainly not right out of the gate.
For example, the Coast Guard, from time to time, is fully capable of throwing even the most experienced builders for a loop. Recently, some inspectors issued an objection to a boat builder that required all the survival craft on a particular vessel to be replaced with larger, more expensive equipment. It took the builder some initiative, time – and the advocacy of the Passenger Vessel Association – to show the inspectors a copy of their own agency's policy letter that proved the builder was in full compliance.
All of that said; building these purpose-built, people moving vessels can prove profitable and provide prolific projects to keep yards full, but sustainable success will only be found for shipyards and operators who work together to ensure that right vessel design is constructed in the right manner.
The Author
Joe Hudspeth is Vice President of Business Development at All American Marine, Inc., a manufacturer of high speed passenger ferries, excursion vessels, and work boats, in Bellingham, WA. Hudspeth has been involved with maritime sales, marketing and product development since 2000. He currently serves as a regional co-chairman for the Passenger Vessel Association and participates on several committees concerned with marine industry issues.
(As published in the January 2017 edition of
Marine News
)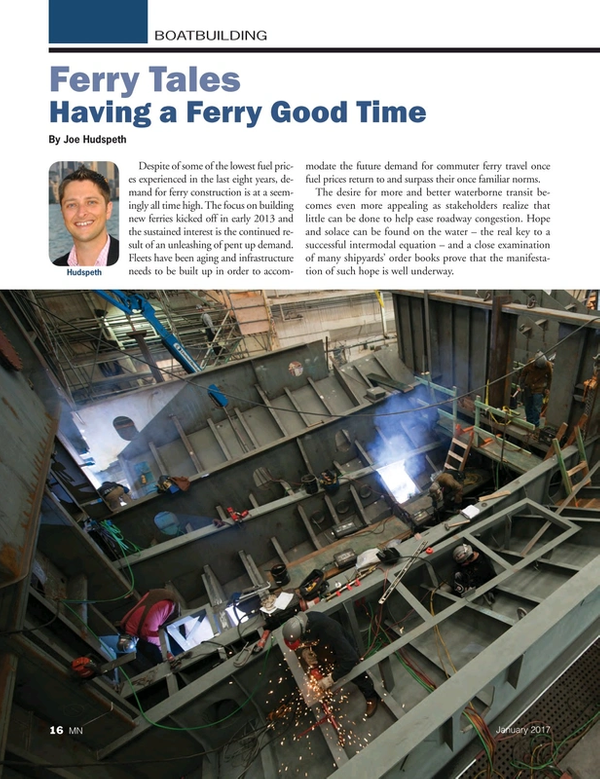 Read Ferry Tales: Having a Ferry Good Time in Pdf, Flash or Html5 edition of January 2017 Marine News
Other stories from January 2017 issue
Content