Digital Marine Comms: Helping to Protect Our Borders
Edited by Joseph Keefe
The U.S. Customs and Border Protection (CBP) Air and Marine Operations (AMO) is responsible for security and facilitation operations at 328 ports of entry throughout the United States. Missions include the pursuit, boarding and searching of suspect vessels, seizing vessels and contraband, and arresting violators. It is a difficult and dangerous job. To that end, CBP recently selected SAFE Boats International to design and build a 41-foot Coastal Interceptor Vessel (CIV) that is up to the task. "The patrol boat market is really a specialty market," said Janice Willis, Vice President Program Management at SAFE Boats. She adds, "It's not a market that a lot of aluminum boat builders can compete in because of the high performance requirements of the vessels."
Among its many innovative features, the CIV utilizes an advanced, stepped hull design that creates less friction on the hull surface, facilitating increased speed and fuel savings for the boat's powerful Quad Mercury 350 HP engines. The vessel also boasts cutting-edge equipment from a myriad of first class vendors. One such OEM firm, David Clark Company, the crew-to-crew digital communication system. David Clark Company, known for its "green dome" headsets worn by private, commercial and military pilots since 1975, has expanded its product line by providing headsets and systems for critical communications in the fire/rescue, airline ground support and two-way radio markets, and has a 15-year track record in supplying wired and wireless communication systems for the marine industry.
The Review Process
"We reviewed three vendor offerings for the CIV communication system and found the David Clark digital intercom system was the best choice based on price, simplicity and specification equivalency," said William Ledger, Program Vessel Project Engineer at SAFE Boats. Willis adds, "When we had the information back, we looked at the differences and evaluated them … looked for features and benefits above and beyond what was requested."
The decision to partner with David Clark was made after two months of rigorous Operation Testing and Evaluation by U.S. Customs on the prototype vessel. During this period, every aspect of the CIV was put to the test – at speeds exceeding 54 knots. "The report encompassed all aspects of mission operations and contract performance specification review. The David Clark Series 9100 intercom system met or exceeded performance requirements," said Ledger.
Series 9100 System Overview
The David Clark Series 9100 Digital system is comprised of noise-attenuating headsets in over-the-head and behind-the-head styles that provide high levels of comfort, performance and durability. Headsets feature an integrated momentary push-to-talk (PTT) switch located at the microphone bracket with M2-H advanced microphones for optimal noise-cancellation and enhanced speech clarity. Other components include the Master Station – the heart of the system – providing high performance Ethernet/IP versatility and a modular approach to system connectivity. The unit accepts a variety of card modules that efficiently and significantly expand interface connectivity and capabilities.
A variety of User Interface products – Wireless Belt Station and Gateway, hard-wired Headset Station – provide connectivity from the Master Station to the headsets, which are compatible with both wired and wireless options. Headsets and components can be configured to create communication system solutions for a wide variety of marine applications. "No two platforms have the same configuration requirements," notes Ledger. "For that matter, often no two missions have the same communications profile. Due to the flexibility of the system, mission-specific configuration is feasible. The mission profiles of our military and first responder customers continue to evolve, pushing the envelope of complexity of command and control requirements. The David Clark Series 9100 Digital Intercom system is simply the next generation technical solution."
Tomorrow's Mission Profile Demands Today's Comms Solution
The David Clark digital intercom communication system provides benefits not only to end users, but also to boat OEMs. Bob Daigle, Intercom Systems Product Manager from David Clark, underscores the benefits of simplicity, versatility and scalability that the Series 9100 digital system provides. "Our system architecture utilizes industry-leading digital media networking technology that affords the transport of multi-channel, ultra-high quality voice and data over CAT5e cable. This software-enabled network control provides a quick and simple methodology for system setup, routing and applicable device monitoring, creating the perfect bridge for the David Clark digital crew communication system within its own physical platform and beyond," says Daigle.
Ease of system installation and programming is also important to boat builders and to end users, as well, especially the military and government agencies. Because the system operates on power-over-Ethernet (PoE), all cabling, with the exception of the radio interfacing is Cat5e. This common communications cabling makes for easy installation. Additionally, the system uses a web browser type graphic user interface for programming the system. Configuration of the system can be accomplished by any technician with a laptop and Ethernet cord. Simplified configuration of the David Clark digital system is especially important for in-field service and system updates. Both system hardware and software are built for ease of configuration, with the needs of the user in mind.
In a world where every second counts, SAFE Boats went with the obvious choice. "A common complaint from our military and first responder partners is system configuration complexity. Boots on the ground must be able to quickly understand a system for use, maintenance and repair. The David Clark 9100 system delivers a primarily 'plug and play' system," noted Ledger.
Partnering Together
When it comes to customer relations and support, SAFE Boats and David Clark share a common commitment to responsive customer service. Ledger explains further, "David Clark excels at quick turnaround for documentation, product support and technical requests. Their team has always exceeded expectations," said Ledger. As a result of their ability to work together and the proven performance of the Series 9100 system, SAFE Boats has previously partnered with David Clark on other projects. "We just recently modified our contract to put the David Clark comm system on the U.S. Coast Guard's Cutter Boat-Over the Horizon IV," noted Willis. The David Clark Series 9100 Digital system was also installed on the recently introduced Multi-Mission Interceptor (MMI) prototype, also a SAFE Boats design.
(As published in the April 2017 edition of
Marine News
)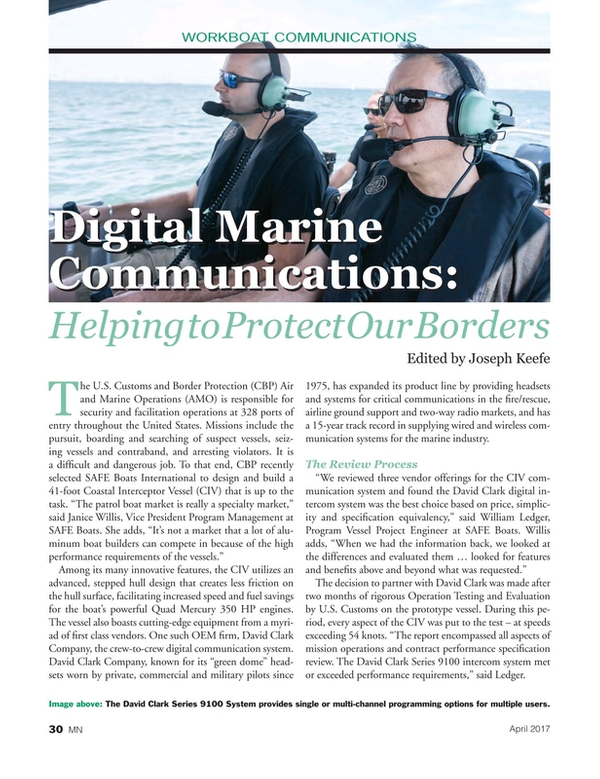 Read Digital Marine Comms: Helping to Protect Our Borders in Pdf, Flash or Html5 edition of April 2017 Marine News
Other stories from April 2017 issue
Content