DP Training: Expanded Choices & Evolving Methods
By Joseph Keefe
Perhaps one the most obscure skill sets in today's rapidly emerging workboat landscape is also arguably its most important. Kongsberg today remains at the cutting edge of DP training and credentialing efforts.
Not lost in last month's Offshore Service Vessel Dynamic Positioning Authority (OSVDPA) announcement that Kongsberg Maritime's Houston training center had been accredited to conduct OSVDPA dynamic positioning operator (DPO) training courses and assessments was the fact that Kongsberg has been offering DP training for many years. This wasn't Kongsberg first DP training accreditation and probably won't be its last. But, Kongsberg is the first Houston-area center to be accredited by the OSVDPA and that means that mariners and employers alike now have more choices when it comes to where and how mariners can train and eventually become credentialed.
Under the OSVDPA certification system, those wanting to become DPOs must complete two classroom courses, one focused on the theoretical knowledge behind DP operation and the other gaining DP experience via the use of DP simulators. By securing accreditation, Kongsberg can now begin conducting these courses. OSVDPA Executive Director Aaron Smith summed it up best when he said, "We are extremely excited to have Kongsberg seek and secure OSVDPA Accreditation. Kongsberg's expertise and professionalism were very evident through our accreditation process. It is easy to see how Kongsberg has earned a second-to-none reputation throughout the DP and offshore industries, and we're excited to work with them in the near future."
For Kongsberg, the nod from OSVDPA in Houston (soon to be followed for their New Orleans location) was important. That said; there are three training schemes that are currently gaining acceptance in the DP industry, and Kongsberg has experience with all of them. Kongsberg's Houston Training Manager Bryan Hoyem told Marine News in March, "The scheme administered by the Nautical Institute has been in place for quite a number of years now and is the most well known. The OSVDPA scheme is another and the third is approved by the DNV. While there are many common elements to the credentialing under each scheme, there are also a number of requirements unique to each and so they each require an in-depth knowledge of the process and verifications required."
The OSVDPA and DNV schemes, for example, have established procedures that allow someone to transfer in from another scheme. Hoyem says that anyone interested in such a transfer from one scheme to another should research the matter well in advance of the desired course and by working with their preferred training partner.
Historically, this area of training and skills has long been murky in terms of greater industry understanding of the equipment, the skills necessary to master that equipment and just as important, who decides who is competent. And today, the U.S. Coast Guard isn't involved with the certification process. Hence, providers like Kongsberg and training scheme facilitators like OSVDPA become that much more important. For its part, Kongsberg operates DP training centers Norway, Aberdeen, Houston, New Orleans and Rio de Janeiro and Singapore.
At the Forefront of DP
Hoyem declined to name specific clients for the purpose of this article, but says that Kongsberg's students come from nearly all sectors of the industry. He added, "Our history in the training of DP Operators began even before there were international standards on the topic and in fact, the program administered by the Nautical Institute was influenced heavily in its creation by Kongsberg. Also, since a high percentage of DP vessels across industry are outfitted with Kongsberg systems, many clients naturally prefer to receive their training directly from Kongsberg Maritime training centers."
Kongsberg has been busy – here and overseas. In Houston alone, the KM Houston Training Center has seen 495 students take the Induction course and 352 students have taken the Simulator course since 2014 alone.
Simulation is maturing quickly on the waterfront and the realism is incredible. DP simulation is a bit different than traditional shiphandling and Kongsberg has its own way of approaching the task. "DP ship handling is fundamentally different than traditional vessel ship handling," says Hoyem, adding, "All the foundational knowledge of laws and good seamanship are still important of course but the very basics of vessel handling are different when you're looking at staying in one position as compared to moving through the water. DP simulator training in many ways, builds upon the set of skills that a person may have already attained from traditional shiphandling but also adds knowledge of the DP system itself which is unique in many ways. One of the big advantages we have as a Kongsberg facility is the direct and unlimited access we have to the actual hardware and software engineers who designed our DP systems and to the great store of information and experience our team of service engineers have accumulated through the years. I think it's easy to say that no one can teach about Kongsberg systems better than Kongsberg."
OSVDPA: Another Dimension to DP Training
Although not the first DP certification body to the party, what OSVDPA has accomplished since its inception in 2014 is impressive. Led by a Board comprised of 12 Directors representing the vessel operator community, DP training centers, and DP manufacturers, the OSVDPA scheme has wide buy-in from industry. With Hornbeck Offshore Services, Otto Candies, Kongsberg Maritime, Tidewater Marine, and Harvey Gulf International Marine – just to name a few – all involved in shaping the direction of OSVDPA, the quality of that backing speaks for itself.
According to Hoyem, the OSVDPA certification was important for Kongsberg because OSVDPA has developed a very good training scheme that some companies and vessel owners like to utilize to ensure their DPOs are capable in performing their roles as DPOs. "As a training center, our focus is always on providing quality training to improve safety and efficiency of operations offshore. It was a natural choice for us to seek accreditation by the OSVDPA so that we could provide those classes and that certification option to the companies and DPOs who already look to us for their training needs." And those mariners and operators now comprise a wide(r) swath of DP stakeholders.
At its heart, the OSVDPA scheme has a documented rigorous set of criteria that they audit as part of their accreditation process. There are defined minimum competencies that the course curriculum is verified to include. Also, there are qualifications of the facility, the simulators used, as well as the instructors to ensure that trainees, throughout the program, receive all the desired information in the most effective way.
While the majority of DP vessels are classed because it helps the vessel owner with other aspects such as insurance and bidding for jobs as well as satisfying safety and capability demands for any particular job, it is possible that a vessel has a complete DP installation and its operator has not sought to get classed by a classification society. In this case, the vessel owner may request approval of their vessel from the OSVDPA (or relevant scheme authority) and will work with the OSVDPA to verify the vessel meets all the requirements of a DP vessel.
Ultimately, it is very important for a trainee to know if their vessel is classed so that they are gaining DP sea time towards their DPO training and certificate. For example, if a vessel is not classed by an IACS society, a mariner can reach out to the OSVDPA to ask if the vessel is on the approved unclassified vessel list. Beyond this, the type of vessel on which the DP sea time is attained will dictate certain limitations on the DPO certificate they ultimately receive. There are many aspects to the redundancy concept incorporated in class 2 and 3 vessels and a trainee without experience on those class of vessels may be missing some of the related knowledge to maximize safety.
The Kongsberg Way
Long involved in the DP training game, Kongsberg is also committed to the process for the long haul. To that end, Hoyem insists, "I think an important part of the training and credentialing aspect of a DPO's professional progression is that the DPO certificate is viewed by some as the culmination of everything needed to be good a DPO. While our goal as a training center is to prepare DPOs to the greatest extent we possibly can, the certificate is really the beginning of a DPOs career. We like to equate it to someone getting their driver's license. From that point, they continue to work as a DPO in earnest and gain the valuable experience that will get logged into their logbooks and be listed on their resumes."
As employers come around to this way of thinking, they also seek training specific to their operations or their vessels. DPOs that get this added insight to their systems and situations stand to gain more knowledge and better experience during their time on board. But, there's more to it than that, says Hoyem. "If all goes well during a DPO's time on board, they do not get the experience of things going wrong. This means that the amount of time accumulated as experience may not be the best preparation for the more unlikely scenarios in which a well prepared DPO can make a world of difference."
The only way to safely gain this type of experience, insists Hoyem, is with training in simulators. And where better to get that training than in a facility that can train to any of three internationally recognized schemes – now to include the OSVDPA scheme – and on equipment that a large percentage of the world's DP-equipped vessels already carry on board? It's a 'safe' bet that this, in a nutshell, embodies the 'Kongsberg way.'
www.km.kongsberg.com / www.OSVDPA.org
(As published in the April 2017 edition of
Marine News
)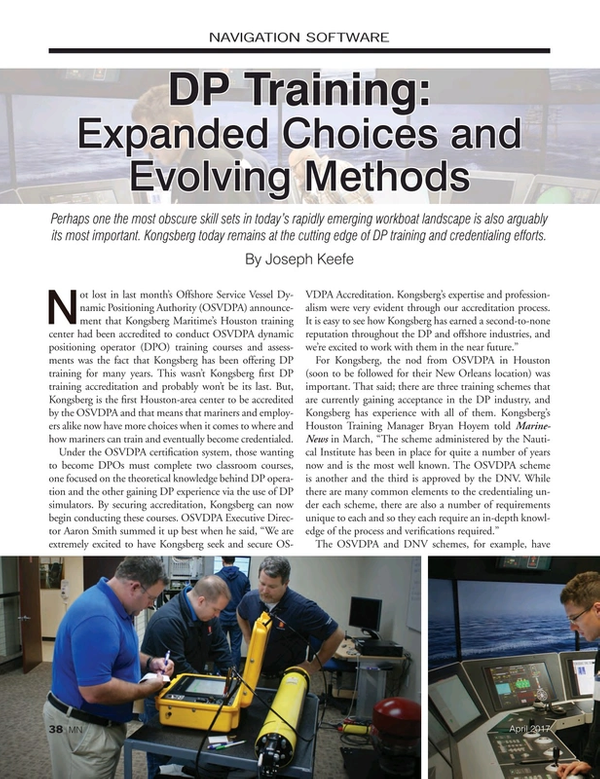 Read DP Training: Expanded Choices & Evolving Methods in Pdf, Flash or Html5 edition of April 2017 Marine News
Other stories from April 2017 issue
Content