US Shipyards: Building for America, Jobs for Americans
By Owen Doherty
The shipbuilding and ship repairing industry has always been a core strength of our nation. It has enabled the United States to protect and project its prosperity, power and influence internationally. A book in my office signed by shipbuilder William Webb illustrates the point. Mr. Webb inherited his father's shipyard in 1840 and built over 130 of the fastest clipper sailing vessels; he later built the largest and most celebrated steamships of his era.
Those were glory years for the U.S. maritime industry, an era when the shipping industry was synonymous with American sovereignty. While it is no longer the nation's most profitable export manufacturing industry, U.S. shipbuilding and ship repair continues to be a major economic engine, as critical to our national security and commerce as it was in colonial times. Our founding fathers recognized that our maritime assets enabled us to conduct international trade, protect our shores, and grow the U.S. economy toward independence, and they enacted strong policy to protect it. Today, these vital industries fortify America's ongoing status as a maritime nation, with capacity to build and maintain a modern, safe fleet to defend U.S. interests at home and abroad.
To underscore this point, the Maritime Administration (MARAD) published The Economic Importance of the U.S. Shipbuilding and Repairing Industry in November 2015, recognizing the hundreds of U.S. shipyards spread across the country engaged in shipbuilding and repair. In 2013, the U.S. private shipbuilding and repairing industry directly provided 110,390 jobs – including naval architects, project managers, riggers, welders, painters and a host of suppliers – $9.2 billion in labor income, and $10.7 billion in gross domestic product, or GDP, to the national economy. These are well paying jobs with opportunity for advancement.
Many of these shipyards build not only commercial vessels but also ships used by the U.S. Department of Defense. Case in point: General Dynamics, NASSCO Shipyard in San Diego recently built the world's first containerships that run on natural gas, and is now building a series of vessels for the Navy's Expeditionary Sea Base program. It is a compelling example of a strong domestic U.S. shipbuilding industry producing vessels for important military and economic objectives.
Unfortunately, a strong domestic shipbuilding and repair industry doesn't translate to success in the international shipping market. Contrasted with many foreign competitors now able to build today's mega-container cargo ships far more economically, America's international shipbuilding presence is shrinking to unprecedented levels. To regain its position as an international maritime power, the U.S. shipbuilding industry must undergo a paradigm shift in how it does business.
At MARAD, our historic role has been to support this industry through a variety of financial programs. The owner of the NASSCO-built vessels mentioned above, TOTE, for instance, benefited from the MARAD-administered Federal Ship Financing Program (FSFP) that guarantees loans to help U.S. shipyards produce a modern commercial fleet.
Another is Eastern Shipbuilding Group (ESG) of Panama City, Fla., a long-time supporter of the oil industry. Following the 2010 Deep Water Horizon disaster, Eastern took a hard hit, yet the very next year MARAD jumped in with an FSFP loan guarantee for five platform supply vessels to be exported to Brazil.
Those guarantees helped Eastern retain its workforce, as did prior MARAD Small Shipyard Grants in 2008 and 2016, which funded equipment to improve efficiency and productivity. That support positioned ESG this past October 2016 to receive the largest U.S. Coast Guard contract in history, the Offshore Patrol Cutter contract.
Dependent on ongoing funding availability from Congress, the FSPS presently administers a $1.5 billion portfolio consisting of 29 loan guarantees that supported 19 borrowers to build 37 vessels. Most recently, MARAD added to its portfolio with approved loan guarantees of $362.7 million to Crowley ConRo, LLC, for two combination container, roll-on roll-off vessels.
For shipyards employing fewer than 1,200 employees, MARAD's Small Shipyard Grant (SSG) program fosters efficiency, competitiveness, and quality ship construction and repair, while underwriting projects to improve employee skills in communities linked directly to the maritime industry. Congress is also working to protect the U.S. shipyard industry through its Assistance to Small Shipyards, providing 160 grants totaling approximately $177 million between FY 2008 and FY 2016. Collectively, these grant and loan programs have helped domestic shipbuilders modernize, expand, and continue to prosper.
Yet in international trade – where the U.S. has historically projected and protected its power and influence – American shipbuilding is vanishing. To begin to regain that footprint, a major revolution not only in how it does business – but in how our nation perceives the value of the maritime industry – is a must.
The answers are varied and complex, but it can be traced back to the shipbuilders' order book. To attract orders, vessels need to be delivered on-time, within budget, be well built and competitively priced. In domestic trade, the market remains relatively strong for U.S.-flag vessels, even as shipyards lay-off workers and the market contracts. As of March 2017, only 20 ships, ATBs and ocean going barges are on order, a deeply troubling trend.
U.S. shipyards are competitive when there are favorable economies of scale, such as when manufacturers recently delivered U.S.-built Offshore Supply Vessels for export. The cost and quality of those vessels were competitive in the foreign market, which translated into profits and prestige. Our ability to build vessels more efficiently reflects well on domestic shipbuilding and pads the order book. It's good for business, but it isn't enough.
The big picture is that U.S. shipbuilding remains noncompetitive in international trade. Something must change or it will disappear altogether. The U.S. maritime industry has led every major U.S. economic advance; it has defended our nation in every war and answered the call in every crisis. Today it fuels a renaissance in commercial trade that brings every conceivable product to consumers' doorsteps.
Yet heritage will not save our shipbuilding and repair industry. As a nation, we need to rediscover and reclaim our role as a maritime power. Through both public and private investment, we must take the steps needed to help this critical industry compete in an intensely fierce international shipping environment. Our national security and prosperity depend on it, because once it is gone, it won't return.
NOte: The MARAD FSFP and SSG programs can be found on the MARAD website along with the Program Manager information at www.marad.dot.gov. Other MARAD programs include the Capital Construction Fund and Capital Reserve Fund providing deferred tax benefits for U.S. shipbuilders.
Disclaimer: References to any non-federal product, entity, or enterprise herein are made for illustrative purposes only and are not intended to imply endorsement by the U.S. Department of Transportation or the Maritime Administration.
The Author
Owen Doherty is the Associate Administrator for Business and Finance Development. Offices under his portfolio manage the Federal Ship Financing program, Capital Construction Fund, Capital Reserve Fund, Small Shipyard grants, Marine Insurance, and Fair and Reasonable Rate determinations.
(As published in the April 2017 edition of
Marine News
)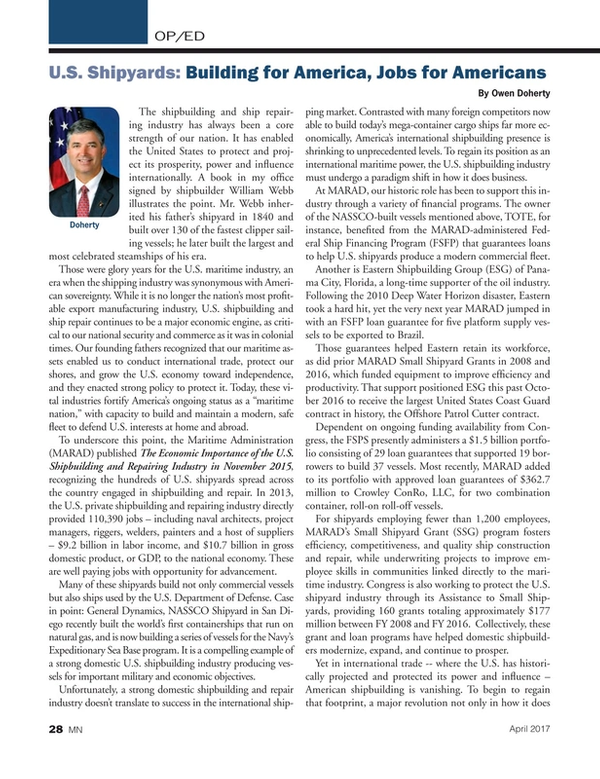 Read US Shipyards: Building for America, Jobs for Americans in Pdf, Flash or Html5 edition of April 2017 Marine News
Other stories from April 2017 issue
Content