Product Lifecycle Management for Shipbuilding
By Joseph Keefe
Tomorrow's high tech fleets will depend on shipyards – long after the christening is over. Siemens PLM software makes that dream possible – today.
According to global powerhouse Siemens, a major transformation is underway in the marine sector. As operators strive to develop more energy-efficient, reliable and environmentally friendly vessels that also lower operating costs, they will increasingly depend on shipyards to make that happen. That's right: shipyards. Long after the vessel slides into the water and the christening party is but a distant memory, the clean and efficient workboat of tomorrow will leverage a wealth of data that the builder will manage. Before any of that happens, shipbuilders will also need to design and build ships faster and better than ever before.
The two concepts are not mutually exclusive. The yards hoping to be around to serve tomorrow's clients will, says Siemens, require a sea change in the way they operate. In the future, says Siemens, it will no longer be good enough to just build a good vessel. Operators will expect that the yard be an integral part of their vessel's life cycle – from cradle to birth. It isn't just about the ship – it is also about the shipyard itself.
In a nutshell, the Siemens Product Lifecycle Management (PLM) for Shipbuilding solution enables a holistic approach to optimizing shipbuilding. PLM for Shipbuilding improves total enterprise collaboration, synchronization and productivity, as well as lifecycle ship service and support, by optimizing shipbuilding processes. The way forward isn't just a concept; Siemens version is here today.
In the Beginning: Shipyard Optimization
Optimizing shipyard performance means more than implementing a fancy software program. Long after U.S. yards lost the vertical integration advantage of having steel production as a part of their core business, they've had to look for other areas where they can improve their game. Veteran shipbuilder Fred Harris, long an admirer of the Korean shipbuilding model, once told this writer that 'lay down space' – or in other words, ample real estate to work – was also a key component within that Korean model. But, what if a yard has neither? That's where Siemens PLM comes in.
The modern shipyard benefits greatly from technology enhancements. Older legacy yards can gain similar – if not greater gains. In one shipyard in Germany that had been building ships for more than 200 years, a Siemens digital simulation and optimization analysis was able to reduce cycle time by 10 percent and labor by 20 percent by achieving a more efficient flow of material through the shipyard.
The concept sounds good, but we asked Siemens Director of Global Marine-Industry Marketing Tim Nichols if the solution would scale down to the typical U.S., second and/or third tier yard. "Siemens' PLM Software is designed to facilitate collaboration between design teams and operations regardless of their size with the capabilities to integrate a variety of non-native CAD inputs into a single integrate ship structure from work boats to luxury yachts and cruise liners to 100,000+ aircraft carriers," replied Nichols, adding, "One shipyard CEO indicated that he expects his 'smart shipyard' to achieve a 15 percent cost reduction, which is significant vis-à-vis ships built before the transformation cost billions of dollars."
The next step involves what Siemens describes as a holistic approach to optimizing shipbuilding. This includes connecting all aspects of the shipbuilding cycle, each existing in stove piped format. Nichols explains further, "Siemens' PLM Software can manage a comprehensive data-base, which includes the 3D models of the structure, systems and compartments, but also the ship system level requirements and relevant design decisions, configuration and change management status … which is crucial over a protracted construction period … as well as process and build procedures. This single source of total insight is available anytime and anywhere and can be accessed in a tablet or other mobile device anywhere in the shipyard."
Supply Chain Management
Because you can't build a vessel in a vacuum, shipyards rely on a global supply chain of partners and suppliers to help design, develop, manufacture and test new ship concepts. Using the ISO-approved JT data format, which supports multi-CAD design content and flexible round-trip supplier data exchange, PLM for Shipbuilding allows shipbuilders to exchange data reliably and flexibly with suppliers and partners, some of whom may use a different authoring tool. As an example, Siemens software provides an open architecture, which eliminates the need for all suppliers to convert to a single CAD system thereby eliminating unnecessary expense and special training for all of the suppliers.
The software also synchronizes supply chain operations by ensuring the right parts are available at the right time. Nichols pegs the cost savings for a shipbuilder who employs a tightly controlled, digitized supply chain at 15 percent of a vessel's total value.
Building the Ship
Tomorrow's boatbuilding will evolve into something closer to assembly line manufacturing as opposed to the 'industrial revolution' scenes (sometimes) common in some domestic yards today. For example, Bollinger – as reported in the February 2017 edition of MarineNews – has, with the help of SSI, dipped its toes into robotic welding, something which promises more of an assembly line process for future series-build programs. Ahead of that, Siemens has called for the "digital simulation and optimization of shipbuilding operations and processes." In this way, Siemens' PLM Software can be used by planners and production management to model the flow of material throughout the shipyard and pre-fabrication shops and subsequently to and through final construction to optimize work processes, reduce material lead time, and reduce the time to construct a ship.
The digitalization of ship development provides designers, engineers, suppliers, and production planners the ability to work in parallel with a complete and current representation in 3D models of every system, component and compartment on a ship. Nichols adds, "Now, teams throughout a shipyard can work in parallel with confidence that they are working with latest information that is aligned ship requirements and all regulatory requirements." No longer do shipyard teams in different parts of the yard need to work in 'stovepiped silos.'
And, because avoiding and minimizing 'change orders' in the yard is critical to an on time and on budget delivery, the software suite has built-in workflows that rigorously manage configuration changes by hull number and location. "In at least one program, there were 24,000 changes managed by Siemens PLM Software over one 12-month period for 6,500 engineers, 112 workflows and 31 Integrated Product Teams," said Nichols.
No less important, and as regulations impact the types of equipment required on board, this adds weight to hulls which can ill-afford the loss of space and/or deadweight capacity. The pre-configured shipbuilding catalyst includes best practice guides such as weight and systems requirements management. According to Nichols, Weight management is one of the system level requirements that can be managed in Siemens' PLM Software by component, compartment and/or location.
After the Launch: Ship Service and Support
In the past, shipyards weren't necessarily focused on managing sustainability requirements for their customers. Nor were they necessarily worried about achieving continuous improvement in fleet availability, reliability and overhaul cycle reduction. But that's exactly what the shipowner of the future will demand. To this end, PLM for Shipbuilding enables shipyards to easily develop and publish all handover documentation included in the vessel specifications and contract.
Helped by PLM Software, fleet owners and repair yards can better manage all maintenance and regulatory reporting requirements, service planning, execution, service processes, and metrics monitoring and reporting in a single environment. And, this will go far beyond the work of the typical 'guarantee engineer.' Nichols adds, "Complete and accurate information to sustain a ship or an entire fleet can reduce repair, maintenance and overhaul cycle times, boost fleet availability and lower total ownership cost." Increasingly, both commercial and government fleets decision makers are now placing equal importance on initial cost and sustainment cost.
Configuration management from Siemens allows shipyards to seamlessly track the configuration of a class of ships or an individual hull number from concept development through production and across the ship's entire operating lifecycle. In essence, this helps to provide greater efficiencies and savings much earlier in a series-build cycle. And, says, Nichols, "This is particularly important when the construction phase can last 4-5 years, the Bill of Material for a ship can exceed more than 1,000,000 parts and changes are continuous throughout the building of a ship."
For large fleet operators, the software can aid the maintenance planning teams to prepare for overhauls and modernizations and track the performance of ships and systems in services.
Looking for the Next Job
Even a busy yard knows that someday, that seemingly fat backlog will evaporate. Siemens aims to give shipyards a leg up on more accurate bid tenders for government and commercial work alike. Nichols explains, "Siemens' PLM Software provides a disciplined foundation to respond to both commercial and government bid tenders including compliance with specific system requirements and regulatory specifications. Moreover, with Siemens' PLM Software retaining the details from successful classes of ships, many systems on future classes of ships need not be re-engineered." Having that archived data in a logically organized digitized format might just be the ticket to your next series-build assignment.
Before, during and long after the next building boom, the shipyard of tomorrow will be involved in how ships are operated; standalone hulls or large fleets alike. Siemens is working to create that reality today.
(As published in the April 2017 edition of
Marine News
)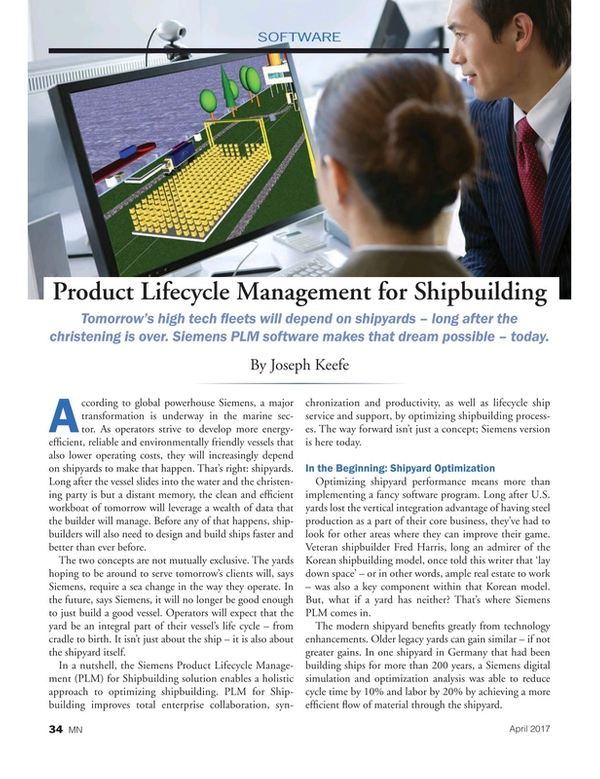 Read Product Lifecycle Management for Shipbuilding in Pdf, Flash or Html5 edition of April 2017 Marine News
Other stories from April 2017 issue
Content