Anatomy of a Commercial Marine Lender
By Richard J. Paine, Sr.
Three things: experience, experience, and … experience.
It's a very familiar scenario: And, if you are the CFO, controller, president or other financial manager of your company then you have been here before. Across your conference table sits a potential new lender. He/she is very genuine in their desire to lend you money on your boats. They sincerely want to be a valued and trusted advisor to you in all things vessel-finance related. But what may be lacking is an in depth knowledge of the commercial marine industry that can only come from time and exposure to the peculiarities of our industry.
Actually, it's easy to understand why this lender tells you they want to loan you money. Lenders, both with and without significant marine industry experience, look with desire on the millions and millions of dollars spent annually to build, buy or otherwise acquire the tools of this trade ... commercial marine vessels.

Equipment Financing 101
Equipment financing in general is dominated by what are known as "short-lived assets." These can run the gamut from golf carts to MRIs to funeral cars. The loans and leases placed on such equipment usually run parallel to their short usable lives, say three years or so. To maintain a profitable portfolio, the relentless turnover requires a constant effort to replace those loans and leases that have run their course and no longer provide income.
Many a lender has had a "Eureka" moment when they realize that there are other options to the day-in-day-out chase for new loans and leases. What is the answer? High value equipment with long, long lives that might actually increase in value and usually remain in demand long after it has been paid off. Planes, trains and commercial marine vessels certainly fall into this category. This is the gift that keeps on giving, so these are desirable assets for a lender or lessor to finance or lease. But desire is only half the battle won. The other half requires that a lender have the infrastructure and level of knowledge that many lenders lack.

Successful Commercial Marine Finance
So what makes a commercial marine lender or lessor a true asset in the growth and financial success of your business? In a word: Experience. Consider the structure of a successful commercial equipment finance enterprise:

Originators are the front lines of the organization. Those with real experience have been crawling around many bilges, have been to many shipyards, and have seen many up-and-down market cycles. They know their OSVs from their PSVs, their black oil from their anhydrous ammonia, z-drives from kort nozzles, and port (red) from starboard (green). They call officers of the lenders and identify the opportunity, collect the financial and collateral data, evaluate the viability of the project and become your advocate through the internal processes of the credit underwriting and due diligence protocols. They write and submit the transaction summary which details your company's history, org chart, operations, projections, fleet composition, major accounts and other pertinent information necessary to submit your credit request.
Credit analysts and underwriters take the information provided by the originators and "spread" the financial statements to determine how the borrower looks financially. They consider the five "Cs"of credit: collateral, cash flow, character, capacity and capital, and decide whether or not the transaction meets the loan criteria set by the lender or lessor. This is where the rubber meets the road. Experienced commercial marine underwriters understand that fully depreciated assets no longer appear on financial statements skewing tangible net worth calculations. They consider the future revenue from a new vessel under construction or not yet in service as part of their cash flow analysis. They understand the causes and results of cyclicality in the industry and how and what financial recovery looks like. They too, like an experienced originator, have seen it all before. Commercial marine underwriters are not born; they must be taught, nurtured and grown.
Asset managers are the next group to contribute to the due diligence efforts. After a transaction has been vetted through credit, the current and future value of the asset to be financed must be determined. The asset manager, through both personal experience and collaboration with outside surveyors, brokers and appraisers, makes this analysis for use in computing residual values, early buyout options and amount of advance to be loaned. Too high a residual, and the lender may have an overpriced asset on their hands, but too low a residual, and the rent charged in a lease may be inordinately high. There is a balance to be struck and it, as in credit analysis, is part art and part science.
Once the transaction has been credit and asset management approved, the lender's operation and documentation experts begin the process of putting together the nuts and bolts of the loan agreements, ship's mortgages, proof of insurance and other pertinent transaction documents. Lien searches, abstracts, U.S. Coast Guard filings are initiated for the assurance of clear title and perfection of interest for the loan or lease provider. Qualified maritime counsel's skill in maritime law makes the lender's attorney relationship to the borrower's attorney an easier (and less expensive) process for both.
Generally speaking, if your loan is paid as agreed, then your relationship with the lender will be amicable. Should trouble arise in your payment flow you may be introduced to another group of experts that operate within the walls of the lender. Collections will work to keep you current on payments within the limits of the law, and Workout will use its expertise to, in dire circumstances, work with you on alternate payment options. Here too, if the unforeseen should happen, a knowledgeable workout specialist could help.

Lending and leasing is the water under the keel for many commercial marine operators. Having quality lenders and lessors with the requisite knowledge and experience to service the market's need can only help it to grow and remain vital.
So when you are in the market for a new lending relationship, remember how important actual experience in all aspects of commercial marine financing is. Only a lender with real knowledge of the details and nuances of providing vessel financing will be a true asset for your financial future. And the next time you are evaluating a new relationship with a lender unfamiliar with the commercial marine industry, offer some sage advice: "Learn all you can about our industry, get some real, commercial marine experience under your belt ... and then, we'll talk."


(As published in the June 2014 edition of Marine News - http://magazines.marinelink.com/Magazines/MaritimeNews)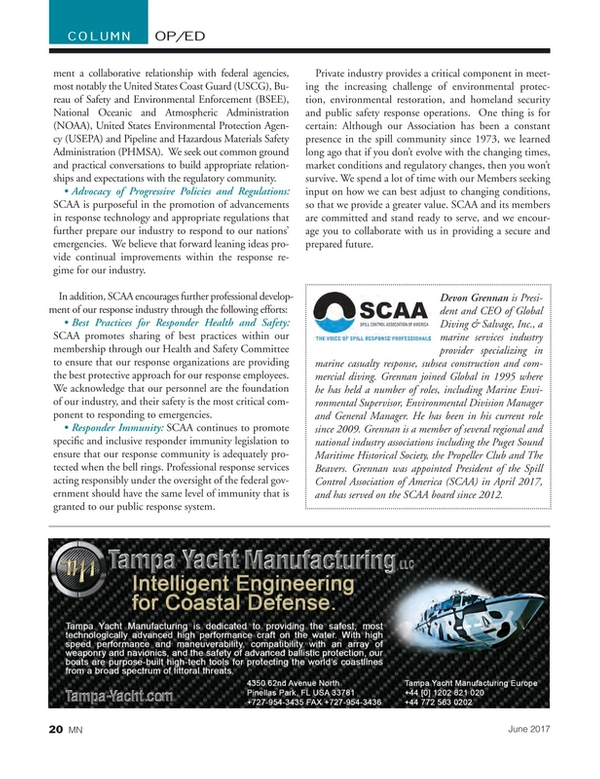 Read Anatomy of a Commercial Marine Lender in Pdf, Flash or Html5 edition of June 2017 Marine News
Other stories from June 2017 issue
Content