The Right Boat, Right Away
By Joseph Keefe
Metal Shark's stock boats program shakes up the patrol boat game; here and across the big pond.
If the news that Louisiana-based boatbuilder Metal Shark is ramping up production to build an inventory of stock vessels, with the goal of reducing lead times and enhancing service sounds familiar, but perhaps not on this side of the big pond, that's because the move truly represents an innovative concept for North American builders. Savvy shipbuilding stakeholders everywhere, of course, know that Netherlands-based Damen has been doing it (successfully) for years. That kind of program, however, isn't easily pulled off, nor should it be undertaken lightly.
Also not lost on industry analysts is the evolution of Metal Shark from a small, regional player into a two-yard, experienced series-build performer. Built on a series of carefully planned moves and investments, Metal Shark finds itself poised to take the next step, at arguably just the right moment.
Established in 1986, Metal Shark is a well known suppliers of custom boats for defense, law enforcement, and commercial entities. Key customers include the United States Coast Guard, Navy, Air Force, Army, foreign militaries, law enforcement agencies, passenger vessel operators, pilot associations, fire departments, and other operators worldwide. From its two fully self-contained facilities in South Louisiana, Metal Shark produces a wide range of custom monohull and catamaran vessels up to 250'.
Savvy Moves, Solid Foundations
In 2014, Metal Shark opened a second yard in Franklin, Louisiana. Late last year, Metal Shark announced an expansion project of that yard which is now nearing completion at its waterfront shipbuilding complex in Franklin, La. To accommodate increased production needs – in part to satisfy the high profile NYC ferry project – Metal Shark erected a fully-enclosed 200' x 80' large vessel assembly building to enable weather-independent construction of vessels up to 180' in length. In addition, a new standalone office building will soon provide over 4,000 square foot of space for the yard's executive, engineering, project management and administrative personnel. New equipment – a new 160-ton Marine Lift transporter, for example – further facilitates the efficient movement of boats around the 25-acre yard. As part of the expansion, Metal Shark also announced that it would grow its Franklin work force from approximately 65 full-time onsite employees to more than 100 by Q2 2017.
Before that, Metal Shark in December of 2014 became one of many U.S. yards to leverage Netherlands-based Damen Shipyard's vessel designs and technical support. For nearly 40 years, Damen Shipyards Group in the Netherlands has licensed its vessel designs and technical support to yards owned by other companies. The business practice showcases not only the depth, variety and strength of the Damen portfolio, but also the reputation and reliability of its designs. The latest development, the Metal Shark Stock Boats Program, is just one more step in the right direction.
"Evaluating our performance against that of our competitors and against vehicle manufacturers in other sectors, long lead times stand out as a serious shortcoming of our industry," explained Metal Shark CEO Chris Allard. "In other vehicle sectors, customers can reasonably expect immediate or near-immediate delivery, yet customers in our industry must wait. We are significantly reducing this wait time by implementing a rotating inventory into our production mix."
Building on Previous Success
In the ultra-competitive, constantly changing and cyclical world of American workboat production, there is little time to sit on one's hands. Chris Allard says that means "Constant reinvestment," adding quickly, "There is no magic bullet, financing program, or subsidy that allowed us to do this. We continually reinvest our capital and utilized some towards developing this inventory program. To some extent we've already been doing this, more informally, and have kept stock inventory at the yard in varying amounts for a few years. The announcement of this program formalizes that effort, expands it, and publicly lets customers know what boats are available."
Indeed, Metal Shark has already sold two hulls out of this new program – one reportedly for export. Delivered 45 days after receipt of order, which is around 200 days faster than a normal delivery, the program is well underway. Allard explains, "We currently have seven hulls in the program. Two will be shipped shortly. I would expect it to vary mostly in the seven to ten-hull range, depending on timing."
Another (unintended) benefit of the program is that during the 'quieter' points in their yard(s) production cycles, this sort of program also gives Metal Shark the ability to keep workers who might otherwise not have work.
Addressing the employment question, Allard couches the discussion in a different light, insisting, "While not the primary purpose of this program, it's an added benefit that we may see at some future point." Beyond this, he says, building these hulls in sequence for the stock program provides a series-build economy of scale not possible with a one-off newbuild contract. "We're also batch building to leverage the economies of scale afforded by production lines that are moving swiftly, which allows us to realize greater savings than we would on a one-off build."
Patrol Boats for All Sectors
Under the new program, the lead time for a single 38 Defiant pilothouse vessel could be reduced from 270 days after receipt of order to as little as 30 days, depending on equipment and configuration. Models currently included in the new program include Metal Shark's popular Defiant-class pilothouse models in 29, 38, and 45 feet, 28-foot Relentless center console patrol boats, and 7-meter rigid inflatable boats (RIBs) with diesel stern drives, waterjets, or twin outboard engines.
"Our primary goal is to reduce the 240 to 365-day lead times associated with scheduling and the acquisition of engines and other long lead-time components," explained Allard. "We've grown the company to a point where we can now make this investment in materials and labor with an eye to the future, accelerating production cycles while still maintaining the flexibility to accommodate our customers. This move gives Metal Shark a real competitive edge." And, says Allard, a premium for that speedy delivery is charged only based on overtime necessary to expedite the vessel based on the customer's need.
As with all of Metal Shark's wide inventory – and similar to the Damen model – these stock hulls translate into many uses and can be outfitted to the customer's specification in a very short period of time, primarily because the firm is also keeping a ready inventory of engines, shock resistant seats, windows, and myriad other items that would normally involve considerable lead time.
As much as 30 percent of Metal Shark's patrol boat hulls in a given year are exported, typically through a mix of the Foreign Military Sales (FMS) program and some direct sales to foreign governments. In fact, the direct sales are trending higher as customers and countries get to know the Metal Shark product and quality. In fact, and by January of 2017, that momentum had translated into multiple Latin American and Caribbean deliveries, including the Puerto Rico Police Department (PRPD) who commissioned its first three Metal Shark 36-foot Fearless-class center console patrol boats. Powered by triple 300-horsepower Mercury Verado engines, the PRPD's new patrol boats achieve speeds up to 55 knots.
Separately, the Colombian National Police (CNP) took delivery of its first new 33-foot Relentless-class patrol boat. Special features of this welded aluminum center console vessel include a urethane-sheathed closed-cell foam Wing collar, Shockwave S2-Corbin high-backed shock-mitigating seating for five, and additional fold-away crew seating in the bow. The highly maneuverable patrol craft is powered by twin 300-horsepower Evinrude E-TEC G2 engines, which propel it to speeds in excess of 50 knots. Building on that momentum, Metal Shark was also awarded a contract to produce twelve 38-foot Defiant-class pilothouse patrol boats for the Dutch Caribbean Coast Guard. The production of these vessels began in early 2017.
In January, Allard said, "We've grown our Franklin business significantly since opening the facility in 2014. Currently we're in the middle of an 18-unit order for 45' foreign military patrol boats." And the New York CityWide Ferry contract also kept the yards busy throughout the first quarter. New projects commencing in 2017 at Franklin include a 45' pilot boat for a Caribbean operator, a multi-boat Navy contract for 50' high-speed vessels, a 64' survey boat for the US Army Corps of Engineers, a 70' supply boat for a Northeast operator and a 158' Incat Crowther-designed catamaran for a private client.
The Right Boat, Right Away
Metal Shark Director of Marketing Josh Stickles told Marine News in May, "Yes, we looked at the Damen model. This program [stock boats] is perfect for customers who want the right boat, right away." For many years, Metal Shark has provided the right boat for many customers, particularly in the smaller government patrol and municipal multi-mission arena. Now, and thanks to the financial staying power of an increasingly successful builder, customers can get that hull considerably faster.
The concept is a simple one: stack proven, popular hull forms that can be outfitted in a customized way, quickly, for customers who don't want to wait. And, the concept works – Damen has demonstrated it for years in their many international locations. Now, U.S. municipalities, foreign governments and U.S. armed forces outfits can enjoy the same expedited delivery schedules.
Not every yard can initiate this type of program, and to be fair, it is only in its infancy at Metal Shark. That said; and given the pace of activity currently enjoyed by the Louisiana-based builder, there isn't any reason to think that this endeavor won't be every bit as successful as everything else they've attempted in the last few years. You can get the right boat, right away. Who knew?
(As published in the June 12017 edition of
Marine News
)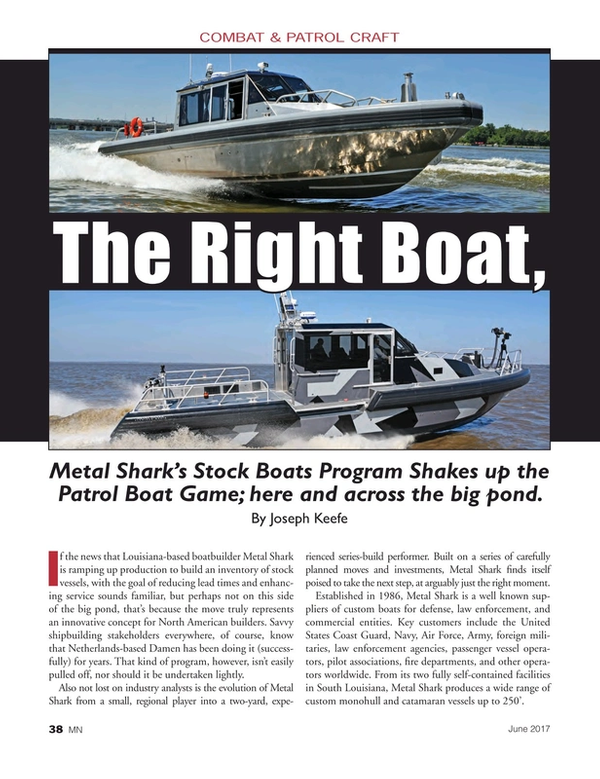 Read The Right Boat, Right Away in Pdf, Flash or Html5 edition of June 2017 Marine News
Other stories from June 2017 issue
Content