North River Boats: Delivering Flexibility & Customized Output
By Joseph Keefe
Diversification is the key at Oregon-based North River Boats. Listening closely to the customer's needs recently won the day on a multi-hull U.S. Navy contract, but that's not all that's happening in Oregon.
Roseburg, Ore.-based North River Boats has, over time, thrived by delivering one of the most diverse vessel portfolios in North America. Those offerings include both domestic and foreign deliveries, as well as recreational, commercial and military hulls. And, if that formula has taught them just one thing, then that metric would be that different customers need different features. And, for a firm known initially for cranking out a well-known brand of nearly identical recreational craft, it has also learned that flexibility in design and offerings can also win the day. Such was the case in North River's recent five-year Blanket Purchase Agreement award from the U.S. Navy.
According to Mike Blocher, North River Boats' Director of Sales and Marketing, the firm will deliver two Navy hulls this year, one in September and another four weeks later at October. And, he says, they expect to produce two more in 2018 – pending government funding. All told, North River's contract, signed only in February of 2017, calls for options of up to eight hulls.
Special Hulls for Special Purposes
The vessels are intended for special forces training (partner nation / foreign and American nationals). Based in Stennis, Mississippi the Naval Small Craft Instruction and Technical Training School (NAVSCIATTS) is a Department of Navy schoolhouse operating under the United States Special Operations Command. NAVSCIATTS trains and educates Foreign Security Force and other international students on small craft strategy, operations, communications, weapons, maintenance and instructor development. More than 10,000 students from 100+ partner nations have graduated since 1963, with an average of 400-500 students graduating each year. The vessels that they use to train on are especially critical to that mission.
Based on the popular North River Valor FP model, which is the U.S. Navy Force Protection Large vessel, North River won this contract, in part, on its willingness to make design changes to suit the client. Blocher told Marine News in May, "The differences that we are going to make for their craft are increasing the side height (6 inches), which is going to allow us to increase the deck height and get more fuel to accommodate the triple outboard motors. This will be a design improvement as it will provide better seakeeping capabilities and a higher freeboard.
"North River boats prides itself on listening to our customer's specific needs and designing work platforms that tailor to their mission requirements," explained Blocher, adding, "Our goal is to build the right product to be used the way the customer uses the boat. Even though a lot of missions are similar, they are not all the same. This requires a different approach than building cookie-cutter boats. We are well-known for building one-off product with more of a customization approach. We do a great job of this and are able to provide excellent service to our customers just by making a few minor changes to overall layout of design. We design everything in Rhino 3D so we can easily make these changes without extra cost to the overall contract."
According to Blocher, the requirements for the contract came direct from the Navy. That worked out nicely, in this case. "They happened to line up nicely with our U.S. Navy Force Protection Large model. It was really only minor changes that needed to be made to cabin layout to accommodate their requirements. Those changes, albeit small, make a big difference in overall design and functionality of the craft. The boat comes with no ballistics but North River will provide mounts forward and aft for M240s. Inside the cabin will be storage for spare M240 and extra barrels."
To be sure, this isn't North River's first rodeo when it comes to military and patrol boat contracts. That's because North River Boats currently has over a dozen of the Force Protection Large craft in service ranging from Japan, Guam, San Diego and Florida. Additionally, this same hull design is built for many law enforcement and fire agencies throughout the nation.
Exporting: the North River Way
Separately, North River Boats delivered its 13th boat to Trinidad in March 2017. The latest addition to that fleet was a 58 x 17 foot Crew Transfer Boat. Two years ago North River built their first crew transfer boat which was a huge success for both parties. This new crew boat was going to be used for a slightly different mission and in larger sea states. This required yet another new hull design to satisfy their needs.
Trinidad-based Bridge Control Services Limited (BCSL) provides marine transport services to the Trinidad and Tobago Pilots' Association and other companies in various sectors. A long-time North River customer, their fleet includes jet-propelled boats capable of speeds up to forty knots, all fully certified to effectively execute a wide array of services. All told, BCSL now has 12 North River boats in its fleet, ranging in sizes from 38 feet up to 58 feet.
This new crew transfer boat has a lower crew cabin designed for 24 passengers/crew with an aft located upper pilot house designed for three crew. Twin Scania Di 16L diesel engines, ZF transmissions and Hamilton 403 jets can push the fully loaded, 55,000 pound boat at speeds in excess of 37 knots.
Separately, North River has signaled its intent to branch out into the commercial fishing game. Blocher explains, "North River Boats is a company that builds fishing boats with the highest percentage of these boats being used by recreational sport fishermen. We have a large fleet of charter fishing vessels in Alaska and British Columbia. The Bristol Bay fishing fleet is aging and we see a new opportunity to expand our diverse offerings."
One of the things that North River does well is to diversify into many different markets. And, says Blocher, that means being flexible when the situation warrants. "When we started looking at this project we looked at the traditional designs that are out there. Bristol Bay is a different market as the boat cannot be any longer than 32 feet. They key to being successful here is to be able to provide a boat that will be able get into the shallows and hold a lot of fish. Our design does exactly that. We decided on Pat Eberhardt with Coastwise Corporation to provide the engineering and design support for this craft. They are a very well-known design firm that has engineered many fishing vessels used in Alaska and the Northwest. That knowledge has enabled us to design the ultimate Bristol Bay fishing vessel."
Looking Back, Forging Ahead
The new Navy contract and existing recreational work, augmented by the foray into the commercial fishing sector, ought to keep North River boats busy into the foreseeable future. In what might be viewed as a sea change, the one constant at North River seems to be its ability to adjust to ever-changing market conditions. There are possibly no two markets that could be more different than that represented by military specifications and that demanded by the recreational boating public. And, yet, this niche West Coast-based builder seems to satisfy both nicely. It's about delivering quality and flexibility, at the right price, in the right custom-designed hull. Mission accomplished.

The Customized North River Valor FP model at a glance …
Customer: NAVSCIATTS
Max Load: 15 persons
Seating: Shoxs (7)
LOA: 36'
Beam: 10'
Non-Shock Seats: 4
Speed: Cruising 30 KT
Speed: Sprint > 40 KT
Endurance: 210 nm
Engines: triple Yamaha 250
Collar: Wing inflatable hybrid
Electronics: Furuno, FLIR, etc.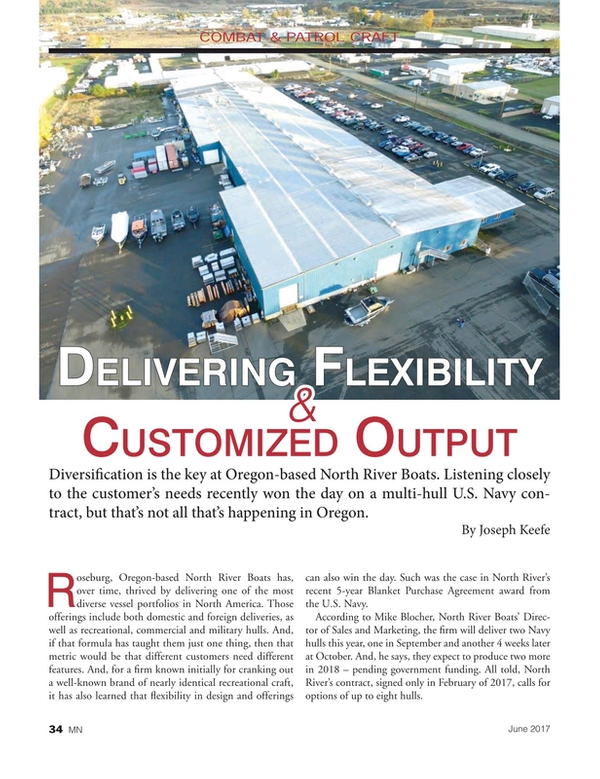 Read North River Boats: Delivering Flexibility & Customized Output in Pdf, Flash or Html5 edition of June 2017 Marine News
Other stories from June 2017 issue
Content