WWII Museum's PT-305 Sails Again
By Susan Buchanan
Commercial workboat philanthropy on display on PT-305: WWII Museum's PT-305 sails again after a far reaching donor-funded restoration.
In March, the National WWII Museum in New Orleans launched its reconstructed PT-305, built locally by Higgins Industries in 1943. The museum acquired the boat known as the USS Sudden Jerk in 2007, restoration began in 2009, and it now sails Lake Pontchartrain as an interactive exhibit. PT-305, with a fifteen-man crew, belonged to a 12-ship squadron operating in the Mediterranean from 1944 until the war ended in 1945.
"Our administrators estimate we've put $3.5 million into the restoration, not counting the value of volunteer time," Tom Czekanski, the National WWII Museum's senior curator and restoration manager, said last month. "The vessel, now operating, is valued at $7 million for replacement purposes. The number of hours donated by volunteers has reached 120,000."
The project's more than 200 volunteers include WWII vets, naval and electrical engineers, retired Coast Guard and military members, machinists, parts collectors, historians and students. A variety of donors gave money, parts and services. And, the local waterfront, workboat industry stakeholders and their employees were an undeniably big part of that effort.
Recent improvements to the PT-305, which was used for tours and oystering on the U.S. East Coast for over half a decade, include the addition of 13 feet in hull length that was lost postwar; over 12,000 feet of cabling and wiring; three miles worth of caulking; 13,000 board feet of woodwork and 300 gallons of paint.
Four, war-time combat PT boats exist in the United States today, but the Sudden Jerk is the only one that's fully restored. Last month, we spoke with just a few of the dozens of project donors, benefactors and volunteers.
VT Halter Marine provided labor and equipment
"VT Halter Marine's involvement in the restoration project began soon after the PT-305 was returned to New Orleans in 2007," Meredith Foster, business development manager and technology control officer at VT Halter Marine, Inc. in Pascagoula, Ms., said last month. "VTHM has contributed over 700 hours of labor, along with material and equipment, to the project." The company built the rudders and fuel tanks for the PT-305, Rob Mullins, VTHM's vice president of business development, said. "We also donated some electrical fixtures."
Foster said Harold Halter, the founder of Halter Marine, and Higgins Industry were united through the history of their shipyards. Higgins operated yards in the New Orleans area and employed over 20,000 people at its peak until WWII, she said. The shipyards were mostly closed by 1963. "But the main yard became Equitable Shipyards in 1967 and part of the Halter Marine Inc. group of shipbuilding companies," Foster said. That's one reason that VTHM has been active in the PT-305's restoration.
SeaBrook Harbor & Marine
SeaBrook Harbor & Marine is the largest, dry-stack facility in Louisiana, with deep-water access, an 85-ton Travelift and a large-capacity, indoor paint booth. After Katrina struck in 2005, SeaBrook retooled its entire yard and brought 300 storm-damaged boats back into service. The company offers storm-protected storage for 200 boats, from 20 to 40 feet long.
"We contributed volunteers and machinery to the project," Jeffrey Montz, CEO of SeaBrook Harbor & Marine in New Orleans, said last month. "Our major contribution has been picking up and moving the boat to our yard on France Road to do repairs." The PT-305 underwent sea trials in January at SeaBrook, located on the Intracoastal Waterway.
"This project is living history, and that's a big reason why we've participated," Montz said. "A personal reason is that my grandfather during WWII put engines in these PT boats. It's cool to be included in something he was involved in, and it is wonderful work to be a part of."
Newmar Power
"We supplied battery chargers to the PT-305 through our distributor Donovan Marine in Harahan" in Jefferson Parish, Brian Giannini, marine sales manager at Newmar in Huntington Beach, California, said. "At Donovan, they were very passionate, marshaling the troops to pull together resources to help out this project."
Newmar donated a package of four Phase Three-series battery chargers for the vessel's port and starboard 24V battery banks and its 12V generator start bank. To protect the boat's 1943 design and outward appearance, the chargers and related modern systems were mounted out of sight in the boat's ammunition locker. The chargers were installed by volunteers and electricians at the PT-305 restoration site, Giannini said.
The company's chargers were added to meet U.S. Coast Guard requirements that passenger-carrying vessels have communications, alarms, pumps and safety equipment, he said. Newmar's PT-series units have smart circuitry to do three-stage charging for fast recovery and conditioning. These ABS-approved chargers can also be used as a power supply for DC or direct current loads. For its part, Newmar has made electronic-power products and accessories for over 45 years in on-site facilities that do its major production work, allowing quality control.
Moore Industries
"We contributed products to the restoration and are very proud to have been included in this historic project," Tom Watson, corporate marketing manager at Moore Industries-International, Inc. in North Hills, California, said, "Because the boat's master monitoring and control electronics panel couldn't be restored, a modern Programmable Logic Controller was installed." That's where Moore Industries' THZ3 Dual Input Smart HART temperature transmitters came into play.
"Many sensors monitoring the boat's engine and other parameters, such as strain gauges, thermometers and torque sensors, use older analog circuits and instruments that provide non-linear resistance (ohms) outputs," Watson said. "Since our THZ3 can build up to a 128-point custom input curve, these resistance signals can be linearized and converted to linear 4-20mA signals and sent to the PLC."
Because of the THZ3 HPP's small size and encapsulated electronics, it could be integrated into panels on the Sudden Jerk. "One particular monitoring unit is near the PT-305's engine room that housed one of the three Packard 1500 horsepower, 2500 cubic inch engines," Watson said. "Since these engines run on aviation fuel, it's possible that under some circumstances fumes could be present. The THZ3's Class I Division 2 hazardous-area approval and small hockey puck are other features that led to its use on the PT-305."
Crescent River Port Pilots' Foundation
Patrick Duvernay of the Crescent River Port Pilots' Foundation in Belle Chasse, La., said, "when the museum was getting ready to move the PT-305 to Lake Pontchartrain, they needed assistance for transportation. Our foundation has strong military and naval contacts and a number of veterans. We asked the museum about their requirements, and we raised $10,000." The association has 110 pilots.
"The PT-305 played an important part in our nation's history and it, along with the museum, fills an educational niche," Duvernay said. He added that South Louisiana's maritime presence make it an appropriate place for the Sudden Jerk.
The association's pilots navigate ocean cargo ships along a treacherous stretch of the Mississippi River from Head of Passes to New Orleans. River pilots formed their foundation in 2005 to support causes in Jefferson, Orleans, Plaquemines, St. Bernard and St. Tammany Parishes, where they work and live.
Pritzker Military Museum & Library gave big
In early March, the Pritzker Military Museum & Library, along with the TAWANI Foundation, both located in Chicago, donated $100,000 to the PT-305 project. That included a $10,000 pledge to the museum's "Launch PT-305" Kickstarter campaign.
Opened in 2003, the Pritzker Military Museum & Library was founded by retired Colonel Jennifer Pritzker, IL ARNG to raise awareness about military history and veterans. The TAWANI Foundation is a grant-making group funded by Colonel Pritzker, who collected books and materials focused on American soldiers. The Pritzker Museum & Library encourages discussion, and in the last decade has held hundreds of events led by historians and authors.
PT-305 returns to Louisiana
"Andrew Higgins is the man who won the war for us," Dwight D. Eisenhower said in 1964, three years after his second presidential term. Higgins Industries churned out 20,000 boats between 1940 and1945. At one time, the company ran seven plants, including one at Michoud in New Orleans East, the site of today's Michoud Assembly Facility. With high wartime demand for labor, Higgins' staff was the first diversified workforce of men and women – as well as white and African Americans – in New Orleans.
In 1944, PT-305 participated in the invasion of Elba in Italy and in operation Dragoon in southern France. That year in Italy, the Sudden Jerk sank a German Flak-lighter off of Palamaria Island and drowned a German Flack-lighter at Point Del Mesco. In 1945, PT-305 sank an Italian fast-torpedo-armed vessel off Cape dell'Arma. For their part, German submarines attacked ships near the mouth of the Mississippi River for over a year, starting in the spring of 1942.
When the Sudden Jerk returned to the States, it spent the post-war decades as a tour, scalloping and fishing boat on the East Coast, and then seeded oyster beds in Chesapeake Bay. In 2001, the Defenders of America Naval Museum in Galveston, Texas bought PT-305. That institute eventually contacted the WWII Museum, where the vessel arrived in April 2007 for a complete overhaul. The PT-305 was rebuilt in the New Orleans warehouse district at the Kushner Restoration Pavilion.
Its current condition and location wouldn't have been possible without the help of countless volunteers, corporate and private donors, marine OEM outfits and many other sources. Throughout the entire project – then and now, in good times and bad – the commercial waterfront and workboat stakeholders have been key contributors.
PT-305 Restoration Contributors … at a glance*
Bender
Berard Transportation
Boysie Bollinger
Canal Barge
Crescent River Pilots
Cummins Mid-South
Dometic Marine
Gibbs & Cox
Gulf Coast Shipyard
Ingalls Shipbuilding
International Paint
Karl Senner
Lemoine Marine Refrigeration
Marquette Transportation
Moore Industries
NewMar
Petit Paint
Pritzker Military Museum
Quality Metal Works
Rockwell Automation
Rolls-Royce
Stewart and Stevenson Services
Seabrook Harbor & Marine
VT Halter Marine
*this list not all-inclusive.
(As published in the December 2017 edition of
Marine News
)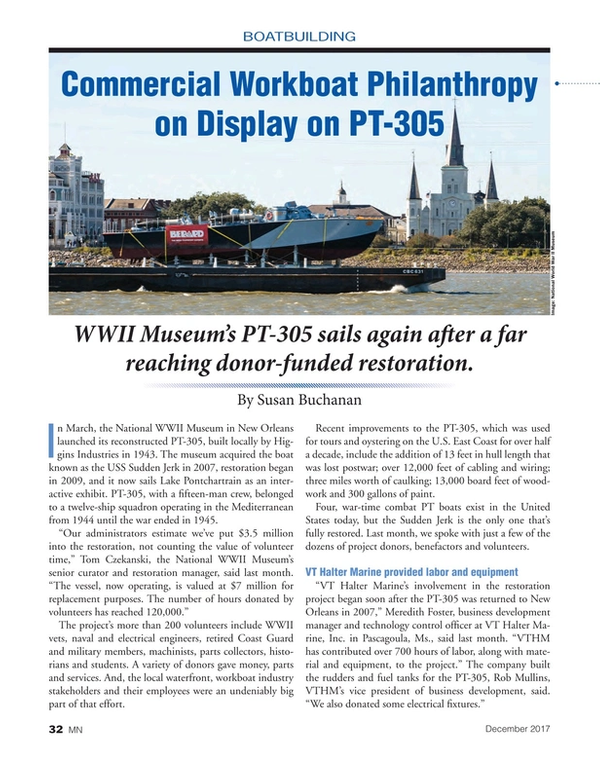 Read WWII Museum's PT-305 Sails Again in Pdf, Flash or Html5 edition of December 2017 Marine News
Other stories from December 2017 issue
Content