I can see clearly now ... Via Resolution Optics
By Tom Peters
A small and relatively new, Halifax-based optics company is optimistic its submersible microscope will soon be getting a closer look as an instrument suited to a variety of applications.
Resolution Optics, incorporated in 2009, has developed the submersible microscope that can be used down to a depth of 6,000m.
"The company came out of the physics department at Dalhousie University (Halifax) and its two founders, Dr. Manfred Jericho and Dr. Juergen Kreuzer are both world renowned experts in the field of holographic microscopy," said Dr. Stephen Jones, CEO.
Dr. Kreuzer developed the algorithm that allows for fast and accurate reconstruction of holographic images captured by digital inline holographic microscopy instruments.
Dr. Jericho co-owns the patent for the holographic reconstruction algorithm.
Backed by 20 years of experience in research and technology, the two scientists developed their microscopes which initially were sold as desk top models to academic researchers.
But there was the realization there was a greater market.
"Because the technology and the hardware are so simple and there is such a wide variety of applications, we made the conversion from a desk top microscope to a submersible microscope and once we did that, the potential uses on a large scale are numerous," said Jones.
The company spokesman said the hardware in the submersible microscope is "very simple and is a bit different than the conventional microscope."
He explained a conventional microscope has a very narrow depth of view "so if something is moving quickly it will come in and out of focus and if you are looking at it you manually have to adjust your focus to try and capture it. Odds are you won't be able to track it in focus. And also most samples have to be stained or fixed or somehow manipulated to show up."
The Resolution Optics' microscope surprisingly operates without a lens.
"Instead, light from a blue-violet laser is focused on a tiny pinhole (500nm) and a spherical cone of light is transmitted through the sample. Part of the light wave is scattered by objects present within the volume and both unscattered and scattered waves reach a digital camera sensor, producing an interference pattern. This interference pattern image is known as a hologram and is recorded by the camera sensor. That is the easy part," he said.
"The second step of the process is to reconstruct the hologram to generate an image. Extremely sophisticated software is used to process the hologram and it digitally reconstructs the shapes and positions of objects within the volume, as they were when the hologram was recorded," he said.
"Basically, it is possible to 'digitally refocus' images after they were captured. This enables researches to study the whole volume or depth of field, in comparison to conventional microscopes that generate very narrow two-dimensional images," Jones said.
Speed is on Resolution Optics' side.
"We can digitally reconstruct at 17 frames per second so we can market ourselves as a real time NC2 imaging. We are the only company that can do that," Jones claims. "Anybody else trying to use holography for imaging is at least a 1000 times slower."
Jones said Jericho and Kreuzer refined and perfected the process.
"The concept of a light source, pin hole and camera all in a line with one another, that's the basis for the technology called digital inline holography," he said, citing other holographic systems have multi-light sources.
"Then you have mirrors and beams are split and those microscopes get very complicated and very expensive. The fact we can make our microscopes so small is because basically we only need the three elements: light, pinhole and camera," he said.
But again he stressed that "the speed at which we do the second step of the process is really to our advantage."
The first use of the submersible microscope was water profiling in marine oceanographic research done in partnership with Old Dominion University in Norfolk. The microscope was dropped to a depth of 6,000m in the Caribbean which produced "the first images of micro-organisms at that depth and that degree of resolution," said Jones.
The equipment's ability to withstand extremes was tested when it was later used in a project in the Canadian Arctic under the ice with McGill University of Montreal, to image Arctic springs to see if there was life in those springs.
"We imaged quite a lot of bacteria and life forms in that [project]," Jones said.
A large area of interest for Resolution Optics is the oil and gas industry where the company feels it is well suited to image and quantify oil.
"Our device does much more than imaging, it is also a particle counter. It counts sizes and does population counts in real time in an instagram format. There are not a lot of imaging counters on the market. Most of them are light scattering counters that are indiscriminate. If you put one in a body of water it will count everything in that water. What we do in oil is oil drops are perfectly round and have a spherical algorithm. We only count round objects and get rid of everything else. Our oil counts are more accurate than anything that is out there," said Jones.
The ability to do these oil counts is beneficial to research groups that are trying to determine the effect of chemical dispersants on oil.
Jones said the information the submersible microscope can provide could be used in cleaning up oils spills.
"Our microscope can be deployed at any depth, and the majority of oil is under water so that is where we would like to go," he said.
Another major application for the submersible microscope is identifying harmful algae blooms.
"That's basically deploying the microscope and using the image feed for water monitoring. Early detection for harmful algae could be done in municipal water systems, lakes and rivers or offshore but basically in any body of water where you would normally take a water sample," Jones said.
There is still a manual aspect to identify what is in the data collected but Jones said Resolution Optics is about half way through developing "a software recognition program where harmful algae species are identified automatically based on the morphology or how they look."
He said the ultimate goal is to have a worldwide base of researchers contributing to an image library because some algae species in different parts of the world look different.
Jones said the company is looking at applications in aquaculture to monitor for harmful organisms or sea lice and also to count fish food particles to determine how much is getting consumed and how is getting wasted. And also in the shipping industry to monitor oil in bilge and ballast water that may transport harmful organisms from port-to-port.
"We can put a small microscope in a ballast tank and have water flow through the device and create a software report 72 hours before the ship comes into port with the idea being that by time ship gets to port they know the condition of their ballast and can provide information," he said.
Jones also sees future potential for the submersible microscope in the development and production of algae bio-fuel. He said Resolution Optics could participate "by virtue of how we do our images. We are capable of distinguishing algae at various points of its lifecycle and when algae cycles are at their maximum and loaded with lipids. We can create a customized software to tell us the optimum time to get maximum yield from algae which currently is done bio-chemically."
The logical step for the company at this point is to partner with bio-fuel company, said Jones, "to give us the opportunity to go an image and verify that what we are capable of doing matches what they are doing bio-chemically."
Jones said the company's main markets for its submersible microscope are Asia Pacific countries, especially for use in the area of water monitoring.
The microscopes are manufactured in Halifax. Up until mid-December 2013, the company had sold 12, the majority of those are in China.
"It is not a big number but we have really only been trying for a year and half," said Jones. "We have been actively promoting it and I expect next year we will sell between 30 and 40 minimum."
The submersible microscope with computer and hardware is sells for $50,000, which Jones says is compatible with the competition.
Resolution Optics has signed two agreements in China and Japan with distributors who have expertise in water monitoring. He anticipates those agreements will start showing positive results by mid-summer.
But as a young company, the major challenge is raising money. "We are heavily dependent on research grants and all of our work is eligible for R and D tax credits. Those two components are pretty important for us until we generate enough revenue to be self-sufficient," he said.

(As published in the March 2014 edition of Marine Technology Reporter - www.seadiscovery.com)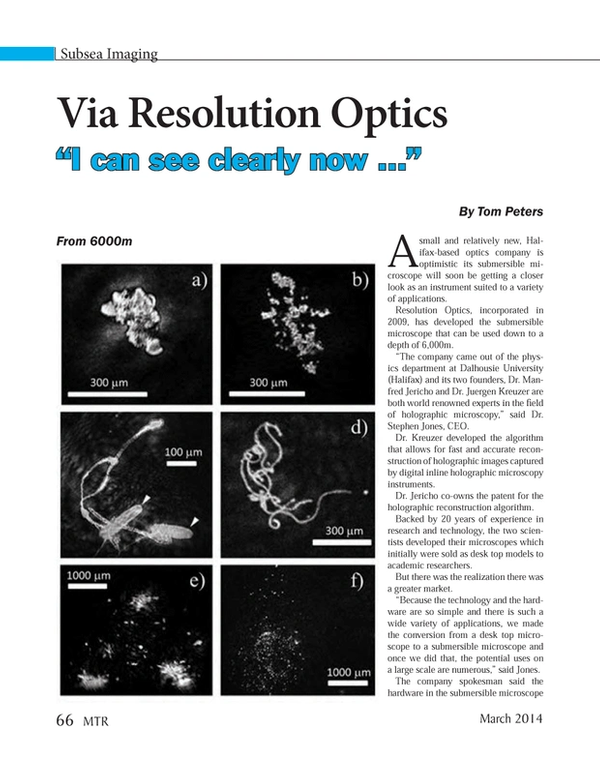 Read I can see clearly now ... Via Resolution Optics in Pdf, Flash or Html5 edition of March 2014 Marine Technology
Other stories from March 2014 issue
Content