X (Prize) Marks the Spot
By Eric Haun
Wanted: Ocean pH Sensor Technology Reward: $2 Million
Nonprofit organization XPRIZE creates and manages large-scale, high-profile competitions that aim to stimulate research and development solutions to grand problems across a number of scientific fields. The group has previously held competitions targeting advances in personalized medicine, automotive fuel efficiency, oil cleanup and privatized space exploration, to name a few. For its latest competition, XPRIZE has partnered with the Wendy Schmidt Foundation to launch the $2 million Wendy Schmidt Ocean Health XPRIZE to spur global innovators to develop ocean pH sensors that it says will transform understanding of ocean acidification.
According to XPRIZE, the oceans absorb about one quarter of CO2 that humans release into the atmosphere, causing changes in water chemistry and increases in ocean acidity. "Ocean acidity is a serious threat we are only beginning to understand," said ocean philanthropist Wendy Schmidt. "It could have significant ecological and societal implications, changing the health of entire ecosystems, affecting the global economy and the biodiversity of the planet."
The competition's goal is to ultimately catalyze responses to the pressing changes in ocean acidity by propelling the development of superior ocean pH sensor technology. "There are pH sensors available, but there are very few available options, many of which are too costly, imprecise and/or unstable to allow for sufficient knowledge on the state of ocean acidification," said Paul Bunje, XPRIZE's Senior Director of Oceans. "In particular, it has been difficult to measure pH with ease and accuracy in the coastal and deep ocean environments."
In an effort to swiftly rectify shortcomings in current sensor technology, XPRIZE is offering $2 million in incentives (two $1 million purses: one for accuracy and the other for affordability).
Over a 22-month period, leading experts in ocean chemistry and measurement will gauge entrants' ability to meet key factors including accuracy, precision and stability, as well as materials cost and ease of use. An independent judging panel will assign points throughout three competition trial phases: lab, coastal and sea. XPRIZE plans to announce the winners in Summer 2015.
Bunje said, "Through the prize, we aim to catalyze ocean acidification research, spur the development of the ocean services industry, inspire innovations in ocean sensing technology and stimulate the free market to meet the growing demand for ocean pH sensors by producing inexpensive, accurate and durable sensors that can be deployed on many platforms."
And by offering large monetary incentives, XPRIZE believes breakthroughs are near, with far-reaching environmental and market results in the short and long term.
"This device would open the door to a new market of ocean services, research and data collection on a scale that does not currently exist," Bunje said.
"If we compare this to the weather services industry for example, we are talking about a global opportunity that could develop into a billion-dollar industry. We also hope that innovative solutions will emerge that will help develop or enhance other ocean sensing technologies. XPRIZE has a lot of experience catalyzing the growth of new markets. For instance, the private space flight industry — worth more than $1.5 Billion today — did not exist before the Ansari XPRIZE."
Bunje added, "We see this prize as the first step in unlocking the wealth of the ocean services industry. Ever-increasing amounts of data can become valuable information, including forecasting, that could be worth billions of dollars in the future, much as weather services are today. Technology has given us extraordinary progress over the last 100 years, and we believe this prize can spur the demand for data and the wealth of information latent in our oceans. When that happens, markets win and humanity wins."
Registration for the Wendy Schmidt Ocean Health XPRIZE is open now through June 30, 2014. Entry fees are $1,000 per team until March 31, and $2,500 from April 1.
Teams are expected to come from diverse backgrounds, ranging from nanotechnology and biotechnology to industrial chemistry and marine science – from academic institutions, nonprofit organizations and small and medium enterprises – but XPRIZE said anyone with a creative idea to revolutionize ocean pH sensor technology is encouraged to compete. More information is available at xprize.org.
Quick Facts

What: Wendy Schmidt Ocean Health XPRIZE
Prize pool: $2m
Deadline: June 30, 2014
Entry fee: $1,000 per team until March 31
$2,500 from April 1
Web: www.xprize.org
(As published in the March 2014 edition of Marine Technology Reporter - www.seadiscovery.com)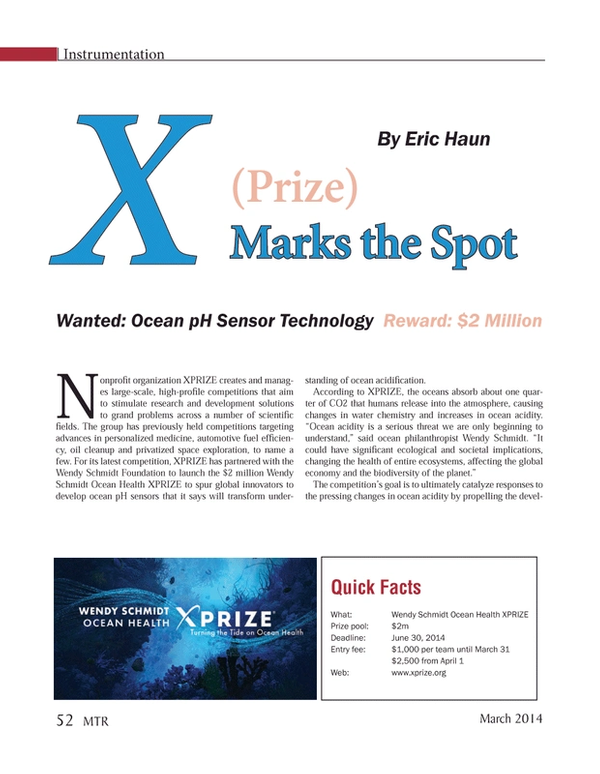 Read X (Prize) Marks the Spot in Pdf, Flash or Html5 edition of March 2014 Marine Technology
Other stories from March 2014 issue
Content