Interview: Global Diving & Salvage CEO Devon Grennan
By Eric Haun
Devon Grennan was named CEO of Global Diving & Salvage in November 2013 after company founders Tim Beaver and John Graham stepped down from direct operational involvement. MTR caught up with Grennan for his insights on the business of Diving and Salvage.

Your title is new, your tenure is not. How is your company the same as it was in 1995?

We still focus on making sure that our customers receive the best service, regardless of the services they need. Between commercial diving, marine construction, casualty response and marine environmental services, we endeavor to put our best foot forward and make sure our clients get from us what they requested, and usually a little more. That was the approach our founders had over 35 years ago, and it is a simple approach for us to continue to this day.

How is it different? What have been the most important developments?

The most importance difference that I see is that when the company was founded, there was a group of dedicated professionals who developed their respective skills during a time when both the commercial diving and marine environmental industries were themselves going through great changes. There was a tremendous opportunity for "on the job" training. There is a different expectation now from maritime clients; they desire professional tradesmen working on their projects and facilities. The entry level employees at our company have the basic skills to dive and work in the field, but are having to invest in their professional development, specifically in construction trade skills such as welding, fabrication, mechanical inclinations, rigging and vessel operations. These are truly the services that our clients expect from us, and not simply having the ability to dive. We focus on the skills that a diver or environmental technician brings with them to the job site. This is a different approach than learning on the job as the sole source of professional development.


How will your ascension to this position and Tim and John's "stepping back" have a material impact on the company?

My job is to build upon the incredible foundation that is already in place, built not only by Tim and John, but by a remarkable group of experienced managers, support personnel, supervisors and field crews. I think I bring a different perspective on the overall opportunities that the company is capable of capitalizing on in the future; we have amazing depth and expertise in commercial diving, but we are at a point where we need to move beyond diving. It will always remain a core service that the company provides, but we need to move into new sectors of subsea services as well as providing a complete subsea experience for our clients. Our clients are desirous of more topside project management capabilities, as well as marine assets under our direct care.

Where do you see opportunity?

The domestic Gulf of Mexico market is a more short term opportunity for the company; we have a lot of room to grow in the offshore market since the opening of our office in Houston in 2011. Our position in Alaska also has tremendous possibilities with the focus on the arctic. We also feel that there is a tremendous opportunity in the international market in our core strategic service lines. We will have more international credentials by the middle of 2014, and there is a unique opportunity for us to bring our own brand to new clients in the oil and gas market.

How is Global Diving & Salvaging investing?

The largest investment we are making over the course of the next few years is internally with our professional development program. We are focused on our own training center concept, and creating a more well rounded diver and marine technician. As mentioned earlier, we are going to create our own training approach, taught by our own employees and supplemented with third party expertise, to ensure that we maintain our unique Global culture as well as to develop skill sets across the various regions in which we operate and the service lines which we excel in. For example, we are in the process of designing and building wet welding tanks at all of our regional offices to allow our divers to qualify and maintain their welding certifications. Our professional development program will extend beyond practical training just for field crews, but also into leadership, management of personnel, supervisory practices and many others areas for all employees levels throughout the company, including our senior management team and myself. We are focused on the concept of continual improvement, evaluation, and personal and professional growth for our employees. We are a traditional service company, and at the end of any business evaluation we make, our future success is tied directly to the skills of all our employees. It is the smartest investment we could ever make.

Where do you see the greatest current business challenges?

For Global, the greatest challenge is our need to continually adapt to the needs of our clients. Subsea work is continually moving further offshore and deeper. Developing capabilities to respond to those needs, which include unmanned operations. Clients desire for us to take on a greater scope of the overall operation, so we invest in engineering and project management and evaluation on owning larger marine assets. Internally, we are constantly looking at not only how to develop our professional trademen, but as importantly, how to develop and retain talent in our support groups. I was fortunate to grow up in an extended family who worked on the water, and it was very natural for me to want to continue that tradition. But as an industry, the maritime community needs to do a better job of marketing the benefits and opportunities that are available to younger generations, across the board.

In the press release announcing your appointment, you were quoted as saying the company will "continue the transition from a traditional commercial diving company into a more well-rounded, marine and subsea service provider." What are your goals in this area, and what steps are you taking to ensure this?

As mentioned briefly before, we are continually asked to provide more value added services to our historic diving and marine environmental services. One very basic lesson that Tim and John taught our senior managers and me is that we have to continually adapt and be responsive to change. Nothing is certain, and you are continually adapting to both the market needs, and aligning those changes with your strengths. Our strength is our innovation, ingenuity, expertise and a flat out, aggressive, can do attitude. Perhaps even a little bit of a chip on our shoulder. When we are asked to push ourselves, we respond. And that is why we need to move into more turnkey marine and subsea services; we need to move beyond subcontracted diving and marine environmental services, and into a more prime position with end users and facility owners.

What do you count as the one technology that has had the greatest impact in terms of making your business safer and more efficient?

I do not necessarily have a great perspective on the issue, but I will say that the ability to provide visualization of subsea work to our clients has been a tremendous step forward. Historically, it was imperative that a client trust its diving subcontractor, as they would likely never get the opportunity to see the work that had been conducted. Putting a video camera on the diver's helmet was a good step forward, then concurrent operations with ROVs and the advance of bathymetric surveying tools. This continued momentum has given the client more opportunity for participation in their subsea projects, and in some cases, it has allowed the dive industry to stretch its capabilities. For example, we work very closely with engineering firms who are designing infrastructure repairs, and the ability to provide real time, accurate measurements and visualizations allows these projects to head toward funding sources that in the past might have never been attempted.

What does Global Diving & Salvaging want to achieve in the coming years?

Simply put, the only two measurements on whether Global is successful in the coming years are whether our employees are proud of where they work and feel they have made contributions to our company and our industry, and whether our clients are happy with our work. Sounds like a cliché, but the reality is that if we are successful in that endeavor, the company will continue to grow and adapt, and rest of any financial considerations will work themselves out in our favor. Pride is an incredible motivator, and that is what I feel is our most important factor in the coming years.

(As published in the March 2014 edition of Marine Technology Reporter - www.seadiscovery.com)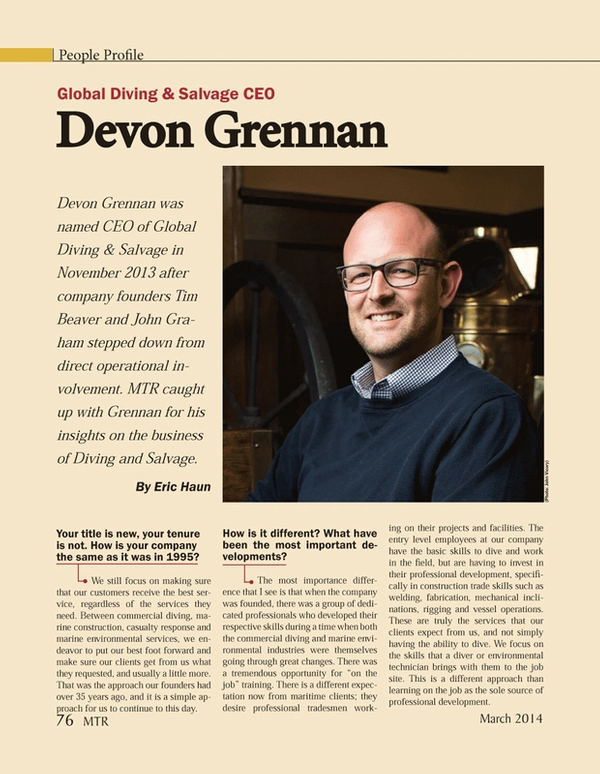 Read Interview: Global Diving & Salvage CEO Devon Grennan in Pdf, Flash or Html5 edition of March 2014 Marine Technology
Other stories from March 2014 issue
Content