BOEM's Jim Bennett Weighs in on US Offshore Renewables
By Greg Trauthwein
Five minutes with Jim Bennett, Chief for the Office of Renewable Energy Programs, BOEM
Two years ago James F. "Jim" Bennett was named Chief for the Office of Renewable Energy Programs (OREP) at the Bureau of Ocean Energy Management (BOEM), the program responsible for overseeing offshore renewable energy development on the Outer Continental Shelf (OCS). Bennett has a long career of experience in dealing with OCS issues as they relate to energy, with experience in oil and gas and now renewables. He recently spent some time with Marine Technology Reporter to discuss the current and future role of offshore renewable energy in the United States.
You have vast experience in the offshore energy environment, both oil and gas and now renewables. Is there a compare and contrast between the two?
There is a compare and contrast; there are a lot of similarities, but there are many differences too. First, it's not really the 'other side' because our Bureau is all about ocean energy, and that includes both oil and gas and renewable energy. A main difference is the renewable program is relatively new, established in 2005 with the regulatory regime in 2009, whereas the oil and gas program goes back decades. There is much more on the ground experience with the program in the oil and gas side, whereas there is a lot of new things being dealt with on the renewable side.
What specifically is BOEM's role in helping to bring forward renewable energy projects offshore?
The agency's role is to essentially provide access. The law is set up so that the private sector is given opportunity on a competitive basis to move into the offshore environment and commercially develop the resource for the benefit of the public. Our role is to make sure that the development is expeditious and orderly, with appropriate environmental safeguards and fairness throughout the process.
In looking at its development, by region can you discuss investment actions that have been taken, and progress that has been made in making offshore renewable energy closer to reality?
Sure. I'm going to focus on the Atlantic because that's where most of our work resides. The Atlantic Northeast is the most promising areas (for offshore renewable energy development); the factors simply come together … the market is there, the demand is there, the technology for shallow water (offshore wind) is possible and there is a wind resource. We've been focusing on that area and since 2009. We have had seven competitive leases and a couple of noncompetitive. In that process we have worked very closely with the states, and we're now in a position where we have 13 leases (the most recent in North Carolina is still awaiting full execution). In essence we have 13 leases, with at least one lease in every state from Cape Hattaras up to Cape Cod. That is a good foundation to build the program into the future. Our last two sales – one off of New York and one off of North Carolina – were very promising. The bids were substantial to say the least, based on our expectations, and it indicates that there is very strong industry interest in moving forward in a commercial basis offshore. (In mid-March it was announced that a Wind Energy Area of 122,405 acres offshore Kitty Hawk, N.C., received the high bid of $9,066,650 from Avangrid Renewables, LLC, the provisional winner. Also participating in the lease sale were Wind Future LLC, Statoil Wind US LLC and wpd offshore Alpha LLC.)
Our discussion really has focused on offshore wind, and obviously there are other offshore renewable technologies (wave and tidal) that are in differing states of development. Can you put all of the offshore renewable energy modes in perspective in terms of maturity?
Our responsibility is to ensure that we provide access with environmental safeguards. We have had some hydrokinetic and some wave energy pilot projects, but wind is very much coming of age and turning the corner in terms of commercial competitiveness.
Obviously there are other world regions that are further along the curve in generating energy from renewable sources. Are there any lessons learned that BOEM has sought to incorporate into its program.
Yes, I'll mention a couple. One is communication and stakeholder involvement, which is not necessarily a lesson learned from Europe, but certainly they have let us know it's an important thing and it is something we have found out as well. In terms of specific items, one of the things that we are pursuing that comes from European experience is the design envelope, an effort to provide enough flexibility to developers from a regulatory and review process standpoint to keep projects moving along with required environmental analysis and support without having a process that is so restrictive that we run into long delays every time there is a change. I'm over-simplifying a little bit, but this is something they (Europeans) have done that we are trying to incorporate here in the U.S.
U.S. offshore wind has gained momentum in recent years How has the new Administration impacted that momentum?
We've gotten some very positive indicators from the Administration. The Administration has clearly identified national interest in regards to energy generation, and they very specifically include renewable sources. That's a positive. We also had, after our last sale last month in North Carolina which was higher than anticipated, Secretary (of Interior Ryan) Zinke noted that this was a 'big win' and that it fits very well with the overall strategy, noting that 'it was a big win for collaborative efforts with state, local and private sector partners.'
The current energy markets, specifically oil and gas, are interesting to say the least. In a low-price energy environment, how does that interact and balance with renewable energy offshore?
Despite the fact that we are in a low-price arena for fossil fuels, the offshore wind industry seems to be going very well. The last two sales in New York and North Carolina provide very strong indicators of viability. We are now going out and seeking input on additional areas that might be appropriate for leasing opportunities. I think we have turned a corner in the offshore wind industry and we may be looking at a very high level of activity in offshore wind in the future.
What are the long term plans, projects or projections that estimate the role of offshore renewables in the future of U.S. energy – 5, 10, 20 years down the line?
We think it is very strong. Long term, on the East Coast, we anticipate a number of projects over the next few years in the shallow water sector. We expect to have additional leasing. But the big player for the long term is floating technology. There are areas in deeper water, and floating technology is coming along so that the long term prognosis is it will play a very big role, possibly here on the Atlantic side but more so out in the Pacific Ocean where there is no shallow continental shelf to build on. So the mid-term looks good, and long-term, with the technology changes, looks very good.
Meet Jim Bennett
James F. "Jim" Bennett has 35 years of federal service and has served in a variety of capacities around the Department of the Interior and the Bureau. Most recently, he served as the Chief of the Division of Environmental Assessment overseeing BOEM's compliance with the National Environmental Policy Act and other environmental laws focusing on the Federal Outer Continental Shelf programs, including oil and gas, sand and gravel and renewable energy.

He is a graduate of the Departmental Manager Development Program and has earned two Master's degrees – one in Environmental Planning from the University of Virginia and the other in Computer Systems Management from the University of Maryland.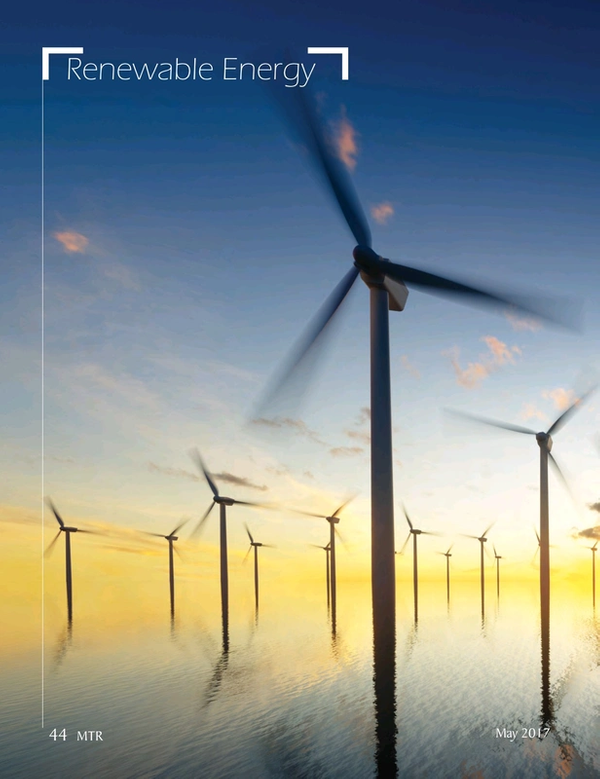 Read BOEM's Jim Bennett Weighs in on US Offshore Renewables in Pdf, Flash or Html5 edition of May 2017 Marine Technology
Other stories from May 2017 issue
Content