Creating Superior Buoyancy with Air
Marine Technology Reporter
Many people may think of empty space or air as nothingness – space that's perhaps waiting to be filled with something useful – but scientists and engineers know that the voids are intrinsically valuable. They can fortify structures to make them stronger without burdening them with weight. The ability to manipulate that nothingness brings new opportunities to many fields, especially in deep sea exploration. Through the use of high–tech hollow glass microspheres (HGMS), the issue of weight for deep sea exploration vehicles can be overcome. By combining glass and air, manufacturers can incorporate high performance microspheres into a wide range of polymer and resin systems to create composite solutions such as subsea foam buoyancy, which meet demanding strength and weight specifications.
Hollow Glass Microspheres
HGMS may appear to the naked eye to resemble a fine, white, free-flowing powder. However, under magnification the near perfect spherical shape of these glass bubbles is revealed. Typically they are used as alternatives to conventional fillers and additives such as silica, calcium carbonate, talc, and clay.
The key properties of low density HGMS are their light weight and strength. Incorporating them into buoyancy products allows remotely operated vehicle (ROV) manufacturers to dramatically reduce the density and weight of a vehicle's buoyancy, while improving its dimensional stability and impact strength. HGMS have the potential to half or quarter the weight of buoyancy and with a proportionally higher volume compared to a solid filler, they can significantly reduce the weight of buoyancy without compromising its physical strength and integrity.
Customization for Buoyancy Applications
Thin walled, hollow glass microspheres can be customized via surface treatments, material chemistry selection, density specifications or particle size distribution, thereby being tailored to meet demanding strength, weight and electrical specifications for customers in a variety of markets. For buoyancy applications, HGMS can be incorporated into a wide range of polymer and resin systems and replaced or combined with other materials to create composites, many of which are used in demanding offshore environments.
The unique properties of HGMS can be modified to enhance specific properties of the buoyancy package a customer is looking for to achieve, for example, high strength to weight ratios, specific uplift targets or high temperature resistance. In addition, manufacturing syntactic foams with customized HGMS allows the surface chemistry of the microspheres to be enhanced. This has proven to show the benefit of improved adhesion properties within the matrix, adding performance value to the composite system by simultaneously increasing the composite's moisture resistance and strength.
With this in mind, most buoyancy manufacturers will offer several grades of buoyancy for deep sea exploration vehicles, which can be further customized to meet the specific needs of the customer.
Buoyancy Testing
When choosing a supplier for buoyancy for remotely operated vehicles, manufactures should look for a company that not only manufactures hollow glass microspheres but can also carry out testing of density, strength, moisture content and more, before the HGMS are incorporated into composite buoyancy systems. Following this, the finished buoyancy package should then go through its own testing to ensure the final product meets the density, weight and strength parameters for the project.
Typical buoyancy tests that should be performed on the final package include:
Hydrostatic testing of full cubic feet buoyancy blocks,
Cycle testing for 1,000 times,
Full testing to hydrostatic pressure on random samples,
10 percent of manufactured blocks tested at service pressure for 24 hours.
Case Study
Trelleborg's applied technologies operation recently engineered and manufactured a custom syntactic foam buoyancy package for the Schmidt Ocean Institute for use on its new ROV, SuBastian.
The Schmidt Ocean Institute underwater robotic research program includes the design and development of a 4,500 meter robotic vehicle for use on research vessel Falkor. The ROV is outfitted with a suite of sensors and scientific equipment to support data and sample collection, as well as interactive research, experimentation, and technology development. The buoyancy package on SuBastian is made from Trelleborg's Eccofloat TG30, a high performance syntactic foam.
Bob Kelly, Managing Director within Trelleborg's applied technologies operation, said, "We are very proud to be part of this pioneering adventure and to work with Schmidt on developing a syntactic foam that met their requirements. One of the challenges with deep water syntactic foam is producing the lightest possible foam for a given depth which translates into maximum uplift or buoyancy for the vehicle. A high strength to weight ratio means our customers get the industry's maximum uplift or buoyancy per cubic foot, allowing them to design their vehicle with a lower volume buoyancy package, reducing costs and improving vehicle performance and handling.
"We were able to create the precise buoyancy package needed for SuBastian, ensuring success for the future commercialization of this project. The unique customizable design coupled with the selection of Trelleborg's proven Eccofloat material will provide many years of service with the flexibility to adapt to all future equipment and mission requirements."
The SuBastain ROV is designed to go to depths of 4,500 meters, which is deeper than the average ocean depth of 3,700 meters. Trelleborg's Eccofloat TG30 is designed for a service depth of 5,000 meters. The ROV will be suitable to support high resolution seafloor mapping, photomosaicing, video and image gathering, and collections of rocks, animals and seawater samples. It is equipped with a versatile array of power and data interfaces to enable integration of a wide range of add-on deep sea instruments and samplers that oceanographers may need to support their deep sea research.
SuBastian recently completed its first expedition on newly discovered hydrothermal vent sites, possibly finding new species in the Mariana Back-Arc, an extreme deep-ocean environment. This is the first series of scientific dives for the ROV. Equipped with numerous cameras, including a high-definition 4K video camera, the dives were live streamed onto YouTube and watched by millions. The multidisciplinary team will continue to analyze the data and samples collected during this expedition to advance research on how life thrives on these extreme deep-sea hydrothermal vents. This research was supported by the NOAA Ocean Exploration and Research Program, the NOAA Pacific Islands Regional Office and the Schmidt Ocean Institute.
Conclusion
Microspheres are intrinsically valuable voids because they can fortify structures to make them stronger without burdening them with extra weight.
Through customization and testing of high–tech hollow glass microspheres, deep sea exploration vehicle manufacturers are able to meet their strength and weight specifications for each unique vehicle.
The ability to manipulate, customize and test buoyancy foams manufactured with enhanced HGMS for deep sea exploration vehicles is a critical part that must not be overlooked when specifying buoyancy packages for these vehicles. As such, vehicle manufacturers should look to work with suppliers that can manufacture and test these small, but essential, microspheres for use in their buoyancy.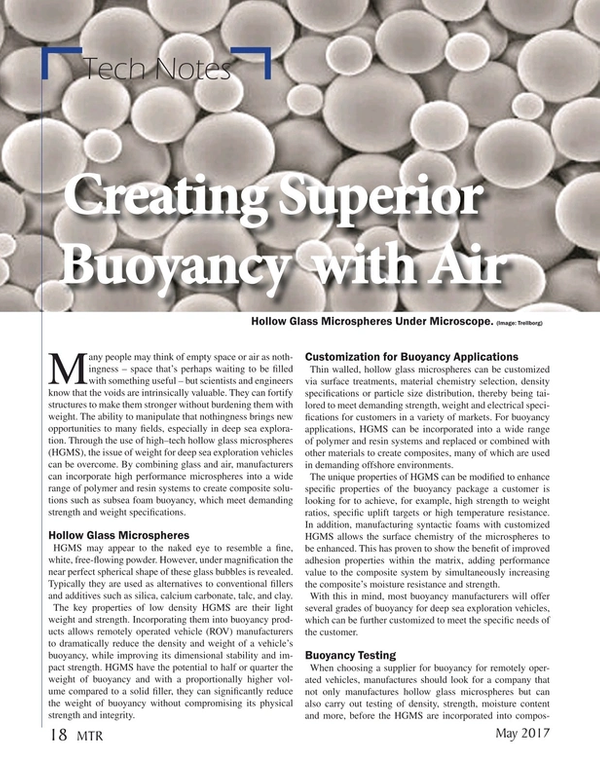 Read Creating Superior Buoyancy with Air in Pdf, Flash or Html5 edition of May 2017 Marine Technology
Other stories from May 2017 issue
Content