Cruising Beyond Compliance
By Barry Parker
The global cruise industry quietly takes a prime mover role in maritime scrubber technology. That's just smart business.

A recent issue of Virtuoso Life, a glossy magazine aimed at upscale travelers, featured a short article highlighting Princess Cruises' Royal Princess, christened by Duchess Kate Middleton in June, 2013. This article, along with numerous other reviews, highlighted the magnificent atrium, the spa, and the private cabanas. While Princess's bona fides in shipping's green camp are well known to shipping people (Princess was an early proponent of cold ironing as far back as 2000; hooking up to shore power at Pacific ports such as Juneau and Seattle), such developments are far removed from the general public – the industry's customer base.

Two Kinds of Green
Cruise lines, with their voracious appetite for power – feeding both propulsion and hotel load – are also making tremendous, but quiet strides towards energy efficiency. At the same time, restrictions on the sulfur content of fuels are increasing the cost of operations for all manners of global maritime commerce. For example, owners trading within the North American Emission Control Area (ECA) saw a 1percent ceiling on sulfur content imposed in the summer of 2012. In 2015, vessels trading within the ECA will see that ceiling again dropped to 0.1%. Analysts anticipate that the cost differential of low sulfur marine fuel over the high sulfur grade (3.5% maximum since 2012) will increase. And, during December 2013 and January 2014, low sulfur "bunkers" (IFO 180) cost more ($50 to $70/ton) around the U.S. East Coast and, even more ($150 to $195/ton) at U.S. West Coast ports.
The advent of severe restrictions in the ECA's, a profound business disruptor, has forced the cruise industry to take action. Consider that Carnival Corporation made the news in September 2013, when it announced that it would be spending a reported $180 million on development, partnering with a so far un-named vendor, on a space-saving combination scrubber/particulate filter. Initially, the technology would be deployed on up to 32 vessels trading mainly around North America, including those in Princess and Holland America brands, besides its eponymous Carnival Cruise Line.

Business Models that Make Sense
The Cruise Lines International Association (CLIA) said, in a 2013 position paper: "A one-size-fits-all approach that exclusively requires the use of low sulfur fuel throughout the 200-mile ECA is not the most effective or efficient compliance option allowed under the regulations." In the cruise industry, therefore, a more creative solution is emerging.
Roger Frizzell, Carnival Corporation's Chief Communications Officer, told MarPro in February, "We are tremendously excited about the progress we are making with our new and innovative scrubber technology." Mr. Frizzell also pointed to plans for Carnival's European brands, adding , "… we are also looking to expand this breakthrough technology to our other brands that are based outside the United States," mentioning Aida and Costa. He also noted, "Aida, for instance, is one of the early adopters of the scrubbers, with plans to install the technology across its fleet." Aida, where shorter voyages mean more port time, had announced a €100 million investment program in the summer of 2013. That technology was described as a new, comprehensive filter system that would be deployed on existing and newbuild vessels.

Slimming Bunker Buys with a Heavy Helping of Technology
For 2014, Carnival estimates its overall fuel spending to be a staggering $2.1 billion, based on 3.2 million metric tonnes at an average price of $650/tonne. In regulatory filings from 2013, Carnival had estimated that extra fuel costs, because of ECA's, would be $265 million in 2015. From the perspective of payback on its scrubber investment, Carnival's Chief Financial Officer, Mr. David Bernstein, said, on Carnival's latest investor call, "At this point, it's fair to say that more than the majority of that $265 million will disappear, so the number will be less than half." These economics are impressive by any criterion: annual benefits of as much as $130 million on an investment of around $180 million. Moreover, Carnival claims in its latest 10K filing (tied to its 2013 Annual Report), "As a result of installing these scrubbers, we believe the cost of complying with the 2015 ECA sulfur emission requirement will not be significant to our results of operations." Published reports suggest that Carnival has gained an extra year, to 2016, to achieve implementation. During port calls, the vessels will switch over to shore power, or burn low sulfur fuel. Particulates, trapped in a filter, will be disposed of in port.
Bud Darr, CLIA's Senior Vice President of Technical and Regulatory Affairs, spoke at length with Maritime Professional about the cruise industry's proactive and forward-thinking posture regarding emissions. He explained how CLIA's approach has evolved over the past few years, at a time that the technologies for emissions reduction are evolving rapidly, saying "both operational and technical equivalencies (which could incorporate the use of scrubbers, shore power and alternative fuels, he points out) are of great importance" in considering all viable mechanisms that will achieve emission reduction requirements and goals. He noted that MARPOL ANNEX VI Regulation 4 provides for broad equivalencies. Specifically, the existing text provides that the requirements can be met by any fitting, material, appliance, or apparatus to be fitted in a ship or other procedures, alternative fuel oils, or compliance methods used as an alternative if they are "at least as effective in terms of emission reductions."
Carnival isn't alone in the quest for alternative solutions to the emissions quandary. Others have embraced scrubber technology. At RCCL, scrubber technology from Wärtsilä will be deployed on two newbuilds from the Meyer Werft's Papenburg yard. The 4,200 passenger Quantum of the Seas will debut in November 2014 followed by her sister-ship Anthem of the Seas in April 2015. NCL initially dipped its toe in the water, going with Green Tech Marine's "GTM-R" equipment on its Pride of America (based in Hawaii) and on its two "Breakaway Plus" newbuilds; the Norwegian Escape and Norwegian Bliss, also with a 4,200 passenger count, coming out of the same Meyer Werft yard, in Q4 2015 and Q2 2017. In mid February, the line also announced that it would be retrofitting six vessels with GTM-R equipment, including Norwegian Breakaway and Norwegian Getaway. NCL explains that: "The GTM-R scrubbers are compact, making it possible for the builds to avoid the loss of cabin space or other service areas. GTM uses one smaller scrubber for each engine instead of a large multi inlet scrubber serving several engines, and the scrubber also replaces the silencer, which is very suitable for cruise ships."

Distinct Advantages for Early Adaptors
CLIA's Bud Darr also explained that designers of new builds where scrubbers will be deployed have far more flexibility than those seeking to retrofit scrubbers. He noted that "Cruise ships normally employ medium speed diesel engines that are vertically short in height to fit the allocated machinery space. Space is at a premium, so typically the scrubber will be placed in the stack area," adding that "sometimes the scrubber can be fitted in the footprint of the silencer."
In embracing scrubbers, the cruise industry has moved ahead of the overall curve. In DNV GL's rigorous study "Shipping 2020," the Class society expresses a view that industry uptake of scrubbers will not be widespread prior to 2020. The possible usage of scrubbers is predicated on the advent of the 0.5% worldwide restrictions on vessels' sulfur emissions against a backdrop of high fuel prices. And yet, the cruise industry has moved ahead aggressively, nevertheless.
News released by AIDA, the brand within Carnival serving Europe, provides clues as to the technologies that might be deployed in the cruise giant's company-wide initiative. AIDA explains: "With this as yet unrivaled exhaust treatment technology, we are able to filter and thus reduce by between 90 and 99 percent, all three emissions, namely soot particles, nitrogen oxides, and sulfur oxides, for the very first time." They add: "This comprehensive filter concept is a milestone for AIDA Cruises, but also for the cruise industry as a whole."
AIDA also points to the differences in its technology (borrowed from the power generation and automotive spheres). "The system developed within the Carnival Group for treating emissions relies on cutting-edge technology with an especially compact design that is revolutionary because it can technically accommodate all relevant treatment processes. Nitrogen oxides are chemically bound in a catalytic converter and soot and fuel residues are precipitated in a filter. The sulfur oxides are removed in a scrubber without any chemicals being added."
Maritime Professional's interview with CLIA's Darr also provided clues into another aspect of CLIA member companies' thinking; namely, wash water effluent from scrubbers – something which has caused a great deal of practical concern. He stated that hybrid scrubbers, which provide for both open and closed loop operation, "have a great deal of appeal" to operators of vessels that might be operating near to shore (where a closed loop system might be essential) and then, the next week, operating far out on the ocean where effluent discharge of seawater (used to treat the vessel exhaust) is not problematic.
Since the cruise lines are playing a major role in driving scrubber technology, Mr. Darr's observations offer guidance well beyond the cruise sector, which has already shown itself to be an early adapter of scrubber technology. In doing so, and strictly in terms of a business strategy, the cruise industry appears to have embarked on a particular course that is designed to both meet and exceed regulatory requirements and preserve, if not fatten the bottom line at the same time. Imagine that: making money in the environmental game. Cruising beyond compliance, indeed.

(As published in the 1Q 2014 edition of Maritime Professional - www.maritimeprofessional.com)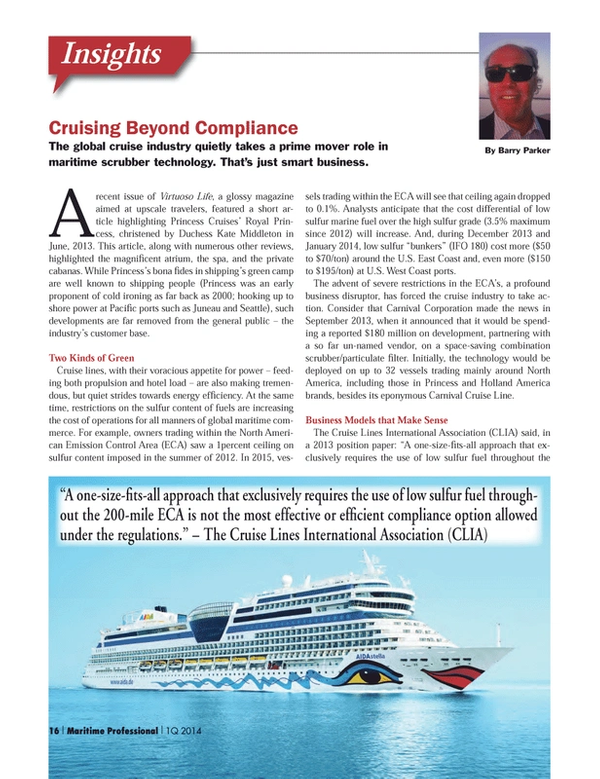 Read Cruising Beyond Compliance in Pdf, Flash or Html5 edition of Q1 2014 Maritime Logistics Professional
Other stories from Q1 2014 issue
Content