Accelerating the Excelerate LNG Business Model
By Joseph Keefe
An uncertain future, an unparalleled record of safety and a history of many 'industry firsts' propel Excelerate into the next phase of an always exciting and ever-changing global LNG market. The view from a market leader brings it all into focus.
Today's LNG industry can be justifiably proud of an enviable safety record that spans more than 50 years. At the same time, it can be optimistic about what will come next, even in the midst of plunging oil prices that have brought turmoil to the upstream, midstream and downstream markets. Last month, MarPro sat down with Captain Mark Lane, Senior Vice President of Operations at Excelerate Energy. Lane, a Licensed Master Mariner, spent the better part of 28 years in a seagoing career primarily on LNG carriers after his graduation from Maine Maritime Academy in 1979. Providing insight from both sides of the LNG equation – business and operations – Lane says that his firm remains focused not only on being first, but instead the first to do something right.

Excelerate has produced many firsts for the industry. Lane insists more will come, adding "We create opportunities for others, which at the same time benefit our bottom line." Today, Excelerate controls as much as 50 percent of the world's LNG tonnage, but that's just one aspect of this diverse company. Over a decade ago, Excelerate Energy saw the need for a cost-efficient, fast-track solution for the importation of LNG and introduced the concept of onboard regasification of LNG. Since bringing floating regasification to market, that technology has been widely accepted across the globe and has created new markets for LNG.

The Excelerate menu of services spans from floating storage and regasification units (FSRU) to a complete gas delivery solution. Beyond this, says Lane, Excelerate Energy is today the only floating LNG provider offering services across the entire midstream LNG chain.
Excelerate in the Beginning
Once upon a time, El Paso Energy was owner of LNG receiving facility in Elba Island in Savannah, GA. They had just finished an overhaul of the terminal including a new marine interface and literally, they were going to open it up within a week, when a ship – not LNG – came up the channel and lost steerage – hit the dock and wiped out all the good work they had done. At the time, the question of offshore LNG had been around a while but it really hadn't gained much traction. At that time, the United States didn't allow for the offshore import of LNG.

The Louisiana Offshore Oil Platform (LOOP) eventually became possible because of the deepwater act of 1974. LOOP was America's first deepwater port and for a long time, it was the only one. Mark Lane takes the story one step further, saying "After the incident in Savannah, El Paso started to work to change the deepwater port act. And then, of course, 9/11 happened. And that helped put the snail's pace of US regulatory responsiveness into high gear. So, El Paso started to work in the US Gulf, they found a location, and this was the start of Excelerate Energy."

As that was happening, El Paso was also building the first US deepwater port, Gulf Gateway. Then, for some corporate reason, they decided to divest themselves of their LNG infrastructure (again). Lane explains, "They'd done this before and you recall they had the LNG carriers. And they were looking for a buyer. Eventually, El Paso made arrangements and they sold the Deepwater port project and then, they also sold their obligation on the first three regasification vessels. So, Excelerate was formed in 2003." The firm would soon make many firsts, in many ways and places.

A Series of Firsts
It would not be an exaggeration to say that Excelerate's reach into LNG knows no bounds. A pioneer in innovative LNG midstream solutions, the firm owns and operates LNG carriers, Floating Storage and Regasification Units (FSRUs), has developed Floating Liquefaction, Storage and Offloading (FLSO) Units, provides operating services under long-term contracts and supports LNG sourcing, LNG trading and shipping. More impressive, however, is that in most cases, they were the first to develop each of the unique, niche services and infrastructure that the market depends on today.

The world's first regasification vessels were designed, built, and produced by Excelerate, as was the concept of tying in the regas vessel with an SPL buoy system. Beyond this, Excelerate pioneered the gas port concept. Lane told MarPro, "The Gas Port concept is different from the Gateway system concept because the Gateway uses the SPL buoy, whereas the Gas Port is a high pressure marine loading arm designed to move high pressure gas instead of liquids. The concept involves rapid delivery to market gas based on finding underutilized existing facilities of the proper size for the regas vessels and a tie-in to the natural gas transmission system."

Regasification provides flexibility and market access. FSRU's provide ocean transportation, floating storage, regasification, and they deliver high pressure natural gas in very large volumes. The newer generation vessels have the capability of delivering 1.2 billion cubic feet of gas per day. That equates to about 40 percent of the gas consumption of the country of Brazil on a given day. Unlike land based facilities that can't be moved, regas vessels can deliver market ready gas anywhere, depending on the market. Lane told MarPro, "The offshore concept involves much lower initial CapEx. Land based facilities, on the other hand, are captive to one spot, and the P&L is tied to gas prices in the market."

Indeed, the rise in FSRU (Floating Storage and Regasification Unit) projects reflects the fact that they represent less than half the cost of an equivalent onshore facility.

FLSO's – Floating Liquefaction Storage and Offloading (FLSO) Vessels – capitalize on Excelerate Energy's experience and expertise in the floating regasification business. These FLSO's liquefy natural gas and store LNG at near shore, at shore, and offshore locations, loading cargoes onto conventional LNG carriers. The FLSO's provide easy and convenient access to stranded gas and pipeline grade gas.

In February of 2007, first ship-to-ship (STS) Gas transfer took place at Scapa Flow. In that instance, Excelerate actually bought that cargo and loaded it onto the ship in July 2006. Lane adds, "So, we also pioneered the concept of floating storage for longer term. We knew we had a huge market uplift potential by delivering the cargo we lifted in the summer months into a high value winter market. We also pioneered a concept on how to minimize boil-off, store the cargo and deliver it to a market that needed it."

The Excelerate story involves literally dozens of patents. Nevertheless, Excelerate has been anything but restrictive when it comes to industry taking advantage of their many concepts. Lane says simply, "If you think about it, the idea is to set a standard in the industry, but you wouldn't want to have a restricted patent where we are the only people who can play in the game. We would lose our market flexibility." He adds, "As an example, our ships have replaced Golar in Brazil because the systems are common, based on the standards that we set for STS transfer systems. Recently, Teekay and Smit used our system to lighter a grounded ship. MOL uses it for commercial STS in Japan."

A Business Plan for Uncertain Times
Although the regasification vessel market is an important one for Excelerate, Mark Lane says it is important to understand that Excelerate is also an infrastructure development and gas trading firm. He adds, "We charter in ships when we need them. And, we charter out. We've got two ships chartered out to Petrobras; one for trading needs and the other, for regas. Some of our competitors have even begun to try and duplicate our business model."

But, the firm is never one to sit on its laurels. Its second generation regas vessels are bigger, deliver faster and are designed to comply with more stringent regulations. Later versions of the vessels boast
Economical dual fuel, diesel electric propulsion systems and Excelerate's third generation ships have gone to 100 percent redundancy. "On one vessel, we have a port side system and a starboard system. We can shut one side down completely, isolate it and do maintenance on it and keep the ship in service for 15 years. The generation 4 and ships will take it even further, with even more features that will firmly keep us at the forefront of the industry. Our operating philosophies are based on industry standards and best practices. We're able to move a concept to market faster than our competitors who tend to be overburdened with internal processes that I would characterize as non-revenue producing processes," Lane said.

It is no accident that all of Excelerate's ships are third party managed and flagged ether in the Marshall Islands or Belgium. Technical management is entrusted to Exmar Ship Management, a subsidiary of Exmar NV, the ship owner. Lane adds, "Way back when we started with them, that made a lot of sense. We didn't necessarily want to be ship owners, we were gas traders. But, this is where things get complicated. Excelerate is both a charterer and an owner."

And, while Lane – an American mariner himself – would probably like to use U.S. seafarers, it is also true that the cost of an American mariner is much higher than the cost of international labor. Lane laments, "It's primarily a function of taxes. The American mariner is almost twice the cost of a Croatian or Ukranian mariner. To put it more into context, a U.S. third mate on one of our ships takes home more money than the Master from Belgium. So, there are a lot of socio-economic issues that we have to manage on some of our ships, depending on the mix of crew." Arguably, they've done that quite well so far.

The current dip and wide swings in energy pricing don't seem to worry Lane. He cites Excelerate's diversified portfolio as a prime reason why. "We're somewhat insulated from the current pricing because we're an infrastructure provider, a trader, and a shipper – all of those things. We're privately held. We're still trading LNG, buying and selling gas, whether or not it's in a liquid form. And we currently charter out some of our tonnage to several others that are also trading. Basically, it involves managing the spot trading and selling to a market of opportunity."

That doesn't mean that things are always easy for Excelerate – they are not. Lane talks frankly about their recently shuttered Texas facility, saying, "Port Lavaca was one of our liquefaction projects and recently we put it on the shelf so to speak. We're deactivating the development program for a number of reasons – market conditions have changed, so it doesn't make a lot of sense right now. We'd be competing with the other LNG companies in the US Gulf as far as liquefaction and export; an overpopulated niche in the industry. We've got our liquefaction projects that we're working elsewhere, and our liquefaction system is designed for offshore use where we operate a robust system in what can be a fairly impactful sea and wind state."

Out in the open market, Excelerate examines all options before selecting the best course for every cargo and trade. Formerly, most LNG was traded point A to point B, but Lane says that Excelerate develops concepts and arbitrage to creatively make money. For example, in one recent deal, a cargo headed for Taiwan was swapped for a cargo coming out of Oman that was going to Spain. Lane says, "We switched the cargo destinations – for operational and business purposes – backed out 28 days of shipping and four passages through the Suez Canal. It was a cargo swap based on logistics, optimizing the markets, and not tying up two ships unnecessarily for a month.

Excelerate's New England terminal is perhaps the perfect example of the flexibility that the firm builds into its business plan. Lane explains, "We just completed a delivery into the system up there. We haven't used the system in a couple years, but keep in mind, those vessels are tools that help us monetize the value of the gas in the commercial markets and in other words, they provide market access. Where we own the facilities, we trade all over the world and where the value is best for us is where we will send the gas."

Arriving Safely, Looking Ahead
According to Mark Lane, there are roughly 500 LNG carriers in existence today. There's another 120 on order. Along the way, a few have been sent to the breakers for recycling. The LNG industry is 50 years old. In those 50 years, there has never been a loss of life related to cargo operations, a loss of the ship or loss of a cargo. That encompasses 100 million miles of laden transit and many more in ballast. Lane is, of course, aware of those numbers, but not necessarily tied to them. He says flatly, "Although we in the business like to stand on that record, we (Excelerate) don't necessarily embrace what happened in the past. Our mission is to understand what is happening in the future. We are a very risk-averse company. We identify and quantify and mitigate every single type of risk to the lowest level possible." So far, that seems to be working.
(As published in the 1Q 2015 edition of Maritime Professional - www.maritimeprofessional.com)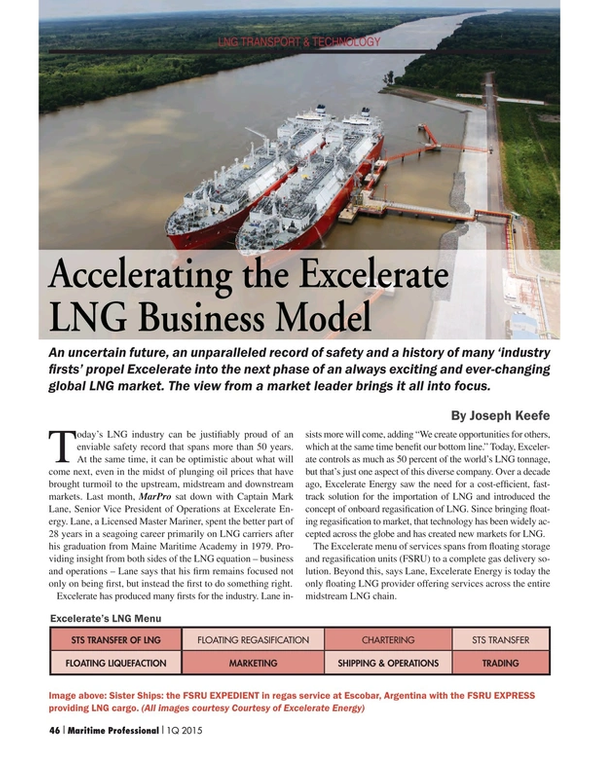 Read Accelerating the Excelerate LNG Business Model in Pdf, Flash or Html5 edition of Q1 2015 Maritime Logistics Professional
Other stories from Q1 2015 issue
Content