No Risk in a Curious Career Path
By Joseph Keefe
Identifying, understanding and mitigating risk are all at the heart of PJ Jacquelin's unique career. Where he came from first has made all the difference.
PJ Jacquelin joined Barney and Barney – a Marsh & McLennan Agency LLC Company since February 2014 – in 2012 and today leads their Global Marine Practice Group. With more than 25 years experience in the maritime industry, he is perhaps uniquely qualified for that position, with a career trajectory that few can duplicate. You might say that salt water runs through his veins, having grown up in Hawaii, competitively sailing and then, attending the California Maritime Academy. After that, armed with a Bachelor of Science degree in Marine Transportation and an Unlimited 3rd Mate's license, he spent almost two years at sea as a deck officer aboard a variety of tankers, containerships, RoRos, tugs and crew boats.
Jacquelin's career took a curious turn in 2004 when he accepted a commission in the U.S. Coast Guard and eventually served as a Marine Inspector, Command Duty Officer and Public Affairs Officer. There, he inspected hundreds 500 commercial vessels, ensuring compliance with regulations and treaties. Convinced he could do more to help companies in the private sector, he left the Coast Guard to become a regulatory consultant, during which time he worked with spill response contractors, terminals, port authorizes, boat builders and vessel operators to help reduce costs through improving operational efficiencies and reducing losses.
Since then, he has headed up the U.S. West Coast Ocean Marine Risk Control Department for another insurance company before landing his current role at Barney and Barney. But, there is more to risk than just regulations. Perhaps this is why Jacquelin's deep and varied background serves him so well today.

A Day in the Life
A typical day in the office can consist of overseeing claims, preparing presentations, meeting with service teams and communicating with his carrier partners on any number of issues. On the other hand, a day in the field can vary greatly but it's always about seeing operations first hand in order to get the full picture. Jacquelin, who is on call 24/7 and regularly spends as much as 70 percent of his time in the field, explains, "Given the complexity our industry and the fact that every client has different needs you have to see it for yourself. I can't properly serve my clients from behind an office door."
According to Jacquelin, time in the field is well spent. "By getting to know our client's operations, we are able to offer effective and common sense suggestions and recommendations that help to minimize accidents, reduce claims and ultimately save money. Beyond this, by reducing the frequency and severity of accidents, clients benefit from reduced premiums on a long term basis. In turn, carrier partners can be more comfortable underwriting clients at lower rates when they know a proactive effort is being made to improve performance. And, says, Jacquelin, the effort produces improved regulatory compliance without even trying. He adds, "This makes life easier for everyone both financially and operationally."
Jacquelin ultimately becomes 'a part of the client's risk management team.' For example, says Jacquelin, "One of my client's vessels was badly damaged during a recent New Year's Eve storm and even though I was taking some time off, by being in touch we were able to get the claims process started right away. It also enabled me to be the first person to assess the damage in order to help the carrier's claims team and USCG inspectors get their work done."
A Curious Path
Jacqueline has literally done it all. This includes time spent in the Coast Guard as a marine inspector, at sea commercially and with MSC PAC, as a marine surveyor, a college professor and now, heavily invested in the insurance side of the game. One aspect of that progression – the decision to join the Coast Guard after having already sailed commercially, is an interesting one. Jacquelin's decision to join the Coast Guard, influenced in part by the events of 9/11, was also a function of having dealt with the Coast Guard on the mariner side.
Also having come to a realization that a long term seagoing career wasn't the best path for him, he explains, "I noticed that there weren't that many marine inspectors who truly understood the industry so I liked the idea of being able to bring some real world insight and knowledge to the main regulator of our industry." Having a grandfather who had spent time as a Coast Guard officer during WWII also swayed his decision. "I decided that I wanted to carry on the family tradition of service in the Coast Guard while trying to give back to our industry," says Jacquelin. Ultimately, however, that decision would also yield dividends for a young mariner who would eventually end up preventing what the Coast Guard regulates on a daily basis: risk.
While there were many key 'take aways' that Jacquelin got from years in the Coast Guard, he came to understand that professional mariners and commercial operations managers need to continually self-police, to re-invest and do the right thing, which sometimes costs money. As someone who can see both sides of the equation, Jacquelin insists, "All of us in the industry have had moments of extreme frustration with the Coast Guard because we feel that they don't understand what we do and that we are in business to be profitable. And I would say that more times than not, we are correct in that belief. I've also seen it from the other side where the Coast Guard can get extremely frustrated at us for some of the decisions that we make. Sometimes those decisions lead to operations that are unsafe. From their perspective, they are also correct and in the end what results is an adversarial relationship that takes away from our bottom line and 'forces' them to be the bad guys."
All of that said, and while Jacquelin values his Coast Guard experience, he also feels that his work today is influenced by the sum total of his resume. "Having sailed, regulated and insured, you have a very unique understating of your client's day-to-day operations and you can better cater to their needs by providing insight, resources and guidance to prevent incidents and costly claims. One of the largest challenges a broker can face in the marine industry is being able to properly represent their clients operations and exposures to insurance carriers. Having done all of the things I have, the underwriters I work with know that I know what I'm talking about and clients know that their money is being responsibly spent," Jacquelin told MarPro in February.

On the Waterfront
Properly managing risk involves having an accurate understanding of what clients deal with on a daily basis and knowing what they are talking about. Jacquelin adds, "One of the most common comments that I hear from CEOs, CFOs and controllers that their broker doesn't understand what their company does. The first thing we do is spend time at the operation to really get to know it. If it's a shipyard we spend at least a day walking the facility, watching the work and just observing. If it's a vessel operator we go through each vessel, get underway and again observe. I take hundreds of pictures." From all of that, a narrative is submitted to underwriting along with a standard application. By doing it this way, underwriting doesn't have to make any assumptions about what's going on and they can better underwrite the risk at a cost savings to the client."
Jacquelin's job involves risk: identifying it, quantifying it and of course, eliminating or mitigating it. How that role is fulfilled depends on the client. In practice, some clients have complex and effective risk management programs in place. In those cases, Jacquelin and his team work more towards quantifying risk, in order to lower costs. Other clients, however, need expertise to help them identify risks in order to develop or improve their risk management program.
For Jacquelin, and reflecting his broad experience, there are two schools of thought when it comes to risk management. The first involves preventing accidents and incidents from occurring in the first place. The second is the administrative approach that ensures that the proper coverage is purchased, contracts are properly worded and appropriate indemnifications are in place. Jacquelin explains, "You have to approach it from both directions. While we can do everything right operationally, unforeseen accidents happen, so the correct coverage and contracts have to be in place."
One of the biggest benefits that this job description brings to the table is that, as outsiders, every operation is viewed with a fresh set of eyes. For example, misunderstanding about a client's operations can lead underwriters to make assumptions and either declining to quote an account or charging for exposures that simply don't exist. But, it takes experience to properly represent the client's operations and then help them to get the coverage they need at the most favorable terms.
Before You Go
For those interested in a career on the marine insurance side of the ledger, Jacquelin advises candidates to first get some real life experience in the industry and only then look for an opportunity with a major carrier. Being able to accurately translate the nuances between vessel operators and carriers will, he says, fill a need in the industry that is currently experiencing a void. He adds simply, "When I tell a tug company owner that I can operate one of their boats, they know that they're with a broker that understands them and knows how to lookout for their best interest."
Yacht racer, marine surveyor, Coast Guard veteran, college professor and professional mariner: it's not your typical career path and perhaps, not too many will ever get to duplicate that set of credentials. Nevertheless, and at its most basic level, it is experience that counts. PJ Jacquelin has that, and a whole lot more.
*All images courtesy PJ Jacquelin
(As published in the 1Q 2015 edition of Maritime Professional - www.maritimeprofessional.com)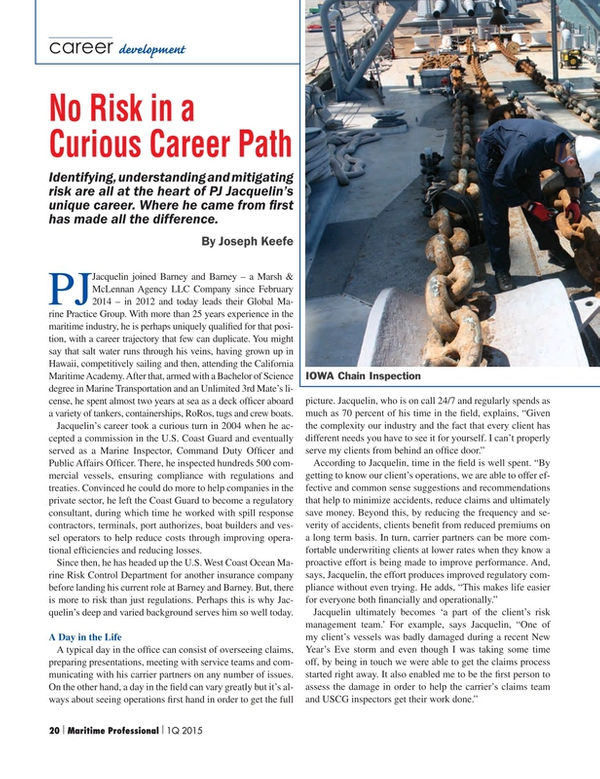 Read No Risk in a Curious Career Path in Pdf, Flash or Html5 edition of Q1 2015 Maritime Logistics Professional
Other stories from Q1 2015 issue
Content