Addressing Today's Shipping Challenges with Software Solutions
By Alexander Buchmann
Technology will prove the game changer for the shipping industry.
The shipping industry faces many challenges. The growth in fleet volumes at a time of global economic slowdown has resulted in excess supply and falling demand, which has had a major impact on profitability. It's not only the global economic slowdown, particularly in China, that is affecting shipping. Hardly any other sector requires such complex process management as shipping, which compounds the challenges.
A major issue for many shipping companies is that they have to handle a variety of tasks all carried out by different departments – leading to a lack of overview about processes and people in charge. This isn't surprising given several different teams carry out tasks ashore and aboard, from employees of shipping companies, to external agencies and crews on the high seas. A great problem here is that the fleet is not integrated into the internal processes of the company and most of the time lack access to a central source of data. For example, the same information might get requested multiple times from the captain, which forces him to respond manually to each request.
Unless the teams are connected and can communicate on a reliable basis it's easy to see the difficulty in managing hundreds, if not thousands of employees. Antiquated day-to-day processes remain an ongoing challenge in shipping and are reinforcing inefficient ways of working.
Addressing the Challenges
Solving these challenges is tough. Many of the external factors such as the supply/demand imbalance and swings in demand are beyond the ability of one company to fix, however shipping companies can deploy internal improvements to business areas such as commercial, operations and fleet to improve their performance.
Despite the need for change, shipping companies have often been slow to adopt new ways of working. And those who are on the road to making changes are being held back by legacy IT systems that are hampering them from making the improvements they need.
However, things are changing. In the last decade, we've seen technology drive significant changes to business processes and working practices in other industries As global management consultants McKinsey recently highlighted, "Over the past few years, rapid technological advances in digitization and data and analytics have been reshaping the business landscape, supercharging performance and enabling the emergence of new business innovations and new forms of competition and business disruption."
However, the firm goes on to point out that progress has been uneven and says, "While many companies struggle to harness the power of these technologies, companies that are fully leveraging the capabilities are capturing disproportionate benefits, transforming their businesses and outpacing – and occasionally disrupting – the rest."
Technology is the Way Forward
The shipping industry can no longer afford to be left behind in a world where technological advances are streamlining business and management processes, leading to greater efficiencies and profitability.
More companies are starting to use technology to optimize fleet management, automate processes, increase their business performance and reduce costs. We see enormous potential for further progress driven by technology.
Already, there's been commitment from the industry to bring the internet on board and make it available constantly. This is a major step forward since it will allow shipping companies to communicate and exchange data with their fleet in real-time.
Another major topic is the use of cloud-technology. Using the cloud means information can be centralized, is accessible for everyone, systems and processes can be integrated and data silos removed – allowing operators to gain a complete 360-degree overview of their fleet and entire operations. While the real-time exchange of data may still take some time to become established, cloud-based solutions are available today and already help shipping companies to realize great benefits in terms of communications, data access and collaboration.
How Cloud-Technology is Helping Shipping Companies
Peter Döhle Group, with more than 500 vessels including container and multi-purpose vessels, as well as bulk carriers trusts in modern cloud-based software to manage and monitor its fleets. As a global company, the Peter Döhle Group demands safe, secure and quick information flows between all relevant parties ashore and at sea. The company wanted to integrate and align information about its vessels and data from external partners with its internal company processes in one platform.
The company wanted accurate and up to date fleet management information for all parties at any time, regardless of their location. It hoped that being able to access this information would accelerate information processing and improve the company's ability to react to events as they happen. Other goals were for the company to remove data silos, which were costing the business time and resources, speed up communications and increase the efficiency of its vessel management.
The company adopted our Cloud Fleet Manager solution to gain a single platform through which their entire fleet can be managed. The platform centralizes information so it can be viewed, analyzed and processed in real time using apps and mobile devices. Hanseatic requires minimal employee training. At short notice, we provided prototypes for the company and open interfaces for up and downstream systems which offered scope for future development.
Within days, the application was rolled out, data imported and the Cloud Ship Manager installed on the vessels. Today, the Cloud Fleet Manager is used as a central, company-wide communication and information platform which has improved information accuracy and reliability and added business value. The extra work that used to be involved in managing data redundancies in Excel spreadsheets is a thing of the past.
Peter Döhle Group has evolved its processes and procedures. For example, inspections are now done "on-the-fly" using the Inspection Report app with results made available for all persons in authority immediately – saving the Inspector considerable time and increasing their productivity. The company plans to introduce the software globally soon and will use the Cloud Crewing module to manage its crew, plan their voyages and perform payroll processes.
Another company using Hanseaticsoft's Cloud Fleet Manager is Norddeutsche Reederei H. Schuldt, a 150-year-old shipping company, with a fleet of 52 vessels. The company's fleet consists mainly of modern container vessels of various size and specification reflective of market demands and development. It is also a leading partner for international liner companies fulfilling in part their tonnage requirements for global trade. It also offers a diverse range of other maritime services such as purchase, sale and risk management, as well as asset management.
This company had reached the stage where it felt that sustainable competitive advantage in their area would only be achieved with the use of modern technology. Its goal was to find a platform that would minimize data redundancies and communication gaps. Additionally, it wanted to have consistent data accessible for everyone in the company, and to improve the quality of the data. Another crucial factor for the selection of the right software solution was the need for cloud-based technology that could be accessed over the internet using tablets and phones regardless of location and time.
They chose Cloud Fleet Manager because it seamlessly integrated into the company's existing systems and processes and could be accessed via a web browser at the office while simultaneously offering an application for use at sea, the Cloud Ship Manager (CSM).
The company first introduced the Cloud Fleet Manager portal and its Crewing application enabling the collaboration between the ships and staff on shore to be strengthened and accelerated. Using Cloud Fleet Manager whether crew planning, undertaking the preparation of payroll or the appraisal of seamen: the digital data is available non-redundant, valid and immediately where it is needed.
Using the system, the company has been able to improve the quality of its management, and at the same time achieve a noticeable reduction of the workload for its employees on land and at sea.
Further applications such as Operations, Schedule & Agents and Offhires and Claims were later introduced with minimal effort. The ability of Cloud Fleet Manager and Cloud Ship Manager to offer sufficient flexibility to distribute tasks according to requirements is a major benefit. For example, schedules or agencies can be administrated both at sea and on land, meaning all users can benefit from the transparent depiction of required information.
The next application to be introduced is Inspections and Audits with its native apps for Android, iOS and Windows 10. Inspections, audits or vettings can now be carried out on mobile devices in a timesaving manner and are post processed and finalized in the cloud.
Shipping companies have a huge opportunity to transform how they manage their fleet and crews, through using cloud technology. This will help them drive down costs, improve their efficiencies, ensuring they future-proof their business and retain or gain that all important competitive edge.
The Author
Alexander Buchmann is Managing Director of Hanseaticsoft GmbH. He founded Hanseaticsoft in 2009 and developed Cloud Fleet Manager. Since March 2017, Lloyd's Register one of the world's largest ship classification societies, holds a share in the software company.
(As published in the July/August 2017 edition of Maritime Logistics Professional)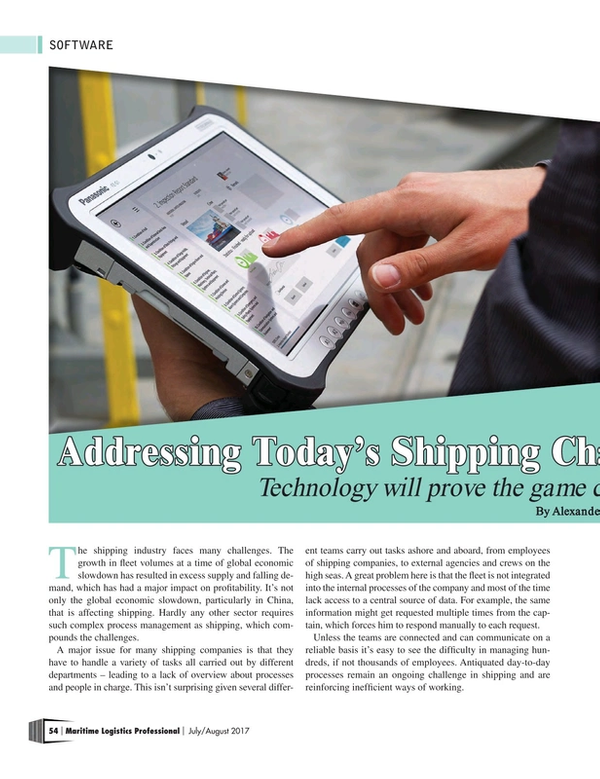 Read Addressing Today's Shipping Challenges with Software Solutions in Pdf, Flash or Html5 edition of Jul/Aug 2017 Maritime Logistics Professional
Other stories from Jul/Aug 2017 issue
Content