Changing Box Landscape Demands That Yard Tools Keep Pace
By Joseph Keefe
he need for increased operating efficiencies for container terminals collides with the demands of a Tier 4 regulatory climate. Fortunately, you can achieve the former goal while satisfying your thirst for latter.
Ports and container terminal operators everywhere are faced with many challenges. A shifting liner alliance landscape has reshuffled the intermodal deck, and some ports are scrambling to dredge and finish the infrastructure necessary to handle the increased TEU throughput. Separately, renewed pressure from the regulatory side of the equation – notably the so-called West Coast Clean Air Action Plan (CAAP) – has ports puzzling over how to ramp up already robust (and successful) efforts to clean up their environmental footprint.
All ports, no matter where they reside, share two common denominators. The desire for an efficient and profitable cargo operation must be balanced by the need to go green. Take lift trucks, for example. Customers have always looked for many things when it comes to robust lift trucks and reach stackers. Life cycle costs, retail price, versatility, safety – these and more are all important. According to Hyster Company, a manufacturer of lift trucks and industrial equipment for a wide range of cargo operations, just one thing hasn't changed very much over time.
Brett Schemerhorn, President of Hyster's Big Trucks Americas group told MLPro in August, "Our research shows that the number one purchase decision driver continues to be the total cost of ownership. Customers are interested in both low purchase cost and low cost of operations. One key way for users to achieve a low cost of operation is to have durable and reliable equipment. The trucks must be running for these customers to make money; otherwise, they would need to invest in backup trucks." That said; he adds quickly, "Depending on the location, some ports, such as those located in California, are under higher pressure when it comes to reaching certain environmental goals."
For its part, Hyster Company, a division of Hyster-Yale Group, is headquartered in Cleveland, OH and employs more than 6,300 people worldwide. The firm offers as many as 130 lift truck models configured for gasoline, LPG, diesel and electric power, with one of the widest capacity ranges in the industry — from 2,000 to 105,000 lbs. Supported by a robust dealer network, Hyster container handlers are manufactured at their global Big Truck factory in the Netherlands. At the same time, the North American market is also supported by a Danville, Illinois, parts distribution center (PDC), ready to ship parts to customers anywhere via next-day air.
Current Events: Immediate Needs
The widening of the Panama Canal brought deepened harbors, bigger ships and more traffic to U.S. ports, even with the shifting global boxship alliances. Initially, and while the global count of containers shipped has been on the rise, shipping lines and port terminal operators have not been able to stabilize prices for a container shipped and handled due to a surplus in shipping capacity. Hence, both have been operating on very thin margins. That, in turn, does not allow for replenishment or increase of port equipment units. Nevertheless, through consolidation of terminal operators and shipping lines, as well as the retirement of container vessels, prices have begun to recover and port equipment manufacturers are seeing increased demand for equipment.
At the same time, the need for 'green' is also becoming more critical. Equipment providers find themselves addressing not only economics, but environmental concerns as well. Some OEM's are better positioned than others. "Through our leadership position designing and building electric trucks and our relationship with fuel cell company, Nuvera, Hyster is well-positioned to understand power solutions available and apply this knowledge to the development of multiple electric power options for large container handlers," explained Schemerhorn.
The U.S. Environmental Protection Agency (EPA) set forth a schedule that implemented Tier 3, Tier 4 Interim and Tier 4 Final emission requirements based on engine horsepower output over the past six years. By the end of 2016, all off-highway engines (all horsepower ranges) had to be compliant with EPA Tier 4 Final emission levels. However, lift truck OEMs were given some flexibility from the EPA in the implementation of the Tier 4 Final engines. Because of this, there may still be some new Tier 3 or Tier 4 Interim trucks being supplied.
At Hyster, a modular approach gives customers choices when it comes to selecting the best zero-emission solutions for their operations. To achieve the best total cost of ownership, the most suitable power option will depend on the requirements of the specific operation – application and infrastructure. For example, an electric truck with a large battery pack and conventional charging may suit some customer needs. In other cases, more frequent 'opportunity charging' will be needed, and different methods of charging might be in order. Other operations may be best suited to an electric truck with a smaller battery pack combined with a fuel cell. As a minimum, OEM's must be ready to provide both.
Decisions, Decisions
As environmental solutions initially developed for lift trucks and other commercial cargo handling solutions, at the Tier 4 Final level, engine manufacturers were not able to hit the PM and NOx levels using only EGR. SCR systems with DEF (Diesel Exhaust Fluid) were required. Some engines use this in combination with cooled EGR to reduce the amount of DEF required. Regardless of how a particular company achieves compliance, developing solutions to enable the move from profitable low emissions unit to profitable zero emissions doesn't happen in a vacuum. For example, the CEC (Cal Energy Commission) invited industry to participate in their Alternative and Renewable Fuel and Vehicle Technology Program for Sustainable Freight Transportation. Hyster is actively engaged in such programs as they determine what affordable zero-emission solutions may look like. It is no small task.
Important considerations include the duty cycle, infrastructure and the optimal charging strategy. Schemerhorn explains, "In less-intense applications, a large-size Lithium-ion battery pack with conventional charging strategy may be sufficient. For some applications, where trucks have downtime within a shift and can be 'opportunity' charged, a medium battery pack could be a viable solution. However, Li-Ion battery capacity is currently not expected to be sufficient for the most-intense full-shift applications where there isn't an opportunity to recharge during the shift. This is where fuel cells may be a better choice."
Eventually, innovations in Big Truck technology are expected to result in the ability to have continuous operation with operator-friendly recharging or quick hydrogen fuel cell refilling options. But environmental compliance need not wait for developing technology. Hyster Company along with the Port of Everett, Washington, recently celebrated the delivery of three Tier 4 Final Hyster RS46-36 ReachStackers. A deep-water port located 25 miles north of Seattle, the Port of Everett specializes in overdimensional breakbulk cargo.
Hyster ReachStackers were selected through a competitive request for proposal (RFP) process led by port officials and an outside consultant. Because the Port of Everett handles a significant amount of breakbulk, including odd-sized/shaped containers and extremely valuable and sensitive cargo, they required high duty, high capacity equipment proven to accommodate non-standard cargo and customizable to meet their specific needs.
The Hyster team diligently tested the ReachStackers to ensure that they could maintain capacity with varying positions, attachments and centers of gravity. As a result, said Carl Wollebek, Chief Operating Officer, Port of Everett. "We now have three more environmentally-friendly and efficient ReachStackers perfectly suited to our facility."
The new ReachStackers will be used to help increase capacity, throughput and uptime, as well as to support the port's forward-thinking environmental goals. The Port of Everett is one of the first ports in the U.S. to employ Tier 4 Final equipment in its operations and Schemerhorn says that's no accident. "Through our application center approach, Hyster developed a well-proven Voice of Customer process. The application center is a group of engineers and sales and marketing representatives from Hyster who work closely with customers to not only identify opportunities to improve the material handling machines operated in these industries but also recommend improved practices to owners."
Separately, the Port of Virginia, the only U.S. east coast port with congressional authorization for 55-foot depth channels, also took delivery of five new Hyster H450HD-EC empty container handlers this year, fulfilling the need for additional high-capacity equipment to handle increasing port volume. The Hyster H450-EC is part of the full range of container handlers and ReachStackers offering material handling capacities up to 105,000 lbs.
For both ports, said Schemerhorn, providing the right equipment for the right task is the key. "We not only understand the needs of port operations, but work very closely with our customers and prospects to understand their unique preferences and requirements to create and deliver the optimum products for their needs."
Today, Hyster is currently working with terminal operators to develop its zero-emission top loader. In the early stages, the electric trucks, including batteries and chargers or fuel cells, are expected to have a much higher acquisition cost than current diesel trucks. Hyster, says Schemerhorn, anticipates that as technology continues to progress, costs should decrease, resulting in a less expensive option for the end user. In fact, he insists, "The industry anticipates that the total cost of ownership will eventually be similar to or better than the cost of the currently available diesel trucks."
Versatility & Efficiency Produce Another Kind of 'Green'
The Hyster RS46-36 ReachStacker offers more flexibility and is available in both container handling (CH) and intermodal handling (IH) versions for high-density container stacking applications, up to five high and three rows deep. The Container Handler models are designed for operations where only containers are moved, stored and stacked. Intermodal applications usually involve multiple modes of container movement, utilizing a different spreader attachment that enables the truck to pick up a container and chassis together. The attachment has legs to pick up the chassis from just below the bed, with the container on the chassis bed. Some terminal operators find that a single vehicle that can handle multiple missions and replace two or three that are designed with limited options.
Empty-container handlers from Hyster are capable of lifting up to 23,000 pounds, which is the highest lifting capacity offered in the market today. This is significant because it offers the ability to double-handle, even if an operation requires moving two refrigerated containers at once, with the refrigeration units on the same side. Until now, empty-container-handling manufacturers have advised carrying the containers with the refrigeration units on opposing ends, which can be a time-consuming maneuver. Hyster eliminates that requirement.
Double-handling is not a widely spread practice in the North American market, but it is well-adopted in the European regions, where Hyster has been involved with the double-handling equipment market for years. The ability to handle two containers with one machine saves time, money, improves dwell time and, of course, reduces that all-important environmental footprint.
Regulatory Compliance of a Different Kind
Container Verified Gross Mass (VGM) is no longer just a concern – its verification is an absolute must. The Hyster Static Plus weighing system is now available on new and existing Hyster ReachStackers and Laden Container Handlers. This is a very convenient way for terminals – especially those smaller ones with limited resources – to achieve instant compliance economically and using an existing asset. But, Hyster's Schemerhorn says that when it comes to weighing containers; one size does not fit all. Hence, Hyster provides options.
"We have a few different systems available based on the need and the budget. Our Static Container Weighing System is a very cost-effective solution to enable SOLAS-compliant weighing in certain countries. It is based on hydraulic load-sensing technology and is self-calibrating and easy to use. Accuracy is better than 98 percent, and results are available in less than 15 seconds, with a few printing options."
Static Plus, on the other hand, is a dynamic solution for SOLAS-compliant weighing, offered in collaboration with Trimble, a leader in weigh system technology. The system provides legal for trade capability, faster weighing, time-stamping, data transfer to ERP / terminal operating system and multiple printing options.
After you've verified that VGM, you'll probably want to know why your yard driver hasn't yet arrived back from his last move, or what's taking so long. Or, perhaps you want to know where and why that lift truck is simply idling and spewing out emissions. Beyond weighing systems, Hyster Company earlier this year also announced that Hyster Tracker wireless monitoring with cellular GSM connectivity will be standard on all Hyster Big Trucks and container handlers in the Americas. The wireless capability enables remote truck monitoring via a web portal of key operating KPIs, such as usage tracking, impact sensing, key diagnostic failure codes reporting, fuel consumption and container counts (when applicable), along with others. The package can be upgraded to include wireless verification (access control for operators, truck shutdown when unattended or not in operation, and operator pre-shift checklist) for an additional fee.
Powerful, Green & Coming Soon to a Terminal Near You
It is coming. Terminals will soon be expected to be able to electrify their Big Truck fleets and produce zero emissions, while achieving full shift performance comparable to a diesel-powered truck in the near future. Looking to meet that demand head on, a 52-tonne capacity Hyster laden container handling truck with an electric motor will shortly be entering the test phase. This and other innovations for container yard equipment will all be a part of the intermodal solution of tomorrow. In fact, most of these features are available now.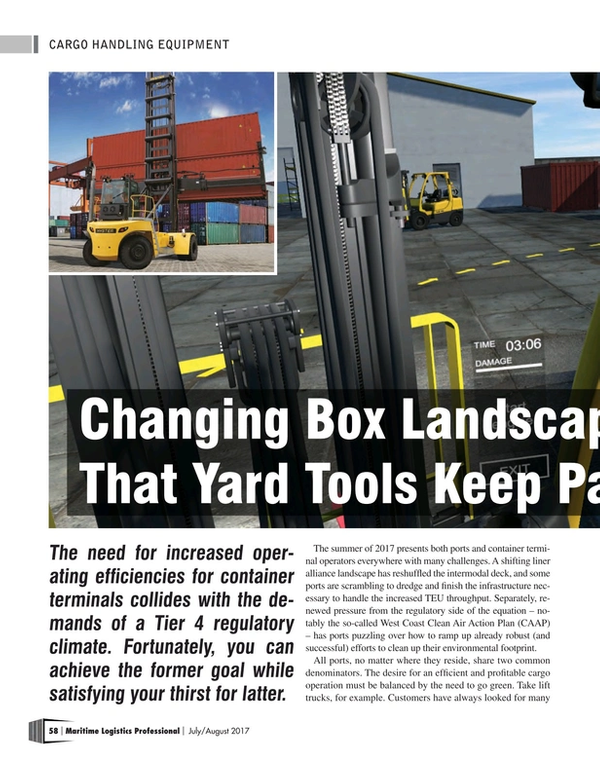 Read Changing Box Landscape Demands That Yard Tools Keep Pace in Pdf, Flash or Html5 edition of Jul/Aug 2017 Maritime Logistics Professional
Other stories from Jul/Aug 2017 issue
Content