Driving Efficiently Towards Zero Emissions
By Tom Ewing
As the Port of Long Beach Starts Year-long Freight and electric vehicle (EV) testing, Kalmar's newest workhorse – the Kalmar Ottawa Electric terminal tractor, T2E – will be doing some of the heavy lifting.
As California presses on with state-wide transportation electrification (TE), new equipment is starting to bring new, greener muscle to California's heavy freight and equipment sectors, ready to replace old school dirty diesel machines. This turnover, critical to the state's environmental and energy policies, won't be inexpensive. Nevertheless, the world's 5th largest economy's (California) continued success will increasingly depend on capabilities from new kinds of efficient, yet considerably cleaner workhorses.
California's ports are central concerns for state air quality regulators. This is particularly true right now at the Ports of Long Beach and Los Angeles. It is also true that ports contribute just a fraction of the golden state's overall air pollution load, but for neighboring communities, ports present some unique emission control challenges. First, in metropolitan regions, there's not much buffer between a Port's industrial-scale operations and local neighborhoods. Second, ports necessarily exist adjacent to an almost endless number of mobile and stationary pollution sources, some which may operate 24/7. Diesel emissions are a big concern – especially when transiting to and from the port to inland drayage concentrations, warehouses and other facilities.
Kalmar's Newest all-electric terminal tractor to the Rescue
Out in front of these policies, Kalmar's newest green eco-friendly all-electric terminal tractor extends this possibility into the short run drayage model outside the gates. As southern California and Ports of Los Angeles and Long Beach look towards the goal of zero emissions by 2030, Kalmar is there to provide a solution that just might fit the bill, especially where local sentiments are now pondering the inclusion of outside warehousing in the port's environmental signature. These so-called 'incidental emissions' are now very much in play.
In a nutshell, Kalmar, part of Cargotec, is introducing an electric version of its popular Kalmar Ottawa T2 terminal tractor. The Kalmar Ottawa Electric Terminal Tractor is designed for trailer-handling operations in dispersed warehouses, container terminals and other applications where short-distance highway travel is required. It features the latest in battery technology, a fully electric powertrain that produces zero emissions at source and a comfortable driving environment. For California ports, the timing couldn't be better.
With trucks, some ports seek to disperse emissions with idle bans in designated areas. In some ways it's like squeezing a balloon. A local Oakland citizen recently commented at a public meeting: "Because of increased enforcement at the Port, trucks are idling all throughout West Oakland." A similar comment came from Fontana, just northeast of LA: "We need to figure out how to manage the increasing number of trucks and warehouses in our neighborhoods." That solution is now at hand.
New Challenge: Environmental Issues Beyond the Port
To fine-tune but expand their controls, CA regulators are considering new policy and tech-based solutions. Upcoming policy initiatives could include expanded "Indirect Source Rules" (ISRs) which seek to reduce emissions vehicles associated with a facility rather than the facility itself. In CA, ISRs have a long history, for example, within the San Joaquin Valley. New ISRs could present as facility-wide "emission targets" or allowable emissions "per unit of cargo." Officials also want policies with more direct impact on equipment. Ideas include:
A mandate that manufacturers produce a portion of sales as zero emission;
New fees – "gate rates" – for heavy-duty diesel trucks entering port terminals and a rebate for zero-emissions trucks or trucks with "zero-emission operations;"
Establishing a phase-in schedule for zero-emission drayage trucks;
More stringent requirements for current and new freight and passenger vessels; and,
A "hybrid approach" affecting both equipment and facilities.
Thunder on the Horizon
With heavy equipment, big-time changes are advancing quickly. In May, Kalmar Mobile Equipment, for example, announced an electric power version of its Kalmar Ottawa T2 terminal tractor, equipment well-known in port facilities. The big difference, the important difference, is that this new tractor is built to work beyond the port's boundaries, fitting right into the ISR approach that decreasing a facility's environmental footprint sometimes has to include the vehicles serving it.
According to Kalmar, part of Cargotec, the electric tractor is designed for trailer-handling operations in dispersed warehouses, container terminals "and other applications where short-distance highway travel is required." It's a fully electric zero-emission powertrain. Power is from Kalmar's latest lithium-ion battery technology and features an on-board inverter charger that allows the machine to be "opportunity charged" during working breaks. A battery monitoring system displays charge status and indicates when recharge is required.
Compared to a diesel-powered tractor the T2E generates less noise, vibrations and heat – and importantly no fumes. A T2E tractor driver would not have to deal with no-idle zones in Oakland's port. Oakland residents would not have to tolerate emissions transferred from the Port to their neighborhood.
Gina Lopez is Vice President of Terminal Tractors for Kalmar. Lopez told MLPro in June that the T2E tractor is "market ready" but "additional testing and validation will be performed to expand the options available and the operating climates over the next 6 months."
More specifically, she was asked about "short distance highway travel" and the metrics associated with that, e.g., load characterizations and distance traveled. She said that battery capacity is based on operational hours and need. Notably, the T2E can run between 6 and 26 hours on a single charge. Lopez said that most industrial/commercial facilities likely have sufficient service to power up at least one T2E sized truck. However, as fleets expand, facility-based charging infrastructure could certainly require service upgrades.
Predictably, EVs have higher upfront costs compared to traditional diesels. Lopez estimated a higher cost differential for the electric yard tractor of about twice the diesel price. Generally, with electrics, operating costs are lower, although admittedly operating cost comparisons with diesel can be tricky, directly linked, of course, to local electricity costs versus diesel. Still, Lopez says that "a typical customer would reduce their energy costs by 85-90%."
Regarding maintenance, Lopez said with the electric tractor there's no longer a need to change the oil or transmission fluid. Hydraulic fluid does not need to be changed for at least the first 2.5 years of service, depending on operating cycles. Coolant fluid maintenance lasts 5 years vs. one year with a diesel engine. The electric tractor has a single 12V battery versus two in a diesel and battery life expectancy is longer because it isn't needed to start the engine.
Moving the 'TE' Needle: Powerful, Electric Green Trucks with Range
Responding to regulatory pressures and further improving the port's well-known environmental policies, the Port of Long Beach is starting a freight/drayage electrification project to provide real-world testing for this sector of equipment and the management and infrastructure required to maintain a heavy-duty work scale. The POLB freight electrification project, funded mostly by a $9.7 million grant from the California Energy Commission, will be the nation's largest for zero-emissions cranes and other seaport cargo-handling equipment. It will test 25 zero- or near zero-emission vehicles for one year.
The work includes converting nine diesel-electric rubber-tire gantry cranes into fully electric equipment at one terminal, purchasing 12 battery-electric yard tractors for two more terminals, and the conversion of four LNG trucks into plug-in hybrid-electric trucks for a drayage trucking firm. "This project is another example of the goods movement industry, equipment builders, utilities and public agencies stepping up to reach for the goal of zero emissions," said Mario Cordero, Port of Long Beach Executive Director.
Heather Tomley is the Port of Long Beach EV project manager. She explained that a lot of up front work needs to be done prior to actual vehicle testing, meaning the one-year clock for EV evaluation hasn't started yet. Build-out for new and expanded electric service infrastructure has to be completed first, Tomley said. One service challenge, for example, is to match the ability to refuel propane/diesel equipment where it's being used – relatively easy with a fuel truck or portable tank. That's much harder to do when electricity is the fuel, yet continuous operation is a basic work metric.
Tomley said actual vehicle testing will likely start in the second quarter of 2019, although her team is trying to expedite this schedule. For this project "real world" service means two shifts, lifting and moving every type of cargo, from pillows to rolled steel. "We ultimately want to find equipment that works as well as the equipment we have today," Tomley said. In the end, the freight EVs will need to demonstrate an equitable match up, across the board, with their traditional fossil fuel counterparts. And, says Tomley, Kalmar is one of the participants with EV equipment. "They are working with us on a couple demo grant efforts, using the new electric tractors."
The Port of Long Beach and Port of Los Angeles offer seed money to foster the development of new freight equipment and projects, at least if it's related to air-quality. The funding is part of the ports' Technology Advancement Program, or TAP. TAP was created by the San Pedro Bay (Long Beach and LA) Ports Clean Air Action Plan (CAAP), adopted in 2006. So far, the Ports have distributed over $21 million in funds to advance the commercial availability of technology that will help lower air pollution emissions from ships, trucks, harbor craft, cargo handling equipment and rail locomotives serving the Ports.
Naturally, businesses are keeping close eye on these incentive programs and the new technology becoming available. The Harbor Trucking Association (HTA) is a coalition of Los Angeles, Long Beach and Oakland intermodal carriers. HTA is a trade group that works transportation and logistics stakeholders and policy makers. Its goal is to "sustain emission reductions, provide a dialog for intermodal truck efficiency, and to return cargo and jobs to California ports."
Weston LaBar is HTA's executive director. He supports the demo projects starting at POLB and a second one already underway at LA. In addition, the financial incentives and grant programs are critical for smoothing out what can still be a rough business case with EV equipment.
"The demo projects are good," LaBar commented, "because you get to see if the equipment lives up to expectations in a commercial operation. It's one thing to drive a truck from point A to point B, or use a piece of equipment for one shift, but that doesn't answer longer term questions about overall performance within commercial operations."
The Green Port: Long Beach
As usual, the aptly nicknamed Port of Long Beach finds itself on the leading edge of local environmental reforms. Importantly, the POLB project is one of a series of projects being undertaken by Southern California Edison to gain insights on just what those large-scale grid upgrades might need to be.
Beyond the obvious reduction in local emissions, as well as helping operators to reduce costs, the Kalmar Ottawa Electric Terminal Tractor also offers a number of benefits for drivers that improve the driving experience. The electric powertrain offers smoother acceleration and more power at the top end compared to a diesel-powered machine, enabling drivers to feel more in control. It also generates less noise, vibrations and heat – and importantly no fumes – making the cabin a much healthier and more comfortable working environment.
Kalmar's Lopez adds, "We have used our decades of knowledge and experience in delivering reliable, cost-efficient terminal tractors to create a solution that will benefit our customers' bottom line and improve their productivity, while enhancing their sustainability credentials at the same time."
In the Port of Long Beach, next steps and resources will soon be evaluated in a broader context. If this equipment works as expected, it likely will get the power it needs. And, with Cargotec's Kalmar equipment in the mix, it probably will.
Tom Ewing is a freelance writer specializing in energy, environmental and related regulatory issues.
As first seen in the MAY/JUN edition of
Maritime Logistics Professional
magazine. Click
HERE
to see the entire-magazine.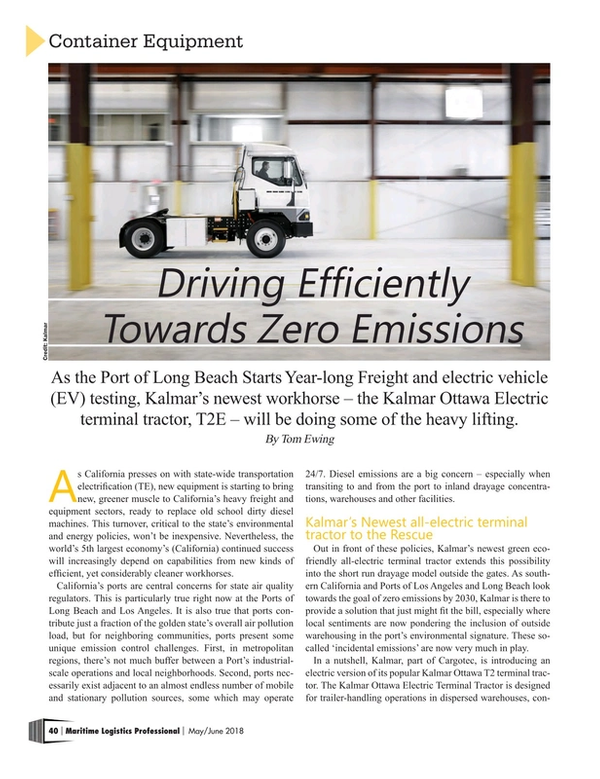 Read Driving Efficiently Towards Zero Emissions in Pdf, Flash or Html5 edition of May/Jun 2018 Maritime Logistics Professional
Other stories from May/Jun 2018 issue
Content