Advancing Digitization in Shipping
Tom Mulligan
CMA CGM becomes the first ocean carrier listed on Freightos. Global freight moves towards the 'one-stop shopping' standard.
CMA CGM Group and global online freight marketplace company Freightos have established an ambitious pilot agreement whereby CMA CGM has become the first ocean carrier listed on Freightos. Online bookings, guaranteed pricing, and secured capacity on CMA CGM China-US trade lanes are available on the platform, with further extension to additional lanes planned in the near future.
For its part, CMA CGM says that it has reinforced its position as a digital leader within the industry and taken yet another step towards its customer-centric strategy, offering importers and exporters of all sizes direct access to instant pricing, routing, and concrete sailing information in seconds, as well as guaranteed capacity. CMA CGM rates can now be found free of charge on the Freightos website, www.freightos.com.

Real Change for Industry
"This development represents a real change for the industry because, for the first time, global shipping on key trade lanes functions like passenger travel or e-commerce, where customers can obtain guaranteed prices within seconds," said Mathieu Friedberg, Senior Vice President – Commercial Agencies Network at CMA CGM Group. "This initiative demonstrates our commitment to customer centricity. We've been on a journey to provide our customers with innovative offerings to ensure them the best shipping experience. This partnership raises the bar for ourselves, and the industry, with this important step into the digital era, selling directly to shippers on Freightos."
Zvi Schreiber, CEO and founder of Freightos, added, "This is a true win-win for the industry and a major step toward improving the customer experience. With CMA CGM selling on Freightos, smaller shippers now have direct access to a major carrier with competitive pricing. Additionally, shippers of all sizes will have access to guaranteed prices and capacity. This aligns with our goal to help logistics providers drive more value for customers, enabling smoother global trade, and ensuring more reliable and affordable supply of goods to end consumers."
CMA CGM is a worldwide shipping group with 506 vessels calling at more than 420 ports on five continents and in 2017 the company carried almost 19 million TEUs. The company has a presence in 160 countries and, through its 755 agencies network, the Group employs 34,000 people worldwide, including 2,400 in its headquarters in Marseilles, France.
Freightos' mission is to make global trade frictionless with the world's online marketplace for the trillion dollar international shipping industry. The Freightos Marketplace is designed to help importers and exporters reduce logistics spend and save time with instant comparison, booking and management of air, ocean and land shipments from top logistics providers to book international shipping as smoothly as booking a flight online.
Freightos also provides patent-pending technology that empowers carriers and logistics providers around the world to automate freight sales. With Freightos AcceleRate and Freightos WebCargo power rate management, automated pricing and online freight sales are made available for more than 1,000 logistics service providers and carriers, including multi-billion dollar companies such as Panalpina and Nippon Express. Freightos has accumulated the world's largest global database of multimodal freight rates, providing industry transparency with its Freightos Baltic Index.

An 'Expedia' for Freight
Freightos was founded in 2012 by Schreiber, a serial entrepreneur who has sold companies to General Electric, IBM and others. At his previous company, Schreiber shipped regularly from China to the United States and was "shocked" at the inefficiency he experienced as a shipper every time he needed to ship goods.
He said his experience wasn't unique: "Freightos research shows it takes an average of three days for a shipper to receive a simple price quote even on a major trade lane. Twenty-five percent of containers don't make it on to the ship you expect them to go on. Eighty-three percent of shipments don't have proper track and trace visibility door to door." And so he decided to create an 'Expedia' for freight.
Between 2012 and 2015, Freightos focused on digitizing the supply via a solution for logistics service providers to use internally. This platform, Freightos AcceleRate, does rate management, instant freight quoting, business intelligence and tender management. Additionally, Freightos acquired Freightos WebCargo with the world's largest database of air cargo rates.

Instant, door-to-door international air & ocean freight quotes
Once the company reached the milestone where dozens of forwarders such as Hellmann Logistics, CH Robinson and CEVA Logistics, to name a few, were managing their rates in Freightos, it began building the supply side. Freightos Marketplace launched in the summer of 2016 for small and mid-size shippers on a few trade lanes. On a weekly basis, more than a thousand shippers use the platform, and it is growing rapidly. The service offers instant, door-to-door international air and ocean freight quotes and small and mid-size businesses can log in to ship.freightos.com, search and compare freight quotes from forwarders, and now also direct from CMA CGM, the third-largest ocean carrier in the world, which is offering its rates on the marketplace, enabling shippers to compare freight quotes and book online.
Once booked, Freightos also helps manage the shipments. Documents, tracking and payments are all managed digitally on the Freightos website, while logistics service providers can use the Freightos Marketplace as a sales channel. Large providers are also happy to receive new orders from new shippers with a very low cost of sale, an easy quoting process and a low customer acquisition cost.

Benefiting the shipping industry?
One benefit of the system is that Freightos is partnering with incumbent carriers, forwarders and shippers to bring digitization. "The benefits are lower cost, better transparency and a superior modern customer experience," said Schreiber. "Our independent research shows that 86 percent of forwarders see technology as their biggest lever for growth – this is way above the other tactics they've discussed in the past, such as mergers and acquisitions.
"Freightos has been talking about online freight forwarding for years," he added. "A shipper should be able to get his/her freight quote automatically online, self-service, just like you can book a hotel online. And for years it has been just talk; but today you now have several big logistics providers offering price quotes on major trade lanes on their websites. This is a big change, all within the span of one to two years, and proof the big players understand the freight experience must be online.
"Containers probably won't be changing in the next 20 years; but everything around how the industry manages them has started to change and needs to continue changing in a big way."

Expanding user base
Schreiber also added that as Freightos evolves, a broader range of importers and exporters tend to use the system "The initial user base centered around the long tail of smaller importers and exporters," he said." E-commerce stood out as a key market, belaying a rapidly growing market of first-time importers that were graduating from local sourcing to international sourcing and, with time, Freightos has expanded to significantly larger volumes. While ease of use and education was a hallmark value for smaller shippers, we now attract larger shippers who now benefit not only from a digital experience but also from more aggressive pricing. The introduction of CMA CGM's secured capacity is a game-changer; reliability is often more important than pricing for larger importers and exporters and marrying public reviews with guaranteed capacity and competitive pricing means increased interest from top-tier companies, albeit centered on their spot shipment volume.
"A good digital platform is never complete," he continued. "For our roadmap, we're guided by the need to provide an exceptional customer experience, while remembering that as a two-sided marketplace, we also need to provide an outstanding, secure environment for our sellers.
"We're continuing to make headway on creating a better shipment management experience, with more direct integrations into seller TMS systems and other data resources, facilitating better proactive exception management and user life cycle operations."
Schreiber also knows that reliability is also a key parameter when selecting providers. He adds, "As we increase the number and quality of the Freightos sellers, we are also putting systems in place to track reliability and customer service levels, and then feed those back into rate selection. Expanding the types of sellers on the marketplace to include even more carriers, as well as ancillary services that drive value for importers in a one-stop platform is also an exciting direction that we're pursuing."

Improving global digital infrastructure
Schrieber stated that Freightos is working on improving its underlying global digital infrastructure. "While we've already automated freight pricing and sales for over 1,200 logistics providers globally, this internal automation must be augmented with increased agility. Nearly every major global industry leverages dynamic pricing based on real-time metrics to make smarter, automated decisions."
To that end, Freightos, in partnership with the Baltic Exchange, provides indexes of container shipping prices, the Freightos Baltic Index (FBX). "We are working on a number of solutions, including derivatives, to help reduce pricing risks and improve stability. This isn't just talk either; we're in the process of exploring implementation with major multinational corporations," he concluded.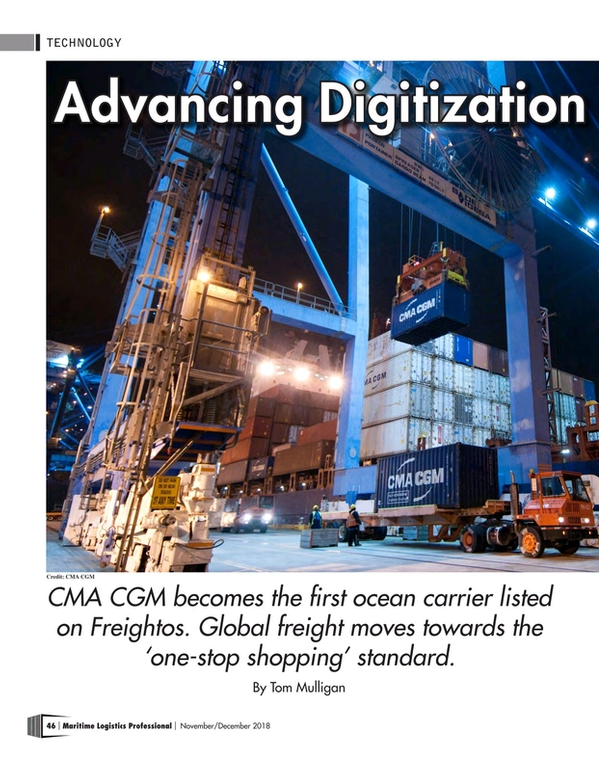 Read Advancing Digitization in Shipping in Pdf, Flash or Html5 edition of Nov/Dec 2018 Maritime Logistics Professional
Other stories from Nov/Dec 2018 issue
Content