Todd Pacific Shipyards Launches Guided Missile Frigate Wadsworth (FFG-9)
Launching ceremonies were held at Todd Pacific Shipyards Los Angeles (Calif.) Division on July 29, 1978, for the Guided Missile Frigate Wadsworth ( F F G - 9 ) . This was the first launching of FFG-7 Class vessels at this division, which currently holds contracts for a total of nine ships, and this significant event was completed 106 days ahead of the contractural date.
Todd Pacific's Seattle (Wash.) Division also has eight of this class frigate under contract. The Wadsworth is the third ship of the fleet named in honor of Commodore Alexander Scammel Wadsworth, USN.
She commemorates a name made famous in American destroyer history by the former destroyer USS Wadsworth (DD-60), flagship of the first division of American destroyers to the British Isles during World War I, and the former destroyer USS Wadsworth (DD-516), which earned seven battle stars and the Presidential Unit Citation for combat operations during World War II.
Alexander Scammel Wadsworth was born in 1790 at Portland, Maine. He was appointed midshipman on April 2, 1804, and promoted to lieutenant on April 21, 1810. He was the second lieutenant of the frigate Constitution during her escape from the British Fleet, and took part in the engagement with the Guerriere August 19, 1812, for which he received a silver medal and the thanks of Congress. He later commanded the P a c i f i c Squadron 1824-36, was Navy Commissioner 1834-40, and was Inspector of Ordnance 1841-50. Commodore Wadsworth died at Washington, D.C. April 5, 1851.
The vessel is 445 feet in length overall, has a beam of 47 feet, a full load displacement of about 3,600 tons, and will carry a complement of 17 officers and 168 enlisted men.
She will be powered by two gas turbine main propulsion engines, driving a single controllable, reversible pitch propeller, and will be capable of speeds in excess of 28 knots. The Wadsworth will carry a single launcher for Harpoon and Standard Missiles, two antisubmarine h e l i c o p t e r s , one 76-mm rapid fire gun, and two triple tubes for antisubmarine torpedoes.
The principal speaker for the launch ceremonies was the Honorable Glenn M. Anderson, U.S.
House of Representatives, California, 32nd District. Congressman Anderson stressed that "the addition of this ship to the U.S.
Navy is visible evidence, despite the claims of some, that we are not abandoning our Navy and relegating it to second or third class status." He also pointed out that "the construction of the Wadsworth here at Todd Shipyard is another tradition I am pleased to see continue. It is indicative of the high regard in which this yard, its skilled shipyard workers, and its efficient engineering and management team are held by the Department of the Navy." These words reinforced those of Stuart C. Jones, vice president and general manager of Todd Pacific Shipyards Los Angeles Division, who in his welcoming remarks, had voiced his pride in the "skill, workmanship and dedication of . . . the (local) employees," and had stated that the day of celebration belonged to the employees more than anyone.
Other speakers at the event included J.T. Gilbride, chairman, Todd Shipyards Corporation; Capt. James E. Kaune, USN, Supervisor of Shipbuilding, Conversion and Repair, U.S. Navy, Long Beach, Calif., and Rear Adm.
Edward J. Otth, USN, Special Assistant for Shipbuilding Commander, Naval Sea Systems Command Representative.
Mrs. Patricia P. Roberts, greatgreat- great-granddaughter of Commodore Wadsworth, christened the ship. She was assisted by her mother, Mrs. Rebecca Peacher, great-great-granddaughter of the Commodore, who had christened the second USS Wadsworth (DD-516).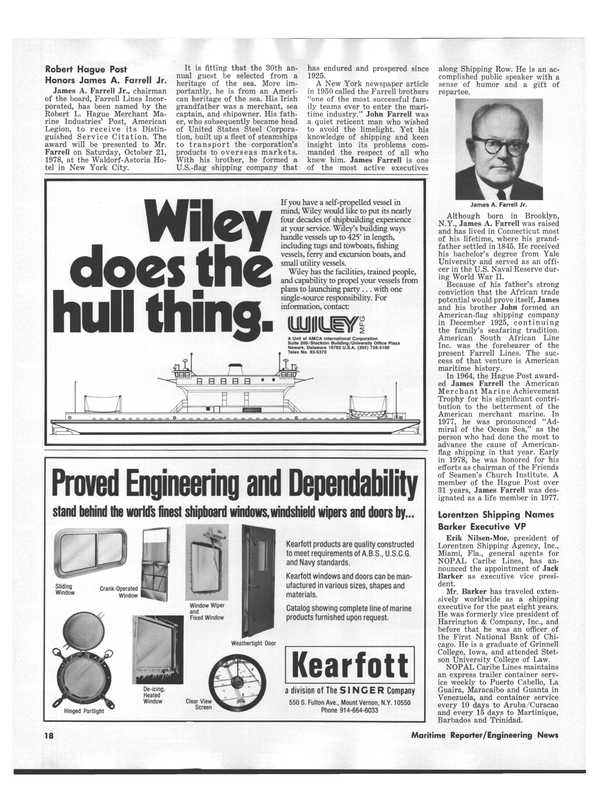 Read Todd Pacific Shipyards Launches Guided Missile Frigate Wadsworth (FFG-9) in Pdf, Flash or Html5 edition of September 1978 Maritime Reporter
Other stories from September 1978 issue
Content