'Ocean Trade And Transport Of Phosphate Rock7
In common with most other bulk commodities, the seaborne trade of phosphate rock has been adversely affected by the prolonged world economic depression which followed the "oil crisis" of 1973.
This was most apparent in 1975 and 1976, when shipments fell to 26 percent below the peak level of 50 million tons attained in 1974.
During 1977, however, there was a marked improvement in the state of the phosphate rock market, and seaborne shipments rose to total 44.1 million tons. This was a 19 percent increase over the level recorded in 1976. The object of "Ocean Trade and Transport of Phosphate Rock"—No. 65 in a series prepared by H.P.
Drewry (Shipping Consultants) Limited — is to review both the development of trade as a whole and the future pattern of phosphate shipments within the regional markets, as well as the ocean transportation of phosphate rock.
The recent upward trend in the level of phosphate rock shipments is expected to continue. In fact, it is estimated, based on regional imbalances in phosphate supply/ demand and the knowledge of intra-area exchanges, that world seaborne trade in phosphate rock will increase to some 58 million tons by 1980, and 72 million tons by 1985. However, despite the forecast increase in the volume of trade, the actual pattern of trade is not expected to alter significantly over the next eight years.
The consumption of phosphate is heavily concentrated in the developed countries, with over half being consumed in Europe and some 20 percent in North America, and it is, therefore, these areas that dominate phosphate rock demand. Demand in Europe is expected to increase by almost 50 percent by 1985, with Eastern European demand increasing the most to total over 40 million tons.
Very substantial growth is forecast for Asian countries and is projected to rise by 80 percent to reach over 24.0 million tons by 1985. North American demand is expected to increase slowly due to the already advanced agricultural techniques, low population growth, etc. Latin America and Africa at present constitute a relatively small market for phosphate rock, but the greatest proportional increases in demand are forecast for these areas.
World demand f o r phosphate rock is expected to rise to around 130 million tons by 1980, and will have reached almost 160 million tons by 1985.
Practically all phosphate rock now entering seaborne trade is shipped loose in bulk, and because of its handling characteristics can be shipped in virtually any type or size of bulk carrier.
However, the relatively short shipping distances involved in phosphate rock trades, combined with the draft limitations and the general lack of suitable storage capacities and inadequate handling facilities associated with ports where phosphate rock is loaded or discharged, have meant that the vessels employed in the phosphate rock trade are predominantly g e n e r a l - p u r p o s e, geared vessels of between 25,000 dwt and 50,000 dwt. The wide distribution of the world phosphate rock trade among ports which are poorly equipped or have too small a throughput to encourage improvements, is the principal reason why the smaller ship sizes are expected to retain an important although diminishing share of this trade through to 1985. The expectation is that bulk carriers of between 20,000 dwt and 50,000 dwt will be employed far more extensively than the larger ships. The share of total trade attributed to vessels below 20,000 dwt will be reduced to less than a third by 1985 as a result of their gradual replacement by larger bulk carriers.
As well as reviewing the development of trade and the future pattern of phosphate shipments, "Ocean Trade and Transport of Phosphate Rock" examines the present pattern of trade on a regional basis and interarea matrices of seaborne trades are presented for the years 1975- 77. The supply of phosphate rock is examined by means of a country-by-country review which provides an insight into expansion plans. Particular emphasis is placed on the ocean transportation of phosphate rock, and separate sections have been devoted to the types and sizes of ship employed, transport costs and ports handling this fertilizer raw material. An appendix which lists phosphate rock loading ports, with information on draft limits, etc., is also provided.
"Ocean Trade and Transport of Phosphate Rock," No. 65 in a series of reports on various aspects of shipping prepared by the Research Division of HPD Shipping Publications, 34 Brook Street, Mayfair, London W1Y 2LL, England, is available at a single copy rate of U.S. $85 (all overseas orders) or £35 (U.K. only), or on a subscription basis U.S. $325 (all overseas orders), or £135 (U.K.
only) for the series 61-70.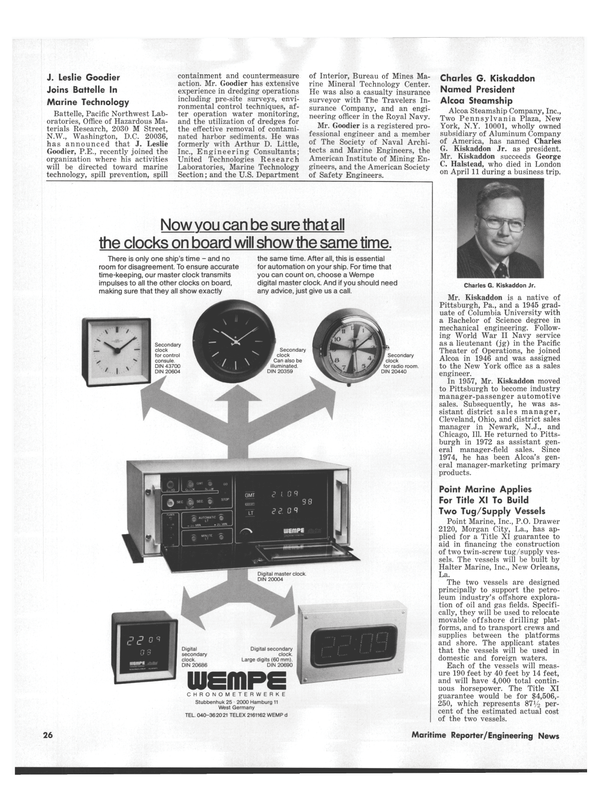 Read 'Ocean Trade And Transport Of Phosphate Rock7 in Pdf, Flash or Html5 edition of September 1978 Maritime Reporter
Other stories from September 1978 issue
Content